Crazy Rich Asians, the film adaptation of the 2013 Kevin Kwan novel, is making Asians crazy proud for breaking the bamboo ceiling for its Asian representation in a Hollywood film. The movie, starring Malaysian darlings Michelle Yeoh and Henry Golding, was filmed mainly in Singapore and various locations in neighbouring Malaysia, including Penang, Langkawi, and Kuala Lumpur.
Here are some of our favourite filming locations in the movie and how you can role play as Nick and Rachel for a weekend. Warning: Some spoilers below!
1. Fly into Changi Airport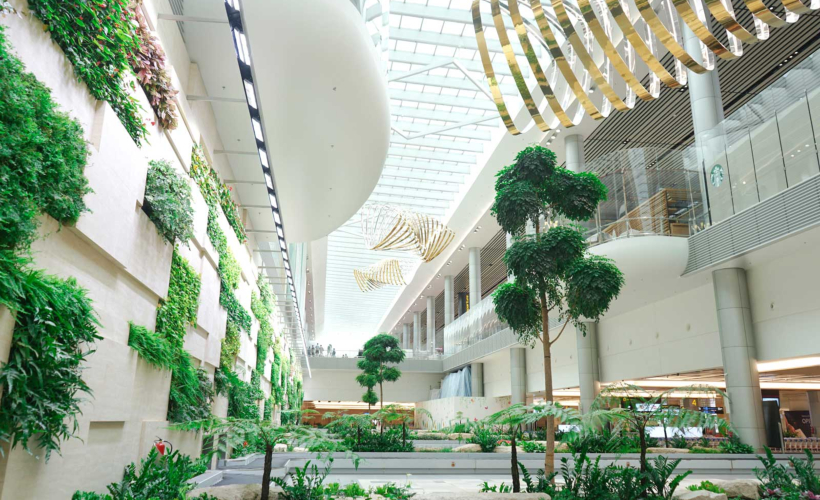 You may not be able to fly first class like Nick Young did in Crazy Rich Asians, but you can fly into Changi Airport. To quote Rachel Chu, Changi Airport will make you feel like you're at "some upscale tropical resort."
2. Book a stay at the Raffles Hotel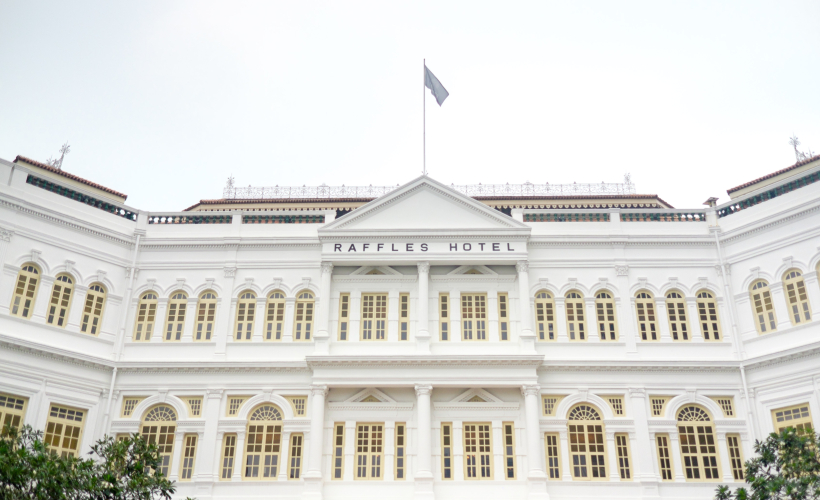 In the book, Nick pampers Rachel with a stay at the 5-star Goodwood Park Hotel, but the scene was actually shot in Singapore's most historic hotel – Raffles Hotel. This 19th century property is luxurious, chic, and fit for royalty.
Singapore's most famous cocktail – the Singapore Sling – that makes a mention in the movie was originally invented in the Long Bar of Raffles Hotel. Book a room, have a tipple, and learn about the history of the Raffles Hotel and how the last tiger in Singapore died here.
3. Catch up with friends at Bukit Pasoh Road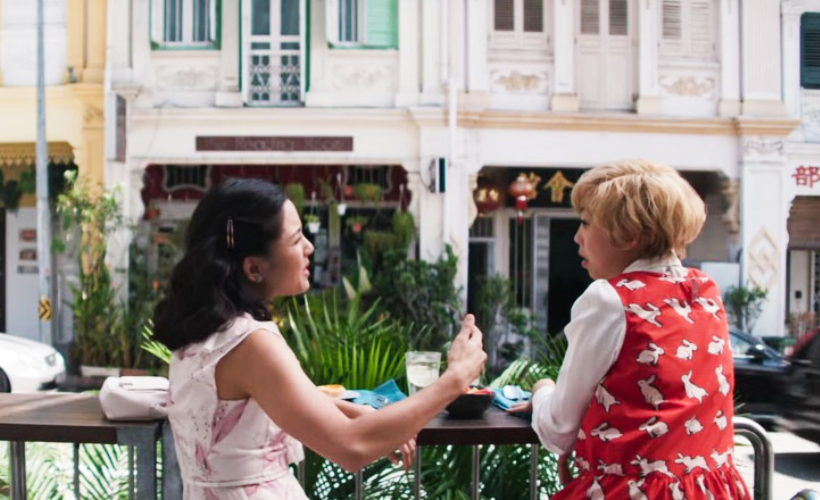 The colourful Peranakan heritage buildings seen in the Crazy Rich Asians was filmed at Bukit Pasoh Road located in Tanjong Pagar, Singapore. The photographic street is filled with cute shop houses, bars, cafés, and boutique hotels. So it's perfect for an afternoon of catching up over drinks and snacks in a beautiful setting, just like how Rachel and Goh Peik Lin did in the movie.
4. Cool off at Sands SkyPark's infinity pool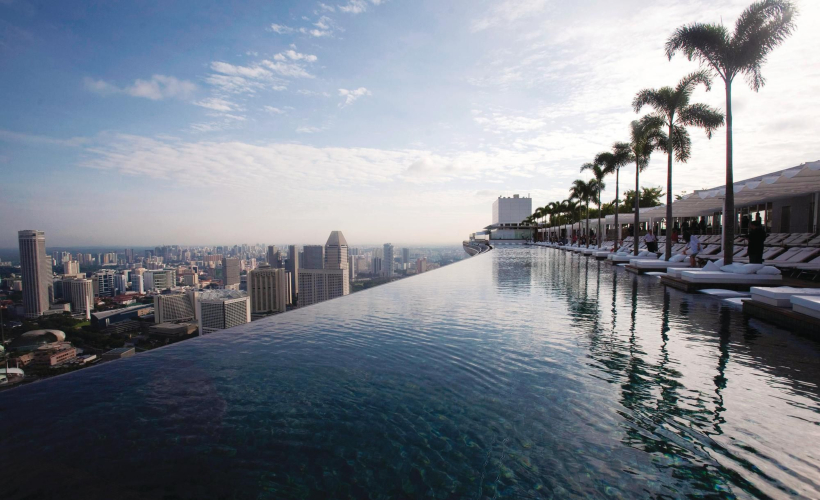 Just like the Merlion, the Marina Bay Sands is one of the most iconic sights of Singapore that cannot be missed. The 55-storey ship-shaped skyscraper offers an amazing bird's eye view of the man-made wonder that is Singapore's impressive architecture. The rooftop infinity pool at Sands SkyPark is also the setting for the synchronised swimming scene that takes place in the movie.
5. Plan a dinner date at CHIJMES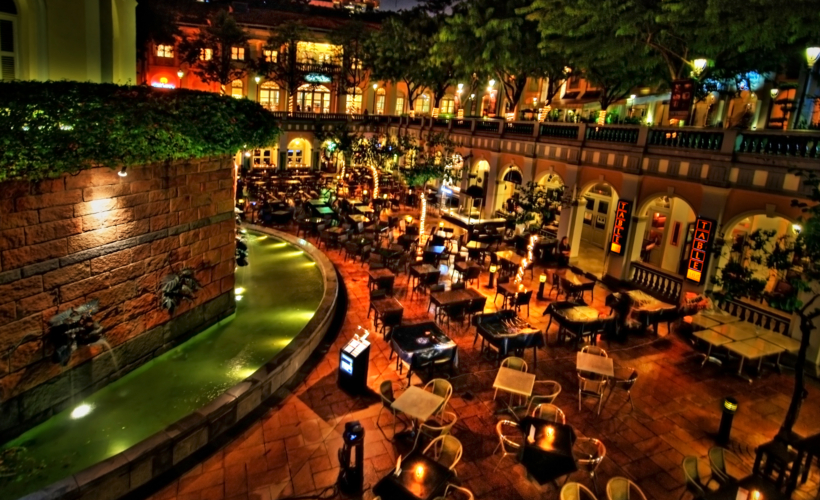 CHIJMES (pronounced at Chimes) is the acronym for the Convent of the Holy Infant Jesus Middle Education School. The heritage building was once a Catholic convent and school, and still stand proudly in the heart of Singapore, but has been revived into a popular spot for upscale bars and restaurants.
Meanwhile, the gorgeous 19th century gothic chapel, now known as Chijmes Hall, now acts as an events space. Perhaps the biggest event it's seen is the filming of Crazy Rich Asians. This is where Colin Khoo and Araminta Lee have their elaborate on-screen wedding. Live it up for yourself by reserving a table at Whitegrass, a Michelin-starred fine dining restaurant.  
6. Eat street food at Newton Food Centre
Even the rich eat local food. No trip to Singapore is complete without indulging in its delicious street food, and after all the fine dining, it's always nice to have a simple night of al-fresco street eats at a hawker centre on plastic table and chairs.
Follow in the footsteps of Nick and his gang by making a trip to Newton Food Centre. Ironically enough, in the book Nick favours Lau Pa Sat over Newton Food Centre, dubbing the latter as "only for expats and tourists." However, the movie features Newton Food Centre instead.
7. Fly to Langkawi for some nature
Time for some sun, sand, and sea! To do that Crazy Rich Asians style, take a short flight to northern Malaysia and step onto the sandy shores of Langkawi Island. In the book, Nick and his best friend Colin escape to Rawa Island that's located in Johor for his bachelor party, but the movie filmed the scene on Langkawi instead. This is a central part of the movie where Nick tells Colin he wants to marry Rachel.
For some crazy rich fun of your own, stay at the Four Season's Langkawi; this is the location where they filmed Araminta's bachelorette party. To explore the island, go on a yacht cruise and have a romantic barbeque on the yacht during sunset.
8. Book out Cheong Fatt Tze Mansion in Penang for a party with 36 of your closest friends
Much has been said about the Mahjong scene in Crazy Rich Asians – it's one of the film's most pivotal scenes and a visually arresting one at that. The scene was filmed at the Cheong Fatt Tze Mansion, better known as the Blue Mansion, on Malaysia's historic Penang Island. The Blue Mansion is a heritage boutique hotel that captures the essence of Peranakan architecture and design.
To celebrate its role in Crazy Rich Asians, the hotel is offering guests an opportunity to rent out the entire mansion for 24 hours at a price tag of RM50,000 (approximately USD12,200) for 36 adults. In return, expect to receive Nyonya afternoon tea, a Mahjong session, cocktails at the courtyard, a private guzheng (Chinese zither) performance, and a gourmet dinner at the mansion's fine dining restaurant Indigo. Pool, cocktails, and mah-jong, what more could you want?
*Photo credits: Warner Bros Pictures and the respective establishments.
Get all the latest travel stories from Zafigo. Follow us on Facebook, Twitter, and Instagram.