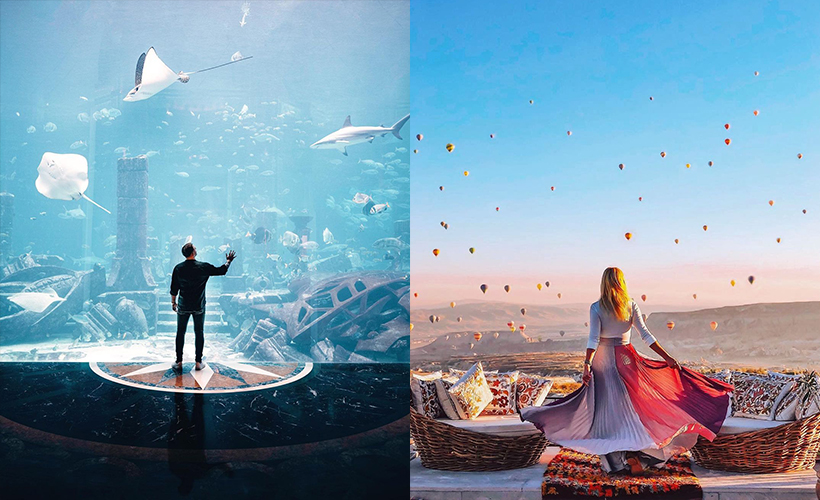 Subscribe to our new
Telegram
channel for the latest updates.
Being stuck at home through this pandemic has made us appreciate pretty rooms and beautifully decorated spaces even more. That's why, when we think of our next vacation plan, hotel rooms and cute Airbnbs are pretty high on our checklist!
When you have a room with a view (literally!), the stay-in lifestyle starts looking a little better. To make your search a little easier, we've rounded up some of the most amazing and beautiful hotel rooms you can stay at. From unique, super boujie, to out-of-this-world, here's our list of must-stay at bedrooms from across the world.
Add them to your hotel bucket list or maybe use them as inspiration to give your bedroom a makeover.
Atlantis, The Palm
Dubai, UAE
View this post on Instagram
If you've ever been to Dubai, you'll know this is a city that doesn't skimp on experiences, and the underwater suites at Atlantis, The Palm are no different. Why just settle for an ocean-facing room when you can feel like you're in the ocean? The ultimate under-the-sea experience, these suites may not actually be located underwater, but their floor-to-ceiling windows that give you a view of their 65,000 marine animal aquarium will definitely make you feel like you are.
If you get tired of watching the sea creatures swim, you can do a little floating of your own in a luxurious marble bathtub with views of the Ambassador Lagoon. The suites also come with 24-hour butler service. Now, that's luxury!
Museum Hotel
Cappadocia, Turkey
View this post on Instagram
A visit to the Cappadocia region in central Turkey is a magical experience. From hot air balloon rides to breathtaking landscapes and unique rock formations, there's so much here that you won't find anywhere else – including your accommodation. Cave hotels are popular in this region, and if you're looking for a hotel room like no other, the Museum Hotel is unmissable.
Take your pick from 30 distinct rooms and suites that are restored versions of ancient cave dwellings. The coolest part of staying in a room at the Museum Hotel is that each room is really a mini-museum that preserves the history and tradition of Cappadocia. Transport yourself to a different era in rooms furnished with the owner's collection of antique rugs, tapestries, furs, and art from the Ottoman and Byzantine eras.
However, not everything in the rooms are steeped in history. The rooms also include jacuzzis with some even featuring massage rooms and private gardens to give you the best of history and modernity.
Giraffe Manor
Nairobi, Kenya
View this post on Instagram
At first glance, the hotel rooms at Giraffe Manor seem just like any uber-luxurious hotel room. A picturesque location set within 140 acres of indigenous forest in the Langata suburb of Nairobi, the stunning architecture of this building is sure to take your breath away. With a history that stems back to the 1930s, when safaris first became popular in East Africa, this iconic building boasts elegant interiors, green gardens, a sunny terrace, and lovely courtyards. It's no wonder Giraffe Manor is one of the most Instagrammed properties in the world.
However, that's not the only thing special about this hotel. Booking a room here is an out-of-this-world experience courtesy of its resident herd of Rothschild's giraffes who may surprise you by gently poking their long necks into your window to say hello (or get a treat).
Conrad Maldives
Rangali Island, The Maldives
View this post on Instagram
When you think of the Maldives, beautiful over-water villas perched atop the Indian Ocean usually spring to mind. But the Conrad Maldives on Rangali Island has upped the ante with a super-exclusive room – The Muraka Suite.
Translating to 'coral' in the local lingo, this two-level accommodation's master bedroom lies 16 feet underwater so you can sleep (rather than swim) with the fishes on the seabed. It's essentially sleeping in a marine viewing theatre, as the master bedroom is a 180o curved acrylic dome.
It's a stately suite, with the above levels featuring two bedrooms, an infinity pool, and a large deck. For USD50,000 (approximately RM211,635), this suite of dreams also comes with an on-call personal trainer, spa therapist, butler, spa treatments, private jet skis, your own speedboat, and private chef. Got any spare change?
Udang House, Bambu Indah
Bali, Indonesia
View this post on Instagram
Have you ever dreamed of sleeping on water? The Udang House (part of the Bambu Indah group) may just make this dream come true. A sustainably built property of different 'houses', the Udang House features a tempered glass floor bottom that allows guests to gaze at an underwater panorama of the fresh shrimp pond it's built on.
If that's not relaxing enough, you can always take a refreshing shower in your room's open-air shower, or enjoy a quiet moment on your private porch overlooking Bali's spectacular riverfront rice paddies and breathtaking scenic views. The rustic decor of this hotel will take you back in time (the houses are built from centuries-old Java teak timbers) without taking away modern conveniences like air-conditioning and Wi-Fi (trust us, you'll want to Instagram this).