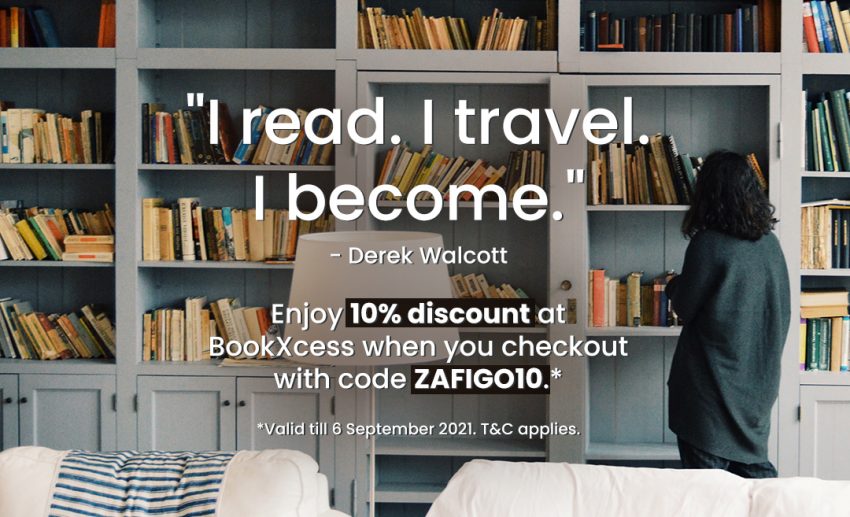 Books have the ability to transform and transport you. Whether you love cooking, travelling, or even fantastical tales, let the pages of a great book take you on a trip. To celebrate the magic of reading, Zafigo has partnered with Malaysia's best bookstore — BookXcess — to bring you even more discounts and offers! 
Zafigo readers can now enjoy an extra 10% off their bill with the promo code ZAFIGO10. The best part? It's a stackable code and applicable store-wide, which translates into more savings for you.
Before you start adding to cart, read on for this special promo's terms and conditions:
The discount is only applicable from 6 August to 6 September 2021.
Customers will need to key in code ZAFIGO10 upon checkout to enjoy the discount.
This discount is stackable with other ongoing promotions, except for flash sales (if any).
BookXcess Sdn Bhd reserves the right to modify any of the above terms and conditions without prior notice.
As mentioned, this discount code can be used on top of other ongoing promotions. This includes:
Anniversary Sale Promo for the entire month of August.
Purchases made this month on BookXcess will be offered 14% off site-wide.
This amount will automatically be deducted from the total purchase price, once the user checks out.
No code is required to be entered for this particular promo.
The ZAFIGO10 promo code (10% discount) can be used on top of the 14% automatically deducted. This means Zafigo readers can enjoy up to 24% worth of discounts in total.
To redeem this additional discount, users will need to enter ZAFIGO10 at checkout.
Travel Fair Promo
This promo offers 5% off on selected items from 4 August to 10 August 2021.
This promo is not applicable with the Zafigo promo code.
However, this promo is stackable with the Anniversary Sale Promo.
Shop on BookXcess now.