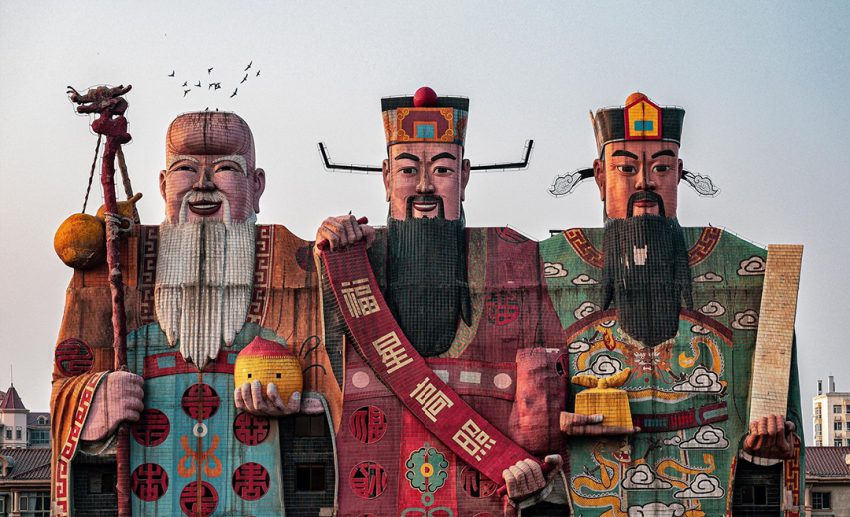 When one brings up tourist attractions in China, the Great Wall is very likely the first one to come to one's mind. But once you're done with the Great Wall, the Forbidden City, Tiananmen Square, the terracotta army, and the pandas, what do you do? Here's a list of super-interesting, but just-as-odd attractions that'll definitely make your trip to China one for the books.
1. Chongqing Wulong Flying Kiss, Chongqing
Despite being voted one of the ugliest structures in China last year, visitors have come in droves to witness the supposed eyesore that is the Chongqing Wulong Flying Kiss. The structure – two 170-foot-tall semi-naked statues of a prince and a fairy woman, inspired by a Chinese mythical love story – is perched on the edge of a kilometre-high cliff.
Both characters hold up rotating observation decks on which visitors can freely roam to take in the surrounding scenery. A ticket to this ride will cost you about USD18 (approximately RM76), but just know that there are no seatbelts or safety harnesses aboard.
2. Dragon escalator, Beijing
The serenity of Longqing Gorge about 85 kilometres north of Beijing is interrupted by what is the world's longest outdoor escalator. Shaped like a dragon and spanning 846 feet, this giant yellow gold escalator takes you from the bottom of the gorge to the top. If riding an escalator isn't your idea of fun, you can ride a cable car to the top, go boating on the artificial lake, or even bungee jump in the gorge.
3. Houtouwan Village, Shengsi Islands
This nearly-abandoned fishing village some 64 kilometres north of Shanghai was once home to over 2,000 fishermen and their families. Majority of the island's residents migrated to mainland China in the early 1990s when they could no longer support themselves with just fishing.
Only a handful of people remain, but not enough to keep nature from taking over the village. The settlement is now overgrown and verdant, with deserted houses and its abandoned contents held in place by creeping foliage. The residents who remain on the island are making an income off of the steady stream of tourists who come to explore this magical place.
4. Piano House, Huainan City
Dubbed 'the most romantic building in China', this structure – shaped like a grand piano and a violin – was built as a showroom to showcase plans for development in the area. The violin, made from clear glass, houses elevators and a staircase leading to the piano that houses two concerts halls. The piano is built with black and clear glass panels. Meanwhile, the propped-open piano lid shades a rooftop terrace.
5. The Road To Heaven, Mount Hua, Shaanxi Province
If you're an adrenaline junkie, this might just be your thing. Mount Hua, or Huashan, in the Shaanxi Province is home to the 'Road to Heaven' Plank Walk, one of the most dangerous hikes in the world. Hikers walk along planks of wood – only one-person-wide – that are nailed and bolted to the the side of a 7,086-foot rock face while harnessed to steel cables that are also nailed to the wall. At the southern-facing summit of this climb/walk is a teahouse where hikers can enjoy a drink before heading back down. Just from the pics alone, we can tell that we'll need something stronger than just tea.
6. Red Beach, Panjin
It's not quite the beach you imagine but is, instead, one of the world's largest marsh wetlands covered in striking red suaeda salsa or seepweed. Seepweed grows green in the spring, turns a rich shade of jade in the early summer, and then dips into a vibrant shade of crimson during its peak viewing season between late summer in August and early fall in October. The area has been designated an eco-tourism attraction and allows visitors to walk through the marshland on a 6,500-foot wooden jetty. The Red Beach is home to over 400 species of wildlife and a stopover spot for over 250 species of birds that migrate from East Asia to Australia annually.
7. Tianmen Skywalk, Zhangjiajie
We don't quite know what China's obsession is with narrow platforms constructed to rock faces at great heights, but if you like it, we love it. A three-foot-wide, 200-foot-long glass walkway snakes 4,700 feet in the air around Tianmen Mountain in China's Zhangjiajie National Forest Park. The petrifying path lets you literally walk on clouds, and the surrounding scenery is second to none, but we suggest that you don't look down.
8. Tianzi Hotel, Langfang Shi
Three Chinese gods stand side by side forming the outer facade of what is really a hotel in the Langfang prefecture in China. These three figures are said to personify three attributes that make for a good life. The middle god dressed in red, Fu, is linked to fortune; the god on the right in green, Lu, represents prosperity; the long-bearded god in blue on the left, Shou, stands for longevity. Booking a stay at this hotel seems nearly impossible to do online. We couldn't even find rates to share with you. Guess photo ops on the outside will have to do for now.
9. Erlian Kissing Dinosaurs
& Dinosaurs Fairyland, Xilin Gol
A trip to this Chinese Jurassic Park requires you to travel to the China-Mongolia border. Greeting you at the gate are two gigantic apatosauruses engaged in a passionate lip lock. Apparently, these are the largest dinosaurs to have roamed the Earth. The remoteness of this town has prevented a tourist boom, but the Chinese government has worked to create a dinosaur theme park of sorts. The dinosaur theme stems from the discovery of fossils in the area, and you'll see statues of these prehistoric giants along sidewalks, parks, and even highways.
10. InterContinental Shanghai Wonderland, Shanghai
Also known as the Shimao Quarry Hotel, this is the first luxury hotel to be built inside a water-filled quarry. This eco-friendly accommodation includes two floors submerged underwater that houses suites and a restaurant, as well as a 33-foot-long aquarium. There's a glass atrium that features a waterfall, and its above-ground roof is covered in grass and trees to make the hotel blend in with its surroundings.
The InterContinental Shanghai Wonderland also features an observation platform where guests can go to admire the quarry cliffs. The hotel uses the microclimate of the quarry to regulate the temperature throughout the year – cooling in the summer, and heating in the winter. Impressive! Oh, by the way, room rates start at around USD650 a night (approximately RM2,753).