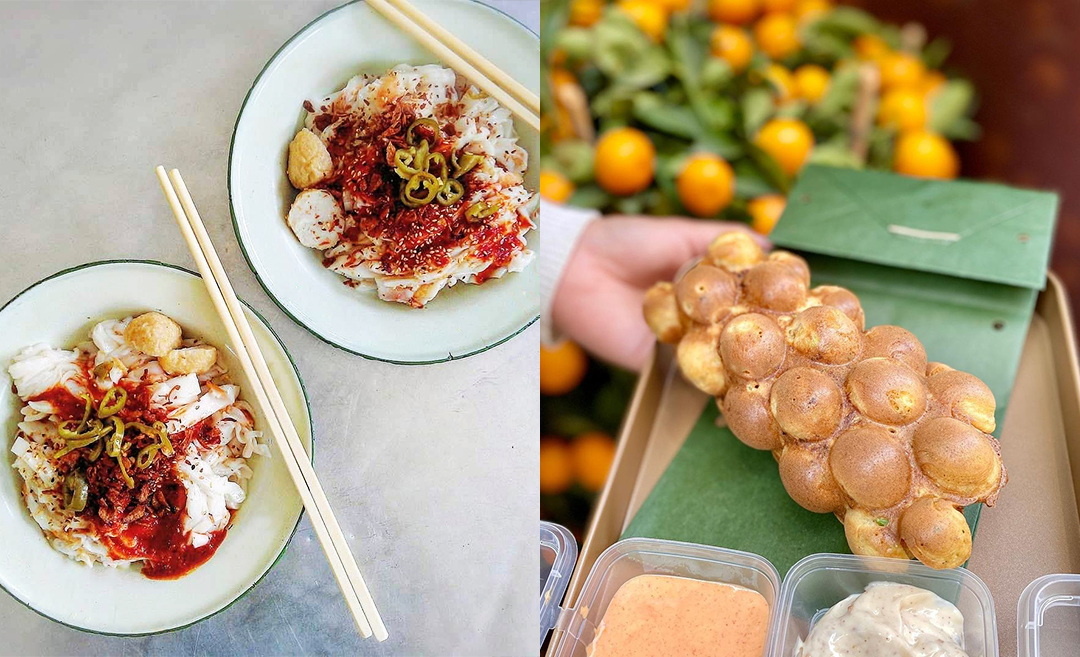 Subscribe to our new 
Telegram
 channel for the latest updates.
Aside from nourishing our body and soul, food plays an integral role in connecting us to a multitude of cultures. Throughout history, some cuisines also carry the root of foreign cultures, owing to every culinarians' creativity in experimenting with traditional recipes, thus making them fusion. Widely known as a bustling cultural mosaic, Malaysia spoils her people with a bounty of culinary treats. 
Among those is Malaysian-Chinese food that can be traced back to Hokkien, Cantonese, Hakka, and Teochew roots. We have our great ancestors to thank for all the flavoursome delicacies that have been passed down from one generation to another. Here, Cantonese cuisines will be our focal point in this foodie guide.
Let's take a tour around the eateries most frequented by Malaysian locals to explore the similarities and differences between Malaysian-Chinese and Hong Kongese fare.
Kopitiam vs. cha chaan teng
Whether for breakfast or brunch or tea time, a place Malaysians love to patronise is undeniably the kopitiam (old school coffee shop). Serving a diverse range of local favourites from the good ol' toasts to noodle dishes, kopitiams retain the rich social culture of people coming together to catch up. On the other hand, cha chaan teng, being the Hong Kongers' equivalent to the kopitiam, is actually influenced by British culture. Milk added to tea and Hong Kong-style western food are the end products of post-war influence here.
While people of the western world indulge in hot cocoa or coffee paired with toast and jam, Malaysians often order kaya (coconut jam) toast and dip it into a hearty mix of soft-boiled eggs, light soy sauce, and white pepper. Meanwhile, Hong Kongers love their crusty-yet-soft Hong Kong-style French toast drizzled with condensed milk and topped with butter.
Another instance of Western influence in Hong Kong's fare is the tong sum fun (macaroni soup), which is never seen in Malaysia's kopitiam. Like any umami-infused noodle soup, the tong sum fun is made of a savoury broth (either chicken or pork), ham strips, assorted vegetables, and egg. This easy-to-make dish is especially popular among children and individuals who want to warm their tummy when down with a cold.
Wonton noodles are regarded as comfort food to both Malaysians and Hong Kongers, though there are some subtle differences how it's prepared in the two countries. In Malaysia, the noodles are well-coated in dark sauce, served with lean char siew (barbecued pork), blanched choy sum (Chinese flowering cabbage), and a separate bowl of wonton soup, with fermented green chili and soy sauce on the side. Hong Kong's wonton noodles are served in an aromatic broth with shrimp or shrimp and pork-filled wontons topped with leafy vegetables like gai lan (Chinese broccoli) or choy sum.
Pasar malam VS HK night markets
Street food is an essential part of Asia's food culture, and while the variety of food offered at a local pasar malam (night market) in Malaysia and night markets in Hong Kong can differ, there are some common finds in both street food havens.
Some prominent favourites in both countries include curry fish balls, roasted pork, roasted duck, and gai daan zai (eggettes). And although some may debate over the origin of certain street foods, or have a taste preference for their own delicacies over aother, in the end, we can all agree that nothing beats the vibrance of night markets and the convenience of satiating our appetite on the spot.
One of the most anticipated festivals of the year, besides the Mooncake Festival, is none other than the Dumpling Festival, where Chinese people make zongzi (rice dumplings) to commemorate the venerable Qu Yuan – a renowned poet in Ancient China. There are many variations of rice dumplings today, but the taste is primarily either sweet or savoury.
The rice dumplings (called joong in Cantonese) found in Hong Kong's night markets are stuffed with fresh meat like chicken, duck or char siew as well as miscellaneous fillings like peanuts, salted duck yolks, lap cheung (Chinese pork sausages), and mung beans. In Malaysia, savoury rice dumplings are prepared with Hokkien influence. Shiitake mushrooms, dried shrimps, chestnuts, pork belly, and salted duck yolks are wrapped along with glutinous rice in bamboo leaves, and kept firm by a natural fibre string.
Dim sum restaurants
Siu mai, har gow, fung zao, lo mai gai — some of the most commonly ordered dim sum dishes that vanish in no time as soon as they're served. The dim sum dishes in Malaysia have been localised to fit local preferences, with flavours on the richer side accompanied by sweet or spicy dipping sauces for extra punch.
There are, however, some similarities. Perhaps the most distinguishable example is the spring-roll-shaped chee cheong fun – glutinous rice sheets that are soft and chewy at the same time. In Hong Kong, chee cheong fun is filled with a type of meat (shrimp, pork, or tripe) and drizzled with sweet soy sauce, with some variants adding a crunchy twist by wrapping a crispy inner casing around the shrimp within the tender rice sheets. Dim sum restaurants in Malaysia serve it the same way.
That said, a noteworthy variant of chee cheong fun commonly found in Malaysia is yong tau foo (a Hakka cuisine). The sweet and thick gravy that tastes akin to hoisin sauce is poured over chewy rice sheets. Chilli sauce or curry gravy adds a hint of spiciness to the dish, while toasted sesame seeds, deep-fried shallots, and pickled chillies give it a pop of colour and aroma. Both types of chee cheong fun taste equally good, depending on your preference for how heavy a meal you want.
And the winner is…
Both! Depending on what you want and how you like it. As you can see from above, while the Hong Kong food scene remains the OG, Malaysia has done Cantonese cuisine justice – with some unique dishes of our own too.
That said, one of the best perks about residing in Malaysia is the convenience of savouring a diverse range of cuisines. When we crave the taste of Cantonese delicacies akin to those in Hong Kong, they're easily accessible anytime, anywhere. For authentic Hong Kong fare, try the following outlets:
Of course, the ultimate gastronomic experience would be travelling to Hong Kong to have a taste of their local dishes. As current circumstances begin to turn for the better, we're keeping our fingers crossed for a travel bubble between Hong Kong and Malaysia soon.
[zf_post_boxes widget_hide_desc="true" num_post="3″ post_id="42808, 35899, 42413″]