[vc_column_text]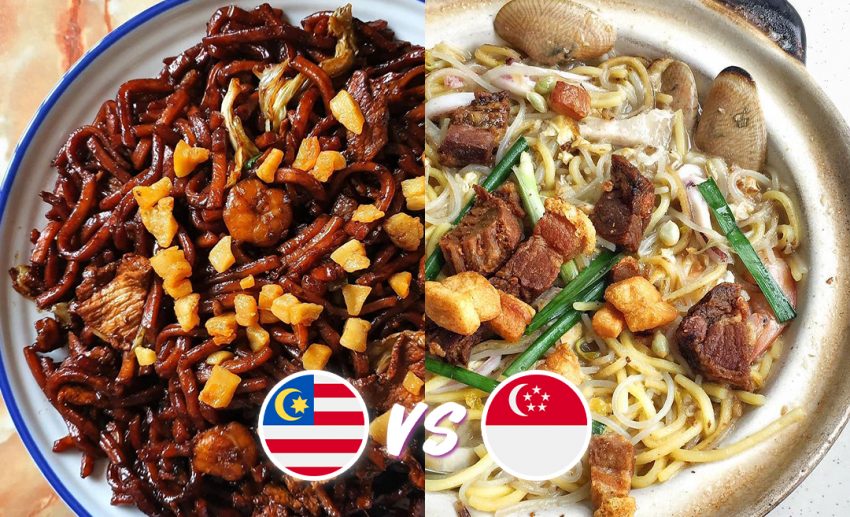 Hawking or peddling is one of the most ancient forms of trade practised in major cities around the world for centuries. Until today, street food culture is a common find (and very much looked forward to by travellers) throughout Southeast Asia. It's particularly popular in major cities like Bangkok, Hong Kong, and Ho Chi Minh City. Suffice to say, hawking food is neither Singaporean nor Malaysian to claim their own, as hawkers have been around street corners even before the institution of these two countries. 
Singapore, however, got the upper hand when their hawker centres were accepted as part of the list for Intangible Heritage of Humanity by UNESCO in 2020. UNESCO describes hawker centres in Singapore to be "community dining rooms," where people of all cultures can meet and share their lives and experiences over food and drink. The question remains, though – which country has the best hawkers?
Hawker roots
This form of business became a common form of entrepreneurship pursued by both locals and foreigners in Malaysia and Singapore in the early 1800s, during the colonisation era, when people from different parts of Asia migrated to the two countries. Hawking in both countries is heavily influenced by the myriad cultures of those who migrated over in addition to local fare. 
By the mid-19th century, hawker centres were being established in both countries and street hawkers were moved indoors. This started in Singapore and has been taken up by the Malaysian authorities as well. However, you'll only find indoor hawker centres in the capital city of Kuala Lumpur (KL). An effort to replace hawker stalls with food trucks are ongoing in Malaysia, but this again is restricted to KL. 
Difference in taste
The shared culture in Singapore and Malaysia occasionally makes it harder to identify which dishes are uniquely Malaysian or Singaporean. Some dishes even have the same names, yet vary in taste and cooking styles. 
Most of the local fare in both Singapore and Malaysia is influenced by Malay, Chinese, Indians, and Peranakan cuisine, and yet the food still differs. The Chinese cuisine in Singapore is mostly influenced by Teochew and Hokkien traditions. Meanwhile, on the opposite side of the causeway, the Chinese cuisine in Malaysia is based on Cantonese-style cooking. Let's break down some of these popular dishes:
1. Bak kut teh (Hokkien Style)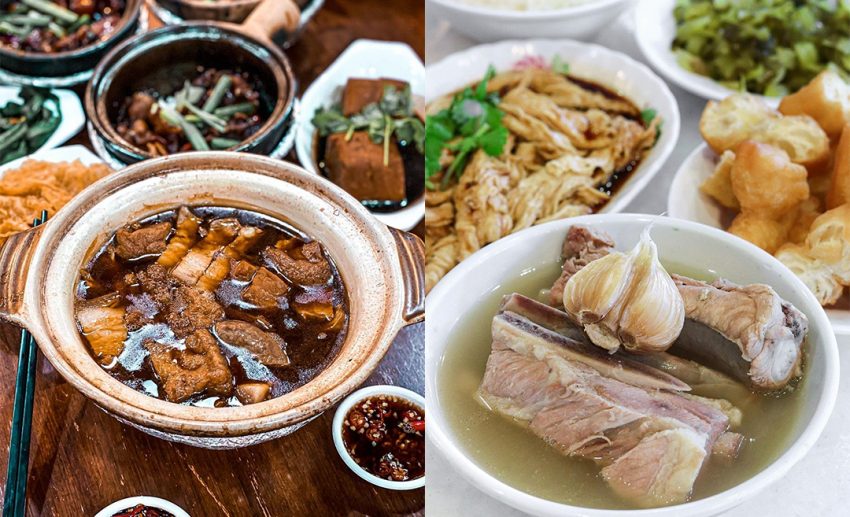 A delectable and hearty soup, bak kut teh is a pork and bone broth that originates from Klang, Malaysia. The original is a broth of fragrant spices blended into it for a superior, rich taste and paired with tasty onion rice. The Singaporean version, however, cooks the pork and bones in ginger and pepper-based watery soup. 
2. Wonton mee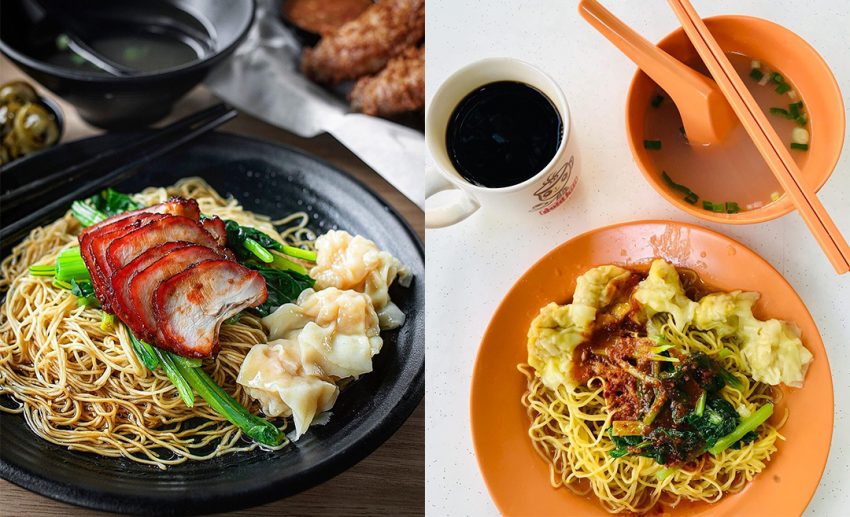 The Malaysian version of this dish consists of egg noodles tossed in soy sauce and paired with pork wontons, char siu (barbecued pork), and a side of vegetables. The Singaporean variant of the same dish has a chilli sauce and soy sauce base instead of just soy sauce. 
3. Ais kacang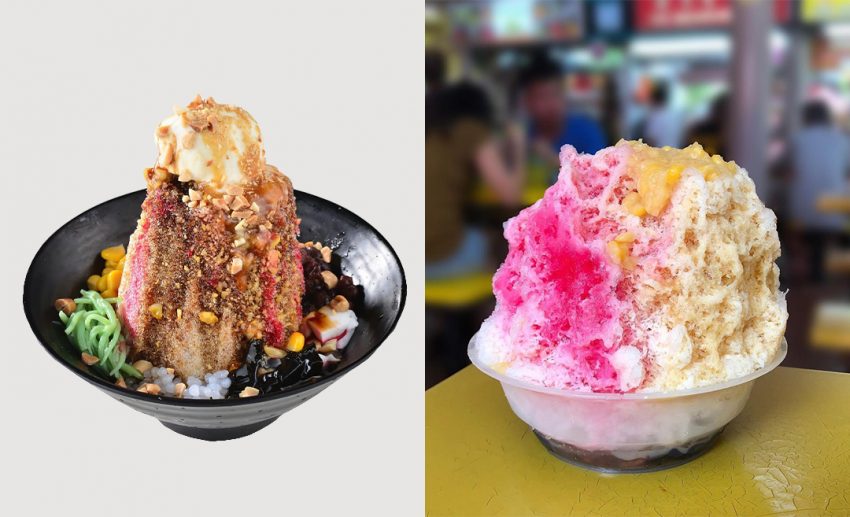 Ais kacang in both countries have the same ingredients shaved ice, sugar syrup, kidney beans, corn, red beans, attap chee (palm seeds), and grass jelly. In Singapore, the ice-cold dessert starts with ingredients placed in a bowl, shaved ice added on top, and sugar syrup drizzled onto the ice shavings. Meanwhile, the Malaysian rendition places the other ingredients on top of the shaved ice.
4. Hokkien mee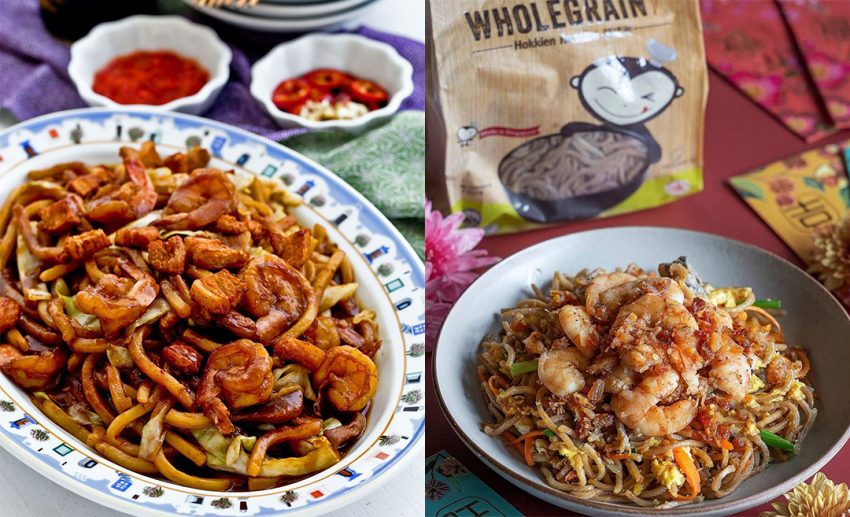 The Malaysian take on Hokkien mee is fried with dark soy sauce and pork lard. It's stir-fried with prawns, fish cake, and crispy pork belly. On the other side of Causeway, the Singaporean take on the dish uses egg noodles or bihun (vermicelli). Prawns take centerstage, and slices of chicken, pork, squid, and fish cake may be thrown in. Dark soy sauce isn't used thus making the noodles appear white or light brown.
Let your taste buds determine which version is better. 
Indoor vs outdoor
The complete hawker experience doesn't just come from the tastiness of the food on offer, but the ambience and experience of your meal. Some may not be keen on the stuffiness and sauna-like feel of the indoors, while others may prefer the noisy atmosphere and perceived cleanliness of an enclosed hawker centre. 
Hawker centres are more common in Singapore while most Malaysians still stand by the open-air stalls on the streets where you can enjoy a meal in the fresh air. The following two places boast among the most popular hawker stalls in Malaysia and Singapore respectively:
Gurney Drive, Penang, Malaysia (Outdoor)
 

 

 

View this post on Instagram

 

 
A variety of food stalls pop up along the Gurney Drive in Penang, offering a variety of dishes from different cuisines. The food can be enjoyed while seated at one of the various tables placed amid the stalls in the open air as the crisp sea breeze flits in from the ocean nearby.
Chinatown Food Complex, Singapore (Indoor)
 

 

 

View this post on Instagram

 
Famous for fishcakes and xiao long bao (soup-filled dumplings), the Chinatown Food Complex is the largest hawker centre in Singapore. You can bet that you'll find all the must-try local foods here as this centre boasts more than 900 stalls. 
Although there are commonalities between Malaysia and Singapore's hawker scene, their minor differences can either make or break a meal for you. Who do you think comes out tops?
[/vc_column_text][vc_column_text css=".vc_custom_1617695810092{margin-bottom: 10px !important;}"]
Read More: 
[/vc_column_text][vc_column_text][related_posts_by_tax post_types="post" posts_per_page="3″ format="thumbnails" image_size="medium" title="" taxonomies="category,post_tag" order="RAND"][/vc_column_text]