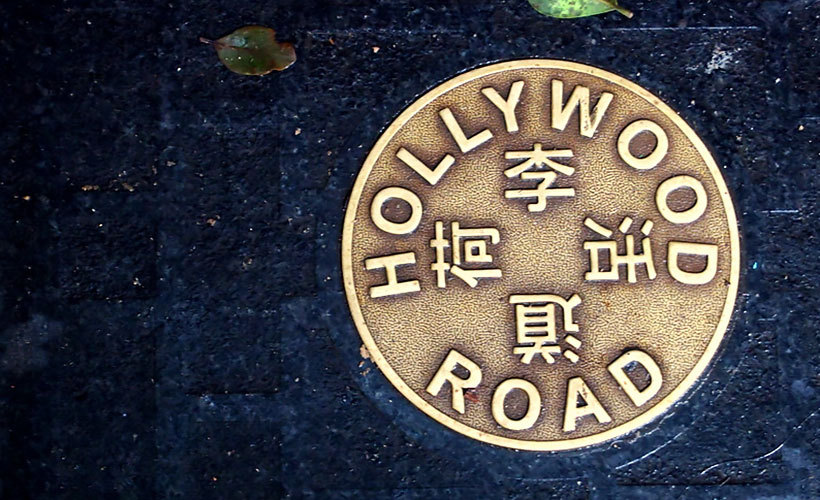 Just like the rest of the world, we are not travelling during this COVID-19 pandemic, but we hope you turn to Zafigo as a source of inspiration for your future travels. Please stay safe and adhere to any quarantine and movement control orders that have been imposed in your country.
Flanked by glitzy shopping malls, Hollywood Road is one of Hong Kong's oldest paved roads. During the culminating stages of its construction in 1844, when the island was still under British rule, the road was near the waterfront and a popular trading area for sailors. Now, reclamation projects have pushed the ocean back and replaced it with antique sellers and art galleries.
Connectivity
The closest MTR Station to Hollywood Road is Central Station. From here, visitors can take either Exit D1 or D2 and head up Queen's Road Central to Pottinger street. The part of Pottinger Street that meets Hollywood Road is made of rough-cut granite blocks which have made this street quite popular in its own right.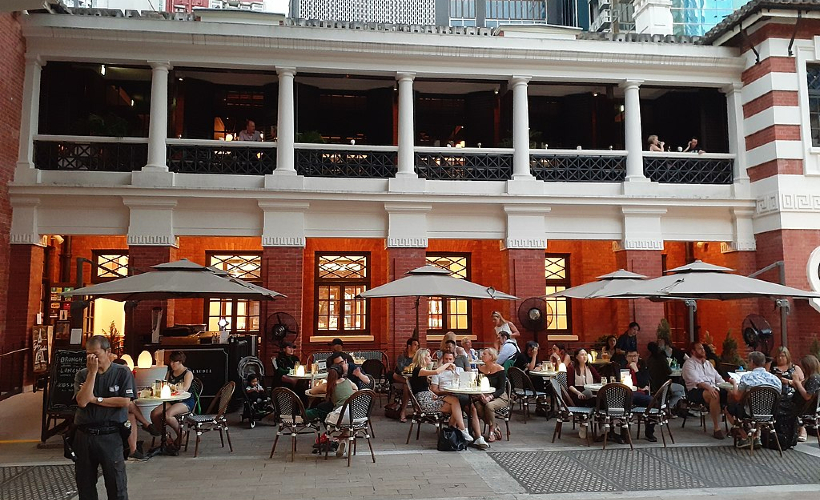 The highlights
At this intersection stands the old Central Police Station Compound that's been turned into Tai Kwun – Centre for Heritage and Arts. The converted prison courtyard houses 16 buildings and dates back to 1864. Hosting up to eight exhibitions a year, this heritage building is an art gallery, a museum, and a plaza with coffee shops and restaurants all rolled into one.
If you head west on Hollywood Road from Tai Kwun, towards Old Bailey Road, you will get to the Mid-Levels Escalator. This escalator was installed to make the commute of the Mid-Level residents in the area easier (there is a steep incline here). From 6AM to 10AM, the escalator runs downhill. At 10AM, the escalator reverses to run uphill until midnight when it is switched off.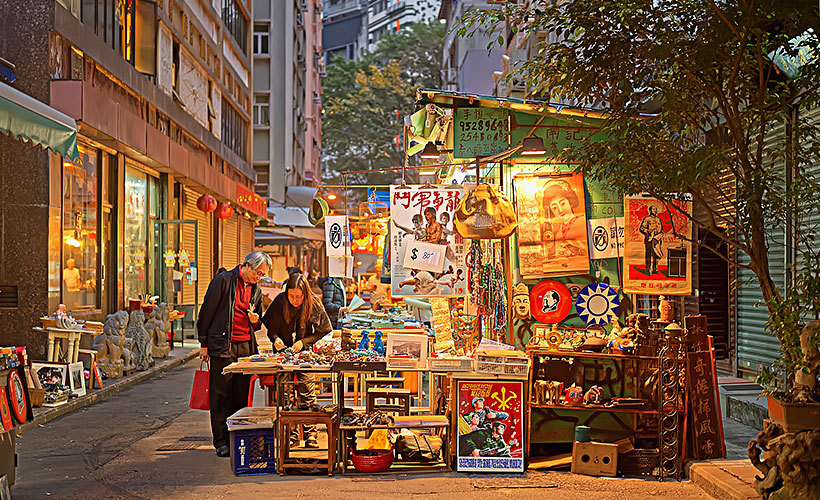 Shopping
You can take the Mid-Levels Escalator towards Staunton Street (travelling away from Hollywood Road) to get to SoHo (South of Hollywood Road). Here, you will find an eclectic mix of bars and restaurants serving local and international food.
Although bars and restaurants have replaced many of the original shops along Hollywood Road, there are still plenty of opportunities to hunt for a few gems. The Sheung Wan section is especially good for antique shopping (pop in to the Man Mo Temple while you're in the area).
From Man Mo Temple, walk down the steps of Ladder Street toward Upper Lascar Row, better known as Cat Street. You'll find a fascinating flea market that sells affordable antiques and second-hand collectables amongst ancient Chinese artefacts, Ming vases, furniture, and paintings.
Mad for art
If shopping, eating, and drinking isn't enough to make you want to visit Hollywood Road, perhaps the street art will. The first mural, painted by Alex Croft, was commissioned by the founder of Goods of Desire (a fashion shop) and is an image of a popular Goods of Desire print. Other murals include a female face on the corner of Hollywood Road and Tank Lane, Bruce Lee, a samba singer, and even pop art-style images of Audrey Hepburn and Frank Sinatra.
Although Hollywood Road in Hong Kong is more 'antique' than 'celebrity', there is plenty to see and discover. The antique shops, galleries, and flea markets are perfect for some souvenir shopping while restaurants and bars offer plenty of spaces to socialise or have a rest. And in the end, you can even take a selfie with Audrey.
[zf_post_boxes widget_hide_desc="true" num_post="3″ post_id="33671, 28699, 19083″]
Get all the latest travel stories from Zafigo. Follow us on Facebook, Twitter, and Instagram.