(L-R: @unboxbyhuffandpuff | @splatterme)
Subscribe to our new 

Telegram

 channel for the latest updates.
Raya is just around the corner which means it's almost time to belt out, "satu hari dihari raya/ kulihat cahaya bersinar indah ♫". Muslim mums are already strategising when to clean the house while their children are looking forward to all the food to eat. While we aren't able to celebrate the way we did pre-COVID-19 due to the increase in new daily cases, there are ways we can feel connected and make our loved ones feel appreciated and included from a distance.
Here are 10 Malaysian brands with beautifully designed and thoughtful gift sets on offer and Raya-themed candles that are sure to brighten up anyone's day.
1. Keju's Rumah Terbuka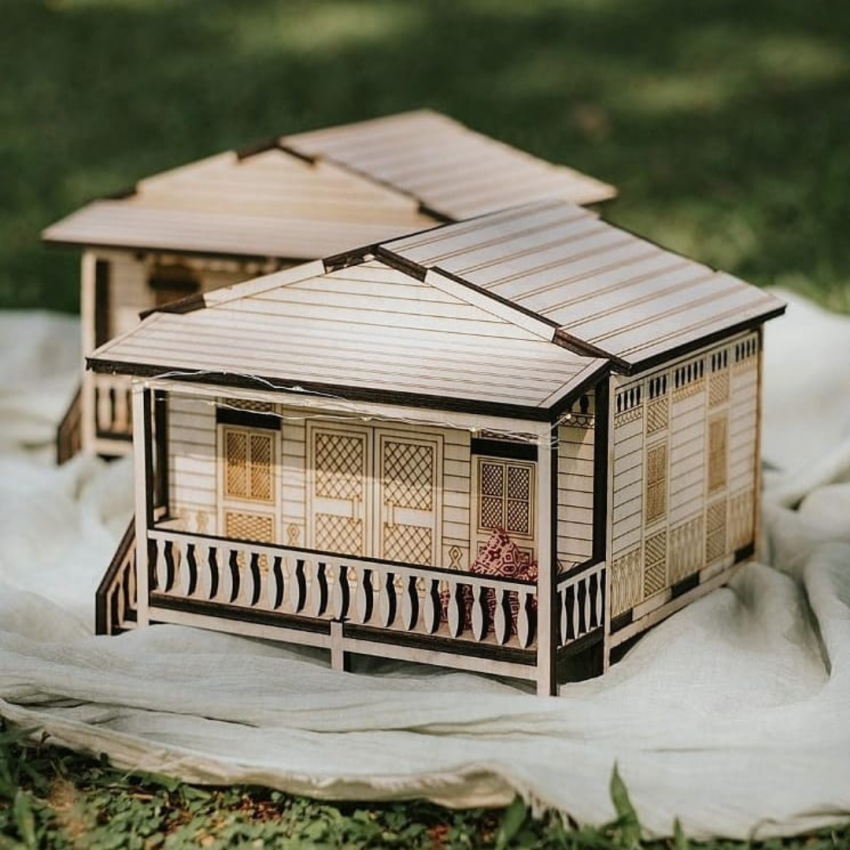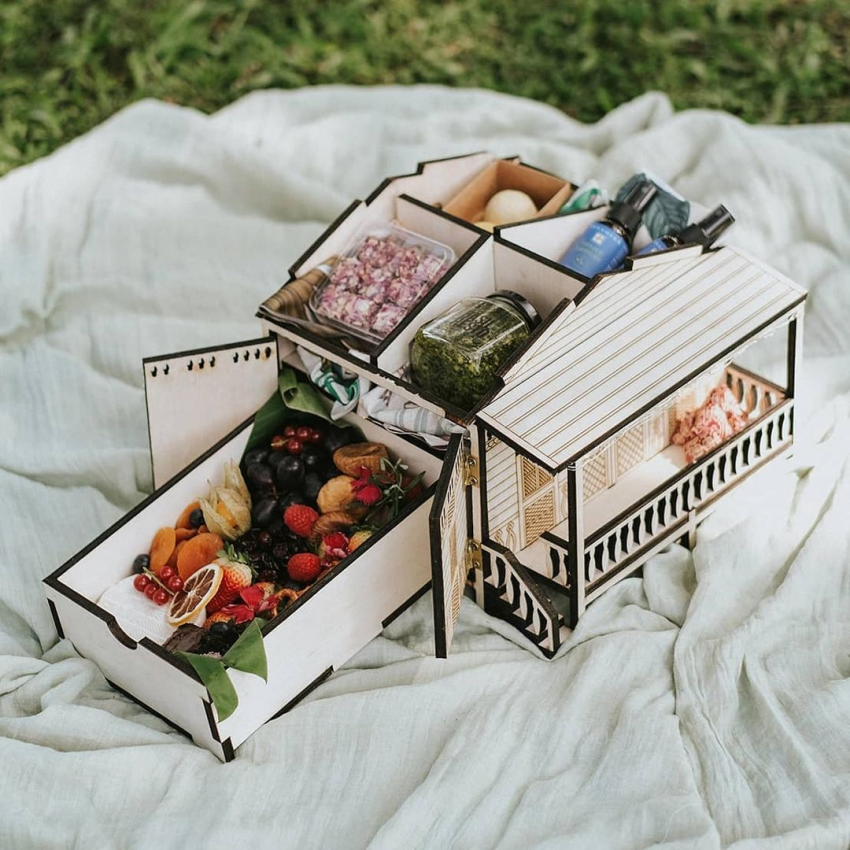 Think of KEJU's beautiful Kampung House as a contemporary cheese board for Raya. In it, you can find gifts like Turkish delight, cotton candy, basil pesto sauce, sanitiser from Tanamera, and batu Seremban (five stones game)! We were all once professional players. On the food front, the Kampung House contains the brand's signature cheese platter; it includes brie, seedless grapes, strawberries, blueberries, raspberries, blackberries, gooseberries, cranberries (yes, that's a lot of berries), brownies, kurma (dates), apricots, pretzels, chocolates, and a garnish. The Kampung House retails at RM450, place your orders via Whatsapp.
2. Menta Naturals Rasa Ria gift box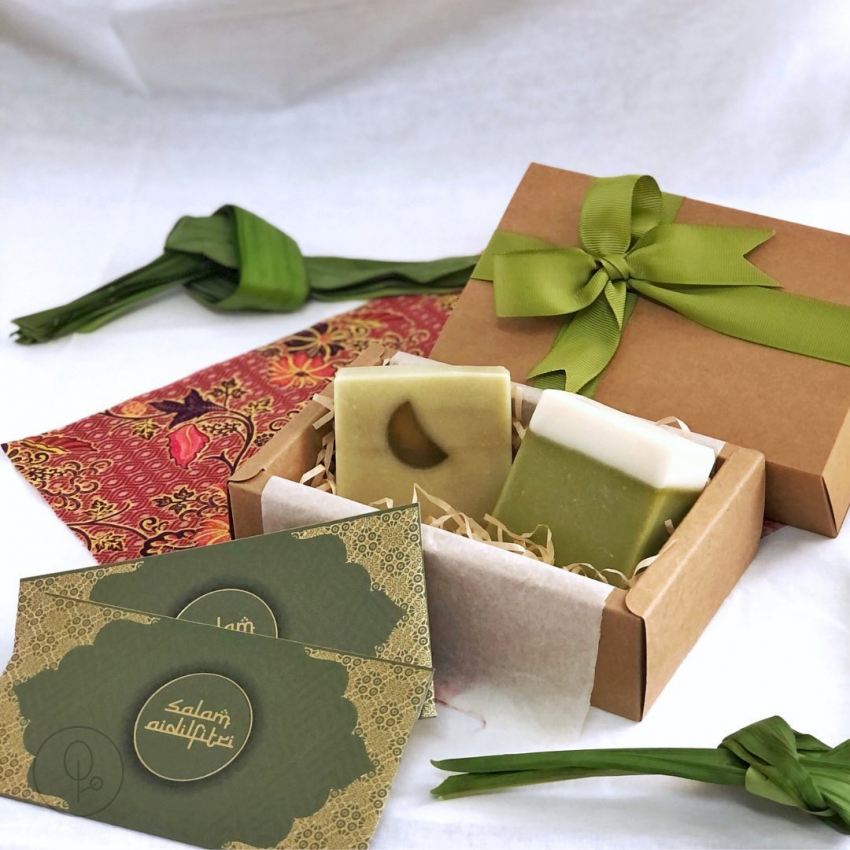 If you're going all out on decorations during Raya, then you have to have Raya-themed soaps as well! Your relatives will be intrigued. Do they wash their hands with it, or do they eat it? It smells so good, you'll need to make sure they don't. Menta Naturals Rasa Ria gift box includes two soaps of your choice (options include: moringa x lime, green tea x lemongrass, pandan, or ginger), and a personalised greeting card, all wrapped nicely in an eco-friendly package. The box retails at RM40, and if you order before 2 May, you'll enjoy a 10% discount!
3. KitaKita Eid Mubarak Gift Tote Hamper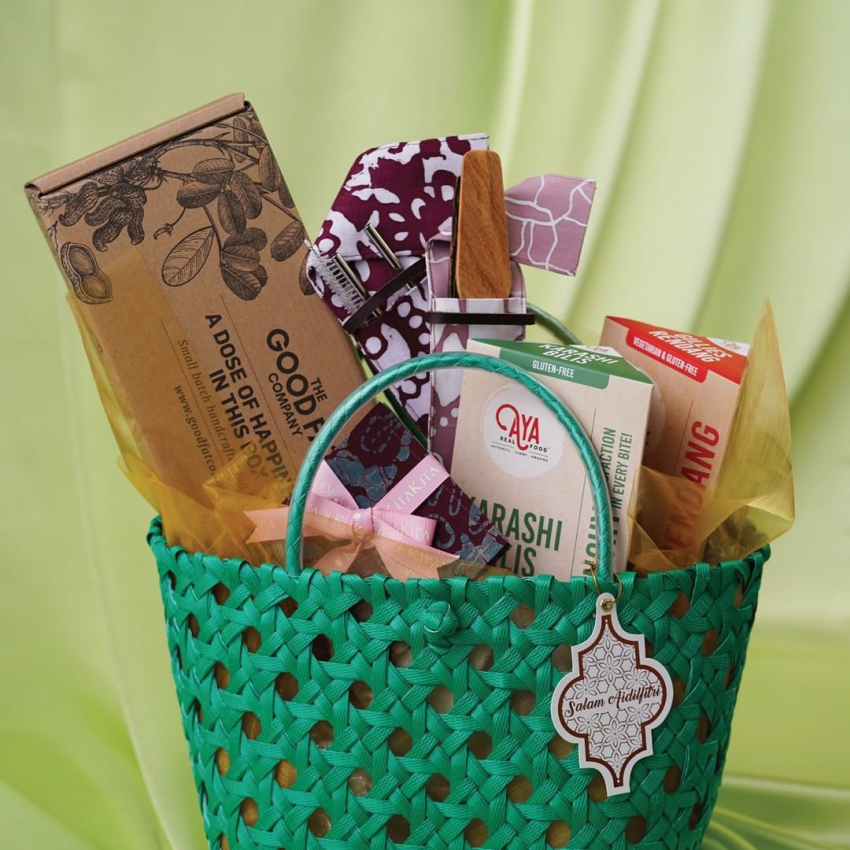 KitaKita collaborated with @goodfat.co, @ayarealfood, and @penanwomenproject to create the Eid Mubarak Gift Tote Hamper. There are two types to choose from — Nori (comes with a kebaya mug and two batik coasters) and Batik (includes two batik coasters, one batik pouch with reusable straw set, and one batik pouch with spread knives). Both hampers include karashi bilis, gillies rendang, pecan date butter, almond butter, and pumpkin seed. The hamper retails at RM280, and 100% of the proceeds from the sales will be channelled back to the Penan community! Do good while eating good food.
4. Miedazzle Bingkisan Rindu Raya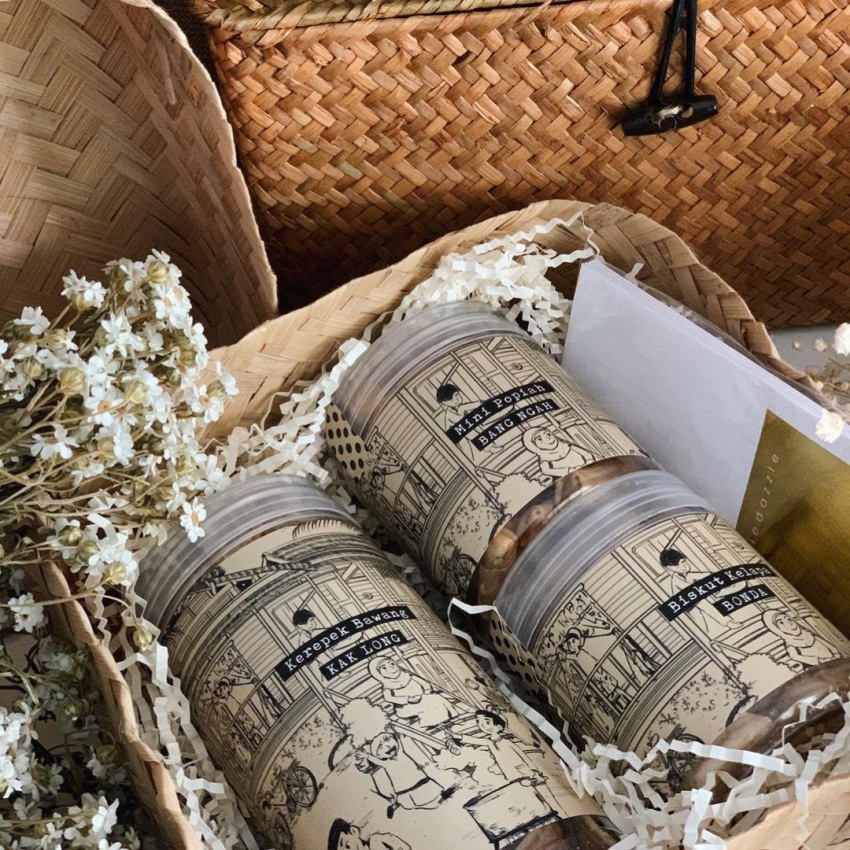 Send your family and friends a basket of love – and tasty cookies. Miedazzle's gift set embodies comfort food and family. This set includes biskut kelapa bonda, mini popiah bang ngah, kerepek bawang rangup Kak Long, sampul raya Miedazzle, and a greeting card too. Order one now for just RM75, place your orders via WhatsApp.
5. Brown & Sugar Concept Ramadan & Lebaran gift box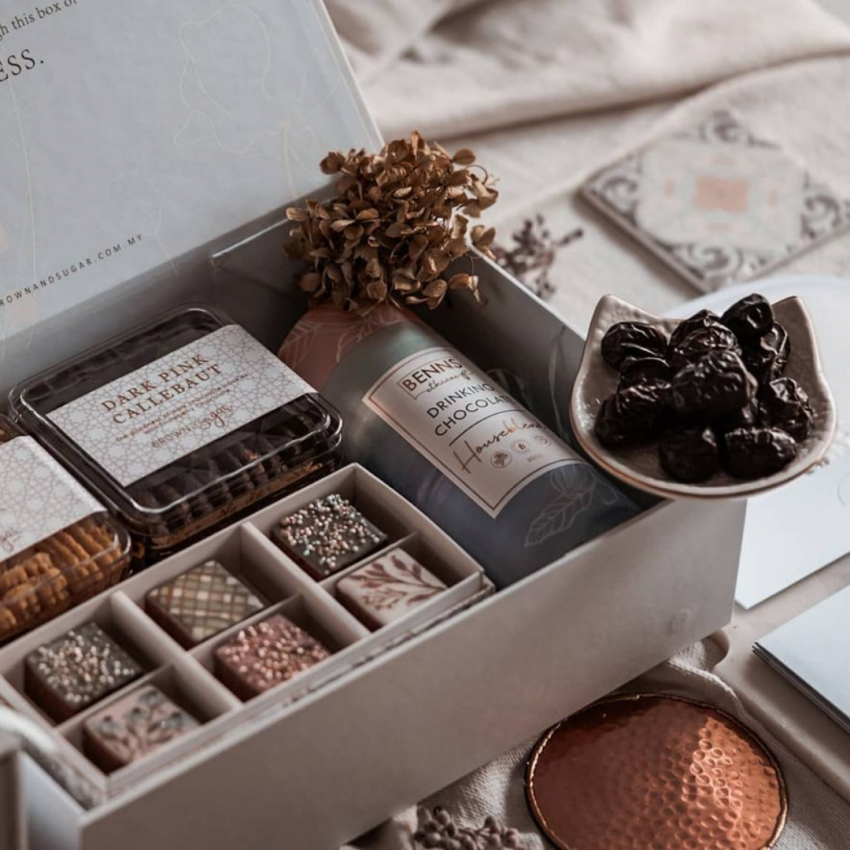 You'll be spoilt for choice when shopping with Brown & Sugar Concept. The brand has 10 Ramadan & Lebaran gift boxes for the festive season on offer, and each set includes Raya cookies, its famous praline mix, luxe packaging, and personalised touches (B&S Raya money packets and a greeting card). These boxes retail from RM95 to RM146, depending on which set you choose. Pre-order starts on Wednesday, 28 April.
6. Splatter's Manis Memories
Sweet dreams are made of these indeed! Splatter's Manis Memories includes biskut semperit dahlia, gourmet dark chocolate dates, gourmet pistachio chocolate dates, and some all-time favourite kuihs such as puteri aye, ketayap, onde-onde, lapis beras, and sago rose. This sweet gift box retails at RM150 and is available for pre-order.
7. Wishful's Calming Reflections: Impian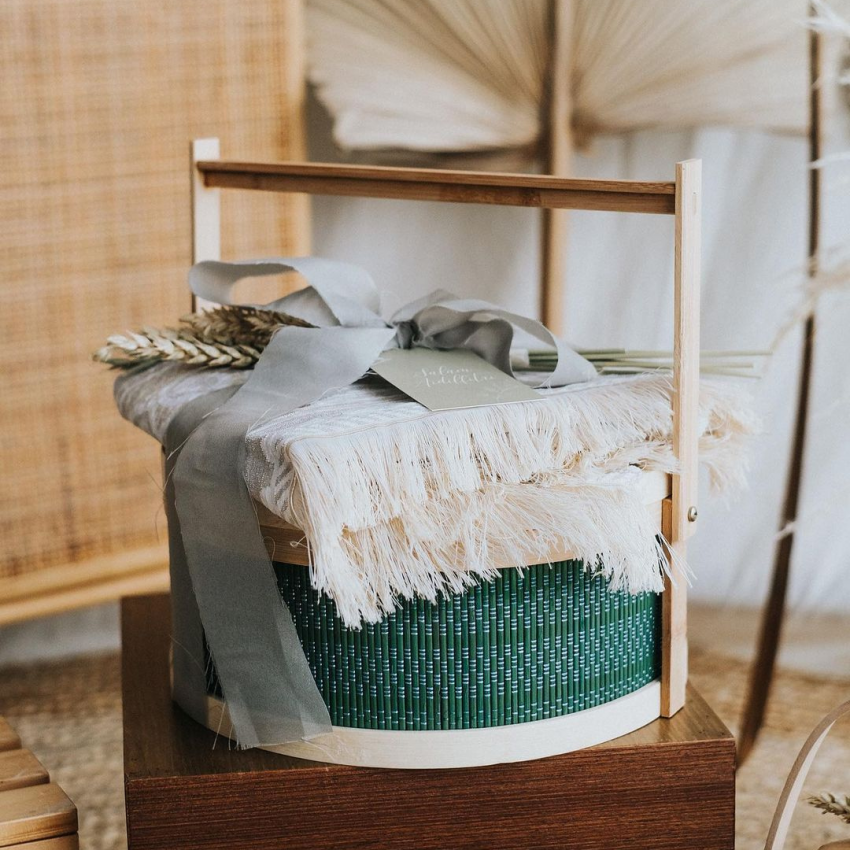 Be careful what you wish for because it just might be amazing – like Wishful's Impian set under its Calming Reflections collections. There are seven sets in total, and this lavish gift basket includes a jar of premium Mariami dates, hazelnut dark chocolate chip cookies, assorted dodol (in three flavours – durian, gula Melaka, and pandan), handmade ketupat soap by Wunderbath, and batu Seremban. Each set also comes with a personalised handwritten message card, a reusable wooden box wrapped with ribbon ties, assorted batik lining, a gift tag, and preserved foliage. It can be yours or a gift for your loved ones for RM259.
8. Benns Ethicoa's Bonbon Gift Box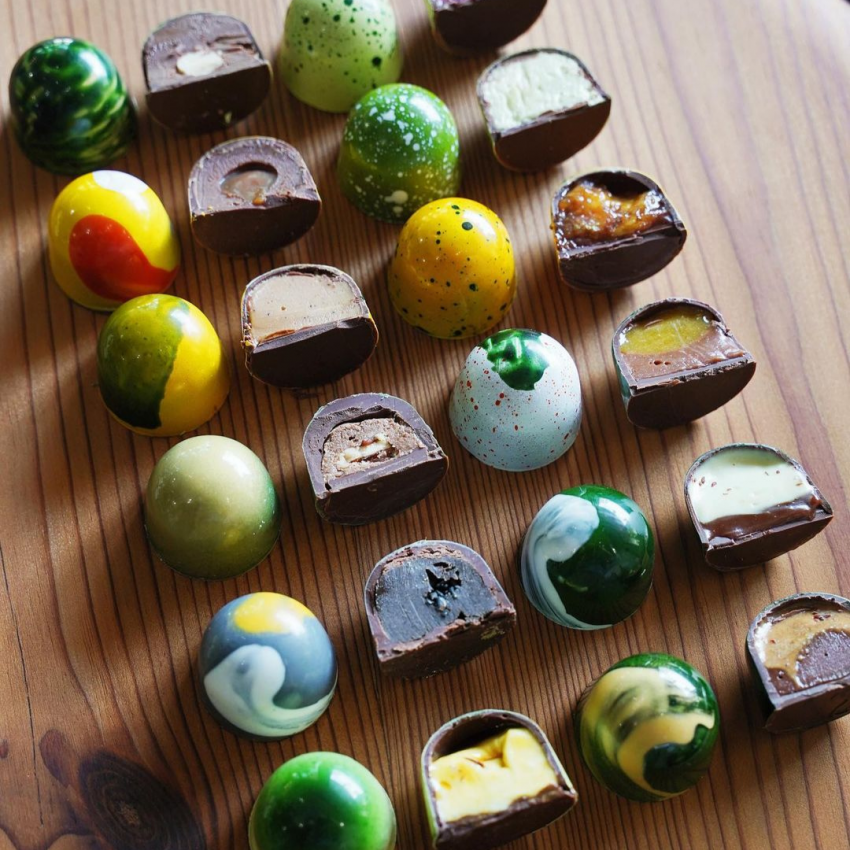 When's the last time you had bonbons during Raya? This year, obviously. Benns Ethicoa handcrafted 12 bonbon flavours – like bandung, cendol, onde-onde, salted caramel, black sesame, hazelnut gianduja, pecan, orange, caramelised banana, almond praline, teh tarik, and pandan gula Melaka – will have you eating your way through the celebrations! This box retails for RM68 (excluding delivery charges). Place your orders via Instagram DM.
9. Little MooMooCraft's 'Kuih In The Box' candles
So, you've got the food, soaps, and decor down. What about candles? Little MooMooCraft's 'Kuih in the Box' will not disappoint. There are six Hari Raya Edition scented candles to elevate your celebrations with — Orange Blush (tangerine blossom, lilac, water lily, vetiver), Lily of the Valley (lily of the valley, rose haw, jasmine, white musk), Jasmine (star jasmine, freesia, amber), Blackberry Mood (grapefruit, blackberry, bay leaf, cedar, vetiver), Lemongrass (aniseed, lime, lemongrass, amber), and Pink Peony (red apple, peony, jasmine, carnation, rose, suede). 'Kuih in the Box' is wrapped with gold fabric and includes a personalised greeting card. It's currently retailing for RM149 (NP: RM189).
10. Unbox by Huff and Puff's Jom Balik Kampung Set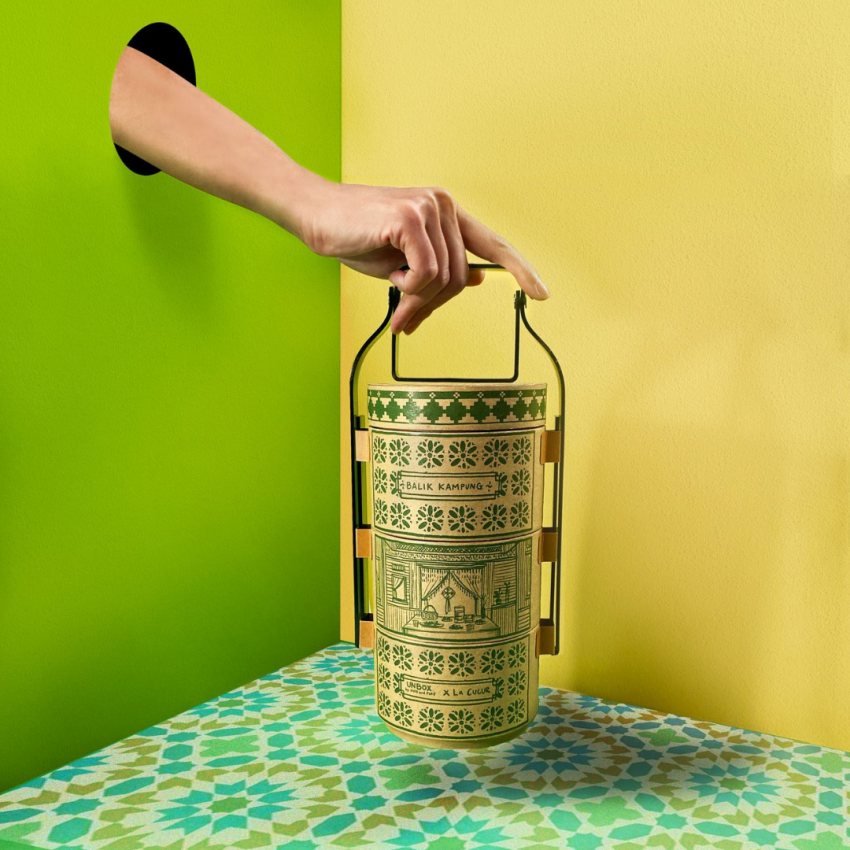 There's something about a tiffin carrier that just speaks to us, like this intricately designed Jom Balik Kampung set from Unbox by Huff and Puff. There are individually-packed snacks in each of the tiers, including serunding daging, biskut putu kacang hijau, dodol pandan, and dodol gula Melaka. It retails at RM139. Customers also have the option to personalise the gift with the recipient's name engraved on a black foam board tag (chic!). There are two other sets available too, such as Jom Masak-Masak, and Jom Berbuka.