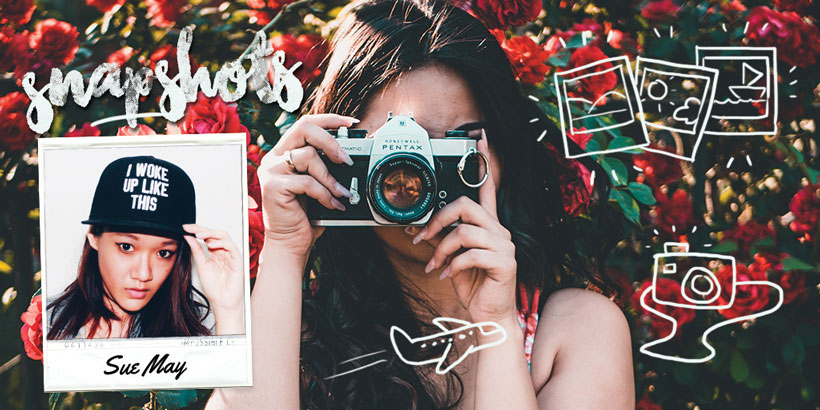 In Southeast Asia, it's pretty much the rule of thumb – where there are people, there will be food. This trip to Phuket marked my first ever to Thailand. Naturally, friends tried to prepare me for my Phuket trip by lowering my expectations, "It's very tourist-y", "Beaches are crazy crowded", "The Thai food in Malaysia is ironically tastier."
The first two were pretty much expected, but the latter comment caught my attention. Is Thai food in Malaysia tastier? Having stayed next to a food market and a night market on my recent trip, the verdict is: yes and no. Some establishments (mostly sit-down, dine-in spots) that depend on the patronage of tourists not well-initiated with local flavours tend to water down their dishes a touch. Other spots, especially the street stalls, evoke no such qualms.
You've probably heard of the concept of boat noodles before. This noodle soup is called such as they used to be sold on little boats. You don't need to look out for floating vendors anymore though, as they are now widely available on land.
Most noodle stalls provide an option of beef, pork, and chicken for your preferred choice of protein and broth, but be sure to take a sip before you add the available condiments. Noodles in Thailand is almost exclusively served with four condiments – a lime-based chili sauce, sugar, dried chilies, and fish sauce.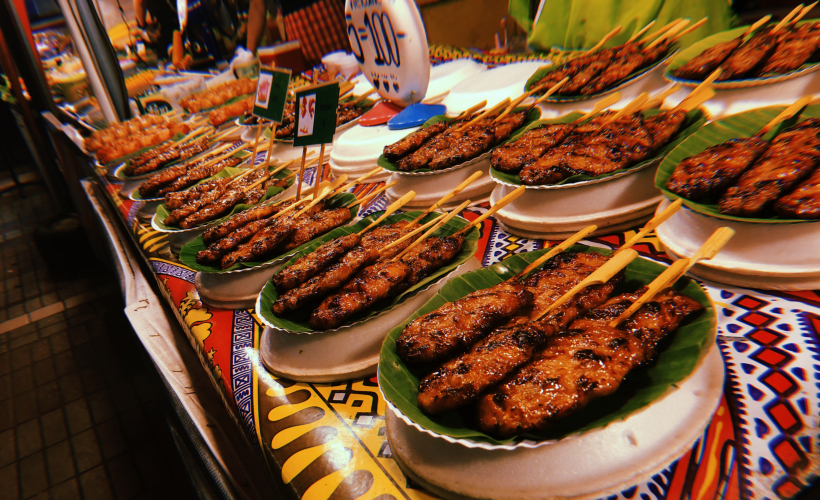 Not up for a sit-down kind of meal? You can have an assortment of skewered meat on-the-go. From pork belly to fish balls, chicken heart to tofu, choice meat cuts to seafood, the possibilities are endless. It's not just limited to meat and fish either, barbecued eggs, assorted mushrooms, and vegetables are also a common sight here.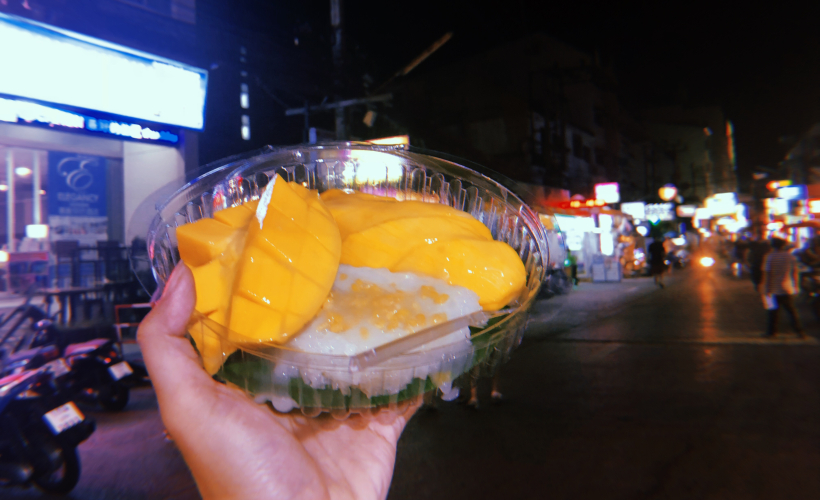 The jury's still out on this one, but I reckon that no trip to Thailand is complete without a generous serving of mango sticky rice. There's something about that absolutely magical pairing of sliced mangoes and glutinous rice well-laced with sweet coconut milk – especially after some tom yum or green curry.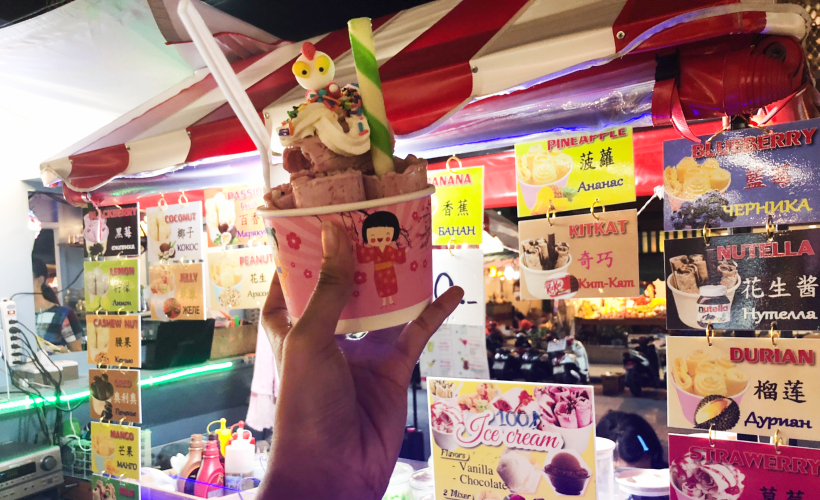 Ice cream rolls have gained popularity after taking street festivals in the United States by storm. It's not hard to see why, as it's fun to watch vendors make this pretty dessert. The handmade dessert is produced by pouring milk on an iced grill, and then adding fruits or other ingredients of choice. It's then spread over a cold surface in a thin layer where it starts to cool and harden. Within seconds, the cream is ready to be scraped off the grill into the visually-appealing rolls that you see in the many Facebook videos.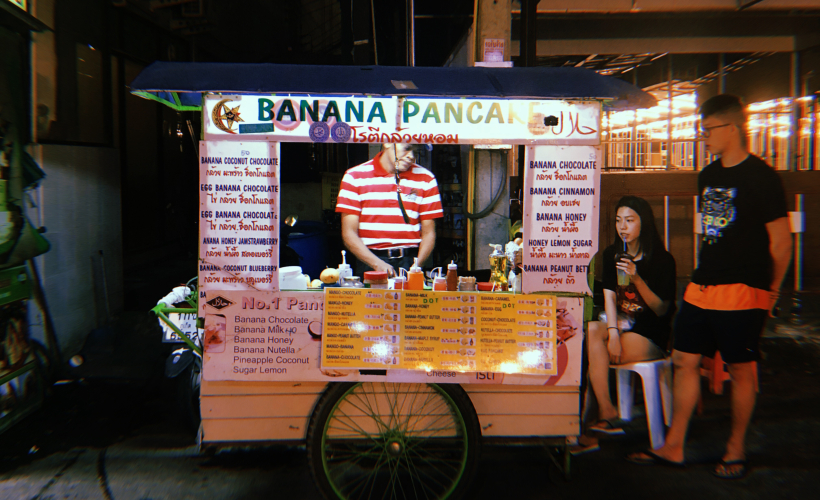 Looking for a warmer dessert? Well, there are always banana pancakes to indulge in. It's pretty hard to turn a corner in Patong without seeing a banana pancake stall (or a Happy Mart for that matter), but there's almost always a queue for these sweet treats and it's pretty much a tourist staple.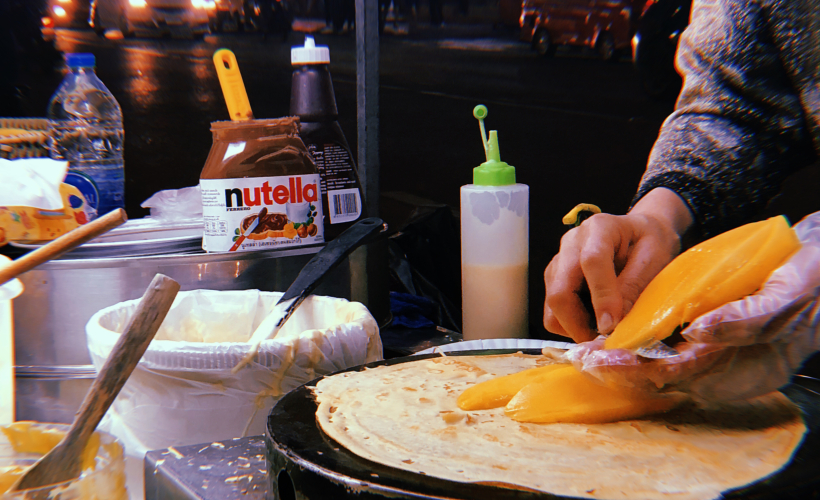 Watching these vendors at work is therapeutic. Cooked to resemble a crepe more than a pancake on a hot plate, the thin layer of cooked pancake is then topped with your choice of fruits or fillings. You can pick from a range of local fruit and even the universal favourite chocolate spread, Nutella.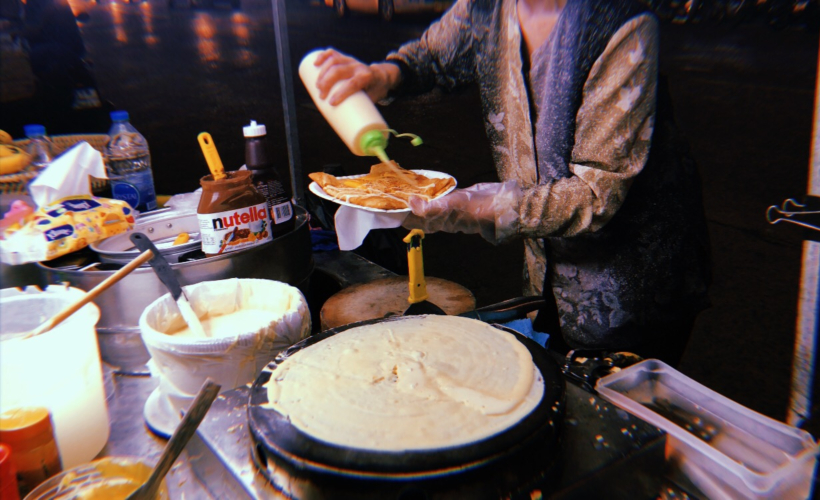 That's not where it ends though; the pancake wrapped over the sweet filling is then capped off with a drizzle of condensed milk and served hot. There's no denying that the food – especially the street eats – in Thailand is amazing and in a class of its own. 
*All photos courtesy of author
Snapshots is our photo essay section, where we ask readers to share a curation of their favourite images to tell the story of their city or a destination they have travelled to. We welcome contributions from readers; if you have a photo story to share, email [email protected] and indicate 'Snapshots' in the subject line. Published submissions will receive a token sum from us. 
Get all the latest travel stories from Zafigo. Follow us on Facebook, Twitter, and Instagram.