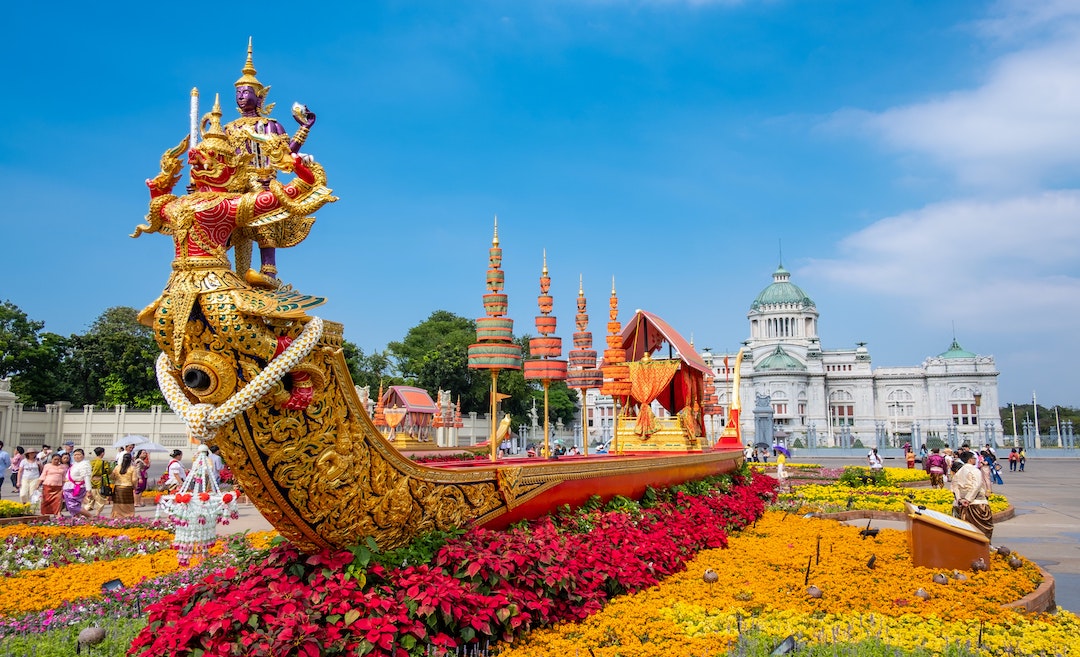 As a central hub for travel in Southeast Asia, Bangkok, Thailand is often a destination for business travellers as well as vacationers. Many companies and organisations have regional offices in Bangkok, making it an ideal location for short-term and long-term business travel. Its proximity to beautiful beaches and breath-taking mountains also makes it a great starting point for backpackers and vacationers alike.
Affectionately known as the Land of Smiles, travellers quickly notice the relaxed, laid back vibe that permeates all of Thailand. This philosophy of 'mai pen rai', loosely translated as 'don't worry about it,' should be adopted by all visitors to Bangkok, where the hustle and bustle common to all major capitals can be overwhelming when mixed with the sweltering heat and gridlock traffic. Plan accordingly and then just relax and enjoy the sights, sounds, and amazing aromas of the busy streets.
Lay of the Land
Located in the centre of Thailand, Bangkok is the large and highly populated capital of Thailand. The Chao Praya River divides the metropolitan and acts as an easy landmark when taking in the view from any of the many rooftop restaurants and bars spread throughout the city.
The most significant landmarks, however, are the aboveground sky train and below ground metro systems. In particular, the sky train (the BTS) is the easiest way to keep oriented when travelling along Sukhumvit Road, the commercial and shopping centre of Bangkok. Unfortunately for many tourists, the sky train system doesn't conveniently reach many of the most common historical and cultural sites, so expect to transfer between river taxis, tuktuks (motorised rickshaws) and regular taxis when visiting sites like Wat Arun, the Grand Palace, and Khao San Road.
The main districts in Bangkok lie east of the river, with the temples and the Khao San backpacker area located nearer to the river, and the main shopping and entertainment areas (Siam and Sukhumvit) located further east.
A good, large detailed overview map of Bangkok, showing the main shopping areas, sky train and subway routes, temples, parks and other attractions is as follows:
The Weather
Bangkok is hot a humid for a vast majority of the year with a split between dry and wet season. Wet season runs from July to October, although rain can occur during any part of the year.
Rainy season
During wet season, you can expect to spend most days with wet toes, since Bangkok streets often remain covered in puddles ranging from a quick hop to swamp-level trekking. Grey skies and constant rain are common, but at least they break up the sweltering heat of the drier months leading up to wet season.
Bring an umbrella with you. If you're caught without one, you can usually buy one at any convenience store or from various street vendors.
Many stalls and stores also sell ponchos but keep in mind that the heat and humidity get trapped under the poncho, making you wish you were just wet instead. Ponchos are best if you're taking a tuktuk or motorcycle taxi and can't use an umbrella.
Best times to visit
The most comfortable time to visit is during the cool part of the dry season from November through February, when the rain has stopped and the temperatures have evened out to between 18 and 32 degrees Celsius.
This coincides nicely with high tourist season so expect an increase in outdoor activity, including the sudden appearance of outdoor beer and barbecue gardens all throughout the city. Almost every outdoor space fills with festive food and drink vendors, catering to all ages and sponsored by some of the biggest names in alcohol and luxury goods.
Don't worry too much about looking online ahead for information on these pop-up beer gardens. You might find some basic information in BK Magazine or Facebook, but your best bet is to start at any of the major malls along the skytrain and wander until you find one you like.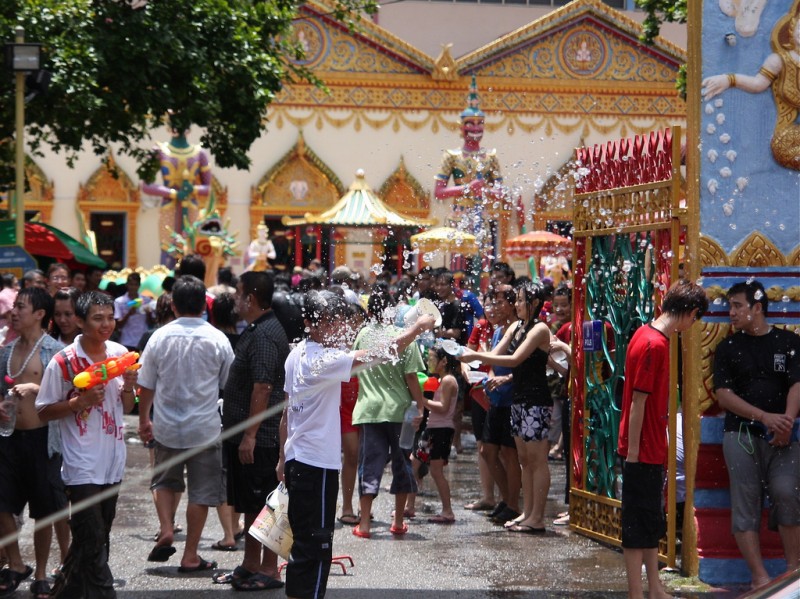 Songkran/Thai New Year
April is one of the hottest but driest months in Bangkok, which turns many travellers away. Unfortunately for them, that means missing Songkran (also known as Thai New Year). Songkran takes place April 13 through 15 and is basically a city-wide water fight.
Check out the parties! Music festivals take place all over town and some of the biggest streets close down completely for giant, all-day water fights.
Khao San road and the surrounding side streets fill with festivities for all three days (and sometimes days before or after if it falls near a weekend).
Silom shuts down all day but quickly fills with people to the point of sardines in a can as night approaches so go early or be prepared to get very close to fellow party-goers.
Siam also fills with people but is a little more family-friendly and tame compared to the other entertainment districts so start there if you want to test out your water tolerance before committing to the bigger parties.
Even though everyone is getting wet, it is not common for women to walk around water fights in just a bathing suit so try to bring comfortable shorts and t-shirts that can handle being splashed. Chaffing can be a frustrating problem with wet shorts, so plan accordingly.
Richard Barrow's tips for Songkran are a few years old, but he includes some great advice that is applicable no matter the year. In particular, I agree that "Thai people are traditionally conservative, but some young men will take advantage of Songkran to grope you. Many of them have been partying all night and are drunk…" so keep in mind the possible consequences of alcohol mixed with crowded spaces.
Check out this Paper Plane's blog post, "Tips for Surviving Songkran," for more advice and even more links to other bloggers' top tips.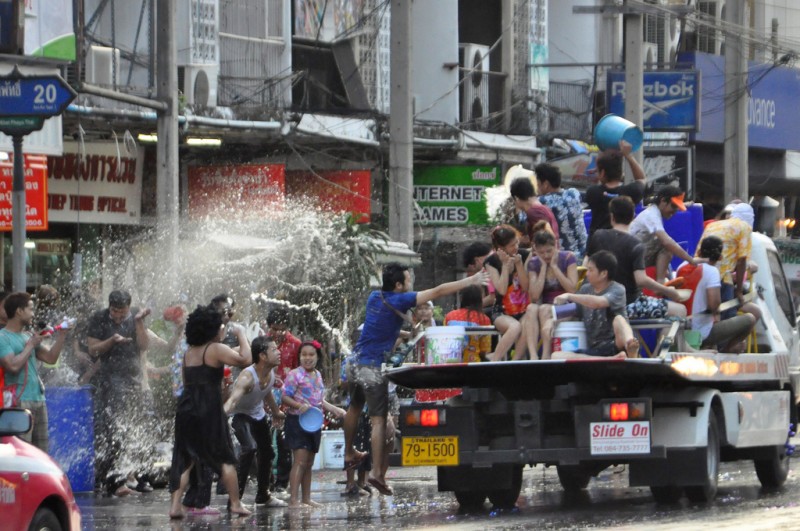 Women travellers
Bangkok (and Thailand in general) is quite friendly for women travelling in groups or alone, on business or for fun. While there is no denying Bangkok's seedier reputation, an unexpected result is that many such activities are aimed at male travellers far more than at female travellers, leaving women a fairly safe space to move freely and without significant risk – they just aren't often the focus of brothels, money scams, drug dealers, and other similar harassment.
Street harassment and violent crimes against foreign women are unusual, making Bangkok a relatively safe city. There are always risks of petty crimes, pickpockets, and purse snatching so of course maintain a normal level of vigilance and avoid late nights in the red light districts.
Generally speaking (with all of the related disclaimers attached to that phrase!), Thailand is a safe and easy place for women to travel alone. Although there are elements of Thai culture that may still seem conservative to some travellers (and plenty that may seem very liberal to others), foreign women will likely feel comfortable in whatever style dress they choose, going wherever they choose.
When it comes to what to wear, as with any country, tourists will stand out for wearing particularly flamboyant tourist gear (beer label tank-tops/vests, bathing suits under see-through shirts, visible bum bags/fanny packs), which may seem as disrespectful even if it isn't prohibited. For more detailed information, see "Culture and Customs" below.
On what to bring along with you when you visit the city, Bangkok prides itself on having every product, brand, and haute couture fashion house somewhere in one of the dozens of malls scattered throughout the city so no need to fear forgetting to pack something. Check out "Essentials" below for more detailed information.