[vc_row][vc_column][vc_column_text]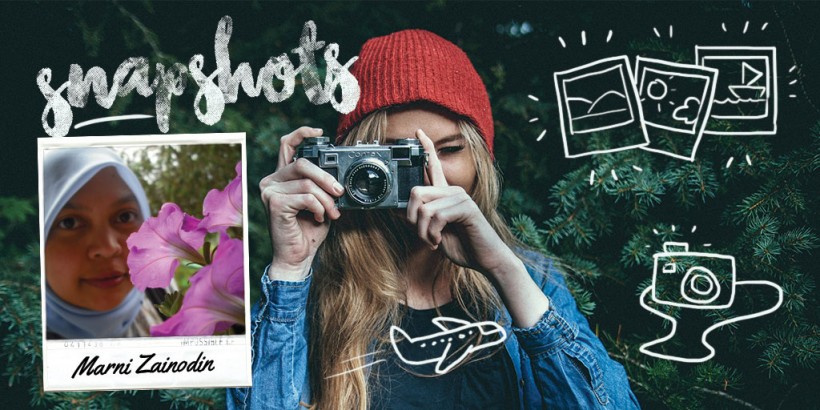 Last month, I was in Bangkok for Asia-Link Sketchwalk, organised by a regional chapter of global non-profit organisation Urban Sketchers. The four-day event drew nearly 300 participants from 12 ASEAN countries and as its name will tell you, we gathered to do one thing – sketch! From day to night, we walked all over the city to sketch at selected locations.
We were based at the Ratchadamnoen Contemporary Art Centre (RCAC), not far from the Grand Palace, where the King Bhumibol Adulyadej was lying in state since 13 October. Thailand was observing a year-long mourning yet our host, Urban Sketchers Bangkok, did not miss a beat in making the event a success.
The white walls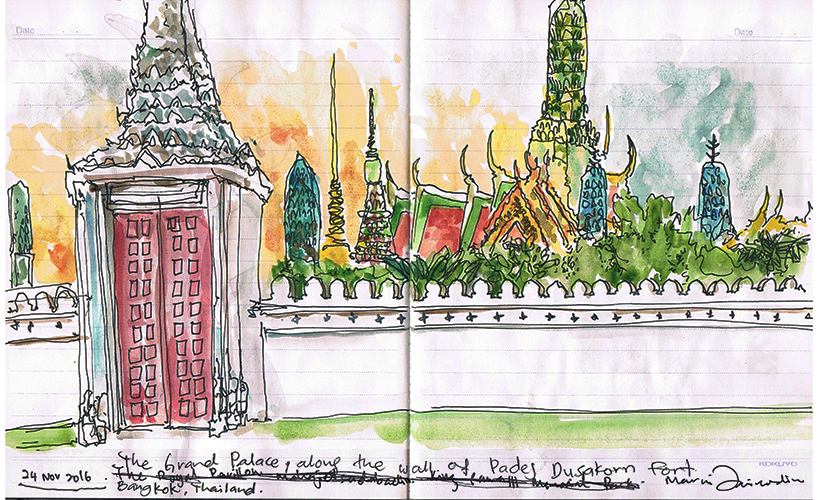 Our first location was The Grand Palace, a majestic building even from far. We had the opportunity to observe how the Thais paid the respect to their late King. They would kneel, pray and place flowers along the white walls of the palace and this went on all day until the last glimpse of the sun.
Walls serve many purposes: To guard, to state one's territory, mark boundaries, show greatness, and to separate. The walls, I was sure, knew too well what they were witnessing around them. I wondered if they could hear all the prayers. If they could speak, they would probably say to the mourners, "I hear you and stand with you too".
I'm not trying to get poetic but in the light of what Thailand was going through at the time, I found the walls a comfort to look at. Grief and sorrow are part of life's contract, and those walls say as much in their gracious form. In their whiteness and in their width and length, we shared a place to grief in serenity.
Great greens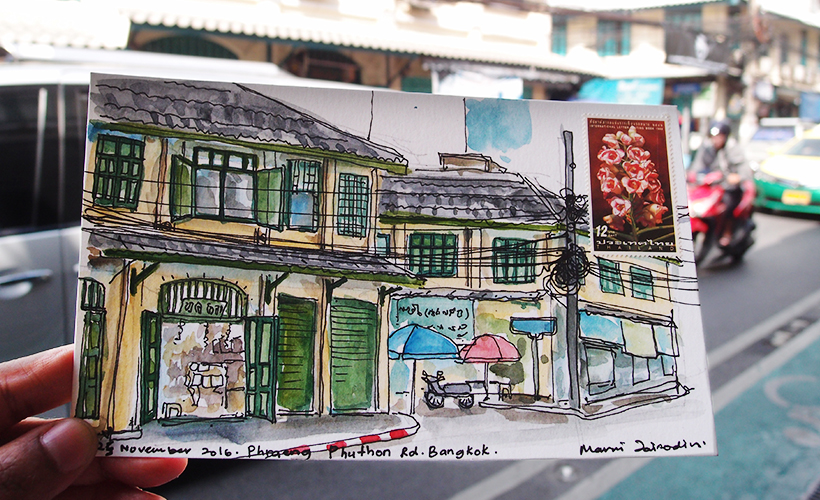 I was drawn to the shophouses that line Phraeng Phyuthon Road, which stands on what was part of the old palace grounds. After the last of its dwellers moved out, the estate was partitioned into rows of colonial-style shophouses. The doors and windows are all painted the same calm shade of green and while the units are small in size, they are full of life, housing Thai food shops and kiosks selling everyday goods.
The Giant Swing
You can't miss the Giant Swing or Sao Ching Cha in Phra Nakhon. As mentioned on our event guide map: "The swing is a ritual structure in front of Wat Suthat, built in 1784 by King Rama I. It was once the focus of a colourful Brahmanistic rite dedicated to Shiva, in which teams of people swung to great heights to snatch sack money. The performance of the rite was discontinued in 1935 for safety reason."
After sketching and reading about it, it dawned on me that for about 151 years, it existed as an amazing and most daring performance that could rival a Cirque du Soleil show. The rite may be history now, but this tall red structure made of sturdy teak wood continues to stand proudly and catches the eye from afar.
Gold hill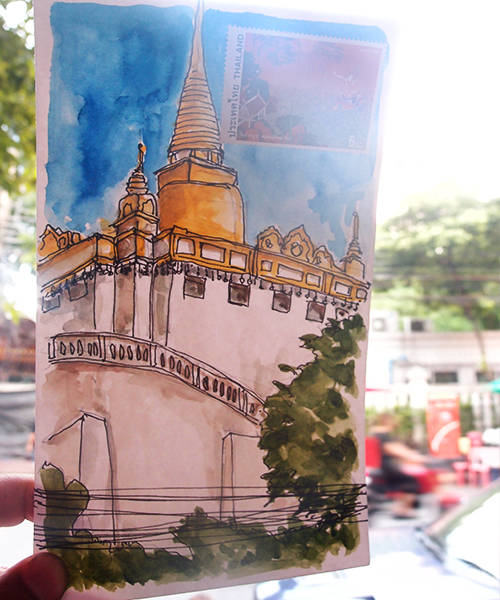 There's a temple everywhere you turn in Bangkok, and each of them can be traced to Thai royalty. Wat Saket (Temple of the Golden Mount) is one the oldest temples in the city. Renovated during the reign of King Rama 1, within the temple grounds is the Golden Mount, a manmade hill topped by large gilded stupa that has long been the tallest structure in Bangkok.
Tip At the entrance, opposite the shop houses, there's a street food stall that sells the most delicious som tam (papaya salad). It's a must try that!
Eat, Sketch, Love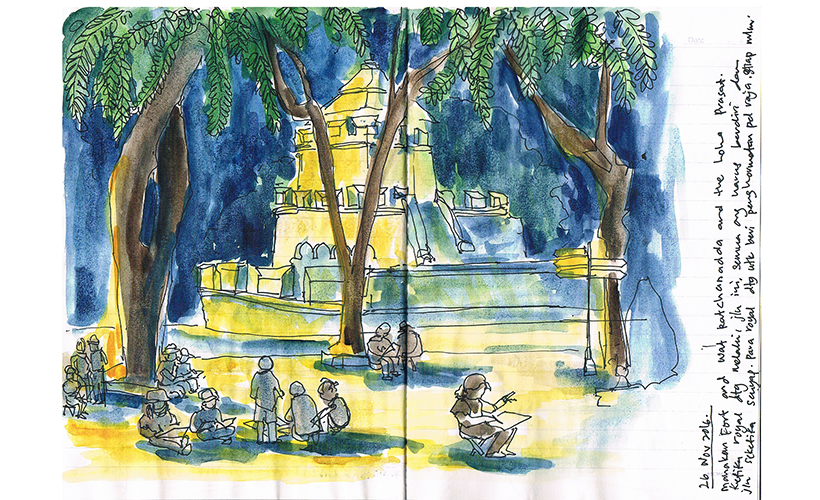 For four days, we sketched practically everything that caught our attention or that we felt were worth immortalising in lines and colours. We sketched people, buildings, food…we sketched inside and outside of buildings, by the gutters, in front of and next to shophouses. We would stop to eat, and then sketch again. And most importantly, we sketched together.
Night lights
We continued sketching even at night. It was thrilling in a way; at night, there was the added challenge of finding a spot by the light, to catch the beautiful neon spark. Contrasted against the dark of the night, every flicker shone in its beauty. To see these temples sparkle at night made for quite an enthralling sight.
[box color="#89c44c "] Read the previous Snapshot: Slowing Down In Siam Reap To Discover More Than Just The Temples [/box]
Snapshots is our photo essay section, where we ask readers to share a curation of their favourite images to tell the story of their city or a destination they have travelled to. We welcome contributions from readers; if you have a photo story to share, email [email protected] and indicate 'Snapshots' in the subject line. Published submissions will receive a token sum from us. 
[/vc_column_text][/vc_column][/vc_row][vc_row][vc_column][zf_post_boxes widget_hide_desc="true" num_post="3″ post_id="11232, 7815, 11517″][/vc_column][/vc_row]