It's been a hot minute since I've visited Melaka, and to be quite honest, the desire was never there. My last visit to this unique Malaysian state was unmemorable and disappointing, but to be fair, it was a quick work trip and didn't leave much room for play. So, when the opportunity came to go to Melaka, after many, many moons of not doing so, I decided it was time.
And who better to go with than my best friend? We both lead very different lives and spending time as adults doesn't come as easily as it used to when we were teens. A short weekend away in Melaka that consisted of doing nothing but eating? Who in their right mind would ever say no to that?
Where we stayed: Courtyard by Marriott Melaka
The drive to Melaka from Kuala Lumpur was easy-breezy, and with some good music and my bestie in tow, it went by in a flash. Before we knew it, we arrived at our weekend stay — Courtyard by Marriott Melaka.
I'm a big fan of this sister chain by Marriott, and I remember falling in love with Courtyard by Marriott in Bali, a very family-friendly resort in Nusa Dua. So, I had high expectations walking into this newly opened one in Melaka.
Like most 4- to 5-star hotels, you can expect the basic amenities here, like an in-house bar, restaurant, gym, swimming pool, and a private dining space equipped with karaoke! There are spacious function rooms perfect for special events too!
An introduction to our temporary abode
A little different from what I was used to at my last Courtyard by Marriott stay, our room was simple but spacious enough for two friends to bunk in for the weekend, and what would hotels be if they didn't have comfortable and inviting beds? As if what was offered isn't good enough, guests can also choose from different types of pillows for added comfort.
Their Pillow Menu offers five different options, from Medi + Health Aloe Vera Soft Memory Pillow, which aids in relieving aches and is perfect for allergy sufferers, to Buckwheat Pillow that contains buckwheat hulls to help promote proper rest by supporting your neck and head positioning.
The bathroom is what you would expect from a Marriott hotel –– modern, clean, and all you'd want a simple bathroom to be but equipped with everything you'd need, including toothbrushes, which I conveniently forgot to pack.
Where to eat?
What is a trip to Melaka for a pair of foodies if we weren't going to exert our stomachs on the culinary offerings? Our 48-hour eating trip in Melaka began at the hotel itself, where we indulged in their freshly-squeezed fruit juices, a hearty plate of Nasi Goreng Kampung, and their version of Melaka's beloved Asam Pedas –– all of which hit the spot, and started our trip on the best note. Unfortunately, we inhaled everything, so there was zero time for pictures.
One of the many reasons we chose this hotel is due to its prime location; everything we wanted to eat was accessible by walking or was a short drive away. Below are some of the eating spots we explored, and you should definitely add them to your Melaka list for the next visit.
1. Seafood feasting at Ikan Bakar Muara Sungai Duyung
Travel time from hotel: 12-minute drive
After quickly getting to know the hotel a bit more, we went on a little ride to a seafood restaurant not too far away. Now, I don't get to eat seafood often, if at all, because my partner in life doesn't. Not because he is allergic, but simply due to not liking it, though having never tasted it, I don't know how he came to this decision.
But I digress. So, off we went to Ikan Bakar Muara Sungai Duyung, and the hotel was nice enough to arrange a ride to this restaurant, which was located by the riverside. Seafood lovers, you'll be spoilt for choice here because the options are as fresh as they can be, and everything is affordable.
We had just about everything, from butter prawns and fried squid to chilli crab and steamed cockles, with a delicious side of in-house chilli mix. This was also the first time I ever tried bamboo clam, and it's safe to say it won't be my last. Packed with nutrition like collagen and vitamin B12, it paired beautifully with a hot plate of white rice.
2. A nightcap at Budi
Travel time from hotel: 4-minute drive, 13-minute walk
Not all speakeasy bars are made the same, and Budi is undoubtedly one of a kind and a true (literal) hidden gem in Melaka. Founded by a Malaccan, Budi means good manners or good deeds, and is easy to miss. I mean, even its sign is tiny, and if it weren't for my best friend, I would never have known such a place existed.
What a shame that would be –– as someone who's had her fair share of good (and gross) cocktails, Budi makes it to my top three. All ingredients used in the concoctions are locally sourced, fresh, and pair well with each other.
Some (read: all) of the cocktails here, inspired by local flavours, are so good that you almost forget they're alcoholic, and where ambience is concerned, corrugated panels, mismatched furniture, and random throw cushions genuinely add to the already charming setting. Beware of those steep steps, though, especially if you've had a few.
The must-tries: Kedondong, Kacang Manis, Burnt Rice, and Chrysanthemum High Ball
Address: 16, Kampung Jawa, 75100 Melaka
Contact: +6017 718 8269
3. Supper at Seri Erra Kopitiam
Travel time from hotel: A minute's drive, 3-minute walk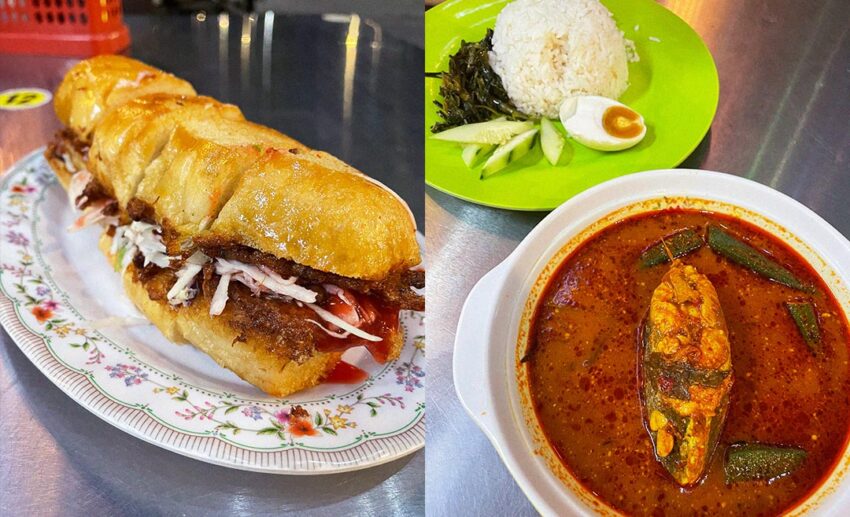 As if we needed to do more eating for the day, we found ourselves famished after drinks at Budi. And so, thanks to the recommendation of a local friend, we made our way to Seri Erra Kopitiam. He says it's his little secret, so I feel guilty as I write this, but good food is meant to be shared! Here, we found the best asam pedas I've ever tasted. The gravy was perfect in consistency –– fine bits of tenggiri really elevated the dish.
Now, let's talk about the Roti John, which locals who know will claim as the best in Melaka, and they're not exaggerating. For an absolute steal at RM4, you get a generous portion of the usual Roti John filling in between a buttered brioche bun.
Address: 1 Jalan Tun Sri Lanang, 75100 Melaka
Contact: +6017 682 7177
4. Quality brew at The Daily Fix
Travel time from hotel: 6-minute drive, 20-minute walk
While we're not ones to shy away from a hotel breakfast because they're usually pretty spot on, we decided to skip it on our second day in Melaka and save it for our last instead. We Googled for something around Jonker Street and came across The Daily Fix.
Expect the usual cafe food options here, and we did our best to try a bit of everything, but the ones that truly stood out were their Eggs Ben and Signature Pancakes. While the eggs were over-poached (in my honest opinion), I could still relish the dish. Their pancakes? Soft, fluffy, and perfect. Their oat lattes were so good we chugged ours down almost immediately and ordered a second round.
Address: 55, Jalan Hang Jebat, 75200 Melaka
Contact: +6013 290 6855
5. Best of Nyonya cuisine at Heritage Flavours
Travel time from hotel: 6-minute drive, 23-minute walk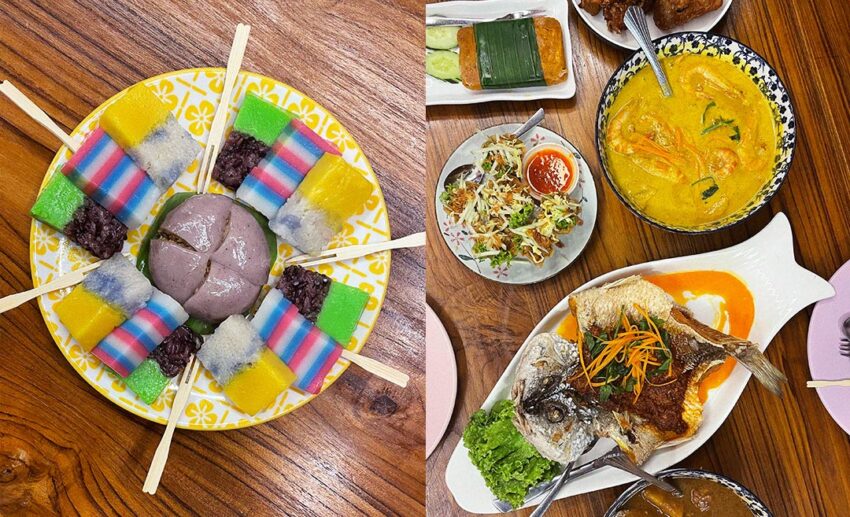 Located along the famed Jonker Street, where food is abundant, Heritage Flavours is a must-try for all foodies, which is what we are and what we did. The setup simple but inviting, and the restaurant itself is hidden, and much like many eateries in Melaka, it's a shop within a shop.
Expect the usual Baba-Nyonya fare here, like decadent kuihs and pai tee. For mains, we pulled out all the stops and ordered almost everything recommended, like their Chicken Pong Teh, Udang Masak Lemak, Fried Chicken, and a fish dish. We even ordered their otak-otak, which was sublime!
Address: 63 Lorong, Jalan Tun Tan Cheng Lock, Taman Kota Laksamana, 75200 Melaka
Contact: +6017 399 3988
6. Cool off with some cendol at Bibik House Chendol
Travel time from hotel: 8-minute drive, 21-minute walk
You know how they say, if you want the best cendol, Melaka is the place to go? It was during this recent trip that I fully understood the culinary brilliance of this shaved ice dish. To cool off after a hefty lunch spread, we treated ourselves to a (sweaty) walk to Bibik House Chendol –– I opted for the classic instead of their famed durian one.
I was in dessert heaven, and the gula Melaka was not watered down whatsoever! I highly recommend heading here if you want a quality version of this beloved dessert.
7. Durian on-call at the hotel
I'm not a massive durian fan, and it's safe to say that it's been decades since I've had some. But my best friend has this power over me –– she can get me to do things I never normally would, and in the case of this food trip of ours, she coaxed me into eating durian.
Thanks to the people at Courtyard by Marriott Melaka, we were treated to on-call durian. Yeap, you read that right. We didn't go to the durian. The durian came to us! Thanks to a simple WhatsApp message, in less than 20 minutes, we had a durian truck over at the hotel, and we feasted on some of the creamiest pieces we'd ever tasted.
For more info, contact the reception.
8. Last supper at Courtyard by Marriott
When I first stayed at a Courtyard by Marriott in Bali, the food completely wow-ed me. Sure, I have an affinity for Indonesian cuisine, but what surprised me was that the dishes served didn't taste like hotel food.
So, during my visit to the recently opened Melaka destination, I decided we would have our last dinner at the hotel –– and I was not disappointed. The buffet spread had a little bit of everything from Asian to Western.
Their cheese selection wasn't too bad either, and I still can't get over their Salmon Wellington — a unique take for sure. The dessert offerings had their own section, and we were spoiled for choice with pavlova, various pastries, and a wide selection of mini cakes.
Address: Jalan, Lorong Haji Bachee, Kampung Bukit China, 75100 Melaka
Contact: +606 221 2288
All in all, my trip to Melaka was memorable, especially with my best friend in tow. Thanks to Courtyard by Marriott's accessible location, we could fully explore the city's thriving food scene. That said, I highly recommend a weekend away in Melaka at any time of the year, and I'm already ready to plan another trip!