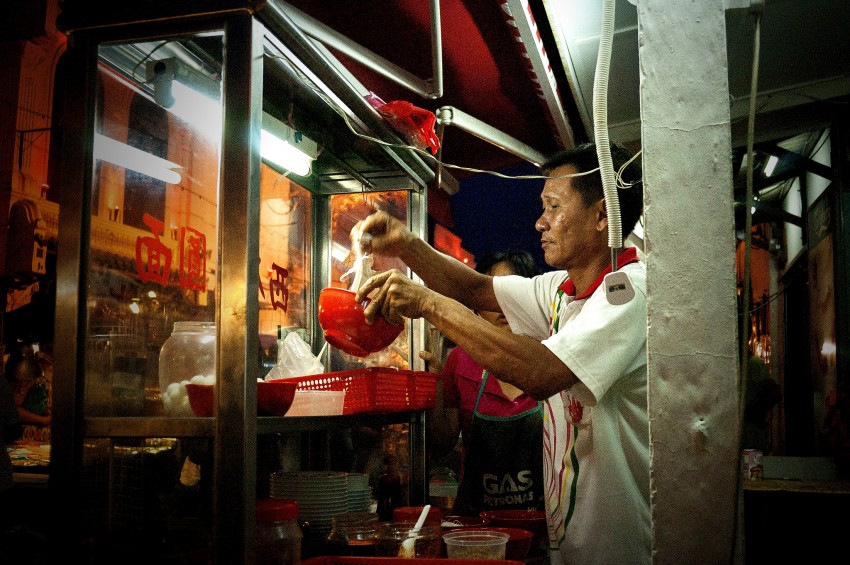 Search any travel guide on Melaka and the first thing you'll notice is the abundance of food. Since its humble beginnings as a stopover port for traders half a millennium ago, Malacca has attracted a wide array of travellers, some of whom settled down and lent their unique touches to the cuisine here.
Popular dishes that tourists often flock to include satay celup, skewers dipped in boiling peanut sauce, and chicken rice balls, which are little balls of flavoured rice served with succulent cuts of poultry. Restaurants serving these dishes are often crowded and the long lines can be exhausting, especially on weekends.
Does this mean you have to give up trying local specialties when in town during a crowded holiday? Not if you know where to go! Here are some lesser-known (but no less gratifying) Melakan specialties, authentic heritage meals that are a favourite with the locals and which the regular tourist has yet to sink their teeth into.
1. Duck noodles
You can find duck noodles all over town, with different shops selling their own slightly varied version. For many Melakans, the go-to spot for this dish is Tengkera Duck Noodle Restaurant. You choose your preferred noodle type, which will be doused in duck gravy and garnished with slivers of braised duck. The gravy is chock full of flavours from the duck meat, while the braised meat itself is tender and juicy.
Where: 33 Jalan Kota Laksamana ½, Taman Kota Laksamana, Melaka | Opens: 7AM – 3PM, Wed-Mon; closed Tue
2. Fish and chips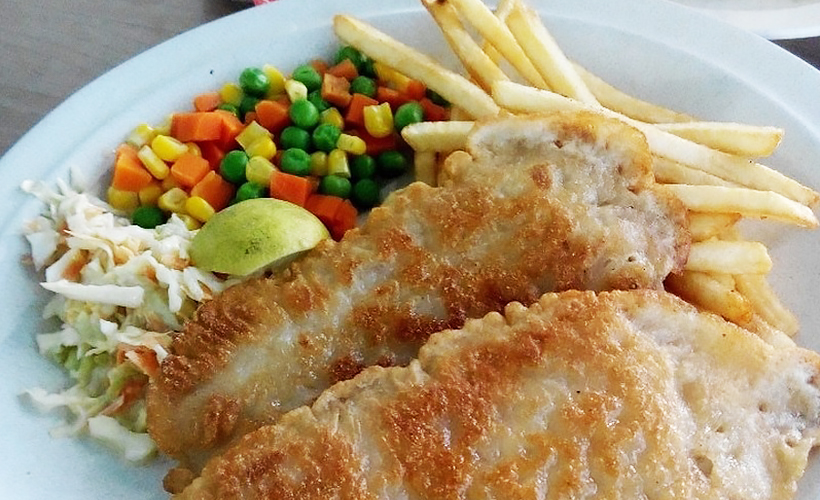 Odeon Western Food has been in business for about 30 years, and is a family-run establishment specialising in Western dishes. The family prides itself on its original recipes, which are homely and comforting. Their bestsellers are roasted chicken, chicken chop, and Western breakfast sets, which come cheap and tasty. You'll also find local rice and noodle dishes on the menu. The one dish you must try is their Fish and Chips; the fillet is covered in a soft egg-rich batter with a tender and fluffy texture. This is rather different from most other versions, which are usually breaded or have a crispy batter.
Where: 605 Jalan Melaka Raya 10, Taman Melaka Raya | Tel: +606 283 0782 | Opens: 7AM – 2PM, Thu-Tue; closed Wed
 3. Pongteh Babi
Peranakan food, a unique blend of Chinese and local Malay cuisines, is famous the world over for its rich flavour and complex tastes. However, many of the older and larger Peranakan establishments in Melaka have succumbed to commercialization and therefore, don't offer pork-based dishes anymore. The Unicorn Café is one of those that have stayed authentic, offering Peranakan pork dishes. One of the most highly recommended dishes here is the Pongteh Babi, pork belly simmered in a bean paste stew, with mushrooms and potatoes. Don't miss the Nyonya Pai Tee and Popiah too, both of which are vegetarian friendly.
Where: 626 Jalan Melaka Raya 10, Taman Melaka Raya | Tel: +6016-342 5365 | Opens: 10.30AM – 4.30PM, Fri-Wed; closed Thu
4. Cheese Fried Beehoon
Beehoon is a type of thin rice vermicelli that's enjoyed in many dishes in Malaysia, but Aunty Fatso Restaurant's version is certainly unique – with fresh prawns and most surprisingly, cheese for a gooey, creamy sauce. It's not your everyday combination but it works!
When you dine here, you'll notice that most customers are locals, who come here mainly for seafood dishes, which are delicious yet reasonably priced. Signature offerings include Carnation milk crabs and Chicken Curry with Roti, served with bread that resembles flower petals surrounding a bowl of spicy chicken curry.
Where: 39 Jalan Taman Melaka Raya 30, Taman Melaka Raya | Tel: +606 283 6456 | Opens: 6PM till late daily
5. Portuguese Baked Fish
At the seafront Portuguese Settlement, you will find a row of restaurants that all specialise in seafood. Locals will tell you that it doesn't matter which stall you pick – most of the restauranteurs are related to one another, and their food are on par with each other's.
The must-try is the baked fish, which is smothered in a spicy sambal sauce and wrapped in aluminium foil before being grilled over a charcoal fire. This results in a juicy and succulent dish that's best eaten with rice or plain bread, or even just on its own. There are also clams, prawns, squid and other seafood that can be cooked the same way. They do vegetables very well too – you won't go wrong with the black pepper brinjals.
Where: Sea Terrace, Portuguese Settlement, Ujong Pasir | Opens: 4PM-1AM daily
6. Teochew porridge
The Teochews are natives of the Chaozhou prefecture in China. Many of them emigrated to Malaysia decades ago, settling down mainly in Melaka and Johor. They brought with them a distinct dining experience in the form of Teochew beh or Teochew porridge. The porridge itself is plain and unflavored, but walk into a Teochew beh restaurant (like Kedai Makanan Teo Seng) and you'll be greeted by a huge array of dishes that you can pick to complement the porridge. Basically, you stand within view of the busy proprietor and point to what you want, and he or she will dish it out for you. The standard fare includes braised eggs and tofu, salted vegetables, and steamed minced pork. If you're lucky (or really early), you can try their signature stewed pork belly and yam.
Where:32 Lorong Bukit China, Opposite Capitol Satay | Opens: 11AM – 4PM daily
 7. Prawn Cracker Hee Kiaw Mee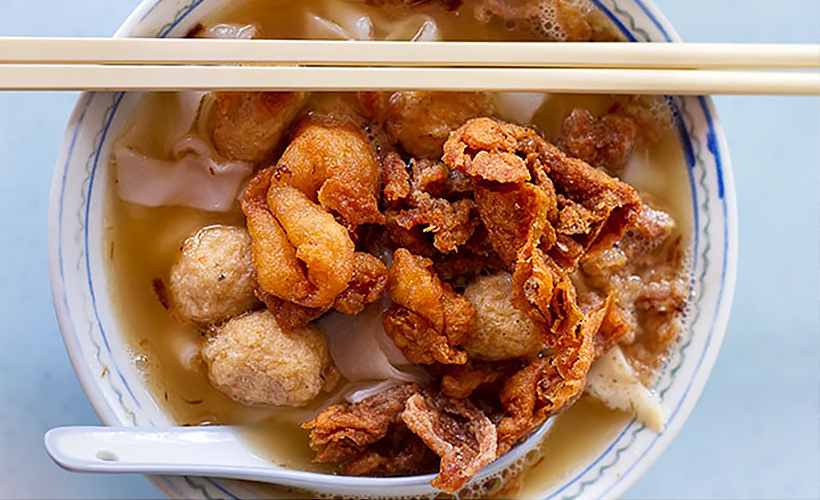 Hee kiaw mee (noodles with fishballs and fish cakes) are another ubiquitous yet under-the-radar Melakan favourite, available at many coffee shops around town. This stall on Tranquerah Road, which has been opened for decades and holds a lot of sentimental value for locals, ups the game by adding crunchy prawn crackers to the dish, adding that extra kick and helping to bring out the flavours in the broth. Diners can choose from three types of noodles: Yellow mee, kuey teow (flat rice noodles), or thin vermicelli. If you can't decide, ask them to mix it up.
Where: 345, Jalan Tengkera | Opens: 6AM -2PM daily
 8. Fresh boiled cockles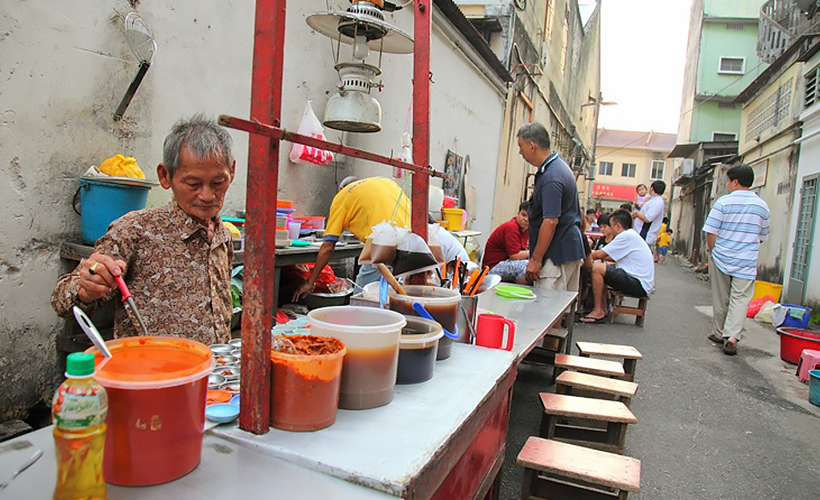 If you're squeamish about food hygiene, this eatery may prove a challenge. Tong Bee is located in a back lane and everyone has to squat on low stools beside open drains, but that's part of the unique dining experience. The main draw is the boiled cockles, which you slurp plain or dipped in their signature spicy-sweet sauce. They're also famous for their kangkung and cuttlefish salad, barbecued tofu skins, and other boiled shellfish.
Where: Jalan Bunga Raya (look for Madam King's Department Store and turn right into the small lane after it) | Opens: 7.30PM onwards, daily
9. Fishball salad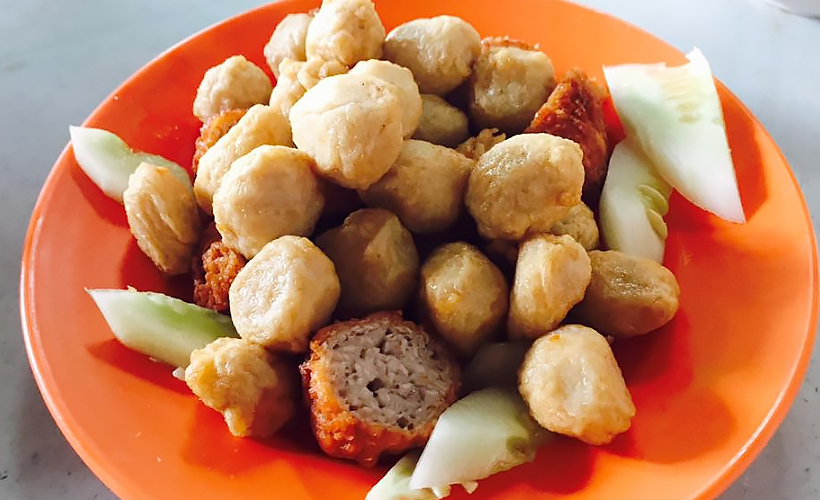 So what's the big deal about fishballs? At dim sum restaurants, they're served as they are and many noodle dishes in Malaysia feature this as an ingredient or topping. In Melaka though, they are also popular served as a 'salad', along with deep-fried yam balls, prawn crackers, and cucumber slices. A spicy or sweet sauce is then drizzled across. The fishballs served at this stall at Kedai Kopi & Makanan Soon Yen are slightly rougher and denser than most, as they contain more fish.
Where: 596 Jalan Tengkera, Kota Laksamana | Opens:  7AM – 1PM & 6PM – 11PM; closed Mon
 10. Tau Kua
Melaka is the probably the only place in Malaysia where you'll see tofu eaten like this: Deep-fried and smoked, which gives it an umami flavour. If you've never tried it before, you'll have to get used to its slightly smoky and bitter taste. Usually, Melakans enjoy their tau kua (tofu) with some chilli sauce and salty soy sauce. However, many stalls also incorporate them into rojaks (fruit salads) or serve them with boiled fish balls. One place to try this smoky sensation is Jeta Groves, a restaurant specialising in Peranakan food. Go early, as food tends to run out by noon.
Where:115 Jalan Melaka Raya 13, Taman Melaka Raya | Opens: 8AM – 4PM, Tue-Sun; closed Mon
18869,18212,10986
Get all the latest travel stories from Zafigo. Follow us on Facebook and Twitter.