Penang is undoubtedly any foodie's heaven, with fabulous cafes, authentic nasi kandar, yummy dim sum, and exceptional street hawker food. But here's the thing: when you've visited Penang several times, how do you keep the trip to the Pearl of the Orient still a blast? That's when I had an idea — what better way to spice things up than by having a road trip?
When Loo, my travel buddy, suggested we head to Penang a day earlier than scheduled, it made perfect sense to curate an epic road trip adventure to make our journey up north truly worthwhile.
Like with all travel, when you're embarking on a road trip, doing your research is essential. So, I turned to Google to find interesting places in Perak that wouldn't take us far from our main route to Penang.
Day one: Exploring abandoned towns and caves
Exploring the forgotten Disney Avenue Agacia town in Kampar, Perak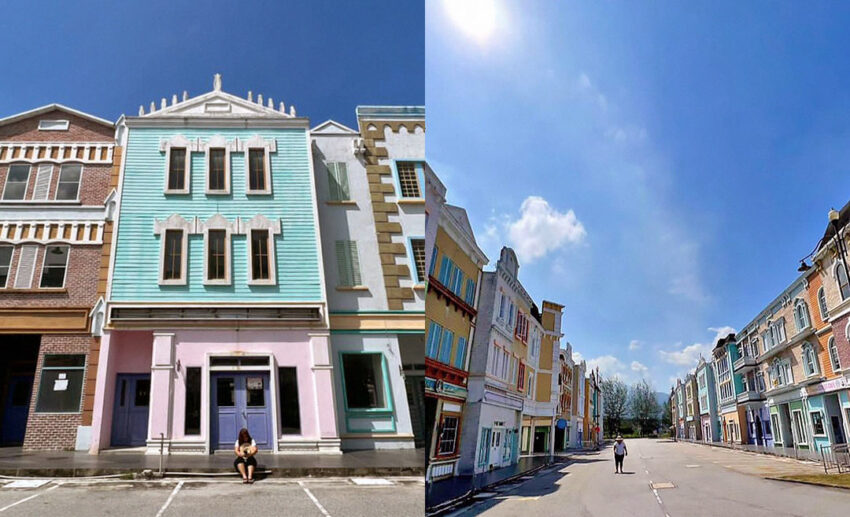 My Googling led us to our first destination in Kampar — a hidden gem beside the Kampar River, an adventurous white-water rafting spot. Here, we discovered an almost forgotten treasure called Disney Avenue Agacia town. This Disney-inspired town boasts three-story shophouses painted in stunning pastel colours that would captivate anyone's eyes, including mine. I knew right away that I had to see it for myself!
So, we got there around noon, and whoa, it was hot! But man, those buildings were something else. All pastel colours and a cool mix of brick and wood with fancy doors and windows –– it had such a unique vibe. It was just too bad that the place was completely empty.
As we drove along the rows of buildings, we noticed that only one shop, the 'Awesome of Art Cafe', remained open. The charm and emptiness of this place left me in awe. There were no signs of inhabitants or activities on the streets except for the occasional passing cars, presumably, like us, eager to snap some pictures of this peculiar town.
Stepping out of the car, I was surprised to hear music filling the air. It was as if the ghost town had come to life. We spent around half an hour absorbing the beauty of this deserted place.
Uncovering the wonders of limestone caves at Gua Tempurung, Perak
Our next stop was Gua Tempurung in Gopeng, Perak — one of Peninsular Malaysia's longest caves, just 25 minutes from Disney Avenue in Kampar. Little did I know that this cave exploration would be a life-changing experience, lasting an hour and 45 minutes.
Gua Tempurung offers four tour options, each with varying lengths and difficulties. Opting for the adventurous 'Top of the World' tour, we ventured into the cave, feeling tiny in its immense presence. As we climbed the 640 steps uphill and downhill, the cave's larger-than-life structure mesmerised us with its marble formations and curves.
Despite not being a cave exploration enthusiast, this impromptu adventure changed my perspective completely. Experiencing Gua Tempurung's breathtaking beauty firsthand is a must in a lifetime. The challenging journey left us sweaty, but the sense of fulfilment was indescribable.
Indulging in Nasi Kandar Mohamed Rafee, Penang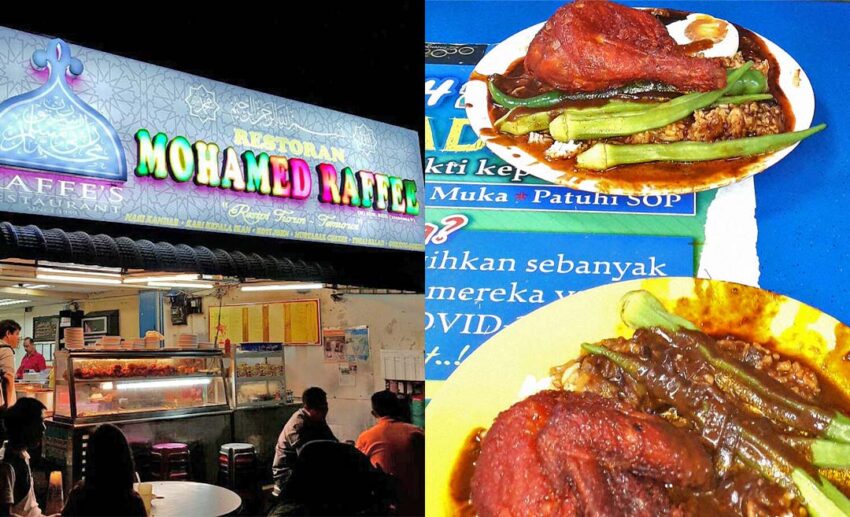 On our way to our destination, we skipped the culinary experience in Ipoh due to time and exhaustion. Upon reaching Penang, we eagerly tried the famous nasi kandar at Restoran Mohamed Rafee Nasi Kandar on Jalan Burma. Being an avid nasi kandar fan, I'm quite particular about the taste of the curry and honey chicken gravies.
Here's my verdict: the fried chicken was tender and crispy, with delightful marination in the flesh and crispy skin that I loved. The rice was soft and fluffy. However, I must admit I've had better curry and honey chicken gravies elsewhere. That said, taste preferences do vary from person to person, so it's all subjective.
Day two: Food, food, and more food!
Sampling the best curry noodle in town at Bee Hwa Cafe, George Town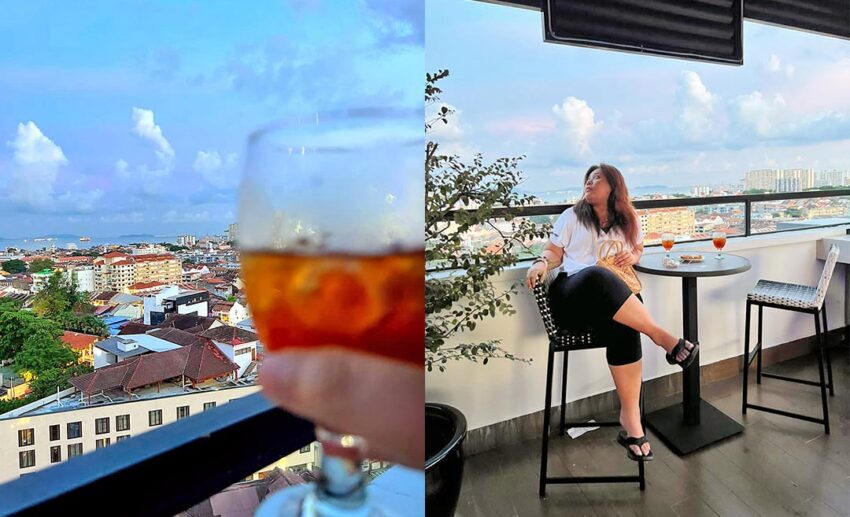 Our first night in George Town was spent at the Merchant Hotel, offering a cool rooftop lounging area with a fantastic aerial view of parts of the city and the ocean. Staying here had unexpected perks. It's conveniently located just a 10-minute walk away from several famous tourist attractions like Chowrasta market (known for local snacks), Teochew Cendol, Nasi Kandar Line Clear, Jeruk Madu Pak Ali, Ais Tingkap, and various food stalls and souvenir shops.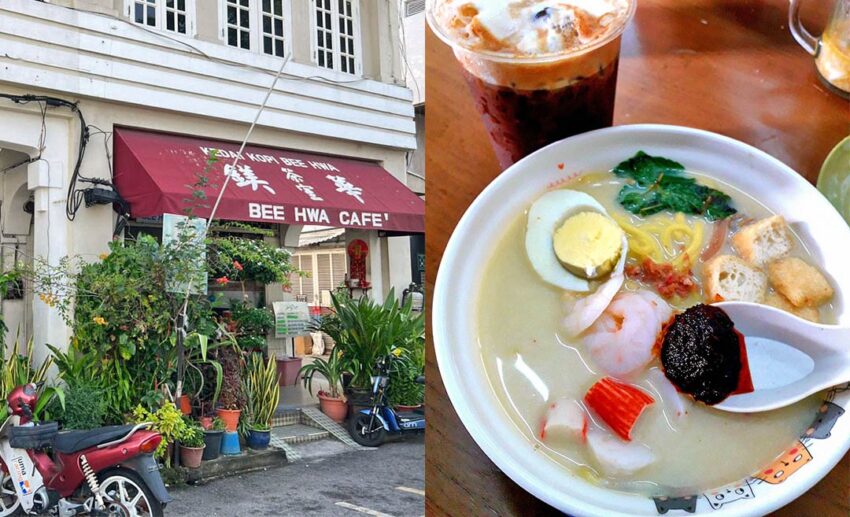 The friendly reception staff shared a hidden gem with us: Bee Hwa Cafe, also a 10-minute walk from the hotel. This Muslim-friendly Chinese kopitiam served some of the best curry noodles I've ever tasted. The combination of white curry gravy and the accompanying chilli paste created a subtle spiciness and creaminess that delighted my taste buds.
My bowl was generously filled with prawns, crab sticks, fish balls, cockles, half an egg, and vegetables — a truly satisfying meal. We also tried their toasted bread with half-boiled eggs, stir-fried dry char kway teow, and fried rice, all of which satisfied our cravings. To complete the meal, we enjoyed their authentic white coffee, which did not disappoint either. It was indeed a wholesome breakfast to kickstart our day of exploration.
A drive to Balik Pulau for a durian feast at Anjung Indah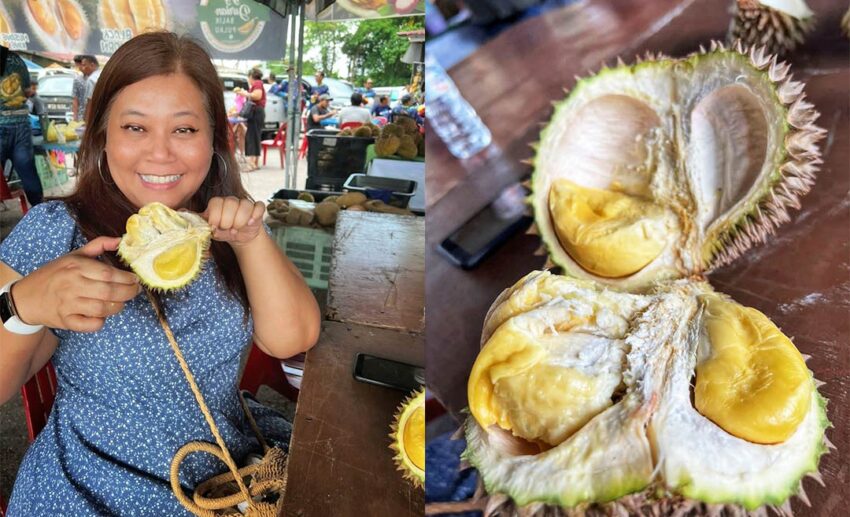 After a tiring yet enjoyable day of being tourists in the scorching sun, we went to Balik Pulau to collect our race pack for the marathon — the reason for our road trip. To our delight, it happened to be durian season! And being a durian enthusiast, I was thrilled. We couldn't resist stopping by Anjung Indah at Jalan Tun Sardon, a viewpoint that offered a panoramic view of Balik Pulau.
Luckily, we stumbled upon the Balik Pulau Durian Fest, where various durian vendors sold different types, ranging from Musang King to the authentic 'kampung' durian; prices varied between RM12 to RM45 per kilogram. If you're a durian fan, this event is quite the treat.
Off to Pantai Teluk Kumbar for some mee udang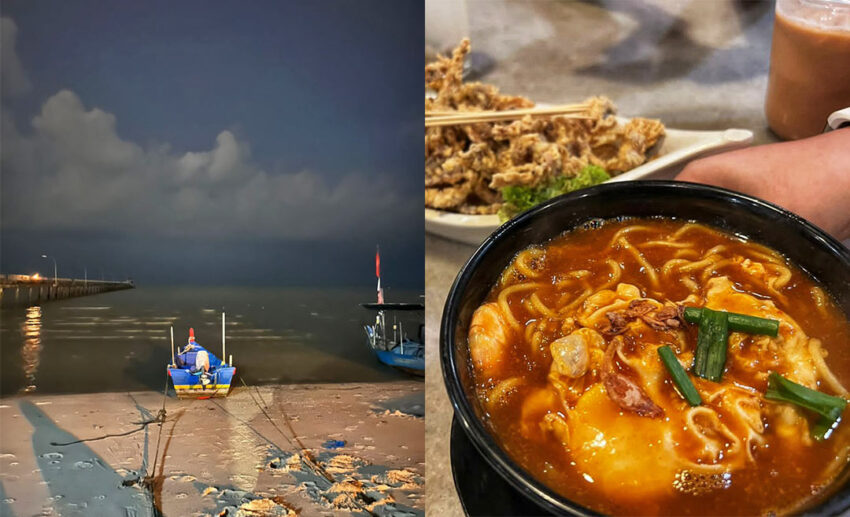 That night, we enjoyed dinner with two other friends who participated in the Balik Pulau Half Marathon Run — Waza and Rina. Waza, having lived in Penang for 18 years, knew all the best spots in the area. So we headed to Ilyana Cafe for some mee udang (prawn noodles) which did not disappoint.
Though I was surprisingly full that night, I couldn't resist trying a bit of Loo's mee kuah, a delicious dish made with the same gravy as mee udang — a sweet, sour, and spicy tomato-based broth with a subtle prawn flavour. We also savoured the most crispy and tasty fried mushrooms there! Even now, just talking about it makes me want to fly to Penang and have them again.
Day three: Time to run!
Taking part in the Balik Pulau Half Marathon Run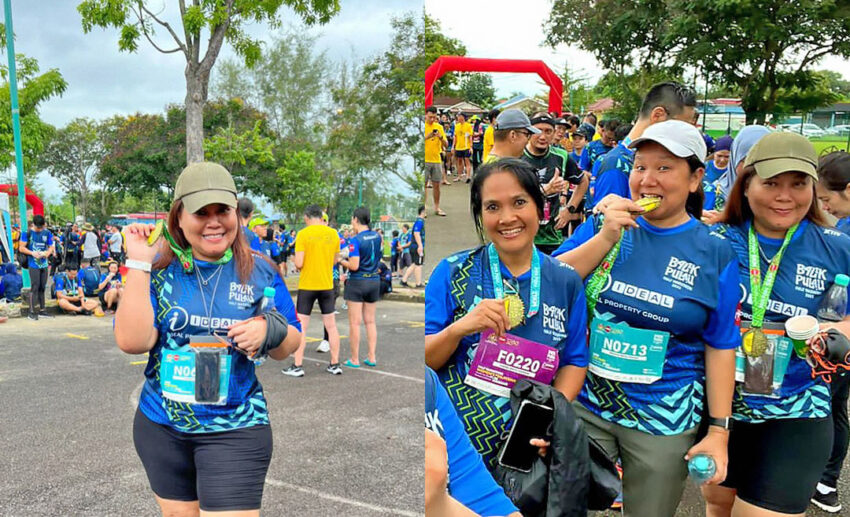 We woke up bright and early at 5am to participate in the Balik Pulau Half Marathon organised by iRun Malaysia. As we arrived, the 10km runners lined up at the starting line, eagerly waiting for their 6:455am flag-off. The atmosphere was electric, and I was thrilled for my first experience in such an event; seeing everyone pumped up for the run added to my excitement.
Rina took on the challenge of the 21km run, while Loo, Waza, and I opted for the 5km fun run, enjoying a leisurely walk along the route. The scenic path took us through green paddy fields and the charming Balik Pulau village area, a real treat for the eyes. Witnessing a sea of people in blue shirts running and walking together, I realised how this event brought together people of all ages, races, and backgrounds, creating a truly inclusive experience.
After completing the walk, we were rewarded with a well-deserved treat — fresh Balik Pulau durians served on-site! The wait in line was worth it! We even got lucky and snapped a photo with Malaysia's Minister of Sports, YB Hannah Yeoh.
Exploring South-Indian cuisine and Batu Feringghi's nightlife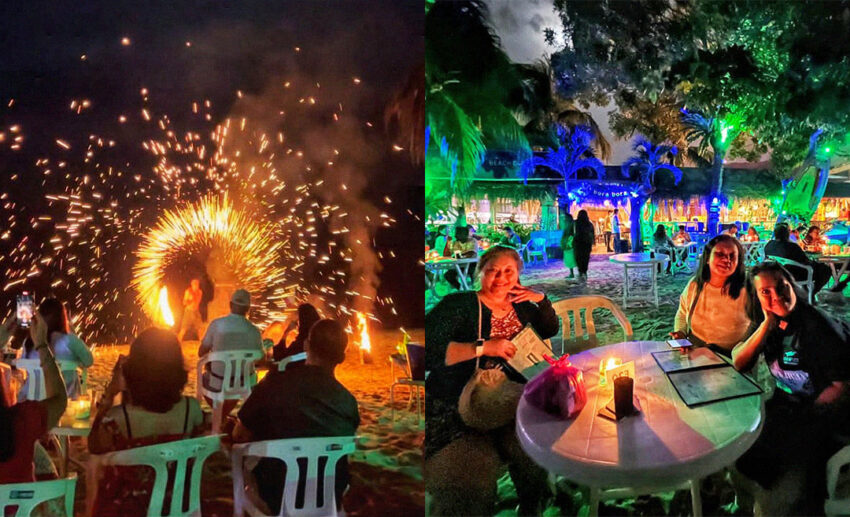 That afternoon, we enjoyed lunch at Passions of Kerala, a delightful South Indian-styled banana leaf rice restaurant at Brown Garden suggested by Waza. Our chicken masala was incredibly flavourful, and the best part was the free refill of rice, three types of vegetables, gravies, and papadom. They even served complimentary rasam to accompany the rice set.
That night, our friend treated us to a local favourite, Ali Bihun Singapore, from a drive-through stall on Jalan Sungai Pinang. This humble Singapore-styled white fried mee hoon (thin rice vermicelli noodles) came packed in a warm newspaper wrapper and was incredibly affordable at just RM2.50.
We concluded our final night in Penang at Batu Ferringhi. After finding a parking spot near Ferringhi Walk, a new beachside mall we didn't explore, we set our sights on finding a beachside cafe. Fortunately, we stumbled upon BoraBora @ Feringghi, one that was tucked away at the far end Batu Ferringhi Walk.
Arriving at 11pm, we found that the kitchen had closed, so we settled for drinks and midnight snacks — a simple beef burger and fried chicken. It was also the perfect moment to devour the Ali Bihun Singapore we'd bought earlier, and boy, was I surprised by how delicious it was for such an affordable price. I regret not buying another pack!
Unexpectedly, around midnight, a fire show added excitement to our night. The choice of music and the choreography were excellent. It was a perfect end to a perfect day.
Day four: Bidding the island adieu
Of breakfasts and playing tourists!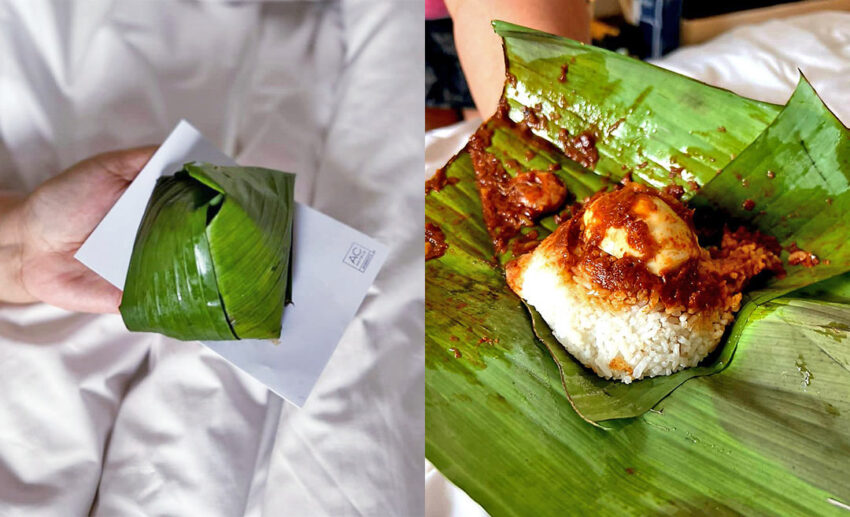 The following day, feeling too tired for breakfast outside, I ordered food on Grab from one of the best nasi lemaks in town — Macalister Nasi Lemak Wak Zee, run by two former airline employees. I opted for the regular and prawn nasi lemak, and I was delighted to see each packet fully wrapped in banana leaves, generously filled with the good ol' coconut milk-infused rice. The sambal is the highlight of any good nasi lemak, and I was pleased that theirs lived up to the authentic taste. The banana fritters were also a delightful treat.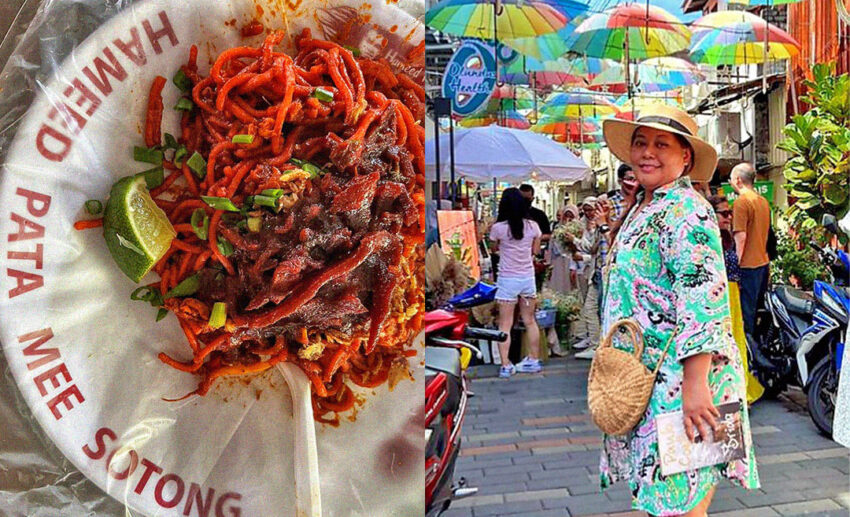 After checking out, our first destination was Hameed Pata Mee Sotong at Leboh Light, a craving I had since arriving in Penang. Their fried noodles with sweet and spicy cuttlefish never disappoint.
Next, we explored the artsy work at Armenian Street, a part of the city's UNESCO World Heritage Site, offering great spots to take photos. Despite being a Monday, the streets were bustling with people, and the diverse cultural offerings and street art were much to shout about, despite being my third trip there. The only challenge was the scorching weather, so remember to bring a cap!
Our final stop was the reasonably new beachside cafe, Biru Biru On The Island, located within the Lost Paradise Resort in Tanjung Bungah. Parking was a challenge. Despite the full house due to rave reviews on social media, we managed to score a table at the al fresco dining area — we didn't even mind the short wait.
The cafe's menu included pizza, pasta, and rice dishes. Feeling full, we settled for their signature blue soda drink and homemade strawberry ice cream, which weren't bad! While the weather didn't afford us a view of their beautiful sunset, spending a relaxing evening at the beachside cafe was the perfect way to wrap up our trip before heading home.
What I took away from this road trip
When I look back, there's nothing quite like the experience of exploring new places during a road trip, especially destinations that I had never considered before. Gua Tempurung truly awakened the adventurer within me, and with every step, I learned to appreciate its innate beauty. Then even though I mostly walked, participating in the marathon sparked a newfound interest.
Penang has undoubtedly become one of the most exciting places I never tire of exploring. Its diverse attractions perfectly cater to solo travellers, groups, and families. The food scene is one of the best, offering a gastronomic experience that left me feeling, quite literally, very fulfilled.
For me, the best road trips are truly enjoyable when you have fantastic travel buddies — that's the secret! It's not just about reaching the destination; it's the journey, the things you see, learn, and the joy it brings.
All images courtesy of author unless specified otherwise.