Being outdoors is all the craze right now. And it's really little surprise why — we've had enough time spent inside our houses! Camping, in particular, also seems to be one of those things everyone seems to be doing lately. So, since a camping adventure has always been on my bucket list, I decided to give it a co. I never had the chance to or had the right company, so when my best friend, Loo, invited me for a 2-day 1-night camping excursion with her good friend, Atiqah, I jumped at the chance. After all, Atiqah is an expert camper, and I could learn a thing or two.
We chose to spend our time in the great outdoors over the weekend at Air Luit Pertak Camp, a private riverside campsite in Jalan Pertak in Kuala Kubu Baru. Mind you, there is no public toilet or electricity at the campsite, making the experience even more authentic for a first-time camper like myself. The nearest restroom was approximately a 15-minute walk away. A bit of a pain for some, but I took it on the chin and relished the experience.
Always be prepared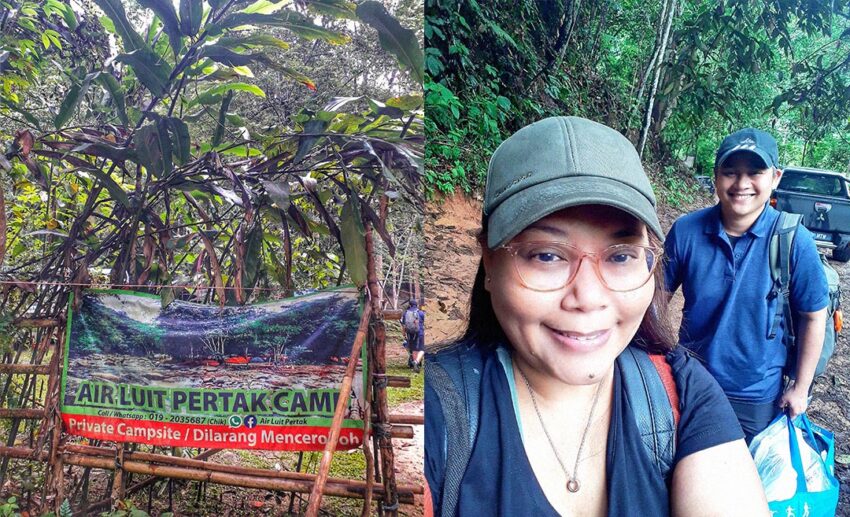 Before I dive deeper into my newbie experience, let's start with a chat about packing — the most important thing is to bring a large backpack that is guaranteed to fit everything you need, because nothing is worse than having to carry multiple bags on a camping excursion. Also, be sure that the backpack can fit your sleeping bag too! I brought a small one and hand-carry bags that weighed me down during the hike to the campsite, roughly 15 minutes from the parking lot, but it feels like forever when you're carrying so many things!
In terms of clothing, pack light and just enough for your time in the outdoors. I was glad I brought a few pairs of shorts because they were comfortable as outdoor outfits and sleepwear. I made the mistake of bringing two pairs of leggings and a midi dress, which of course, I didn't wear. But I did bring other camping essentials like a sleeping pad, inflatable pillow, headlamp, torchlight, camping light, toiletries, micro fibre towel, basic first aid kit, raincoat/ponchos, insect repellent, camping chair, and a pair of flip flops.
Off we go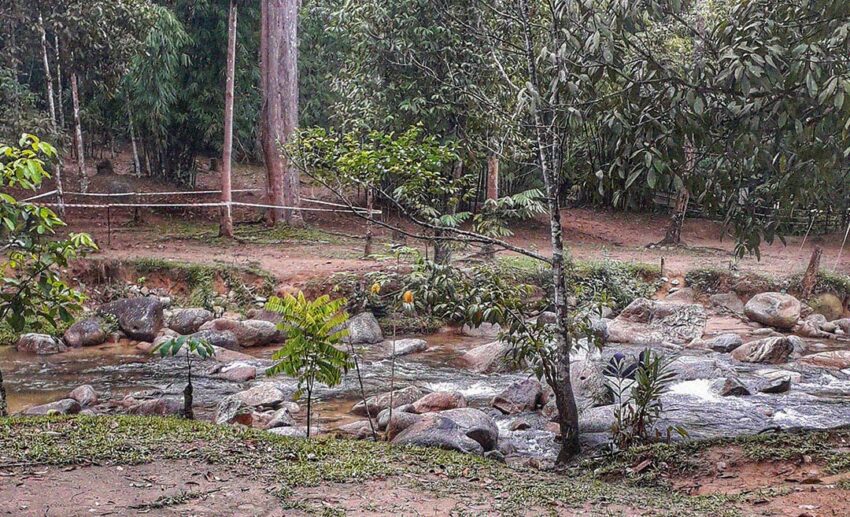 Now, let's get back to the camping part. When we reached the campsite, I was pumped up to set up our tents, but Atiqah, our very own camping expert, advised otherwise.
Pro tip: First, clean up the camping ground so it's free from abrasive items like small rocks and sticks.
And while I'm at it, let me add that our camping site was superb, especially since it's by the riverside. I shared the tent with my best friend, Loo, which we rented from the campsite operator, so if you don't have any, don't worry too much. I was thankful for Loo as she knew exactly how to set the tent up, and along the way, I learned a thing or two. And let me tell you, seeing your tent being pitched nicely is a big accomplishment that will give you a feeling of sheer joy!
Sit back and take it all in
After all the sweat and hard work, all we had left to do was sit back and enjoy the nature that was around us; and it was at that moment I understood why Loo insisted we buy the camping chairs.
Atiqah made us breakfast by cooking fried mee hoon with prawns, using her little portable camping stove and utensils. Camping is absolutely incomplete without a barbecue, and Atiqah had lined up a tasty menu for our lunch and dinner. We had grilled prawns, chicken drumsticks, and slabs of lamb, all accompanied by a beautifully dressed salad with roasted sesame flavour. Truly a feast in the wild beyond my imagination!
In the evening, we headed to the river and soaked ourselves in the refreshing cold water, which was basically our shower for the day!
Time flies by when you're outdoors and having the experience of a lifetime, so before I knew it, nightfall came. It was pretty much pitch black beyond our campgrounds, but where we were, lights emitted from camping lights and other campers' lighting devices too! While enjoying our dinner in front of the campfire, underneath the stars, with the sound of the river flowing in the background, we were able to have deep conversations about life and plenty of laughter in between.
Leave nothing but footprints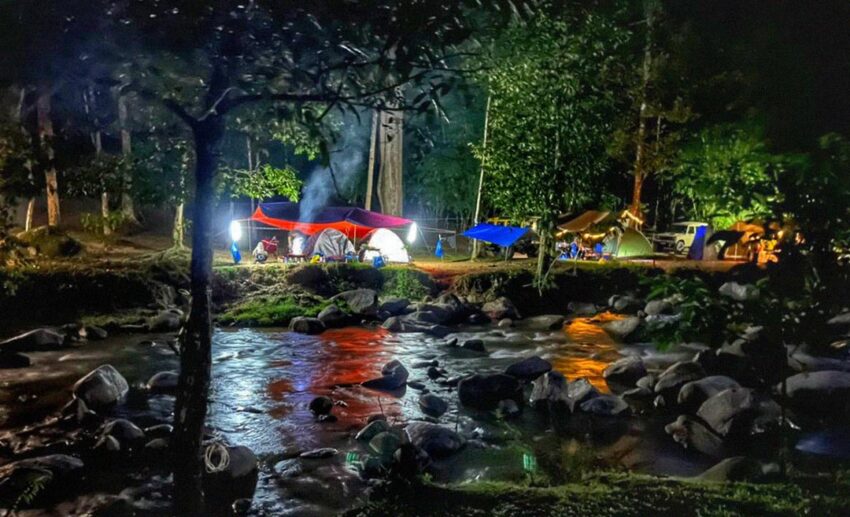 Maybe it was excitement from the day I'd had, or tiredness from all the hiking and putting up of the tents, but I slept like a baby that night! The following day, I was woken up by the sound of raindrops, and what a serene way to start your morning! However, the rain eventually got a little heavy, but our tent was pretty sturdy, so we didn't worry too much. Though, I recommend bringing a light windbreaker or rain jacket.
So, there you have it — a glimpse of my camping experience as a first-timer. What I took away from my own adventure is how camping has allowed me to come out of my comfort zone and experience what nature offers.
I hope my version of camping will inspire you to embrace a night (or two) in the outdoors if you haven't already. But the big question is, would I do it again? Absolutely.
For more information on the campsite, please find contact details below:
Address: Jalan Pertak – Pahang Pertak, 44000 Kuala Kubu Baru, Selangor
Contact: +6019 203 5687
*All images courtesy of Suzana Salleh.