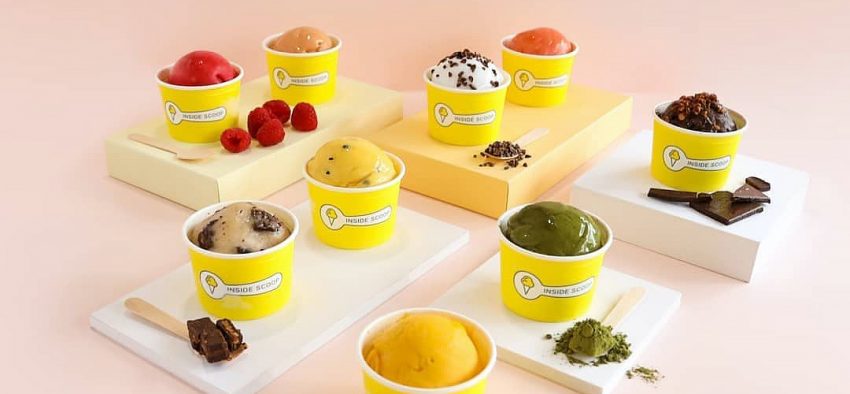 [box color="#14afa9″]Subscribe to our new Telegram channel for the latest updates.[/box]
Let's be honest, anytime is the right time to gratify your sweet tooth with iceberg-cold ice cream that's jam-packed with flavour. Instead of heading to your nearest grocery store and purchasing a tub of Häagen-Dazs or Ben & Jerry's, why not #sapotlokal and venture into Kuala Lumpur (KL) to discover some of the very best ice creams the capital's home-grown parlours have to offer. 
From reinventing iconic international flavours to incorporating local ingredients into their frosty serves, our local desserts scene has stepped up their game to satisfy and surprise even the most pernickety of self-proclaimed ice cream connoisseurs. So, regardless of whether you enjoy sticking to classic flavour profiles or going for a more adventurous gastronomic experience, you're guaranteed to leave with a smile on your face and a satisfied sweet tooth (along with tonnes of Insta-worthy snapshots).
Here are seven of the coolest ice cream spots to hit in KL:
1. Crème De La Crème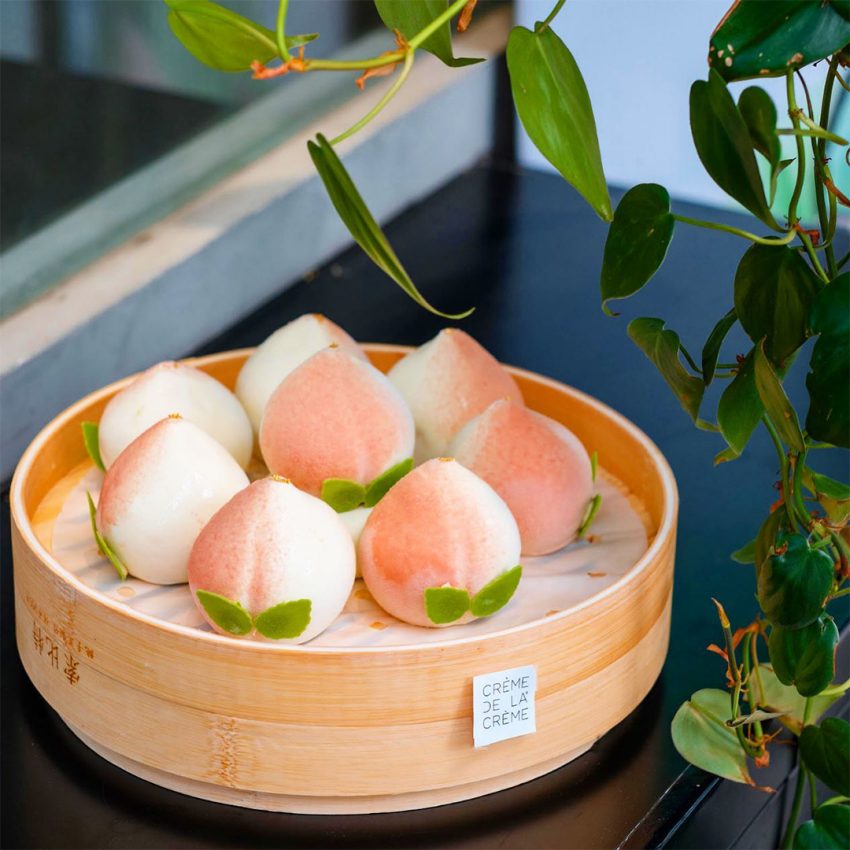 Onboard for richly-flavoured, artisanal ice cream that's made from scratch? That too with natural ingredients without skimping on eye-catching, Insta-worthy presentations? Head on over to Crème De La Crème along Jalan SS21/60 to feast your eyes and taste buds on some of the best-frozen desserts in town. 
With approximately 18 indulgent flavours available (with some on rotation), there are tonnes to delight in. Apart from regular favourites like the Burnt Caramel Cheesecake, they've concocted some other unique flavours, like the more internationally-influenced French Earl Grey Boba, Japanese Nori-Genmai, and the Malaysian-esque Pandan Cendol and Pak Nasser's Nasi Lemak. On top of that, their petits gâteaux (small cakes), celebration cakes, and sorbet beverages are both aesthetically and delectably to-die-for. 
Side note: Their latest ice cream mooncake series is ironically selling like hotcakes, so hurry and grab yours now!
[box color="#14afa9″]Address: 35G, Ground Floor, Jalan SS 21/60, Damansara Utama, 47400 Petaling Jaya, Selangor.
Opening hours: Open daily. 11:30 am to 10pm from Sunday to Thursday and 11:30am to 11pm on Friday and Saturday.
2. Whimsical – Artisanal Gelato
Feeling dreary or been in one of those gloomy slumps lately? Perhaps it's time to turn your frown upside down with a gratifying escape into the eccentric, psychedelic realm of Whimsical. Relocated to The Waterfront in DesaPark City, this winner of the Gelato World Tour Asia Pacific award is home to an assorted range of unique flavour combinations. Some extraordinary ingredient pairings you'll find include the alcoholic sweetness of cognac with butterscotch, and the spicy-sweet tartness of wasabi with plum. 
Similarly, their creativity is inherent in their sorbets, starting with their recently-introduced Salted Calamansi Sorbet, as well as the Thai Coconut and Gula Melaka Sorbet. Better yet, this particular sorbet range is vegan-friendly whilst maintaining a smooth and creamy texture. Overall, their scoops are made with fresh, natural ingredients that are guaranteed to please everyone at the table. 
[box color="#14afa9″]Address: FF-17, The Waterfront, 5, Persiaran Residen, Desa Parkcity, 52200 KL.
Opening hours: Open daily. 12pm to 9:30pm from Monday to Thursday, 12pm to 10pm on Friday, and 11am to 10pm on Saturday and Sunday.
3. Inside Scoop
If you've been craving a heavenly treat, pop on over to Inside Scoop that's proven to be very popular amongst local ice cream enthusiasts. There are now numerous outlets spanning all the way from the north to the south of Peninsular Malaysia! Made 100 per cent in-house and often inspired by home-grown flavours, their Salted Gula Melaka, Cendol, and various Durian flavours have cemented themselves as fan favourites. There's also a Red Velvet flavour that always seems to run out. 
Thanks to the latest dairy-free mySorbae series, vegans and anyone lactose intolerant can now satisfy their palates too. On another note, their ice cream cakes are beloved by many, especially the cult classics like the Rocher and Bombe Alaska. Something to consider instead of a run-of-the-mill standard birthday cake. They've even got an ice cream mooncake series that's available for a limited time.
[box color="#14afa9″]Address: Multiple locations across Malaysia.
Opening hours: Varies according to location.
Instagram | Facebook | Website[/box]
[box color="#89c44c"]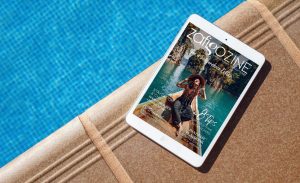 Download our second edition of ZafigoZine for FREE today! In the #Independence Edition, we give you inspiration for domestic travel within Malaysia – whether you're taking a road trip to a different state or staycationing right where you are and more.[/box]
4. Sweet Escape 
The more wholesome sister brand to Inside Scoop, you can still get a sweet treat with low-sugar, healthier yet equally enticing alternatives offered by Sweet Escape over at TTDI. This confectionery establishment offers a variety of better-for-you ice creams, mostly made with alternative sugars – like organic unrefined sugar and blue agave syrup – to cater to those with specific dietary requirements. There's even a zero-sugar chocolate ice cream that's suitable for diabetics and vegans. 
In terms of flavour, they've dabbled in unusual seasonal premiums such as Genmaicha, Kefir, Passionfruit, Soursop, and Chrysanthemum. You'll also find mainstay flavours such as Tau Fu Fa and Coconut Ash that you can use to top their popular Apam Balik waffle. Moreover, you can even find some of the go-to Inside Scoop flavours here, but made with less sugar! Did we mention that there are vegan-friendly sorbets and cones on offer too?
[box color="#14afa9″]Address: 16G, Jalan Datuk Sulaiman, Taman Tun Dr Ismail, 60000 KL.
Opening hours:  Open daily. 1pm to 11pm from Monday to Thursday, 12:30pm to 11:30pm on Friday and Saturday, and 12:30pm to 11pm on Sunday.
5. The Ice Cream Bar
Close your eyes and imagine your go-to alcoholic beverages being magically transformed into the most luxurious ice cream in town. Now, open them and head over to The Ice Cream Bar to taste this fantasy brought to life. Another brainchild of Inside Scoop, this one highlights various kinds of alcohol as superstar ingredients. So, if you're a liquor enthusiast or prefer to consume it in a milder fashion, pop on over for an unforgettable treat!
When here, expect your ice cream to be infused with Bacardi (rum), Lombardo (Marsala wine), Jim Beam (bourbon whiskey), Bailey's Irish Cream (liqueur), Asahi (beer), and many others to give you a lil' extra kick. However, if you're a teetotaller, fret not as they also offer about eight or nine booze-free options you can enjoy, such as Almond Butterscotch, White Truffle Chocolate with Sea Salt, Kopi Peng, Mint Stracciatella, and Dragonfruit. 
[box color="#14afa9″]Address: 60, Jalan 27/70a, Desa Sri Hartamas, 50480 KL.
Opening hours: Open daily. 1pm to 11pm on Monday to Thursday, 12:30pm to 11:30pm on Friday and Saturday, and 12:30pm to 11pm on Sunday.
6. Kind Kones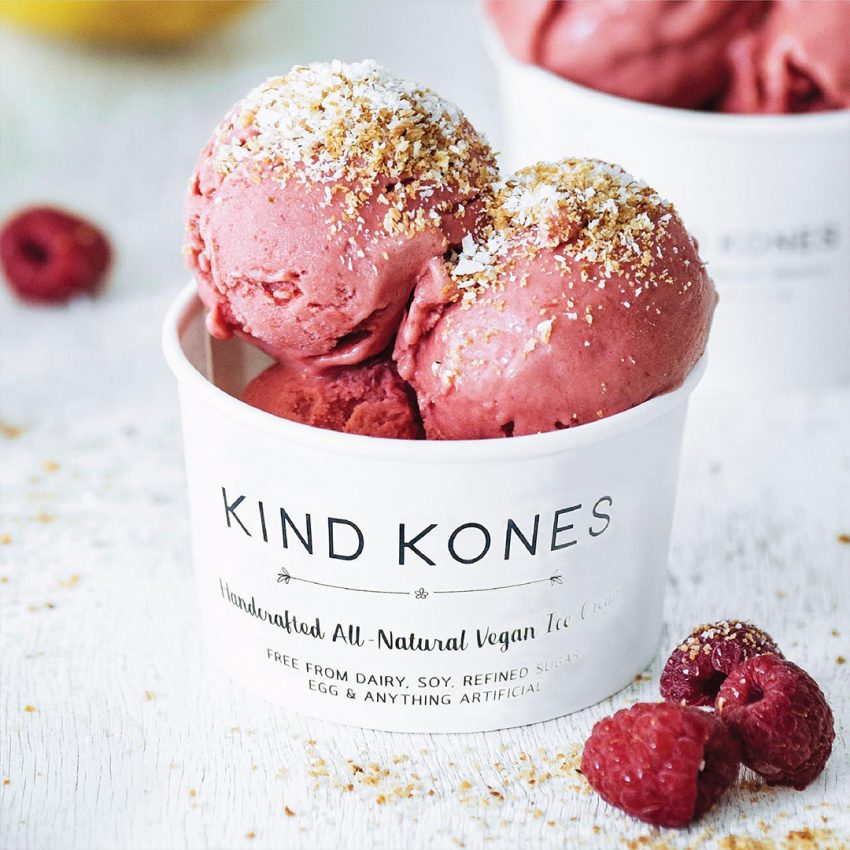 When it comes to concocting an icy confectionery worthy of approval by Mother Nature herself, Kind Kones delivers. True to the name, Kind Kones is considerate of catering to the dietary needs of different customers without compromising their all-natural, vegan ice cream brand status – all thanks to their inspiring philosophy of being kind to your body, the environment, and to others. 
Suffice to say, these desserts are free from egg, dairy, refined sugar, artificial additives, and preservatives with primarily gluten-free options. Get ready to indulge in guilt-free, jam-packed flavours such as the Almond Brittle Fudge, Oat Milk and Cookies, Pistachio Kulfi, Tiramisu, and Matcha Coconut. As the gift that keeps on giving, they also offer various mouth-watering desserts like the Chunky Peanut Butter 'Cheesecake', Flourless Sweet Potato Brownie, Matcha Chestnut Cake, Purple Pecan Pie along with pre-ordered bread, chocolate hazelnut butter spread, and loads more goodies.
[box color="#14afa9″]Address: Multiple locations across Malaysia (click on 'Locations').
Opening Hours: Varies according to location.
Instagram | Facebook | Website[/box]
Follow Zafigo on Instagram, Facebook, and Twitter. Sign up to our bi-weekly newsletter and get your dose of travel tales, tips, updates, and inspiration to fuel your next adventure! 
[vc_row][vc_column][zf_post_boxes widget_hide_desc="true" num_post="3″ post_id="39081, 38895, 38067″][/vc_column][/vc_row]