We always stan keeping fit and healthy. So with National Fitness Day happening today in the UK, it's the perfect time to explore the diverse ways people across the world celebrate fitness while on holidaying. While fitness trends may vary from country to country, the common thread that unites us all is the pursuit of health and wellbeing.
Here are some ideas on how you can keep fit in different fun and unique ways all over the globe.
Bond over water sports at a pristine lagoon in the Maldives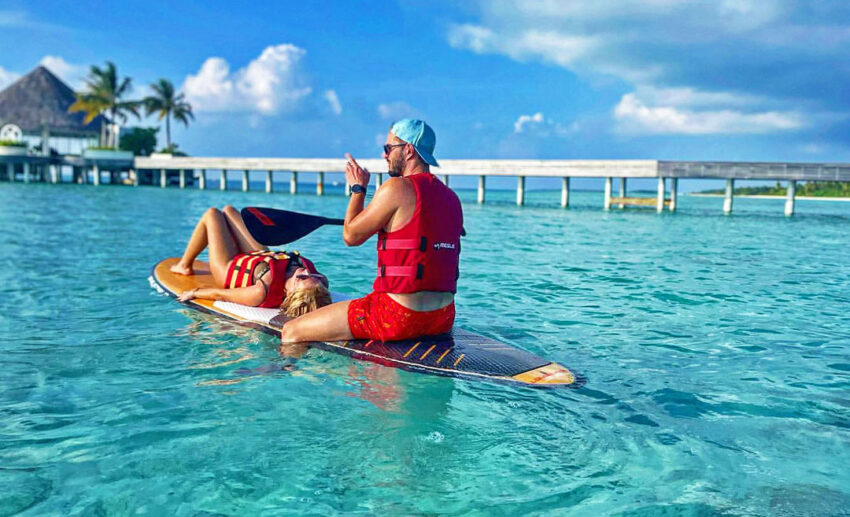 Nobody knows the power of sports to bring people together like Kandima Maldives. Kandima is an active lifestyle resort offering a variety of high- and low-impact sports, as well as overwater and underwater sporting activities to satisfy all visitors. Located on a stunning three-kilometre-long island in the Dhaalu Atoll, if you're looking for something more intense, you can try scuba diving, snorkelling, or enrol in private dive courses at any level.
A great afternoon of activities for families or groups of friends, Kandima also provides training for jet skiing, kite surfing, wakeboarding, flyboarding, and more for parties of three to four. Do you want to remember this time forever? To give you a risk-free way to record your water sports moments, GoPros and Olympus TG-6s are available for hire on-resort. The complete Aquaholics collection is available here.
Thrills and spills in Crete, Greece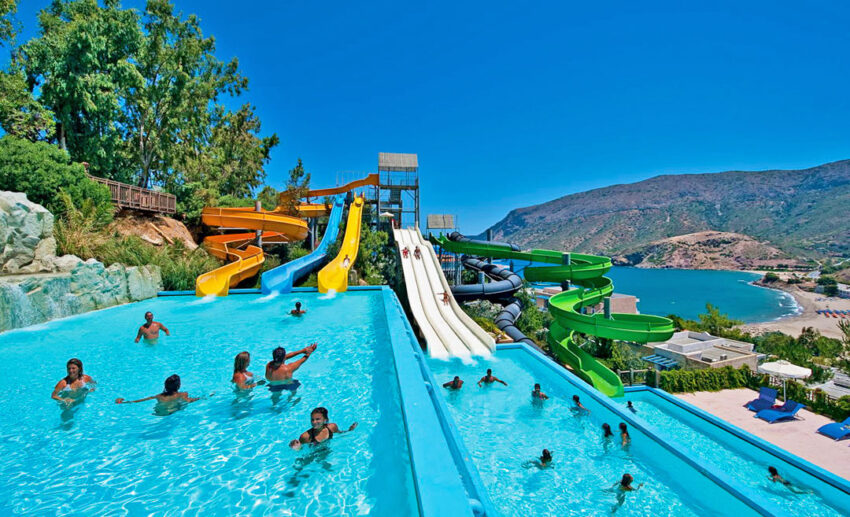 At Fodele Beach, a place that is sure to astound both children and adults, splash around in a thrilling waterpark for a cool afternoon that will make you forget about the sweat and exhaustion of the gym! This park guarantees to raise your heart rate and get your adrenaline racing with its abundance of incredibly thrilling waterslides for guests of all ages.
For those who are interested in the ocean, the Fodele Reef offers a variety of snorkelling and diving locations filled with sea life including starfish and vibrant sponges.
For more of a workout, exploring Crete's off-the-beaten-path locations on a mountain bike can help you unleash your inner adventurer. To escape the heat of the Mediterranean, how about a workout inside? Visit the hotel's top-notch fitness centre, which is furnished with top-notch Cybex and Technogym equipment.
Yoga by the sea in Mykonos, Greece
Want to keep fit, but at a slower and more relaxed pace? Then head to the opulent boutique hotel Kivotos Mykonos in Greece, where you may prioritise your health on an alluring island.
Fitness buffs adore the hotel's chic Neptune gym, which offers up-to-date amenities, a clean, minimalist decor, and premium equipment for a chic wellness experience.
If you want to live the island life, take part in a relaxing coastal yoga practice while being surrounded by the quiet symphony of the waves. As qualified professionals lead you through dynamic flows and guided meditations appropriate for all fitness levels, you will experience inner calm and vitality.
Hit the green in Turkiye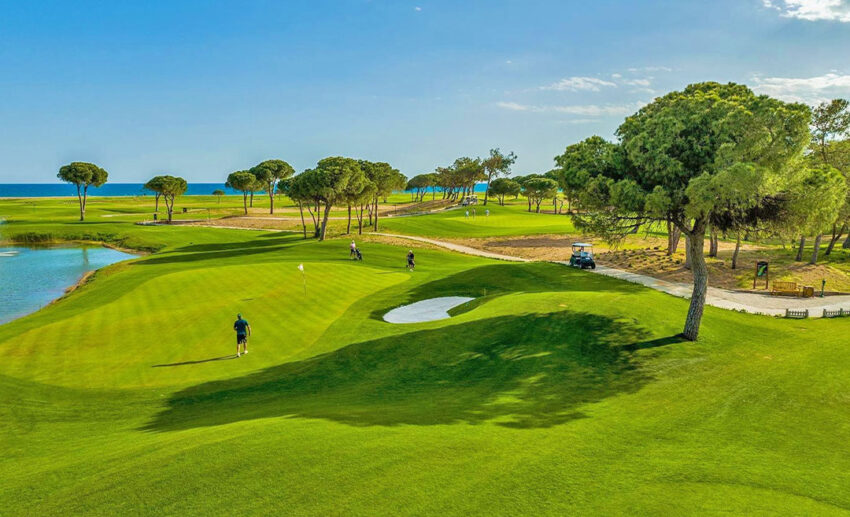 At Cullinan Belek in Turkiye, an ancient game takes centre stage in a golfer's paradise. As you tee off at the elite golf club and play on the two immaculately-kept 36-hole golf courses, Aspendos and Olympos, you will be submerged in a world of luxury and relaxation. Golfers of all skill levels can find what they're searching for on the several PGA-certified courses available, which are decorated with lush flora and magnificent views.
A wide range of fitness activities are also available at Cullinan. Try your hand at an aerial yoga practice, where you can levitate in the air while developing kinaesthetic awareness of your body. The inspirational Animal Flow class, which combines stretching and calisthenics in a series of exercises replicating the postures of animals, is a great choice for something a little more 'grounded' than yoga.
Mountain conquests in the UAE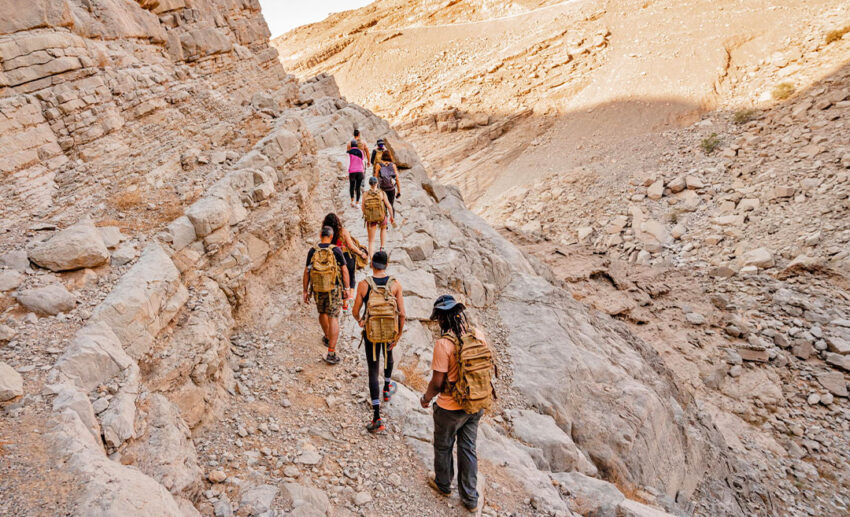 Want to take your daily goal of 10,000 steps to the next level? The hiking trails in Ras Al Khaimah, also known as the 'Nature Emirate' in the UAE, are the ideal location for anyone seeking thrilling outdoor adventures with breathtaking scenery. The majestic Jebel Jais, the tallest mountain peak in the United Arab Emirates, is located in Ras Al Khaimah and proudly climbs about two kilometres above the Arabian Gulf.
Walkers of various levels of skill can choose from a variety of approved mountain trails. Six routes total 16 kilometres in length, each with unique difficulties across the varied mountain ecology. One of the best and toughest walks in Ras Al Khaimah's Wadi Ghalila is called Stairway to Heaven — if you're fit, give it a go!
The highest campsite in the UAE, Camp 1770, is located in Jebel Jais and offers beautiful mountain views. It is the ideal location for camping when trekking the many mountain paths in the Emirate. Additionally, visitors can enjoy yoga and meditation as well as native mountain tribes' Emirati cuisine.
More information on the hiking trails is available here.
Smash the courts in Agia Paraskevi, Greece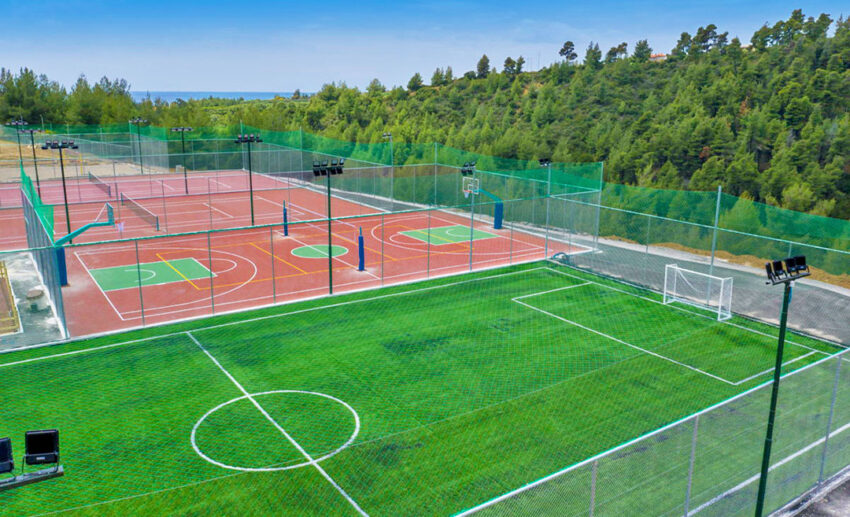 The Greek town of Agia Paraskevi is home to the luxurious Ajul Luxury Hotel & Spa Resort, which is not only a luxurious getaway, but also a distinctively constructed building created with an active and healthy lifestyle in mind.
The two tennis courts on the property, which overlook the ocean, are available for reservations by guests for competitive enjoyment, whether it be a casual play of tennis with friends and family, or a tournament with like-minded tennis enthusiasts.
If getting physical is your goal, all you require is a trip to the Adventure Park, which is situated on the resort's grounds. Choose from the two-level climbing towers and muster all your might to jump over obstacles and balance your way through the course's balance part. Don't forget to stop by the archery area, which offers a different kind of sporting activity, before you depart. Trekking, hiking, and mountain bike excursions that are well guided are a great option for anyone looking for some outdoor adventure.
Play all the sports in Mirabello Bay, Greece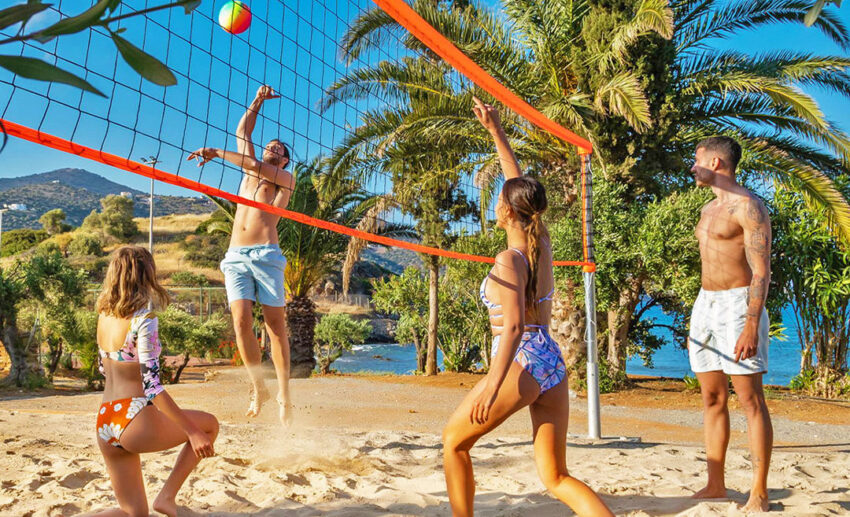 If you like sports, you should bookmark the Wyndham Grand Crete Mirabello Bay! The property includes three cutting-edge hard tennis courts, as well as a beach volleyball court, mini-football field, and handball court, all of which are surrounded by the breathtaking hillside vistas of Crete.
Also designed to encourage guests' active lifestyle interests and bodybuilding ambitions are the resort's yoga and Pilates deck, outdoor gymnastics courts, and bodyweight training spaces. This is especially useful if you like to maintain your workout schedule while on vacation.
Go on a Caribbean fitcation in Jamaica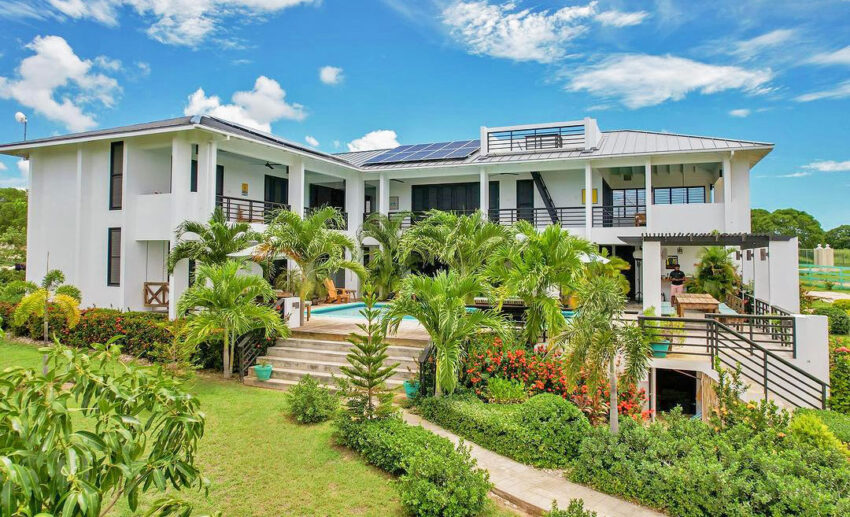 Fitness buffs may stay active and keep up their fitness programme in Jamaica thanks to the abundance of options available. The island has a variety of activities where holidaymakers can combine physical training with the beauty of the Caribbean, such as beach exercises, hiking expeditions, and water sports like paddle boarding and snorkelling.
To experience the ultimate fitcation in Jamaica, go off the beaten path to Jakes Hotel, a bohemian refuge on Treasure Beach that offers yoga retreats within the folds of nature. This is the ideal place to practice your downward dog with dolphins in the distance and pelicans soaring overhead.
For superb tennis facilities with nine courts nestled amid tropical gardens and breath-taking views of the Caribbean Sea, check out the renowned Tryall Club, a plush resort in Montego Bay. World champions who frequently use the facilities for training sessions include Serena Williams and Boris Becker.
Jakes Hotel
Tryall Club
*All images courtesy of PRM Tourism unless stated otherwise.