Brickfields is a popular tourist area in Kuala Lumpur, situated adjacent to KL Sentral, the city's main transportation hub and where some of the city's top hotels have their addresses. That's the reason I chose to live here but is it the right choice for you as a traveller? Let me break it down for you and help you decide.
First, an introduction to one of Kuala Lumpur's oldest neighbourhoods: Formerly the site of a clay pit, Brickfields was a brick-making centre (hence the name) during the colonial era. It has long been home to waves of South Asians, as Sri Lankans and South Indians were brought in to work for the Malayan railway, which had its main depot here. When KL Sentral opened in 2001, the area was a hotbed of sleaze and crime, a reputation it hasn't shaken off entirely although it has cleaned up considerably since. Today, Brickfields is caught between two worlds roughly bisected by the main thoroughfare, Jalan Tun Sambanthan: The shiny glass-and-steel towers rising around KL Sentral on one side, and decades-old low-rise shophouses on the other.
The Pros
Unparalled accessibility
The top draw for travellers is direct airport connections to KLIA and KLIA2. The KLIA Transit/KLIA Express trains and airport coaches to both terminals originate from KL Sentral. All of the city's rail lines – LRT, Monorail, KTM Komuter and KTM ETS (intercity) – converge at this station too, while city buses, the Hop-on Hop-off service and free GoKL buses all have stops in the vicinity as well. It's worth mentioning that there is also ease of mobility for the visually impaired (the YMCA is located in Brickfields), as the sidewalks feature tactile paving and audible pedestrian crossing signals.
Wide range of accommodations
The majority of hotels in the Brickfields area are in the budget range (averaging MYR100 a night) and offers a glimpse into the grit of the neighbourhood – whereas the upscale options are located within the KL Sentral complex. Study the map before you book, as some hotels may be a considerable distance to walk. As a rule of thumb, any farther beyond the YMCA would be quite a drag for those with luggage, unless you are arriving by taxi, which defeats the purpose of staying close of KL Sentral.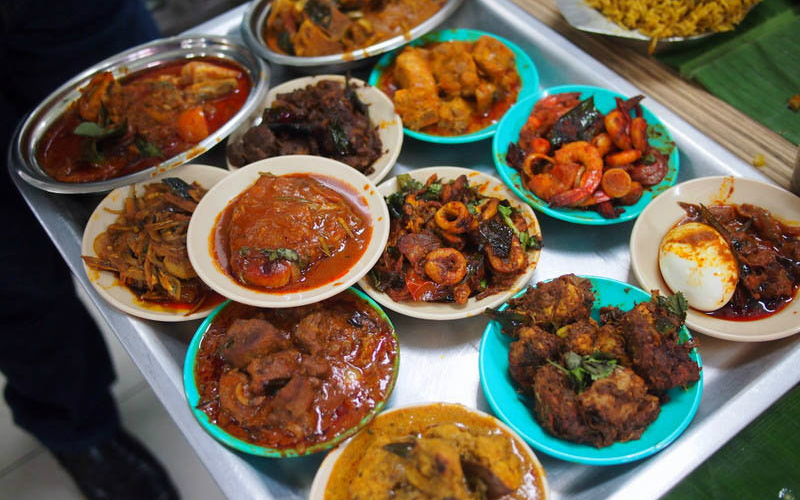 Virtually every kind of food
There's plenty of Indian and vegetarian food, which will satisfy your banana leaf rice and briyani cravings day and night. During the day, One Sentral kopitiam (Chinese coffee shop) across the YMCA and Money's Corner, a hidden food court across Poslaju on Jalan Tun Sambanthan, are open. Malay stalls that serve up cheap nasi goreng (fried rice) and Thai-inspired tomyam set up their tables along the roadside behind the YMCA in the evening. There are also a handful of 24-hour outlets scattered around the neighbourhood: Nagas and Seetharam in Little India (the southern stretch of Jalan Tun Sambanthan), McDonalds in KL Sentral, Deen's on Jalan Rakyat, and Old Town White Coffee across One Sentral. Unless you have a very finicky palate or can't take spice at all, you won't go hungry in this area.
Your necessities, fully covered
Small sundry shops, well-known convenience store chains and Sam's Groceria at the Nu Sentral mall that's linked to KL Sentral ensure that you can stock up on groceries and toiletries at a moment's notice.
Full suite of general services
Name it, Brickfields has it: Clinics, mobile connectivity providers, blind massage centres, beauty salons, coin-operated laundromat. Perhaps you can find the time for that long-overdue laundry day or eyebrow threading?
Cash flows
Money changers at KL Sentral and Nu Sentral offer decent rates, which are generally better than at the banks. Aside from the ATMs at KL Sentral and Nu Sentral, they can also be found at banks along Jalan Tun Sambanthan. In case of an emergency and you need to have some money wired to you (or vice versa), some money changers are also agents of Western Union or similar companies.
Houses of worship
Religious structures are over-represented on Jalan Scott and Jalan Sultan Abdul Samad, where they stand almost side-by-side. Walk around Brickfields and you will come across at least half a dozen Hindu temples, four churches of different Christian denominations, the Buddhist Maha Vihara, and the Madrasathul Goutthiyah Surau.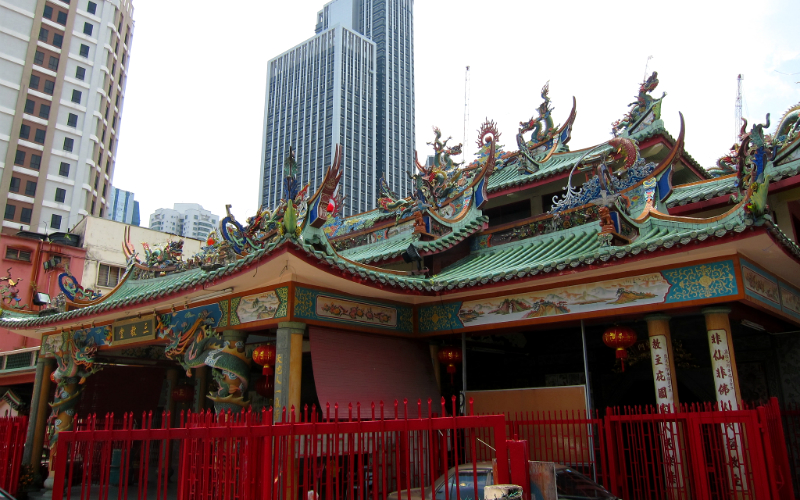 Lots of colours and characters
I don't mean the brightly painted arches intended to beautify Little India but think florists with massive garlands, bangles and bling in all colours, and DVD stores competing for the loudest music. Needless to say, the availability of Indian goods and produce is excellent, so unsurprisingly many Indian expatriates like to stay in Brickfields.
The Cons
The perpetual traffic jam
In Little India, vehicles park on both sides of the road, causing much congestion. Also, during festivals and busy nights at the temples, traffic slows down considerably.
Taxis don't charge by the meter
Brickfields is one of the worst places in KL to hail a cab. The closer you are to KL Sentral, the less likely the driver will use the meter. Your best option is to book through a ride-sharing app. Taxis from KL Sentral, which you need to purchase coupons over the counter, should be your last resort as they're the most expensive.
Busy, busy streets
There's safety in numbers, for sure. Commuters, students, blind people, vendors and and the occasional busker under the Monorail keep the sidewalks busy. But bear in mind that there may also be homeless people, beggars, and trash bin scavengers around you. But they are not violent and you are less likely to be approached by them than by people distributing promotional pamphlets.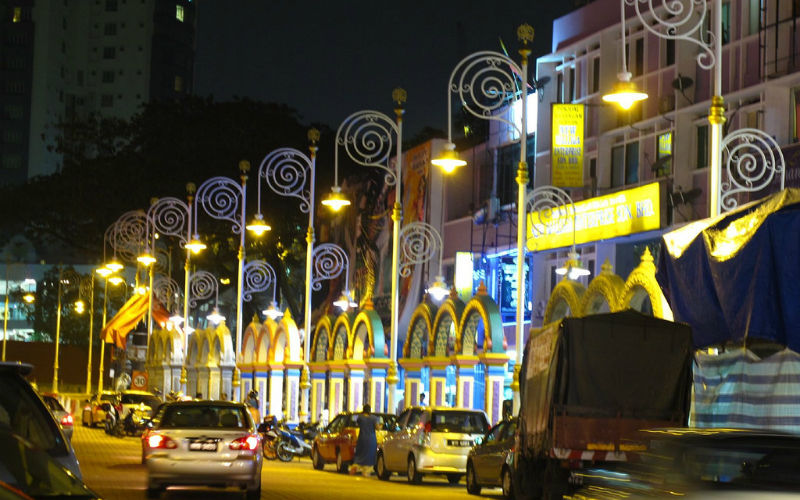 Don't stay out late
As a general rule, avoid walking outside past 10PM. In an area that's home to liquor stores and brothels, it's always better to be safe than sorry.
For all its roughness, the KL Sentral-Brickfields area is a lively, liveable place that's steeped in culture, heritage and history. It's gritty in parts and grimy in others but is never dull. As for the most important question women travellers should ask – is it safe?
To answer, let me share an anecdote: When I first moved to Brickfields, I asked a security guard whether it was safe. He said that I should carry a pen in my hand in a certain way in case I run into trouble. So for a week or so, I walked around clutching a pen with the cap off. Then I realised that it was odd for me to be constantly ready to attack when hundreds of the visually impaired go about their business all around me without being harassed. That's when I stopped carrying a pen.
At the end of the day, it boils down to your budget, accessibility needs, and expected level of comfort. If you keep your wits about you and take the same precautions you do in any other destination you travel to, you'll be fine.

Read Next: