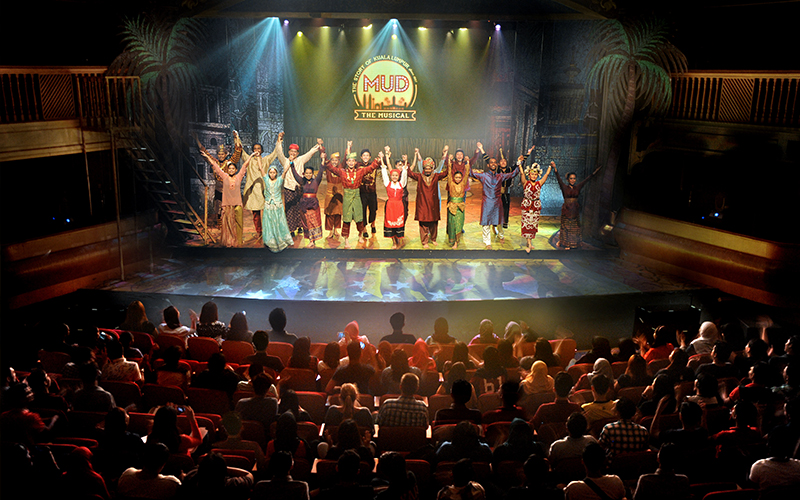 No other Malaysian musical celebrates the history and melting pot of the capital city with as much colour, pride, and unabashed passion as MUD: Our Story of Kuala Lumpur.  
Produced by acclaimed actress Puan Sri Tiara Jacquelina of Puteri Gunung Ledang fame, MUD KL debuted two years ago and is now Malaysia's longest-running musical. At the BOH Cameronian Arts Awards 2016, it was honoured with these three accolades: The Kakiseni Audience Choice Award, Best Set Design, and Best Lighting Design. Those who have watched the show will attest that the entire production is a feast for the eyes, the set design a clever work of art, the costumes beautiful and most importantly, the storyline engaging.  
The plot follows the lives of three best friends – Mamat, Meng and Muthiah – who leave their villages to seek a better life in Kuala Lumpur, the hub of the mining boom circa 1857. Along the way, the trio befriends a host of colourful characters and together, they go through the joys, trials, and tribulations of life in the promising new city.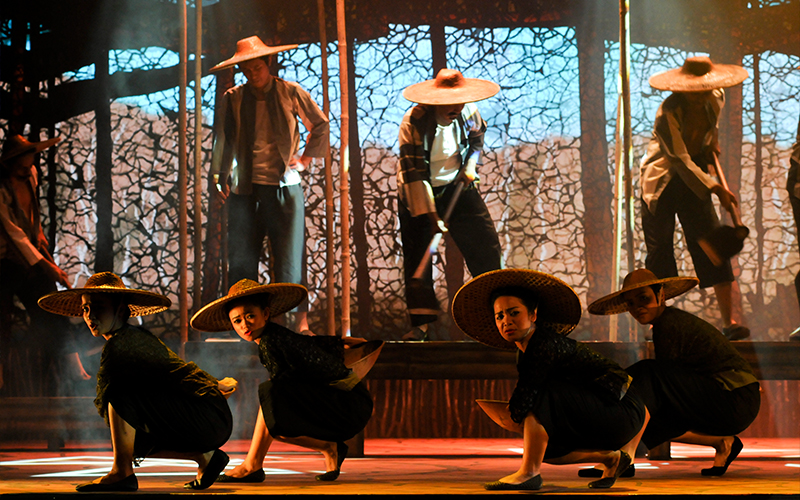 The musical showcases Malaysia's muhibbah (harmonious) culture not only through the characters, but also different traditional dances and songs. Watching typical scenes of kampung life such as kenduri (feast during celebrations) and roadside teh tarik (pulled milk tea) stalls animated is both entertaining and informative. As the history of Kuala Lumpur unfolds on stage, the audience can pick up interesting snippets about the city. Even locals will be surprised by some of the stories that were not in our history textbooks, yet were integral to our past – such as how the city rebuilt itself after the Great Fire and Great Flood, and how Brickfields came to be.
The cast features 18 talented actors and actresses who deliver superb performances with so much heart and are a pleasure to watch. According to Puan Sri Tiara, the multi-racial ensemble also serves as 'unity ambassadors' to highlight the beauty of living in our diverse society, and often hosts question and answer sessions with school groups to share what unity in diversity means. For the cast and crew members, it adds meaning to their work and is one of many reasons they are driven to continue entertaining the audience twice a day – something they have been doing for two years now, and counting.
MUD KL's success is no fluke; Puan Sri Tiara rallied the best names in the local performing arts scene to create a truly memorable show. Amongst the heavyweights responsible for the earworms and mesmerising dance moves are famed dance choreographer Pat Ibrahim, traditional Malay dancer Zamzuriah Zahari, and singer-songwriters Mia Palencia and Zalila Lee.
The show is fittingly held in the historical Panggung Bandaraya, an attraction in itself. Built in 1896, the theatre is located at the Sultan Abdul Samad Square across Dewan Merdeka, a Moorish-inspired building designed by Arthur Benison Hubback, the same architect who gave us the stunning KL Railway Station and Masjid Jamek. Prior to MUD KL, the Panggung's stages have hosted iconic shows such as Malaysian Idol. What better way to experience its beauty and built heritage than by watching a homegrown play about the city itself?
[box color="#89c44c "] See how beautiful Kuala Lumpur was back in the day in 'This Family's Holiday Photos Of Kuala Lumpur From 1975 Will Make You Nostalgic' [/box]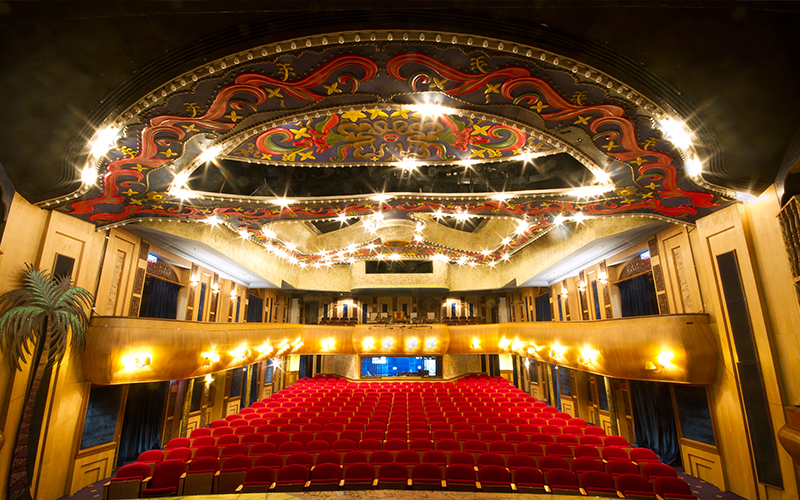 In case you haven't caught on, the name MUD KL is a reference to the English translation of Kuala Lumpur, which means 'muddy confluence' where the Klang and Gombak rivers meet. The musical itself is not short of cheeky moments and includes an interactive segment whereby the audience gets to become a part of the performance.
If you're new to Kuala Lumpur, MUD KL is a vibrant introduction to the city, its people and the Malaysian way of life. For Malaysians, it's a worthy revisit of the nation's history and a reminder of how it all began for this country we call home. 
Should you watch the show? The Zafigo team attended a performance of MUD KL and here's what we think of it:
"I thought the show was refreshingly professional, creative and most of all unschmaltzy. If it was too icky sweet, it would have been ruined." Datin Paduka Marina Mahathir, Founder of Zafigo.
"Thanks for the history lesson! Learnt more about the history of this city I grew up and especially loved the interactive part of the show." Isabel Taye, Personal Assistant to Datin Paduka Marina Mahathir.
"A good and entertaining reminder that Kuala Lumpur was built by people who came together from different ethnicities and backgrounds, overcoming challenges and loss on a grand scale, to find a home to belong. From a place of mud, to a city to build their hopes upon." James Chong, Head of Strategy and Development.
"I was pleasantly surprised by how good the performers and production was but felt it was a little too short. I would have loved if they touched more on the later milestones and included historical figures such as Frank Swettenham and Yap Ah Loy in the story." Maggie De souza, Marketing and Partnerships Manager. 
"Highly recommended for kids and adults, tourists and locals alike. It's a fun and entertaining way to learn about the history of Kuala Lumpur. You'll be surprised to find that even if you've lived in this city all your life, you may not know about some of the events that have happened." Xin Xin Lee, Designer. 
"Great stage set-up and performance, and the audience participation enhanced the theatre experience. It's an excellent way for people to know the history of Kuala Lumpur." Irene Tan, Office Manager.

"From stage design to costumes and props, it's a visual treat for all the senses, and the performers did a great job bringing each character to life. The pace felt a bit rushed though, as they had to capture decades of history into a 60-minute show but even then, many surprising nuggets of information stood out." Vivian Chong, Editor.
"The storyline glossed over the history of Kuala Lumpur and focuses more on the life of the villagers. There were many surprises along the way and the audience participation made it a fun experience. I left humming the songs on my way out." Mei Mei Chu, Content and Social Media Manager.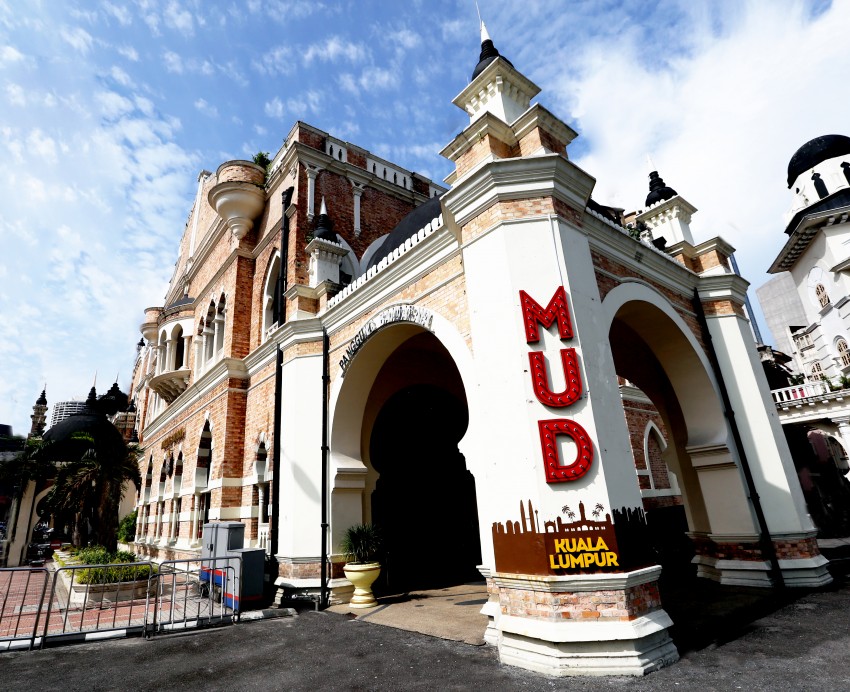 MUD KL show times: Daily at 3PM and 8.30PM | Ticket price: MYR84.80 (standard ticket), MYR53 (MyKad holders) | Where: Panggung Bandaraya, Jalan Raya 50350, Kuala Lumpur. It is a 5-minute walk from the Masjid Jamek LRT Station | For ticket bookings and more information, visit the MUD KL website. 
Thanks to MUD KL, all Zafigo readers can enjoy a special discount of MYR10 off the normal ticket price. Just quote the promo code MUD1857 when buying your tickets to enjoy the discounted rate.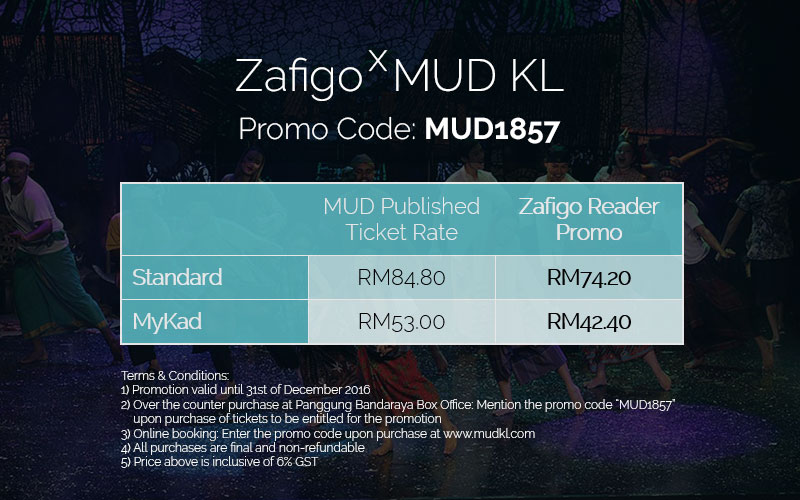 Read Next: