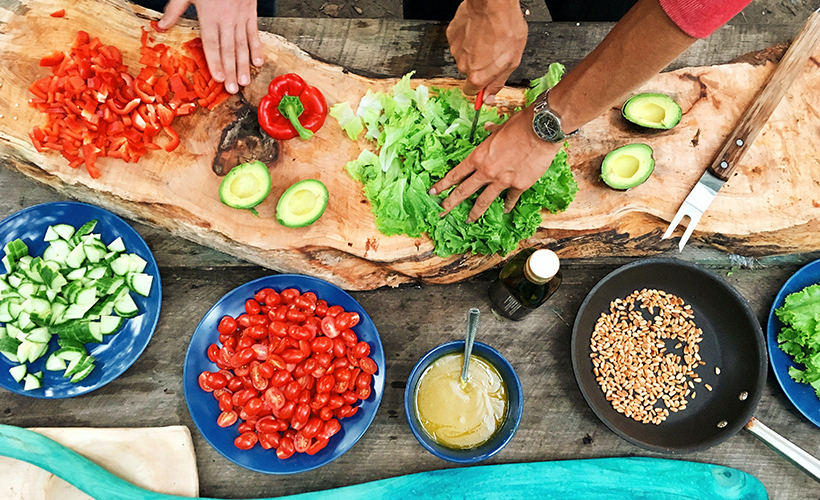 We're a month into Movement Control Orders or quarantines around the world to prevent the spread of COVID-19, and we hope you're still holding strong wherever you may be. We've been trying our level best to keep busy at home to stave off going stir-crazy, and so far it's been working.
Due to the extension of the quarantine period here in Malaysia (we've been ordered to #stayhome until 28 April), we've cooked up another list of recipes – but this time from the other side of the globe – for you to try out. There are some deliciously hearty dishes in this list that will have you coming back for seconds and thirds. This might result in some extra work on the exercise mat, but it will definitely be worth your while.
Throw on some music or your favourite podcast, and get ready to take your taste buds on a culinary journey through Europe and North America with these easy-but-just-as-delicious recipes that you can replicate from the comforts of your home.
1. Meat and spinach frittata – Italy
Don't let the number of eggs in this recipe scare you – think of a frittata as a large, tasty, and very filling omelette. The original recipe called for pork sausages and broccoli rabe, but we switched it up with ingredients that would be much easier to find at your local supermarket.
Ingredients
12 large eggs
1/2 cup whole milk
3/4 cup grated cheddar cheese, divided
2 tablespoons of vegetable oil
1/2 medium onion, chopped
1/2lb of ground beef, lamb, or pork
1 bunch of spinach
Salt and pepper, to taste
Directions
1. Whisk the eggs and milk in a bowl. Put in 1/2 cup of cheddar, and add the salt and pepper. Set aside.
2. Heat the vegetable oil in a large skillet. Throw in the onions and meat and cook for six to eight minutes over medium heat. Add the spinach, then more salt and pepper to taste. Stir and let cook for another eight to 10 minutes.
3. Cut the heat down to low, and pour the egg mixture over the meat and vegetables. Allow it to cook for 10 to 12 minutes and shake the skillet gently to even out the mixture, and allow the edges to set.
4. Top the frittata with the leftover 1/4 cup of cheddar and let it cook until the centre is set. For a faster set and golden brown top, pop your skillet into the oven for about three to five minutes. Let cool for about 30 minutes, cut into wedges, and serve!
2. Cilantro lime prawn tacos – Mexico
NBA player Lebron James may have made #TacoTuesdays a thing, but we say tacos can (and should!) be had at any time of day, on any day of the week. The ingredients list to this recipe might look long, but it takes less than 45 minutes to put everything together. If you have kids, this is a great recipe to give them something to do during the lockdown, and also get you a little help in the kitchen.
Ingredients
8 tortillas, warmed and ready to serve
For the filling:
3 limes, juiced
1 lime, zested
2 tablespoons of cilantro, for filling and garnish
2 cloves of garlic, minced
1/2 teaspoon of cumin
1 tablespoon of olive oil
1lb of prawn, peeled and deveined
For the cabbage slaw:
1 cup of shredded cabbage
1/4 cup of cilantro
1/4 of red onion, thinly sliced
1/2 avocado, thinly sliced
1 lime, juiced
1 tablespoon of olive oil
Salt to taste
For the garlic-lime mayo:
1/3 cup of mayonnaise
2 tablespoons of hot sauce
1 lime, zested
1/2 teaspoon of garlic powder
Salt to taste
Directions
1. For the filling: Whisk the lime juice, cilantro, garlic, cumin, olive oil, lime zest, and salt together in a bowl. Add the prawns, toss, and then cover and leave to marinate in the fridge for 20 minutes.
2. For the slaw, combine all the slaw ingredients in a bowl, toss gently, and season with salt to taste.
3. For the garlic-lime mayo, whisk all ingredients together and season with salt to taste.
4. Preheat a frying pan on medium heat. Take the filling out of the fridge and put it into the pan. Stir-fry lightly, allowing prawns to cook until pink.
5. Build your taco! Our preference is to start with the slaw, layer the prawns on top, then drizzle the garlic-lime mayo to finish. For added flavour, garnish with more cilantro.
3. Macaroni and cheese – USA
Whether served as a side or a main, there's nothing more American than a bowl of creamy macaroni and cheese. This dish is both indulgent and extremely comforting. It's also vegetarian-friendly, but should you want a little bit of meat for bite and crunch, top off your mac and cheese with some fried (pork, beef, or even turkey) bacon bits. That's a bowl of yum right there!
Ingredients
8 ounces of macaroni
1/4 cup of unsalted butter
1/4 cup of all-purpose flour
2 cups of whole milk
1 cup of cheddar cheese, shredded
1/2 cup of gruyere cheese, shredded
1/2 cup of parmesan cheese, shredded
Salt and pepper, to taste
Directions
1. Boil the macaroni in a pot of lightly salted water until al dente or firm to the bite. Drain.
2. Put a pan over medium heat and melt the butter. Add the flour, salt, and pepper, and stir until smooth. Slowly pour the milk into the pan and stir until the mixture is smooth. Once it bubbles, add the cheddar, gruyere, and parmesan cheeses into the mix and stir until cheese is melted.
3. Add the macaroni to the pot and fold until all the pasta is coated. Serve.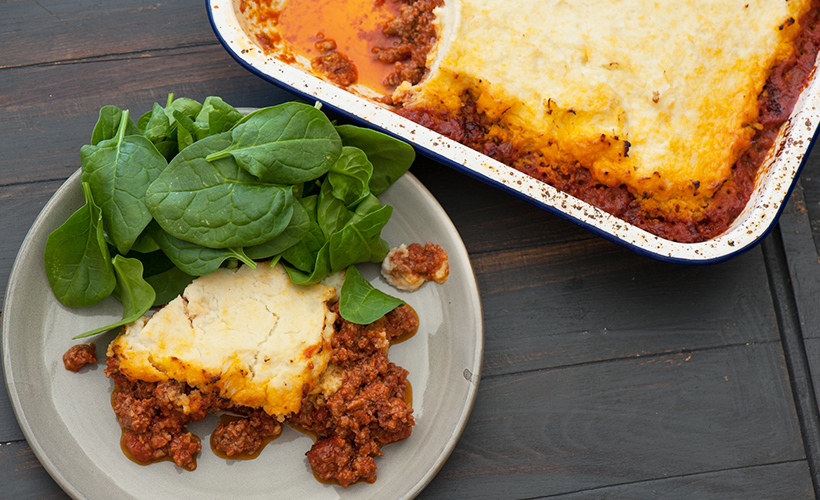 4. Shepherd's pie – UK
Despite its name, this is a crustless pie, so you don't have to worry about making a crust for it. If you didn't already know, a shepherd's pie is topped with a generous layer of mashed potatoes (can you say 'heaven'?) and filled with a tasty mix of ground meat and veggies.
Ingredients
For filling:
1lb of ground beef or lamb
1 medium onion, chopped
1 clove of garlic, minced
1/4 teaspoon dried thyme
2 tablespoons of ketchup
1 tablespoon of all-purpose flour
1 bag of frozen mix vegetables of your choice
Salt and pepper, to taste
For mashed potatoes:
3 large potatoes, peeled and cubed
1 tablespoon of butter
1/4 cup shredded cheddar cheese
1 tablespoon of onion, finely chopped
Salt and pepper, to taste
Directions
1. Boil potatoes in a pot of salted water until tender but still firm. Drain, mash, and mix in butter, finely chopped onions, and shredded cheddar cheese. Season with salt and pepper, and set aside.
2. Preheat oven to 220ºC or 425ºF. In a pot, cook the meat for about five minutes. Add the onion and garlic.
3. Throw in the thyme, ketchup, and flour. Stir until everything combines, then add the water and vegetables. Cook until liquid has thickened, then season with salt and pepper.
4. Spoon meat and veggie mixture into a baking dish, and spread the mashed potatoes evenly over it. Place the dish into the oven and let it bake for 10-15 minutes, until the mash potatoes are lightly brown. Serve.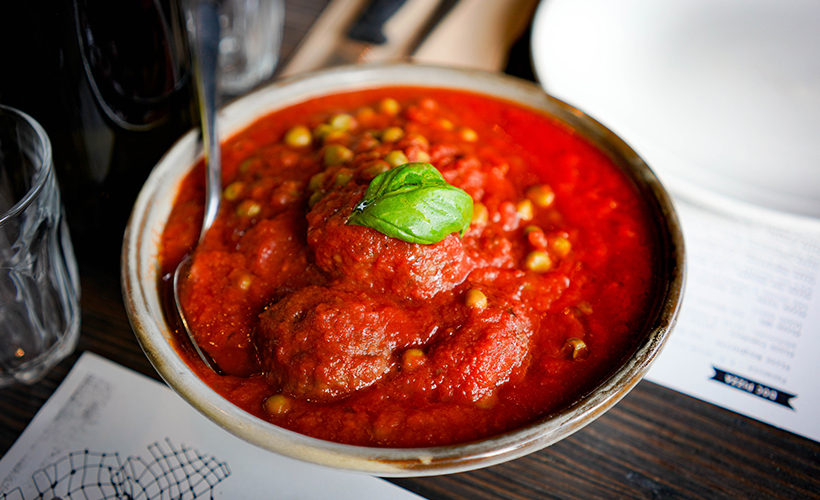 5. Soutzoukakia smyrneika– Greece
It's pronounced sood-joo-KAH-kya smir-NAI-kah, and is basically spiced, elongated meatballs (soutzoukakia) cooked in a tomato sauce (smyrneika). A Greek favourite, you can serve this dish over a bed of rice or mashed potatoes, or even with bread.
Ingredients
For the soutzoukakia:
1lb of ground beef
4 slices of day old bread, crusts removed
¼ cup of beef broth
1 red onion, finely chopped
2 cloves of garlic, minced
1 egg, lightly beaten
½ teaspoon of ground cumin
A handful of chopped parsley
Salt and pepper, to taste
For the tomato sauce:
3-5 tablespoons of olive oil
1 small onion, finely chopped
1 can of chopped tomatoes
1 clove of garlic, finely chopped
1 teaspoon of ground cinnamon
Salt and pepper to taste
Directions
1. For the smyrneika, or sauce, heat up the oil in a pot over medium heat. Add the chopped onions and garlic and cook until translucent.
2. Add the tomatoes, cinnamon, salt, and pepper and bring to a boil. Lower the heat and let the sauce simmer and thicken for 30 minutes. Allow it to cool.
3. For the soutzoukakia, start by soaking the bread in the beef broth until it softens. Squeeze the broth out of the bread and put it in a bowl along with the rest of the ingredients. Mix until everything is combined and soft.
4. Pinch off portions of meat and shape into elongated meatballs.
5. Pour some oil into a pan and heat up on medium heat. Once the oil is hot, put the soutzoukakia in and allow to cook for five to seven minutes until brown on all sides.
6. Once all the soutzoukakia are cooked, add them to the symrneika and reheat. Allow it to cook for another 15 minutes. Serve.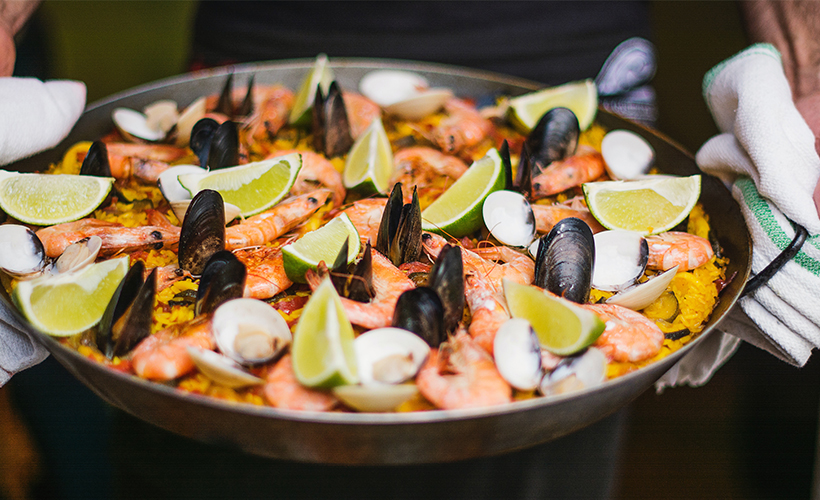 6. Prawn paella – Spain
The Spanish version of a one-pot meal, a paella (pa-EH-ya) is usually made with leftovers – just about anything goes. This one in particular is made with prawns, but you can alter the recipe to add clams, mussels, lobster, and fish, or whatever meat you have. You can even make it vegetarian if that's what you prefer.
Ingredients
1lb of prawns, peeled and deveined
1 large yellow onion, chopped
2 cups of medium-grain rice, soaked in water for 15-20 minutes then drained
4 cloves of garlic, chopped
2 large pinches of saffron threads, soaked in 1/2 cup of water
1 teaspoon of sweet paprika
1 teaspoon of cayenne pepper
1 teaspoon of pepper flakes
2 large tomatoes, finely chopped
2 handfuls of French beans, trimmed
1/4 cup of fresh parsley, chopped
3 tablespoon of extra virgin olive oil
Salt to taste
Directions
1. In a deep, large pan, heat the olive oil over a medium-high flame and add the chopped onion to sauté. After two minutes, add the rice and stir regularly. Let this cook for three more minutes.
2. Add the chopped garlic, saffron along with its soaking water, paprika, cayenne pepper, pepper flakes, salt, chopped tomatoes, and green beans. Bring it all to a boil, let the liquid reduce slightly, then cover and leave to cook on low heat for about 20 minutes.
3. Uncover, and add the prawns to the rice. Push the prawns into the rice so that it absorbs the liquids for flavour. You can add a little bit more water if needed. Cover and leave to cook for another 10-15 minutes. Turn heat off, garnish with parsley, and serve.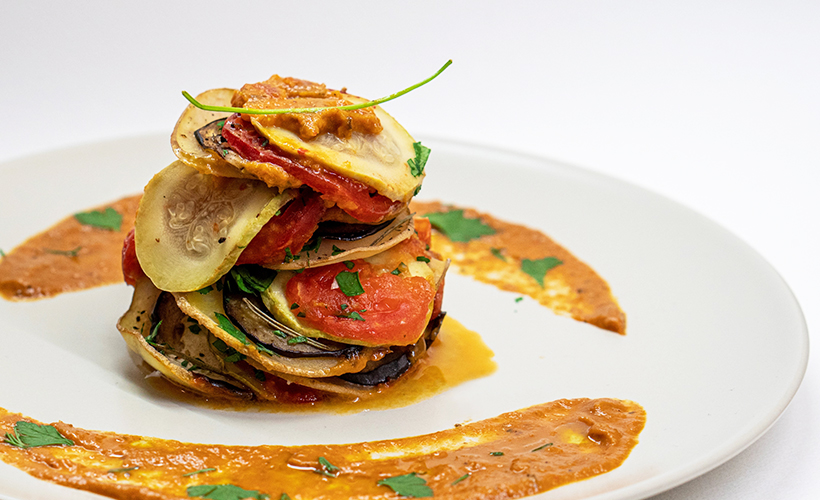 7. Ratatouille – France
Here's a deliciously herby, healthy, and hearty dish for the vegetarians and everyone else who needs a break from meat. This simple ratatouille (ra-ta-tou-ee) or vegetable stew can be eaten on its own, or even with rice, bread, or whatever carb you fancy. We suggest making a big portion so that you can store some in the fridge because it tastes better when kept over a few days.
Ingredients
1 large eggplant, chopped into chunks
2 large zucchinis, chopped into chunks
2 large bell peppers, chopped into chunks
1 large onion, chopped
4 cloves of garlic, finely chopped
1 tablespoon of olive oil
5 cups of fresh tomato, chopped
1 teaspoon of fennel seeds
1 teaspoon of rosemary
1 teaspoon of ground black pepper
2 teaspoons of salt
1 large bay leaf
Directions
1. Pour the olive oil into a large pan over medium heat. Sauté the onions and garlic until brown.
2. Add all the other ingredients and leave to simmer for 10 minutes.
3. Stir gently to prevent the veggies from breaking up too much, and let them cook for another 15 minutes or until veggies are soft and tomatoes have completely broken down. Serve.
8. Chicken paprikash – Hungary
Otherwise known as paprika chicken, this dish is a dining table staple in Hungarian homes. It's named after its generous use of the paprika spice – common in Hungarian cuisine – and can be made using other favoured meats as well. Serve your chicken paprikash over rice, noodles, or even mashed potatoes.
Ingredients
3lbs of chicken thighs and legs
3 tablespoons of unsalted butter
3 large onions
2 tablespoons of sweet paprika
1 teaspoon of hot paprika or cayenne pepper
1 cup chicken broth
1/2 cup sour cream
Salt and black pepper to taste
Directions
1. Salt the chicken pieces and let them sit at room temperature. Slice the onions lengthwise.
2. Melt the butter in a sauté pan over medium-high heat. Place the chicken skin-side down in the pan, and allow to cook for five minutes before turning them over to cook for another three minutes. Remove the chicken from the pan and set aside.
3. Sauté the onions in the same pan until lightly browned. Then add the sweet paprika, hot paprika or cayenne pepper, and black pepper, then let it combine. Add the chicken broth, and then put the chicken pieces back into the pan over the onions. Lower the heat, cover the pan, and let its contents simmer for about 25 minutes.
4. When the chicken is cooked through, take the pan off the stove. Remove the chicken and add in the sour scream and salt. Stir until smooth, put the chicken back into the sauce, and coat thoroughly. Serve.
Get all the latest travel stories from Zafigo. Follow us on Facebook, Twitter, and Instagram