South Africa is a vibrant country with an eclectic mix of cultures. Originating as a trading post for ships sailing from Europe to the East, it's cuisine has influences from all over the world. The food in this country is as scrumptious as the scenery is breath-taking. While this list is by no means an exhaustive list of delicacies to try while visiting, let it serve as some inspiration for things to try on your trip. Here are five foods not to be missed when visiting South Africa.
Koeksisters
Koeksisters are made by pleating a piece of dough and then deep-frying it. The treat is then soaked in a thick, sweet, sugary syrup. The inside is a bit soft and chewy while the outside is baked golden brown and crunchy. If done right, the syrup threatens to run down your chin as you bite in!
Bunny chow
A bunny chow is basically half a loaf of bread (sometimes a quarter loaf for the not-so-hungry) filled with curry. It originated from the Indian population in Durban, and is a popular dish throughout the country. The curry is made using traditional recipes with mutton, lamb, chicken, bean, and even chips with a curry gravy being popular choices of filling. The original version of bunny chow was made with veggies only. They are often shared among friends. The Bunny Chow Barometer is held in Durban every September to find the 'best bunny'!
---
Eat your way through Asia with these:
---
Boerewors
Boerewors is a sausage originating with the white farmers (the Boere). The sausage contains at least 90% minced beef mixed with a variety of spices. It generally includes coriander, cloves, and nutmeg which gives it its unique taste. Other spices and flavours can also be included, and boerewors competitions are common. Stands that sell boerewors rolls can be found on street corners, at festivals and sporting events. And of course, no braai (South African barbeque) will be complete without boerewors!
---
Sweet or savoury, we've got you covered:
---
Biltong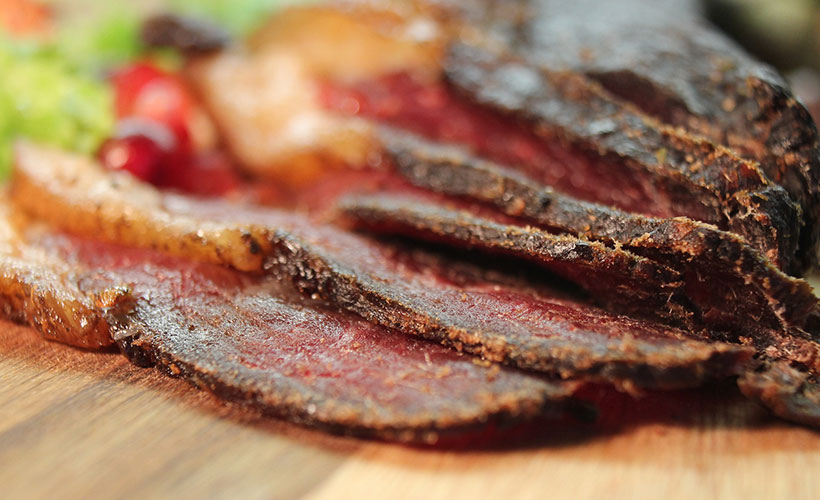 The closest that you could get to describing biltong is to liken it to beef jerky, although biltong is more savoury. It is cured, dried, spiced meat and a must for any social occasion from watching Rugby to birthday parties, and everything in between. Biltong is usually made from beef, but chicken and even bacon biltong is not unheard of.
Potjie kos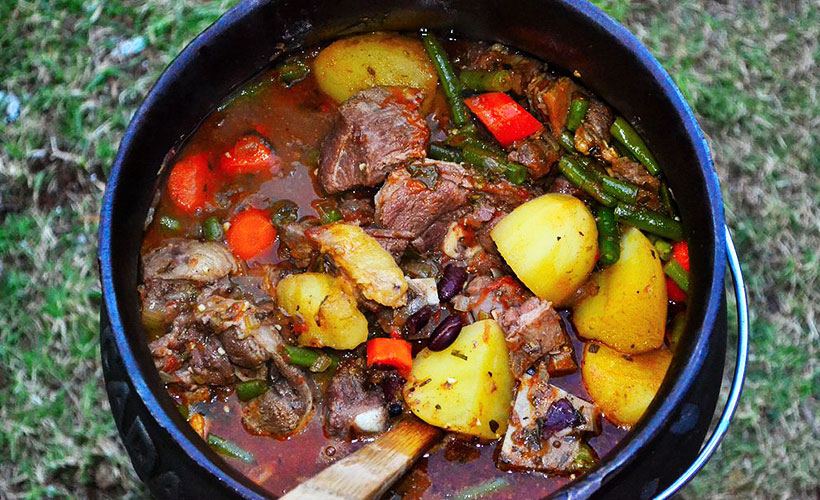 Potjie Kos (directly translated as 'small pot food) is a traditional meal, slow-cooked over an open fire in a cast iron pot. Each Potjie maker has his/her tried and tested recipe that they stick by, and many a discussion has been had around a fire about the best way to make a pot.
The dish is usually prepared over the course of a few hours and generally gets 'built' in layers. Usually it starts off with browning some onions and garlic with meat after which layers of vegetables get added throughout the cooking time. Vegetables like potatoes, carrots, or pumpkin are added first, while mushrooms, pattypan squash, and cabbage are thrown in later. Each pot is as unique as the cook, and anything from cola and wine, to oxtail, chicken, and even biltong can be added.
Get all the latest travel stories from Zafigo. Follow us on Facebook, Twitter, and Instagram.