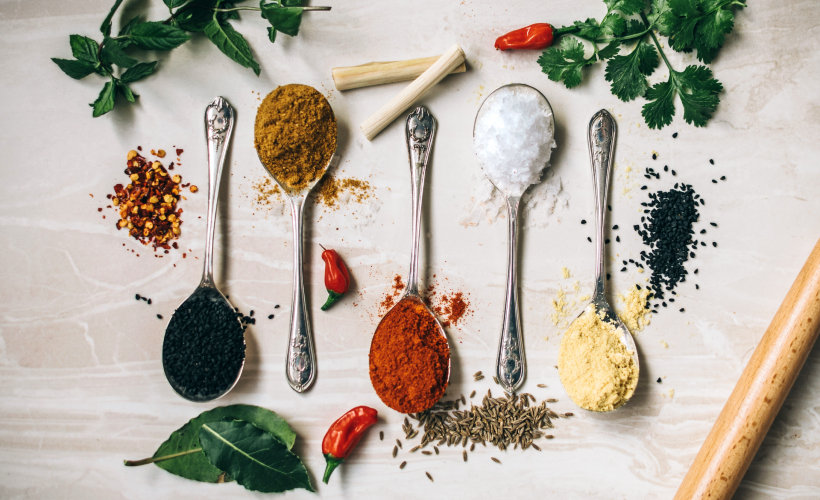 It's day seven of the Movement Control Order here in Malaysia, and we're going a little stir-crazy. With wanderlust running high, and being unable to leave the house, we thought we'd bring the world into our homes using one of the best ways possible – food!
With another week of this quarantine to go, here are some of our favourite Asian recipes for you to try out in your kitchen.
Quick reminder if you're going to shop for ingredients: Wear a mask, keep your distance from other people, and also shop responsibly by only buying what you need. Once back home, don't forget to wash your hands thoroughly.
If you use these recipes, and share pics of your creations on Instagram, don't forget to tag @zafigoasia. Until then, bon appétit!
1. Ayam goreng kunyit – Malaysia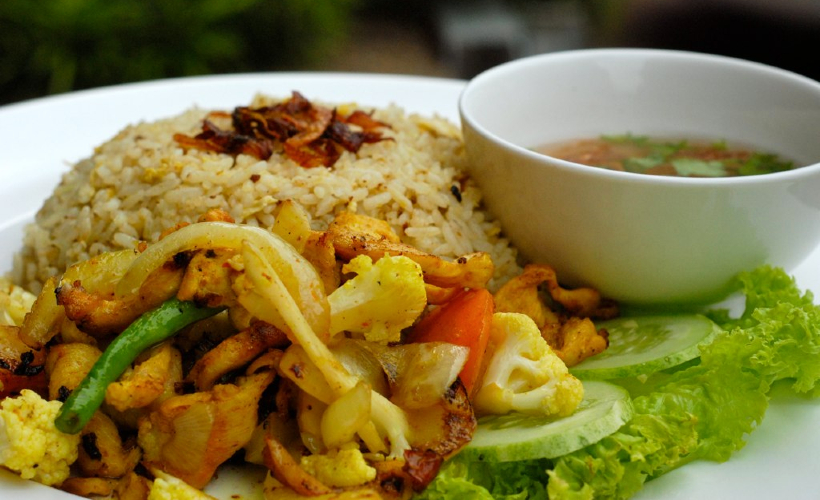 Ayam goreng kunyit, or turmeric fried chicken, is a simple dish. But the utter tastiness of this dish makes it a Malaysian favourite. The chicken is best eaten with plain rice, a fried egg, and a generous serving of spicy sambal (chilli paste). You can switch out the chicken for beef, squid, or even prawns.
Ingredients
For the chicken:
700 grams of chicken breast, cubed
1/2 tablespoon of salt
1 tablespoon of turmeric
1 tablespoon of cornstarch
1 carrot
1/2 lb of long beans
1 large red onion
1-2 red chilli
For the sambal:
3 red chillies
5 birds eye chillies
1/2 tablespoon of sugar
A pinch of salt
A bit of dried shrimp paste (to increase flavour, optional)
1 small lime for juice
Directions
1. Marinate the chicken with the salt, turmeric, and cornstarch.
2. Thinly slice the onion and chilli, and cut the carrots and long beans into two-inch segments.
3. Heat up a generous amount of oil (for maximum crispiness) in your wok, and once hot, deep fry the chicken until golden brown.
4. Throw in the carrots, long beans, onion, and chilli. Toss them until the veggies soften, then take them out of the wok. Remember to use a paper towel to absorb any excess oil.
5. For the sambal, first pound the chillies. Throw in the sugar and salt (and dried shrimp paste if you're using it), and then pound some more. Finally, add some lime juice to taste.
2. Pad kra pao gai – Thailand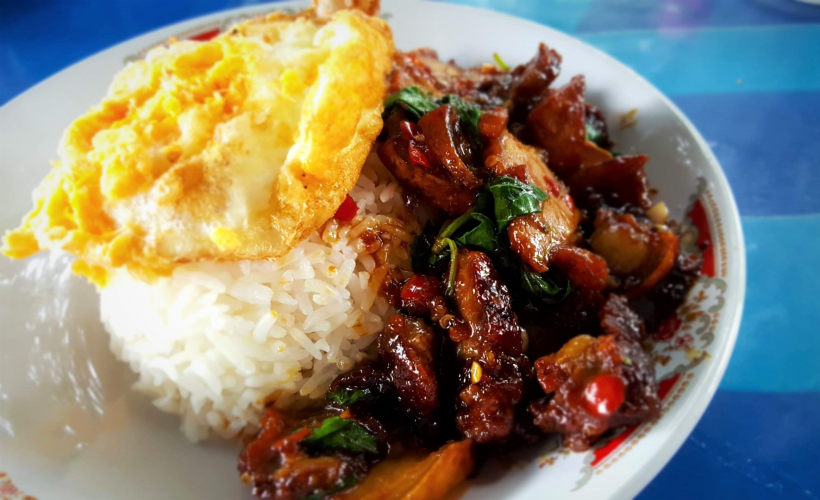 The flavours of Thai cuisine are so rich and tasty, that everybody falls in love at first bite. One of the easiest and most flavoursome Thai dishes to make is a pad kra pao (holy basil) stir fry. The following recipe calls for gai (chicken), but this dish can be made using beef, pork, or even your favourite seafood. Throw your pad kra pao gai over some steamed white rice, add a fried egg on top, and dig in!
Ingredients
1/4 cup of chicken broth
1 tablespoon of oyster sauce
1 teaspoon of light soy sauce
1 tablespoon of dark soy sauce
1 tablespoon of fish sauce
2 teaspoons of sugar
2 tablespoons of oil
1 medium shallot, minced
6-8 cloves of garlic, minced
4-5 birds eye chillies (depending on how spicy you want it), minced
1lb of minced chicken
1 handful of fresh Thai basil
Directions
1. Put the chicken broth, oyster sauce, light soy sauce, dark soy sauce, fish sauce, and sugar into a bowl and whisk together.
2. Put a wok on the stove on high heat and add the oil. Throw your shallots, garlic, and birds-eye chillies into the wok and stir-fry for a minute.
3. Add your minced chicken to the wok and stir-fry for about three minutes.
4. Pour in the sauce mixture and stir to coat all of the meat. Toss slowly to prevent meat from sticking.
5. When most of the broth has evaporated, turn off the stove, and add in the Thai basil. Stir and then remove from heat.
3. Vegetarian bún chả – Vietnam
Not only is it the very definition of quick and easy, this vermicelli salad is healthy and great for when you're looking to shed a couple of pounds. The veggies make it very light and nutritious, and the noodles help fill you up, while the spices, herbs, and sauces give you flavour – all the while keeping it light.
Ingredients
300 grams of vermicelli noodles
2 carrots, shredded
2 cucumbers, shredded
4 stalks of green onions, chopped
1 1/2 cups of bean sprouts
1/3 cup of cilantro, chopped
1/2 cup of fish sauce
1/2 cup of seasoned rice vinegar
3 tablespoons of sugar
2 cloves of garlic, minced
1/4 teaspoon of crushed red pepper
Lime, to taste
Directions
1. Soak the vermicelli noodles in boiling water for three to four minutes. Rinse with cold water, drain, and add to a large bowl. Add all the veggies.
2. Mix the fish sauce, rice vinegar, sugar, garlic, and crushed red pepper in a bowl. Pour the mixture over the noodles and veggies, and you're all done!
Note: Feel free to add more of whatever ingredient you want. Peanuts and cashews (or whatever nut you favour) add a delicious, earthy crunch. If you're making the salad ahead of time, add cilantro only before serving. Salad can be refrigerated overnight.
4. Sichuan mapo tofu – China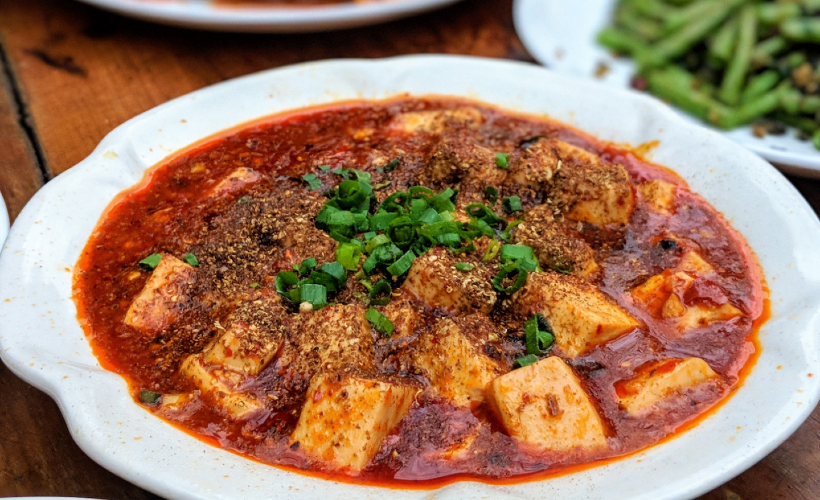 Taking less than 30 minutes to make including prep, you'll have taste and comfort in a bowl in no time at all. A couple spoonfuls of mapo tofu over some warm rice, and you have a meal that will warm your belly and soothe your soul – we mean this literally and figuratively as Sichuan food can be pretty spicy.
Ingredients
For the sauce:
3 tablespoons of red fermented broad bean paste
1 tablespoon of sugar
1 tablespoon of cornstarch
1 1/2 cups of chicken broth
For the dish:
1 tablespoon of oil
150 grams of ground beef (even works with chicken or pork)
1 large white onion, diced
2 medium firm tofu, cubed
1 teaspoon of chilli oil (add more if you like it spicy)
1/4 teaspoon of ground Sichuan peppercorn (optional)
Chopped green onions for garnish
Directions
For the sauce:
1. Mix the red broad bean paste and sugar in a bowl. In another bowl, mix 1/2 a cup of the chicken broth and cornstarch together until the latter is dissolved.
For the dish:
1. Put your wok on the stove over high heat, and add the oil. Throw in the beef, and fry for about two minutes. Make sure to break up the meat. Add the diced onion, and fry for about four minutes until fragrant.
2. Add the tofu to the meat and stir gently as to not break the tofu. Pour the remaining one cup of chicken broth and the red broad bean paste mixture into the wok. Stir to coat the tofu and beef.
3. Let the contents of the wok come up to a boil, then slowly pour in the chicken broth and cornstarch mixture. The cornstarch will thicken the sauce. Now stir some more to coat the tofu and beef.
4. Add in the chilli oil and Sichuan peppercorn to taste.
5. Once the mapo tofu is simmering, take it off the stove. Use the chopped green onions to garnish.
5. Aloo paneer – India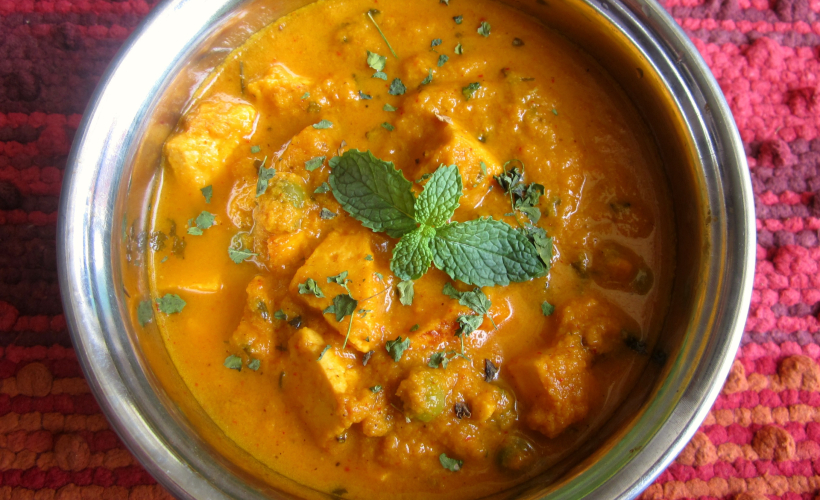 Aloo is potato, paneer is an Indian fresh, non-melting soft cheese, and this is a curry that is best served over rice or even your favourite flatbread. It's a vegetarian option for those times when you need a break from meat of any kind (or if you're simply vegetarian).
Ingredients
1 teaspoon salted butter
1onion, diced
2 cloves of garlic, minced
1½ lbs of potatoes, cut into 1-inch chunks
1 can of diced tomatoes
1/2 cup of vegetable broth
2 tablespoons of curry powder
1/2 teaspoon of red pepper flakes (if you want it spicy)
1/2 lb paneer, cut into 1/2-inch cubes
Directions
1. Heat the butter in a pan, then add onion and garlic, and sauté over medium-high heat until fragrant.
2. Add the potatoes, tomatoes, vegetable broth, curry powder, and red pepper flakes (if you're using them). Stir, reduce the heat, and let simmer for 20 minutes until the potatoes are soft. If the sauce reduces too fast, add some more vegetable broth.
3. Put in the paneer cubes and stir for a bit, giving it a chance to absorb the curry. Take it off the stove and serve.
6. Shish tawook – Lebanon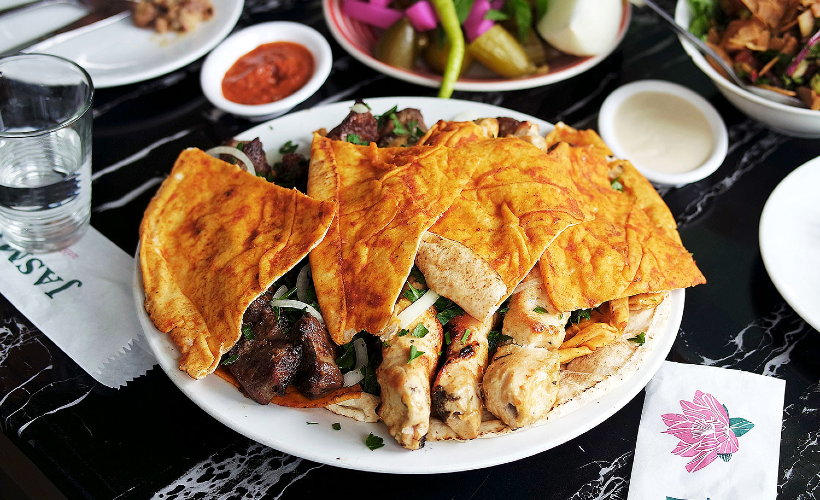 This is another one for the health-conscious – shish tawook is a healthy chicken skewer dish that can be eaten with any carb of your choosing (or veggies, if you're staying off the carbs). Marinate the chicken at least six hours ahead of cook time, but if you're able to, leave the chicken to marinate overnight for maximum flavour. This recipe calls for a grill, but you can use an oven, a griddle, or a regular ol' frying pan.
Ingredients
2lbs chicken breast, cut into 11/2-inch pieces
For the marinade:
1/4 cup of lemon juice (1 lemon)
6 garlic cloves, minced
1/4 cup yoghurt (Greek or plain)
2 tablespoons of olive oil
1 teaspoon of ground thyme
1 teaspoon of paprika
1 teaspoon of salt
2 teaspoons of tomato paste
1/4 teaspoon of ground black pepper
For the skewers:
Wooden skewers, soaked in water (however many you need for the chicken)
Directions
1. Put all the marinade ingredients into a bowl and mix it up.
2. Put the chicken into a sealable container and pour the marinade over the chicken. To make sure all the pieces are properly coated, toss the chicken in the marinade. Cover it up and put the container in the fridge so the chicken can soak up the marinade. Minimum of six hours is good enough, but overnight is best.
3. When you're ready to cook the chicken, preheat your grill/oven/pan to medium heat or 180°C/350°F.
4. Skewer three to four pieces of chicken close together (touching) with the water-soaked wooden skewers, and put them on your grill/oven/pan for 10 minutes aside. Once you're sure they're cooked through, serve any which way you please!
7. Teriyaki salmon – Japan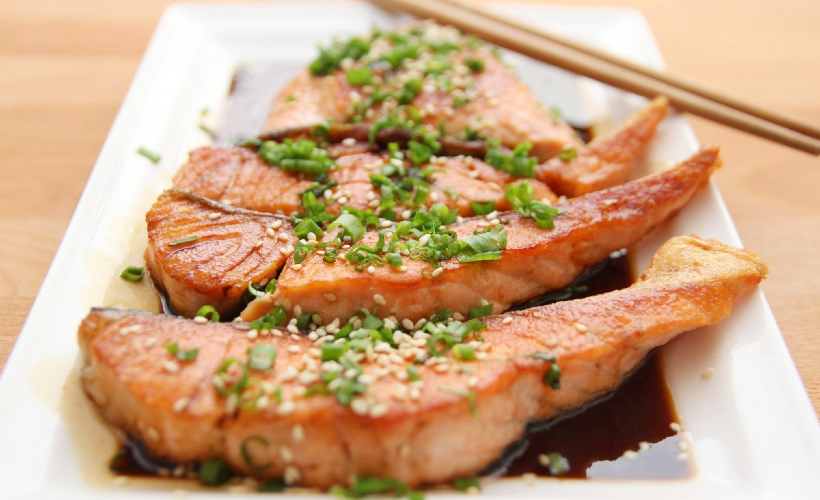 Japanese cuisine is a global favourite. In addition to being delicious, it's extremely nutritious to boot with its fresh, non-processed, and low-calorie ingredients. This teriyaki salmon is a great treat when you're looking for a quick, clean meal.
Ingredients
2 salmon filets, with skin (add filets as necessary, adjust ingredients accordingly)
1 tablespoon of oil
1 clove of garlic, minced
1/2 teaspoon of ginger, minced
1/4 cup of low sodium soy sauce
1/8 cup water
2 tablespoons of brown sugar (add more if you like it sweet)
1 tablespoon of rice wine vinegar
1 teaspoon of sesame oil
1 teaspoon of cornstarch
1 tablespoon of water
Directions
1. Mix garlic, ginger, soy sauce, 1/8 cup of water, brown sugar, rice wine vinegar, and sesame oil in a bowl.
2. Put half the marinade in a Ziploc bag. The other half goes into a small saucepan and is set aside.
3. Put your pieces of salmon in the Ziploc bag and let it sit for 30 minutes.
4. Heat the oil in a pan, and put the salmon in, skin down.
5. Cook for about four minutes on each side, or until it reaches preferred doneness.
6. Heat the saucepan with the reserved marinade until it comes to a simmer.
7. Combine the cornstarch with the 1 tablespoon of water, and whisk it into the saucepan marinade. Let it thicken.
8. Pour the teriyaki sauce over the salmon filets to serve.
8.Kimchi soup – South Korea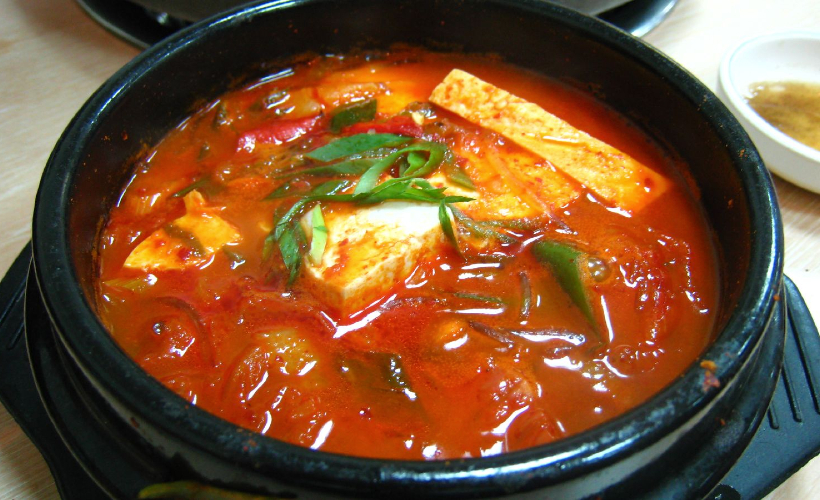 Kimchi soup is chock-full of nutrition and extremely satisfying. It also keeps for a good while, so you can have it as a main with rice, or even as a side to anything else you decide to cook for the week. For vegetarians, omit the meat and use more tofu.
Ingredients
2 cups of chopped kimchi
Kimchi juice to taste
1/2 pound of beef, cut into bite-sized pieces
2 tablespoons of gochujang (hot pepper) paste
1 teaspoon of sugar
5 cups of water
2 stalks of green onions, chopped
1 medium firm tofu
Directions
1. Put the chopped kimchi, kimchi juice, gochujang paste, beef (omit for vegetarians), and sugar into a pot.
2. Add water and let the mixture boil over high heat. Cook for 30 minutes.
3. Lower the heat to medium-low, and add the tofu. Continue cooking for another 10 minutes.
4. Add the green onions, remove from heat, and proceed to serve.
9. Egg hoppers – Sri Lanka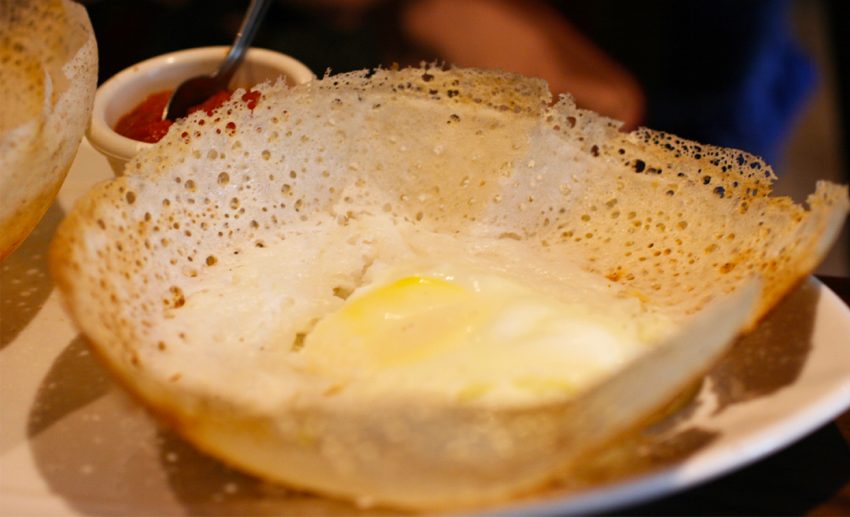 Egg hoppers, also known as bittara appa, are a staple in Sri Lankan cuisine. The light dish comes in both sweet and savoury options, with many variations to boot. For a protein-packed meal, you can crack an egg in the middle while it's cooking. On the other hand, for a sweet treat (peni appa), mix freshly-grated coconut and treacle into the batter.
Ingredients
400 millilitres coconut cream
20 grammes fresh yeast (or 7 grams fast-action dried yeast)
1 tablespoon caster sugar
1 teaspoon salt
500 grammes rice flour
3 egg whites
Vegetable oil
Eggs to serve (optional
Coconut milk (to serve)
Directions
1. Mix coconut cream, yeast, and sugar in a bowl and leave in a warm spot for 45 minutes or until risen and frothy.
2. Finely sift the rice flour into the mixture and whisk until a smooth batter forms.
3. Leave the bowl covered in a warm place for three to four hours or until the batter has doubled in size (rising time will vary depending on the room temperature). Before cooking, lightly beat the egg whites with a fork until foamy, and stir into the hopper mixture with one teaspoon of salt.
4. Warm a hopper pan or a small non-stick frying pan over high heat and wipe the pan lightly with oil. Pour in approximately 60 millilitres (or a ladleful) of the mixture.
5. Gently swirl to coat the sides of the pan, and leave a small pool of mixture in the centre. Crack in an egg (if you want one), and then cover the pan with a lid to steam the hopper for two to three minutes or until the centre is firm and the sides are a crispy golden hue.
6. Repeat the process until all of the batter is used.
7. Ensure the hoppers are warm before serving. When serving, pair the hoppers with chilled coconut milk for maximum flavour.
10. Chicken adobo – Philippines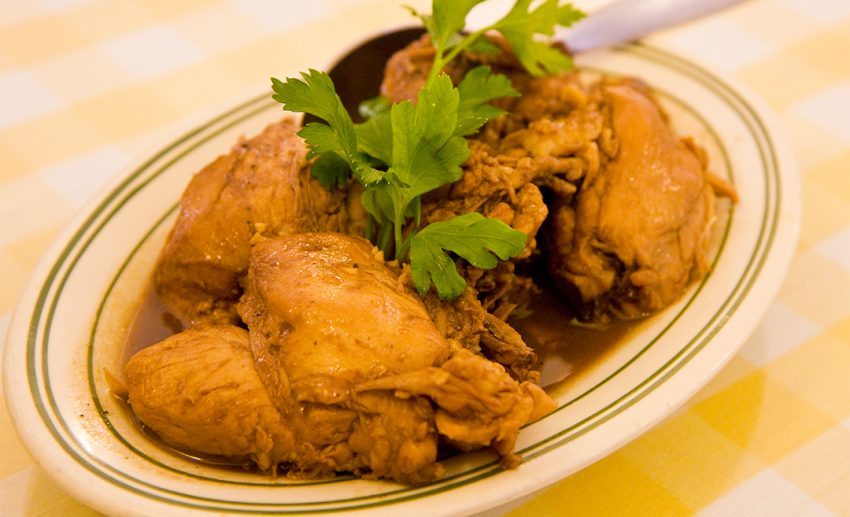 Chicken adobo is a sweet and tangy chicken dish enjoyed by many in the Philippines. Crowned as the country's unofficial national dish, the dish calls for meat simmered in a marinade of vinegar, soy sauce, black peppercorns, and bay leaves. For variety, you may swap out the chicken with seafood or fibrous vegetables.
Ingredients
2 tablespoons of vegetable oil
1.5 kilogrammes bone-in, skinless chicken thigh and drumsticks
1 large onion cut into large chunks
4 cloves minced garlic
78 millilitres white vinegar
158 millilitres low sodium soy sauce
1 tablespoon garlic powder
2 tablespoon whole black peppercorns
2 bay leaves
Directions
1. Heat the vegetable oil in a large skillet over medium-high heat.
2. Sear the chicken for approximately six minutes or until it becomes golden brown on the outside. Remove from the skillet and set aside.
3. Add vinegar and soy sauce to the skillet and season with garlic powder, peppercorns, and bay leaf. Let the ingredients simmer for five minutes.
4. Add in the chicken and bring to a boil. Then, reduce the heat to medium-low, cover, and simmer for 35 to 40 minutes or until chicken is tender and thoroughly cooked.
5. Serve hot over a bed of rice.
This article was originally published on 24 March 2020.