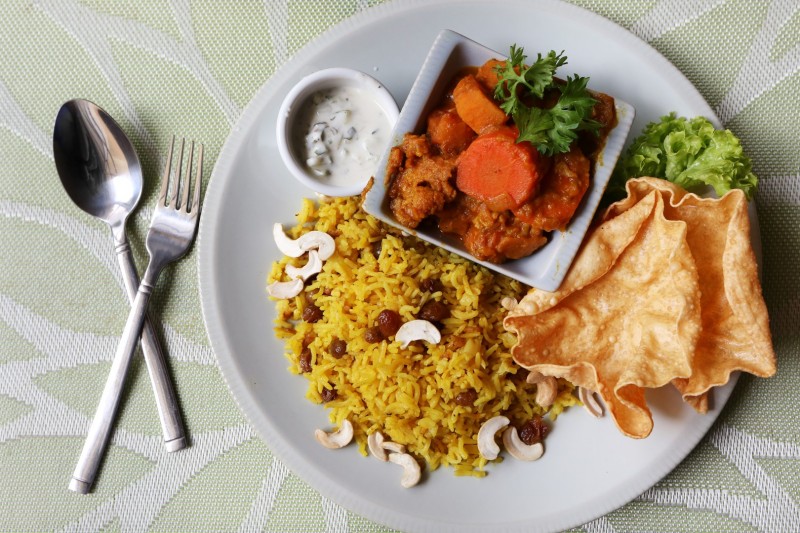 Travelling with eating restrictions can be a little challenging but because Malaysia has diverse communities, diverse ranges of food is a given! Being a vegetarian or vegan and travelling in Malaysia could be an interesting experience.
Here are some suggestions when you find yourself in Kuala Lumpur and would prefer a vegetarian/vegan meal:
1. Einstein Café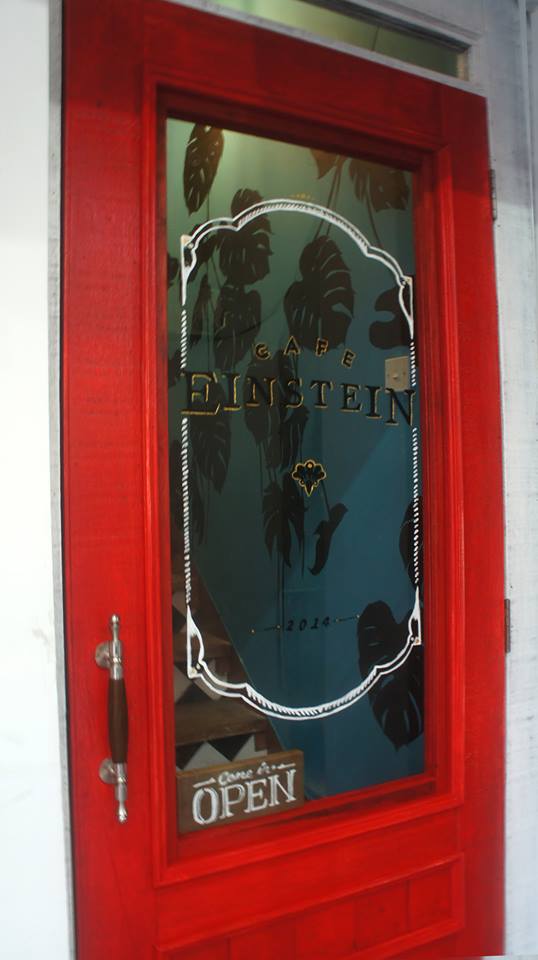 Tucked into the stretch that is Jalan Sultan, this café is easy to miss because of its inconspicuous front door that opens into a set of stairs. After climbing the stairs to the first floor, you'll see the café, modeled after a speakeasy with hardwood floors and dark wooden furniture. Soft jazz music plays while you chill out away from the blazing heat outside.
Enjoy coffee (with milk) and lunch here where the food is a mix of Asian fusion food, burgers and pizza with vegetarian options. Local fare such as assam fish, 'mutton' rendang, nasi lemak are made with faux meat which is a great way to try local flavours. To keep up with their latest news and menu updates, check out facebook their page.
Address: 58, Jalan Sultan, 50000 Kuala Lumpur.
GPS: 3.143652, 101.698990
How to get here: Get to the Pasar Seni LRT station (also a bus interchange, just take a bus that is headed towards 'Kotaraya') and you'll be on Jalan Sultan. Walk along the road for about 5-10 minutes and keep an eye out for Einstein Café's red front door.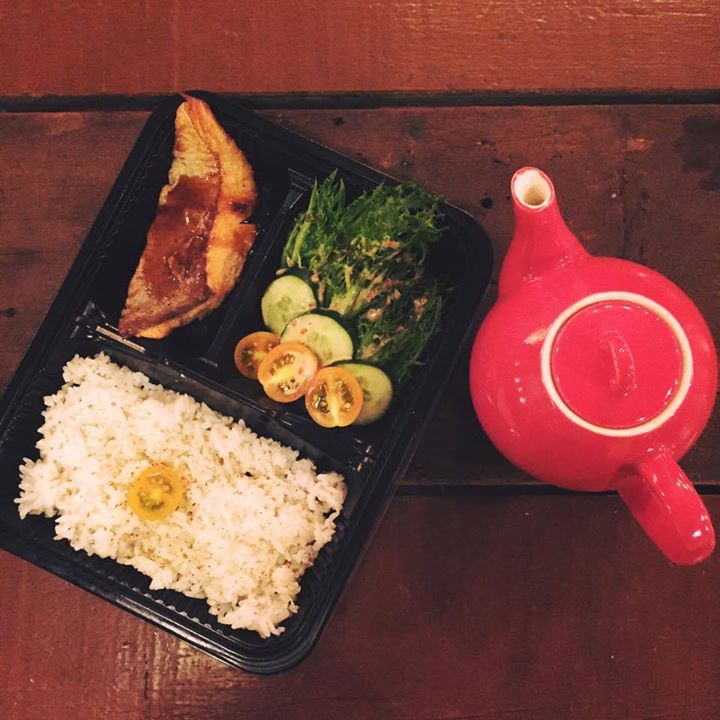 2. Kun Yam Thong Temple (Deng Bi An)
Opposite Avenue K, a popular shopping mall in the heart of Kuala Lumpur, lies a slice of serenity amidst the hustle and bustle of the city. Entrance to the temple is free of charge but there are donation boxes for you to leave a token of appreciation. After praying or just observing the serene goings on of the temple (remember to take your shoes of as a sign of respect), head to the back of the temple for a scrumptious vegetarian lunch.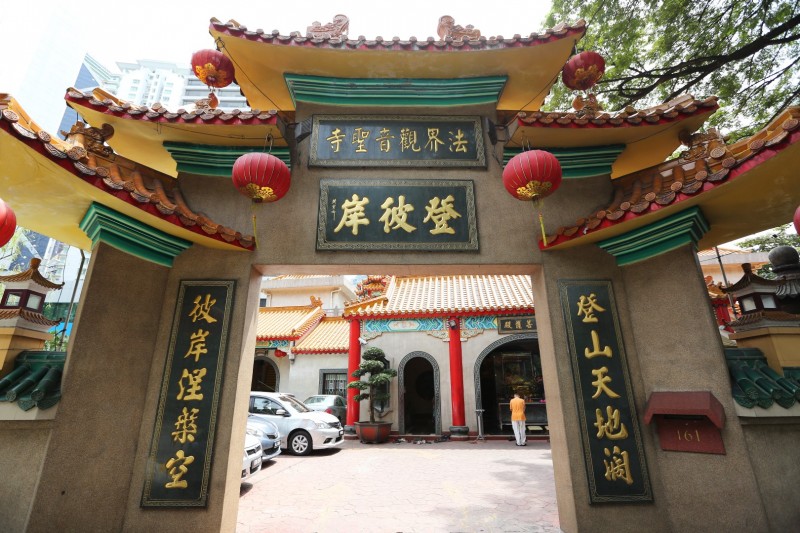 With dozens of dishes in their mixed rice section, this temple makes MSG-free food that's super simple and affordable. The eating area is open from 11am to 2.30 pm only on weekdays. Food served here excludes eggs, honey, onions and garlic. If you're a strict vegan, it is better to ask the staff whether dairy products are used in the dishes or biscuits.
Address: Jalan Ampang, 50450 Kuala Lumpur.
How to get here: Take the LRT to the KLCC stop and you'll already be in Avenue K. Exit the mall, cross the road and walk past Restoran Nasi Kandar Pelita for about a minute and you'll see the temple.
3. RGB Coffee & The Bean Hive
Along Jalan Damai, there is a house with a slightly overgrown garden and looks like any old house. Calling themselves an oasis in the centre of town, this coffee place prides itself in being a 'boutique coffee micro-roastery' and refer to themselves as a 'vegetarian and vegan food initiative'. Their coffee can be made either with milk or soy milk which is perfect especially if you're vegan or lactose intolerant.
The food here is prepared in-house and is made fresh and as healthy as possible. Their vegetarian nasi briyani with yoghurt raita and cauliflower curry, and homemade hummus and roasted vegetables in a panini are must-tries!
They offer gluten-free, egg-less and dairy-less cakes which are a hit with the vegan crowd. RGB & The Bean Hive is open on weekdays from 8am to 5.30pm and during weekends from 9am to 6pm. Visit their Facebook page for menu updates and notices on special events.
Address: 35, Jalan Damai, Kuala Lumpur.
GPS: 3.164848, 101.718882
How to get here: Get to the Ampang Park LRT station and from there, locate The Intermark and walk towards it with the covered walkway. When you get off at the Intermark, walk towards the Hungarian embassy and keep going till you find Jalan Aman. Turn right, and walk down the length of Jalan Aman until you get to a T-junction. Turn left and RGB will be halfway down the road. This will be a a 10 to 15 minute walk away from The Intermark.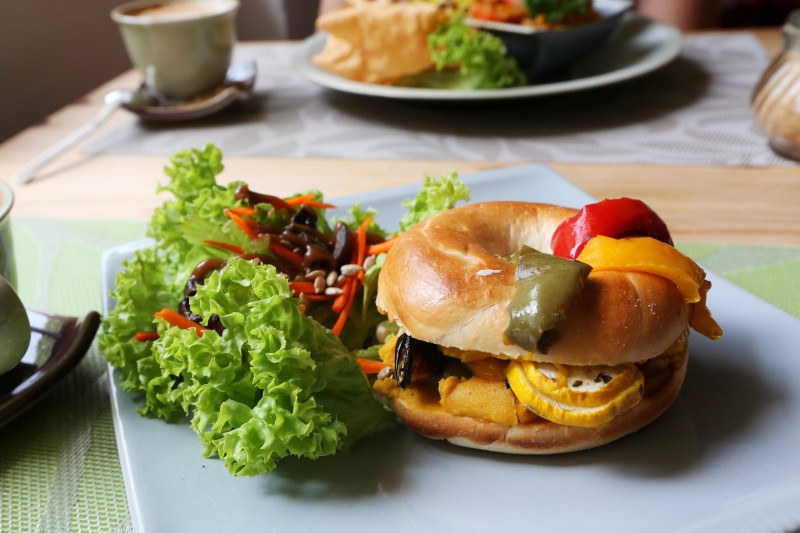 4. Simple Life
This vegetarian restaurant franchise (www.simplelife.com.my) is available in most malls which makes it a convenient stop for dinner. With food such as Lei Cha (thunder tea) which is a tea-based rice dish and mult-grain porridge, there's something for everyone. Freshly-squeezed juices and various refreshing teas are available as well with no added sugar.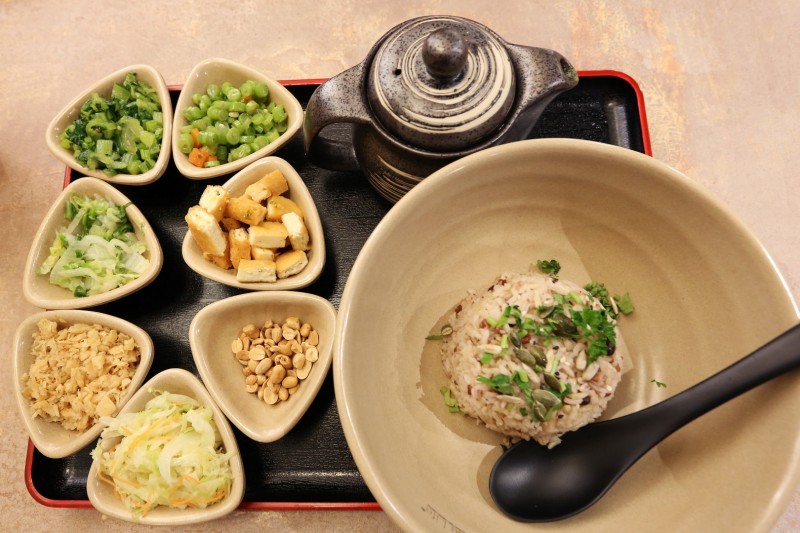 In their menu, the usage of egg and chillies are indicated by little symbols so look out for these especially if you don't consume eggs.
Simple Life has 11 outlets in KL, including Mid Valley Mega Mall, Lot 10 Bukit Bintang and KLCC.
5. Sangheeta Vegetarian Restaurant
Indian food is the safest bet if you're vegetarian. All along Lebuh Ampang are vegetarian Indian restaurants. Sangheeta Vegetarian Restaurant's bright yellow sign with pink words stands out from its neighbours. Being one of a number of chain Indian restaurants originating from Chennai, India, the authenticity of the food here is guaranteed.
The menu is equipped with pictures of the food so even if you're not too sure what it is, you can judge whether you'd like it from how it looks. Try a mango lassi (yogurt with fresh mango puree) as a respite from the heat and the Sangheeta set for an array of dips to go with your rice and naan.
Address: 65, Lebuh Ampang, 50100 Kuala Lumpur
GPS: 3.149100, 101.697556

Read more from Susie.
More from Zafigo:
8 desserts to try in Kuala Lumpur, Pt. I
8 food courts in Kuala Lumpur to visit, Pt. I
Get all the latest travel updates from Zafigo. Follow us on Facebook, Twitter, and Instagram.