There were nights I dreamt of the sandy dunes of the Sahara, the crystal-clear waters of the Maldives, the white ice caps of the Alps, and the busy streets of the iconic cities of New York, Mumbai, and Paris. How I wish I had the chance to travel to distant places, living a life of surprise and adventure, meeting an eclectic mix of people, and savouring myriad delicacies, strange and unknown. What stood between me and my dreams was my job.
For over six years, I took on the comfortable role of being an entrepreneur; I wouldn't say that it was all bad, as there were achievements that I'm still very proud of today. During the heady days, the tech start-up I helped build graced the pages of many media outlets, even making it all the way internationally to Nikkei Asia.
The life of an entrepreneur was somewhat glamorised, and our start-up was reinforced by a hefty investment received from Axiata Digital Innovation Fund. I starred in a couple of commercials that garnered almost a million views combined, and was sought after as a key opinion leader in the tech industry. Life was fairly predictable; I was earning income from a venture I felt confident would continue to thrive in years to come.
Taking the leap
But I needed a change and was also looking into a career switch-up. The path into the unknown was scary, but the prospects of a digital nomad's lifestyle were so alluring. I would finally gain control of a valuable resource, which has always been sacrificed in the name of a job – time.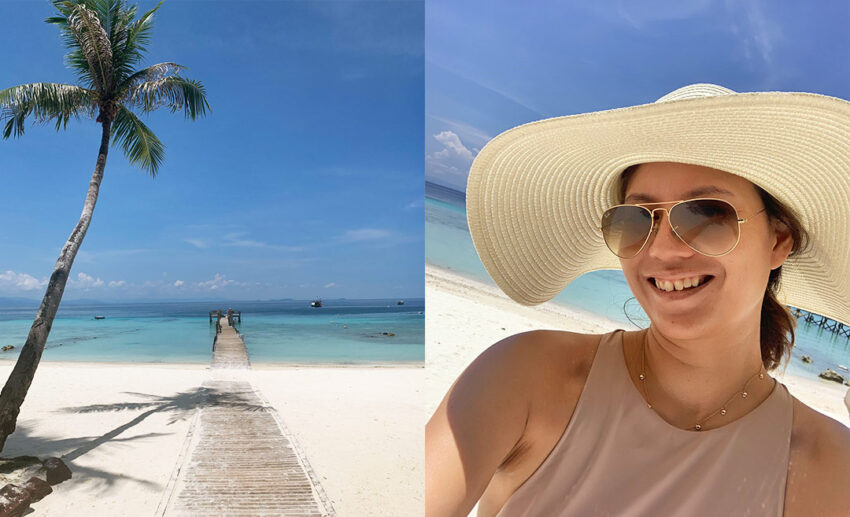 Then it came to me: I just had to take the leap. "Dear Miss Chok, I regretfully inform you that I would like to resign from my position with a week's notice." Those words dropped like a bomb, and I was nervous about the forthcoming explosion. To my surprise, my boss was cordial and graceful as she received the news. We even laughed and wistfully pondered the possibilities the future holds for me.
So, what next?
I was so much closer to freedom than ever before in the past decade, so what should I do with it? With no 9-to-5 obligations to tie me down, I could finally do whatever I wanted. The first question that struck me was, "Where to?" To the beach I went!
Going to a foreign and faraway place might be too soon for me, so I played it safe by booking a local beach holiday instead. I wanted somewhere quiet, where the only sounds heard would be the roaring waves of the sea and my thoughts; I wanted to find clarity and deliberate my next move.
And so I booked a ticket to the lesser-known island of Lang Tengah in Terengganu, hoping to avoid the bustling crowds of backpackers on its more famous sister islands. It was a rough and bumpy ride on a speedboat from the jetty to the resort. There were times when my stomach churned, and nausea took over, but I had to hold on and remind myself that paradise was close. After a rocky 40-minute journey, I arrived at the resort and was greeted with warm smiles and welcome drinks.
As I walked from the resort's jetty towards the main building of the resort, I was stunned by the spectacular vista of clear blue waters, white sands, and blue skies. Far away from the city, nothing interrupted this magnificent panorama, so refreshing compared to the view of skyscrapers and traffic jams that I was accustomed to. I arrived in paradise, safe and sound. And the first taste of freedom was sweet and liberating.
Enjoying the time to do nothing
What I did the next few days was bask in what the island had to offer. I ate my heart out with three buffet meals daily. I exhausted the snorkelling slots swimming with colourful fishes (and even some jellyfish!) and witnessing the beautiful corals and sea life. I was besotted with the translucent turquoise waters of the East Coast's South China Sea, with its colourful and varied marine life beckoning me to explore its mysteries.
When I'm not enjoying the sea, I take the time to stroll across the white sandy beaches, lazing on a cabana, reading a book, and sipping mocktails. Time stood still; contemplating the life of freedom ahead was so tempting and addictive. I wanted to be free, and I wanted more!
The next three days also introduced me to unlikely acquaintances. As we all know, travelling can really expand the circle of your network. I exchanged pleasantries with a tourist agent, a doctor, and a TV host. People I may not have otherwise met should I have stayed on as an entrepreneur.
Finding my calling
Looking back, travelling solo for the first time was like drinking my first cup of coffee. The aroma was so enticing, and the caffeine addictive. I became comfortable with the unknown and braced myself to face the ambiguities of travelling alone. The surprises I encountered from my first trip were received pleasantly, and, like in life, I learnt to expect the unexpected.
I left the company I built, fearing where the future might lead me. However, after my rejuvenating solo trip to Lang Tengah, I gained the confidence and faith I needed. I went on to explore more gems in Malaysia and made plans to travel to the many different parts of Southeast Asia. Although the decision to leave my past was difficult, I came out of it with no regrets.
All images are courtesy of the author.