Known as being the luxury escape of the Persian Gulf, the capital of the United Arab Emirates has much to offer. From exotic nightlife, a glittering skyline, and unbeatable shopping, visitors can experience it all. But there's one experience here that's a cut above the rest — and that's partaking in all that Dubai's deserts have to offer.
For those of you hoping to spend a day or two in the great Arabian desert while on your trip here, there are plenty of romantic stay options in the heart of the desert as well as other enthralling things to do in Dubai which can make you feel pumped.
The richness of the Arabian desert in the midst of dunes and an array of activities day in and out makes it an experience of the lifetime. You can also choose from a number of adventure sports for a memorable night out in the cold desert. The best part? They all come with adventurous rides, wholesome food, and lots of Arabian music.
So, here are five desert things to do in Dubai this weekend that'll make you fall in love with the city even more.
Enjoy a hot air balloon ride in Dubai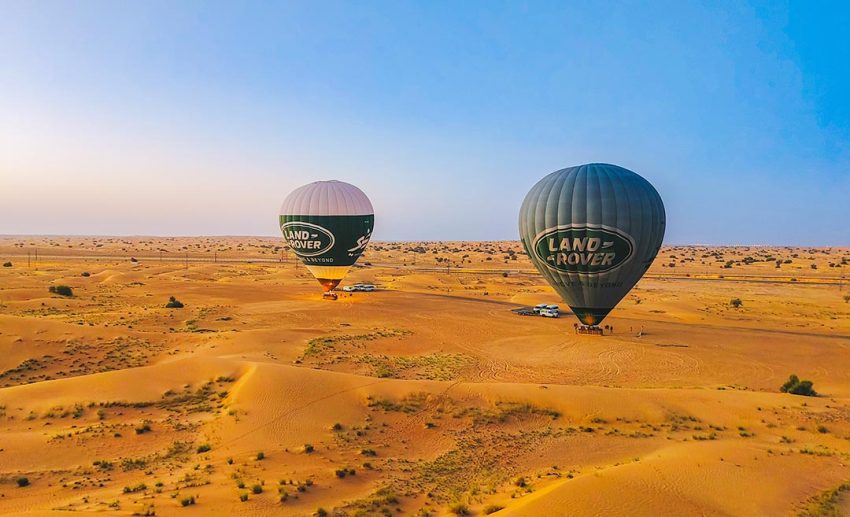 We can promise you that this will be the best views of Dubai you can hope to see. Beginning just before sunrise, watch the sun come up over the city as you relish in the cool breeze of morning.
The experiences of Hot Air Balloon Dubai starts off with a preflight briefing, and you hang on to the basket as you float through the desert of Dubai. This premium ride also offers you the opportunity to watch the sun soar high up above the mountains of Hajjar. You'll even get to catch a peek of Dubai's wildlife and see gazelles (among other animals) from high above.
Estimated cost: From AED679 (approximately RM856)
Slide down on a sandboard
This is a great way to spend the day! First, you'll get picked up in a 4×4 right form your hotel and brought over to Lahbab Red Dunes Desert that's roughly 45 minutes away from the city. Once you reach the top of the dunes, you can slide down to your heart's content! What we love about this activity is that there's little to no skill involved — just plenty of fun!
Once you're done, this activity culminates at the Al Khayma camp where you'll get to enjoy some cool refreshments after a thrilling afternoon of desert activities.
Estimated cost: From AED200 (approximately RM252)
Hop on a quad bike
Riding a quad bike is another really fun desert activity that requires no extra skill. And it's a quick thrill too! Ride charges normally start from 15 minutes per ride, but you can extend the time for an additional fee.
We particularly like the Morning Safari With Quad Biking tour as it's like a little adventure that gets customised as per your needs. It'll also give you a glimpse of the stunning Arabian desert in the morning time.
Estimated cost: From AED315 (approximately RM397)
Bash up some dunes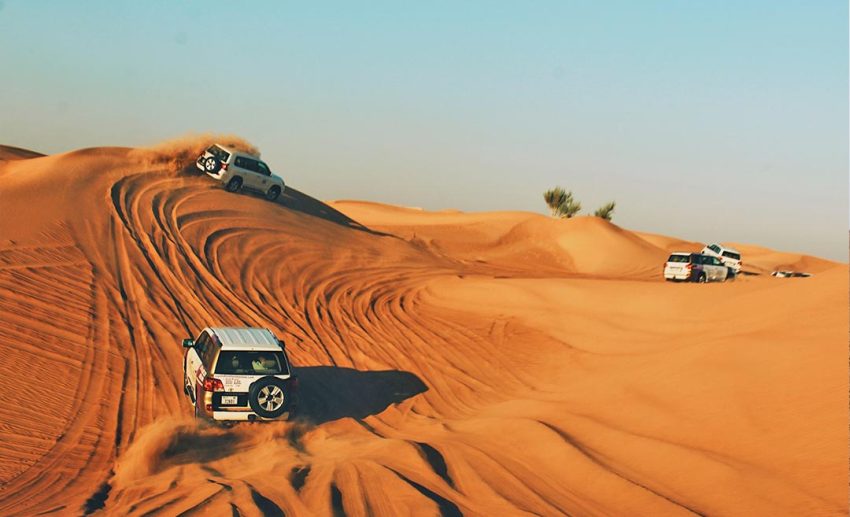 Dune bashing in Dubai means driving at increasing and decreasing speeds over some (really) tall desert dunes. And it's one experience you simply can't miss! Whether you are an adventure seeker or not, dune bashing in Dubai is an excellent way to have some fun and explore the vast sands. Drifting over the soft dunes of Dubai continues to be on top of the bucket lists of many too — so you'll be the envy of all your mates should you choose to partake in this.
Estimated cost: From AED290 (approximately RM366)
Go all the way on a dune buggy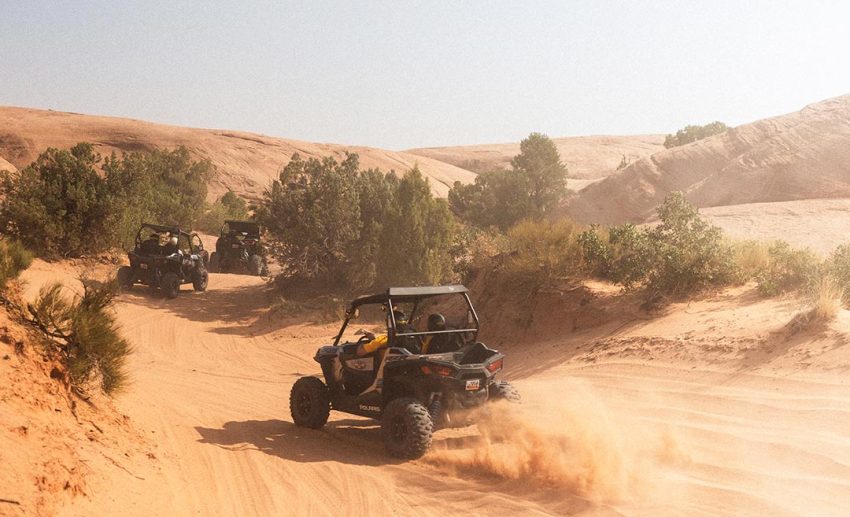 This hands-on experience puts you behind the wheel of a dune buggy. And you get to ride along on the dunes as you watch the sun set over a magnificent Dubai skyline like a magic crest around the horizon and and surrounded by jungle.
Rest assured that driving a dune buggy is quite safe, and comes fully equipped with a bucket seat and safety harnesses to reduce the possibility of injury. Even if you can't drive, you won't have any difficulty getting behind the wheel of a dune buggy. It's an experience that can be quite pricey, so do shop around if you need to.
Estimated cost: From AED980 (approximately RM1,235)