If you've seen our editor's review of Mangala Resort & Spa from her last visit, you'd know that this resort is a hidden gem in its own right. We recently gave this treasure of a resort another visit, and sure enough, it did not disappoint. While we can ramble on about how Mangala deserves its accolades, we will instead, give you seven reasons why you should make this your next getaway destination.
1. It's a short drive from Kuala Lumpur
A short drive from Kuala Lumpur that doesn't leave us feeling drained is reason enough! Now, this may seem like the simplest thing to consider somewhere a great getaway destination but hear me out.
Sometimes, escaping the city doesn't mean long drives. Although just a short 2.5-hour drive away, Mangala's surrounding nature and peaceful environment will transport you to another world during your stay.
2. Tons of space to unwind
You won't be short of space to unwind here, from outdoor bathtubs to private pools and open-air balconies. When Teresa, our Brand & Programming Executive, and I first walked into our Jala Villa, its spaciousness invited us to breathe and take up space.
All the villa's bathrooms at Mangala are filled with natural sunlight. For us, in particular, we took relaxing showers under a natural skylight — you can even see the moon at night.
The Jala Villa is built over water, with a balcony overlooking the main lake in Mangala. The views from here are absolutely stunning, making it an inviting space to sit and read. There's also tons of space in the resort to walk around, but we'll get into that later.
3. You will be well fed
Besides the fact that there is obviously food here, everything we savoured during our stay was delicious. You won't be fed buffet-style at the Mangala because everything is prepared to order. Their generous portions filled us up pretty quickly, but we've no regrets because what's a vacation without food?
The Mangala Signature Curry Noodles and Thai Fried Rice we had for our first lunch here were unforgettable. The curry was absolutely flavourful and coated the noodles just right. It grounded us right after our short drive here.
The Thai fried rice came with two pieces of fried chicken, som tam, and fish crackers. Suffice to say, the lemongrass and lime leaf fragrance really shone through in this dish. For a refreshing drink, we had the kedondong juice, with the fruit itself coming straight from Mangala's own in-house farm.
Most of the produce you'll have are picked from Mangala's farm, giving you that true farm-to-table experience during your stay.
If there's such a concept as a nourishing and dopamine-filled breakfast to start your day, this would be it. The resort's all-day dining Lakeside Restaurant offers a carefully-curated menu of breakfast options, from toasts to big breakfasts and other dishes like nasi lemak and soup noodles. Pair any of these mains with freshly squeezed juice or your choice of caffeine, and you'll be set for the day (until you return for lunch, of course).
Other notable dishes we tried were the Oxtail Soup, Garlic Butter Prawn Linguine, Braised Lamb Shank, Green Tea Panna Cotta, Aromatic Fried Chicken Wings, Tapas Mushrooms, and Keropok Lekor. So far, anything with a thumbs-up on the menu didn't disappoint us.
You thought that was it? Well, we meant it when we said you'd be well-fed. Every day from 3pm to 4:30pm, a Minum Petang session will be held at the glasshouse, and you're free to graze upon local teatime snacks and refreshing drinks!
4. Admiring nature's paradise without destroying it
Of course, there's more to just feasting here. We've already covered the surrounding nature and lake views from our Jala Villa. But we didn't tell you that we had the most scenic breakfast on the balcony on our first morning here.
While we were munching away and enjoying the view, two otters popped their heads out of the water, curiously looking at us dining on the balcony. They quickly popped back into the water when we noticed them. It was such a cute sight, and we were lucky to have them greet us that morning.
Mangala Resort's philosophy has always been to commit to protecting the natural environment. They ensured no trees were felled during the resort's construction, and materials for its building were sustainably sourced. So while we were here on vacation, we made sure not to disrupt the ecosystem of the wildlife and flora here.
5. Activities and opportunities to observe the wildlife (from a safe distance)
If you're not one to sit around in your villa all day (nothing wrong with that too), the resort's recreation team has got your back. You can paddle boat or kayak in the recreation lake, or choose to bike, e-scooter, or Segway your way around the resort!
We tried the bike, e-scooter, and Segway, and decided we loved the e-scooter the most. Prioritise safety, so do remember to put on those knee pads, elbow pads, and a helmet! There's also a mini archery spot near the recreation lake, and we had so much fun testing our arm muscles with the bow and arrows.
It's incredible how about 100 species of birds can be found around the resort area. Early morning from our villa, the recreation team picked us up in a buggy, and off we went birdwatching. We were surprised at how many birds we spotted — we saw a few kingfishers, eagle's nests, zebra doves, and even a female hornbill!
The Mangala recreation team offers half-day excursions to the Kuantan River Cruise for something even more informative and up-close. Zainal, our guide for the day and a licensed nature guide himself, made the trip extra insightful. We saw more crocodiles than we could count on one hand, monitor lizards, mudskippers, eagles, small crabs, and otters! We were even taken out to the mouth of the Kuantan River, where it meets the South China Sea.
Depending on your stay's package, these recreational activities may or may not be included in your stay. Contact the resort's front office for more information, and plan ahead with the recreation team for your little nature adventure around the resort and in Kuantan.
6. Rest, relax, and rejuvenate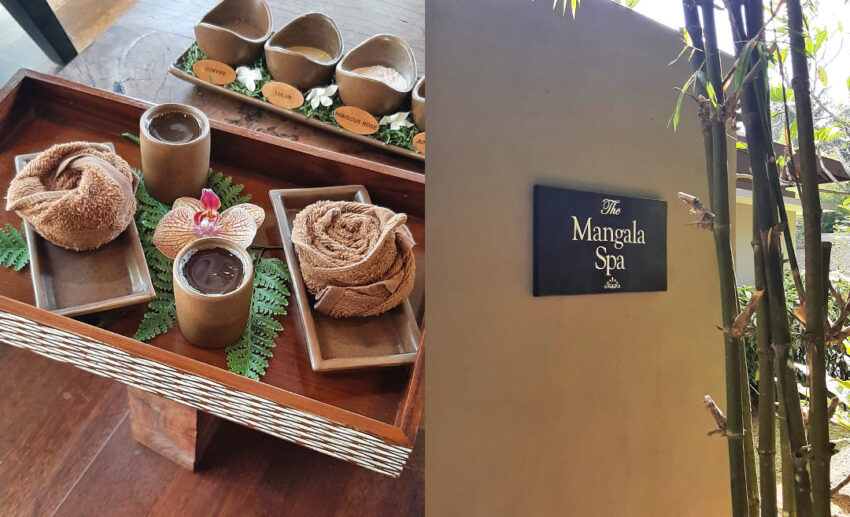 Take advantage of the resort's spa, which offers massages and treatments you can book beforehand. Mangala Spa's environment was peaceful and inviting, putting us at ease the moment we stepped into its semi-al fresco interior. We were offered cold towels and a welcome drink before being led to our adjoining spa rooms.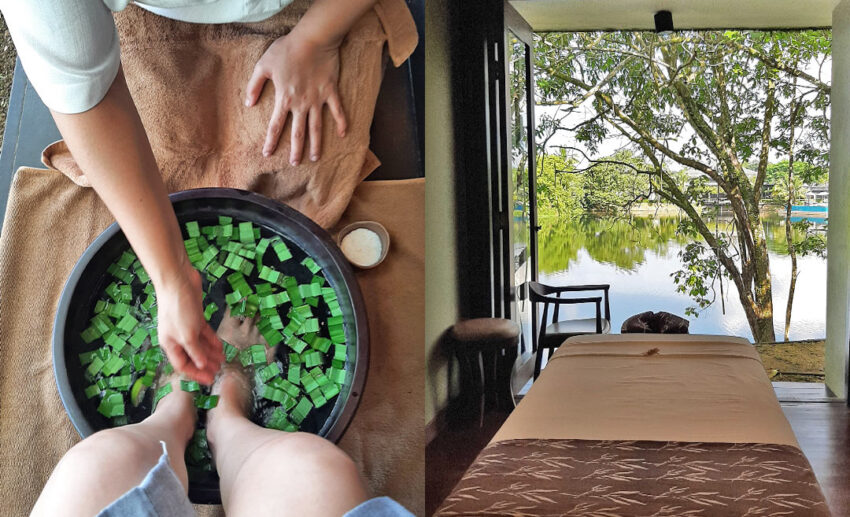 Our tired bodies were given the Urutan Malaysia massage, which combined techniques from Indian head massage, Chinese Qi Gong, and traditional Malay massage. Our masseuses were incredibly skilled, and we were sent right to sleep in the room's semi-al fresco environment. In addition to the birds singing and the sounds of the lake water lapping, a light rain halfway through our massages added an extra relaxing effect to the experience.
7. Great hospitality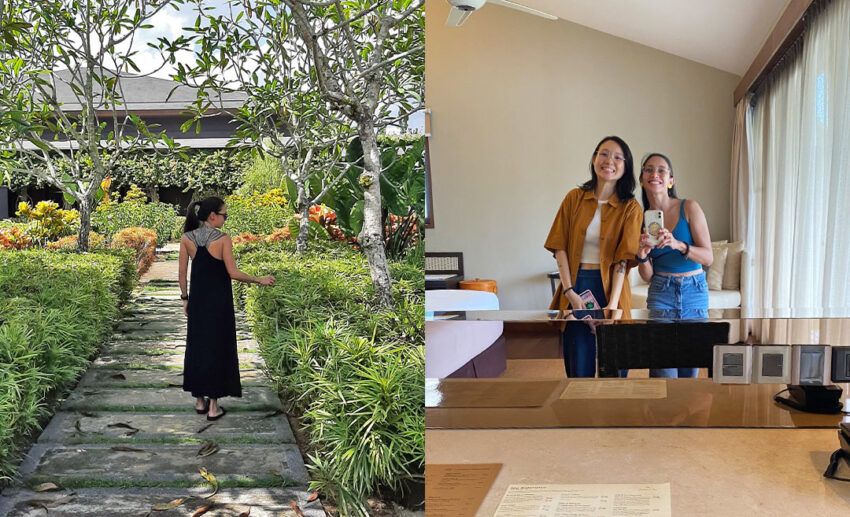 Smiles were never lacking wherever we were in the resort. Everyone greeted us and was happy to help, and the resort's front office is open 24 hours if needed. At no point in our stay did we feel unwelcome, which caused us to feel a tinge of sadness upon leaving on our last day. Safe to say, we're looking forward to our next visit.
Address: Mangala Resort & Spa, Lbh Persiaran Tun Khalil Yaakob, Kampung Melayu Gambang, 26300 Gambang, Pahang
Contact: +609-505 7788
Giveaway alert!
Want to win a stay at this picturesque property? All you have to do is answer the question and follow the steps in this form.
Mangala Resort & Spa Giveaway
Terms & conditions:
Applicable for residents in Malaysia aged 18 and above.
Spam/giveaway accounts will be disqualified from the giveaway.
The giveaway ends on 21 July 2023 at 23:59.
One (1) winner will be announced on 24 July 2023 in the comments section of the giveaway post and on Instagram Stories.
The winner will be selected by Zafigo and all decisions are final.
Winners will need to DM their full name, phone number, address, and email to Zafigo.
Zafigo will arrange shipping of this giveaway's voucher to the winner.
Prizes are not exchangeable for cash/credit/other items or vouchers, in part or in full.
The voucher cannot be sold.
By participating in the giveaway and being selected as the winner, you consent that your name, content, and any photos or videos related to this giveaway be published on Zafigo's social media channels and any other publications.
Zafigo reserves the right to cancel and/or change the terms and conditions, prizes, and plans at their discretion without any prior notice.
Zafigo is not responsible for any claims incurred by the winner due to the cancellation/changes of the giveaway.