When life gives you lemons, and you feel your shoulders taking on all the weight, it may be time for a much-needed spa sesh. We know these lemons sometimes include sad-looking bank accounts, so we're here to help! These spas offer treatments under RM150 so that you can relax and unwind after all the lemons thrown at you.
The prices stated may not include taxes, so do allow wiggle room for that. It would be best not to stress at checkout when you've already done some much-needed pampering.
1. Qi Odyssey, Tropicana Gardens Mall & Bukit Jalil
The calming interior and atmosphere at Qi Odyssey will put you at ease immediately. They provide half-body massages, foot soaks, and reflexology, but even though it might sound really simple, it may just put you right to sleep. This makes the treatments here easy to access after a long day at work because you won't need to worry if what you're wearing is spa-friendly.
The half-body Silver Cloud Massage is RM98 for 60 minutes, and the Golden Cloud Massage, which adds a foot soak to the half-body massage, is RM108 for 60 minutes or RM98 for 45 minutes. If you'd like to go all in with the Triple Treasure Massage (foot soak, half-body massage, and reflexology), it's RM123 for 60 minutes.
Qi Odyssey also serves a variety of teas and light snacks for you to fully unwind or enjoy with a bestie. Make an online reservation here!
Address: Lot CC-13, Concourse Floor, Tropicana Gardens Mall, No. 2A, Persiaran Surian, Tropicana Indah, Kota Damansara, 47810 Petaling Jaya, Selangor; J-12-1 and J-11-1, Pusat Bandar Bukit Jalil, Jalan Jalil Utama 2, 57000 Kuala Lumpur
Contact: Tropicana Gardens Mall:+603-7660 7077; Bukit Jalil: +603-9770 1773
2. Relax Two Traditional Blind Massage, KL Sentral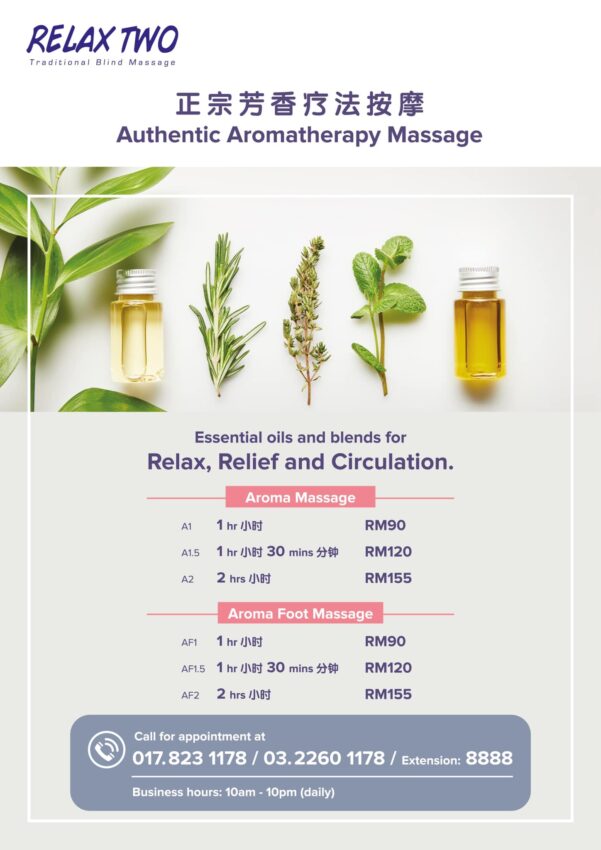 Located on the first floor of Scott Hotel KL Sentral, this massage parlour is a hidden gem in the city. The interior is decent and comfortable, and you'll be served by blind or visually impaired masseuses. A full body massage of one hour is only RM60, while a 90-minute massage is RM88.
The massage techniques here focus on your body's pressure points to release tension, so feel free to communicate your needs to the masseuse, and they'll be happy to oblige! If you prefer massage oils that smell good, opt for their Authentic Aromatherapy Massage instead. A one-hour aromatherapy massage is RM90, while it's RM120 for 90 minutes.
Appointments can be made via WhatsApp or email. If you'd like to book a session less than 24 hours from your desired time slot, give them a call to check for availability.
Address: 10 Jalan Tun Sambanthan, Kuala Lumpur Sentral, 50470 Kuala Lumpur
Contact: +603 2260 1178
3. HealthLand, multiple outlets
If you've lived in the Klang Valley for a while, chances are you've seen a HealthLand near you. They've been in the Malaysian market for nearly 10 years now, offering excellent service at an affordable price. A Thai Traditional Treatment for 60 minutes is priced at RM88, and is a relaxing full body massage focusing on your body's pressure points and massage lines, loosening energy knots and enabling energy to flow freely.
If that's not your jam, the Thainess Oil Treatment is a full-body gentle massage using essential oils, priced at RM98 for 60 minutes. Foot Massages are available too at RM79; if you'd like to use the Aroma oil, it'll be RM97.
For your convenience, you can now make an appointment via their website!
4. HANAMI, Puchong
This beautiful spa located in Puchong is truly something special. Their Ichino Japanese Onsen is their pride and joy, where visitors can choose from a selection of bath salts imported from Japan's volcanic mountains. The price for this 40-minute session is RM138, and it comes with a seasonal snack plate for you to enjoy while soaking in the onsen.
HANAMI's Bespoke Face Spa helps maintain your skin health and restore its shine in 50 minutes for RM140, while their Ashi Reflexology, a Japanese foot massage, is great for sore feet and stiff muscles! The latter comes with a complimentary foot soak and is priced at RM78 for 45 minutes and RM98 for 60 minutes.
You can make an appointment with them through WhatsApp.
Address: 21 Jalan Puteri 7/15, Bandar Puteri, 47100 Puchong, Selangor
Contact: +6012 230 2698; +603 8060 3813
5. MIMONE Spa, multiple outlets
With four outlets in Bangsar, Kepong, Concorde KL, and TTDI, you can pick the MIMONE nearest to you! We've been to their Kepong Speakeasy Spa and tried their Lymphatic Drainage Detox Massage (read more here). This treatment nudges your lymphatic system, helping to improve your immune system, with a 30-minute back massage of RM93.
MIMONE also offers a Signature Warm Oil (Hot Stone) Massage, that combines hot stone therapy with a deep tissue massage. It's RM93 for a 30-minute back massage and RM149 for a 60-minute full body massage. The standard Aromatherapy Massage or Thai Relaxing Massage are priced at RM129 for a 60-minute full-body massage. Pure bliss for a steal!
Make your appointment online, here.
6. Uroot Spa, KLCC & Mont Kiara
Uroot Spa has two locations in the Klang Valley and comes under the umbrella of the Urban Retreat Spa group. We've been to the Mont Kiara Uroot Spa, and it was heavenly. We fell asleep during their Relaxing Sleep Massage, which is meant to promote slumber and relieve stress! It definitely worked its charm, and this treatment is a paltry RM139 for 60 minutes.
If you'd like something that eases muscle tension and increases your flexibility, their Deep Root Massage will do just that at RM149 for 60 minutes. Meanwhile, if you're in need of a quick fix, a Head, Shoulder, Hand and Upper Back Massage is just RM109 for 60 minutes. Or you can opt for the Head and Shoulder massage at RM79 for 40 minutes.
Address: Ground Floor, KLCC Suites, Marc Residence, A-G-02, 3, Jalan Pinang, Kuala Lumpur, 50450 Kuala Lumpur; LG1-5, Lower Ground 1, Arcoris, 10, Jalan Kiara, Mont Kiara, 50480 Kuala Lumpur
Contact: +6017 818 8189; +6017 881 3990
7. HerbaLine Facial Spa Malaysia, multiple outlets
While HerbaLine brands itself as a facial spa, fret not, they have body treatments too! There are many HerbaLine outlets across the Klang Valley as well, so you can find the one nearest to you here.
The spa offers Jade Stone Acupressure Body Massage, a 75-minute massage using high-quality jade, which has healing properties that help improve blood circulation and energy flow. There's also a Warm Stone Body Massage, using hot stones that, when used on acupuncture points on the body, will relax and soothe aching muscles. Both of these treatments are available for RM118 and RM138 respectively.
Treatment packages are also available if you're going to enjoy a spa sesh with your bestie. The Jade Stone Massage goes for RM208 for two pax, while it's RM248 for the Warm Stone Massage for two. Or, if both of you decide to get different massages, there is also a package for one Jade Stone Massage and one Warm Stone Massage at RM238. We know a good deal when we see one!