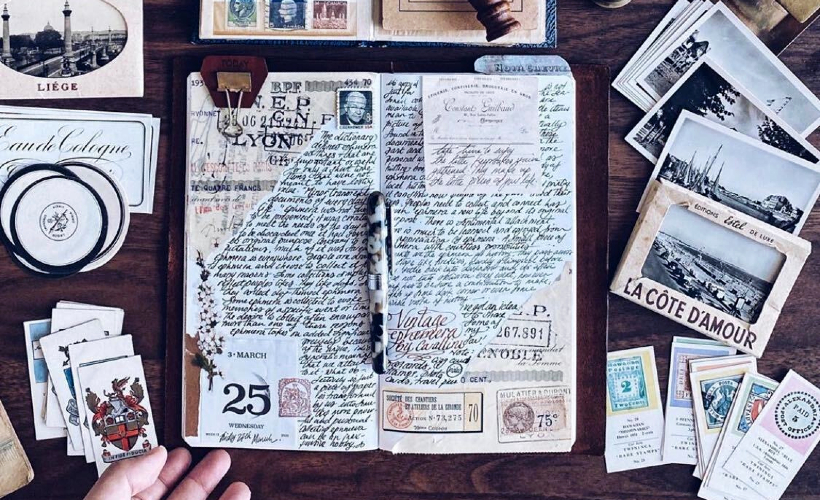 Just like the rest of the world, we are not travelling during this COVID-19 pandemic, but we hope you turn to Zafigo as a source of inspiration for your future travels. Please stay safe and adhere to any quarantine and movement control orders that have been imposed in your country.
The pages of my well-worn journals are filled with bits and bobs I have collected over time – a habit that has satiated my travelling magpie ways. They are like breathing, living books that have aged with me, developing patinas like lifelines on my hands and face. They have, over time, proven to be my most trusted and reliable companions. I find myself turning to them even more so these days, during a time of restless isolation. Flipping through them is like stepping into a time-travelling compendium of my travel adventures.
Reliving good memories
One of my fondest memories took place in the heat of summer in Barcelona on a sunny Sunday. I was journalling over coffee in a cafe across a towering cathedral, recording the scent, sights, and sounds of the palazzo. Like a dramatic scene from a movie, the heavy wooden doors of the basilica swung open. A flourish of doves took flight from the fright of church bells ringing. Dapperly-suited men and summer-gowned ladies with flowers in their hair ran down the steps, followed by a stunning bride and groom. It was sensory overload! Slow to whip out my phone, I managed to capture the moment on a napkin and stuck it within the pages of my journal. Such are the tales one would read in my weathered notebooks and field notes; pieces sticking out within the edge of the pages, as if eager to share my stories.
View this post on Instagram
These days, however, routine has set in with each extension of Malaysia's Movement Control Order (MCO), my sense of wanderlust and adventure dims. Being restless by nature (which could very well have been the name of my girl band in high school), I decided to embark on a project, sifting through 12 years' worth of travel ephemera into a series of travel scrapbooks. I have kept everything I could find, from restaurant coasters, ticket stubs, and boarding passes, to museum gallery tickets, fold-out maps, and even a duck feather from a vineyard in Tasmania.
Now, I look back at these ephemera with much more wonder and appreciation than I would have before COVID-19. Such artefacts have a deeper resonance now. If the pandemic has taught me anything, it is how carelessly I have been experiencing life, and that each moment of existence demands keen appreciation and conscious observation. Going through them now in this present day is like re-embarking on an adventure. Instead of packing my bags in search of new experiences, I am unpacking my bag to take a trip down memory lane.
View this post on Instagram
Sweet release
This journalling project, which was intended to be a form of creative release and momentary distraction, turned out to be a lot more meaningful than I anticipated. Not only did I feel like I was travelling through my memories again; pasting, cutting, and sticking pieces of my keepsakes into visual collages, but I triggered other things in my mind's eye that gave these ephemera new life. So, if you want to create a little escape of your own and relive your adventures, here are a few tips on getting started:
1. Scrapbooking, like memories, knows no bounds. I recommend using a ring binder to hold your ephemera as it will allow you to add on pages as you revisit these destinations. Unlike a bound notebook, a ring binder is a lot more forgiving when it adds on bulk. However, if you're more of a writer and do not intend on sticking things in, any regular notebook will do.
2. From digital to analogue. If you want your travel scrapbook to be more visual but don't have a collection of ephemera, you can always print them out digitally, such as boarding passes, Broadway tickets, and pictures you've taken.
View this post on Instagram
3. Picture this. Don't have a printer at hand? You can cut out pictures from your old travel magazines of these destinations to evoke a feeling of nostalgia. As the saying goes, a picture paints a thousand words.
4. Dare to make mistakes. Don't feel too precious about your travel ephemera. If you ruin a postcard from your favourite city, it just gives you an excuse to revisit! Or, if you are deeply sentimental like me, you can take pictures of them or scan them so that they are digitalised forever!
5. You don't need to be a wordsmith. Struggling to express yourself? Go on Pinterest and search for travel quotes that resonate with you. You can even write the lyrics of music you were listening to when you were in a particular place. There are many ways you can tell a story even if you can't remember everything from memory!
6. Memory is a tricky thing. Forgot your travel dates? Don't worry. You can always browse your social posts to check on time stamps. And even if you can't remember exactly when you travelled, you can just write down the year.
View this post on Instagram
7. Decorate first, write later. I personally find that embellishing the pages is a great way to start a travel scrapbook. Just make sure you leave some space to write after.
Just have fun with it
In case you feel somewhat pressured by a lack of tools or know-how, let me assure you that you don't need to be a writer or an artist or keep a travel journal, nor do you need to have fancy penmanship and expensive pens. These pointers serve as a guide, rather than a rule of thumb, because as journalling goes, there are none. It doesn't have to be in chronological order. It doesn't have to be aligned or decorated in any specific way. Heck, you don't even need to stick anything in if you don't want to. All you really need is a notebook and a pen. It is a very liberating feeling when you let your creativity flow. No matter how you choose to curate your memories, it's still your personal voyage.
Alternatively, you can travel forward, instead of revisiting the past. A friend of mine shared a great idea on how she still intends to keep a travel scrapbook, despite the cancellation of her upcoming cruise. She's going to document her journey, following the itinerary and stops at different ports. You can follow this method and take a different approach to journalling about the places you plan to visit or want to tick off your bucket list. Write about the history of the destination, the facts, the culture, the food you want to try. Draw a map. Print out pictures. Sketch. Let your imagination roam free!
View this post on Instagram
At some point, this pandemic will settle, and it will be time to once again bring out that Panama hat at the back of your closet, the leather jacket that you bought from a thrift store in Germany, and your weathered luggage that has faithfully accompanied you all over the world. It will be that time again to proudly present your passport to add another stamp in its pages, proof and receipt of travelling on a long-awaited dream trip. When that moment finally comes, let me know if it is all you hoped and imagined it to be. And as for the travel journal you've filled with notes of escapism, use it as your blueprint to guide you in your upcoming journey. As Ibn Battuta once said, "Travelling – it leaves you speechless, then turns you into a storyteller." #TellYourStory
[zf_post_boxes widget_hide_desc="true" num_post="3″ post_id="34643, 24302, 27973″]
Get all the latest travel stories from Zafigo. Follow us on Facebook, Twitter, and Instagram.