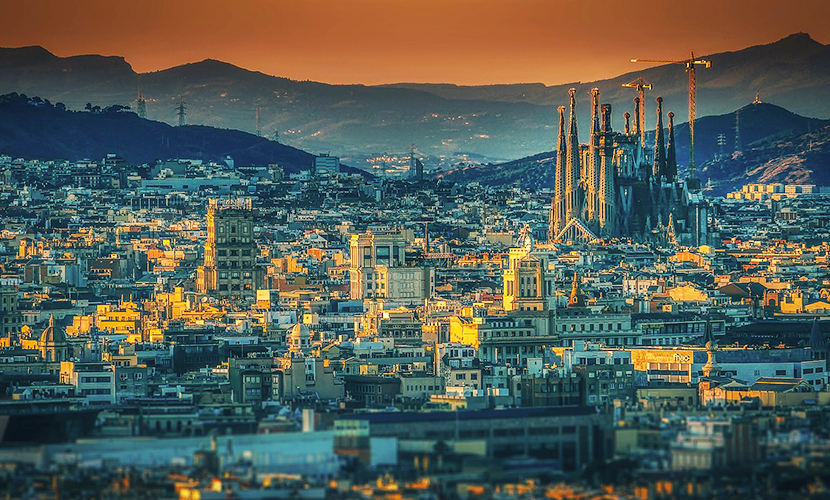 Barcelona is the capital of the Catalonia region and Spain's second-largest city. A beautiful and sunny city, Barca's average daily sunshine hours span no less than four in the winter and exceed eight in the summer. If you love sun-soaked beaches, intriguing architecture, and food that will tantalise your taste buds into fits of delight, this is the city for you.
Here are some top tips to help you get the best out of a trip here:
Getting there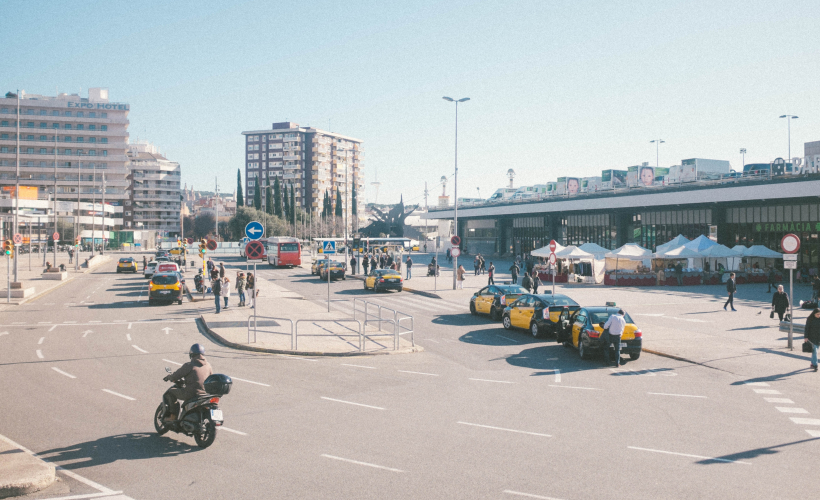 Barcelona is a well-connected city that can be reached by plane, car, train or even by boat. The most common method of entering Barcelona from another country is by air into the city's international airport – Barcelona-El Prat Airport. Just 12 kilometres from the city centre, upon arrival, one can take an Airport Taxi into the city. Expect the ride to take roughly 25 minutes and to pay between USD35-45. Alternatively, you can download the taxi apps Cabify or My Taxi.
Take the train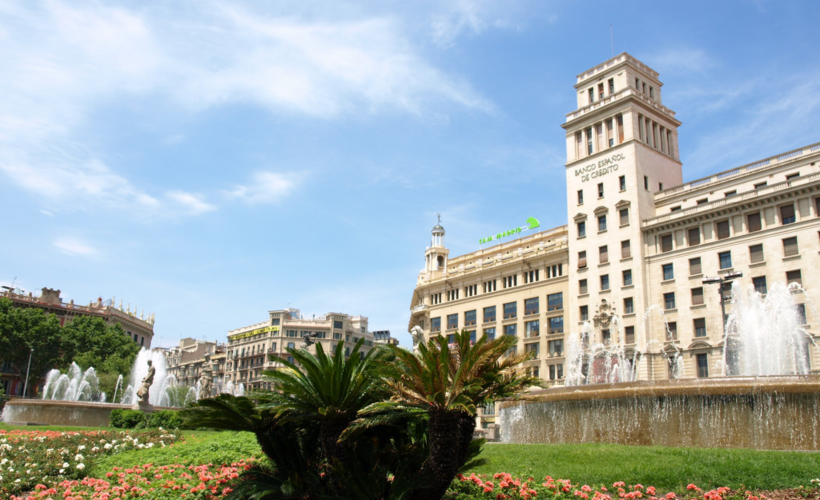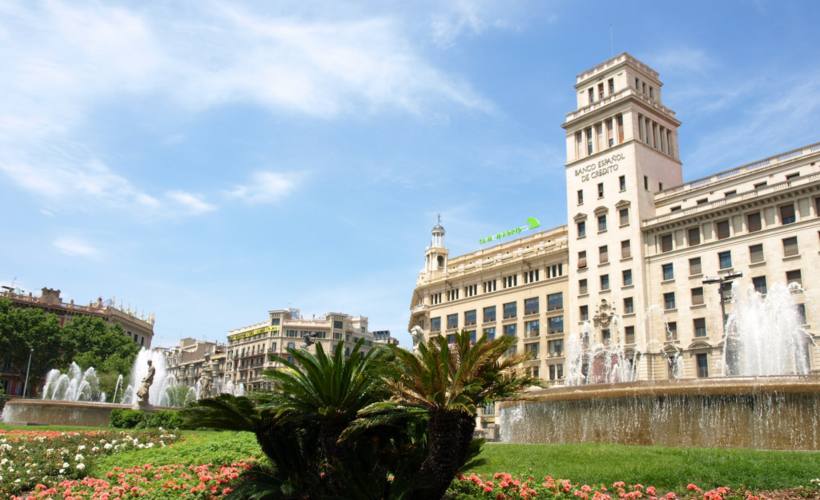 The most cost-efficient way to travel into and around Barcelona is via the Metro. There's an Airport Metro line called L9 Sud that takes you all the way from Airport Terminals 1 and 2 into the city centre. It takes around 35 minutes and costs about USD5. Here is a useful link with information on the Airport Metro.
It's also worth downloading the Metro Map, so you know which metro stations and lines to switch to, in order to get to your accommodation. For example, if your accommodation is in Plaça de Catalunya in the city centre, you'll need to take the airport train to Torrassa and switch onto the red line which will take you directly into the Plaça de Catalunya.
It is important to note that the Metro runs:
Mondays to Thursdays from 5AM to 12AM
Fridays from 5AM to 2AM
Saturdays from 5AM till the next day and
Sundays all day till midnight
Riding the bus
If your flight arrives when the Metro is closed, fret not. You can take the Aerobus, an express bus service, that takes you directly from your terminal into the city at Plaça de Catalunya. A single ticket is approximately USD6.50
If you decide to take the bus back to the airport once your holiday is over, make sure you catch the correct bus going to the terminal you're flying from. T1 and T2 are four kilometres apart, and the stress of discovering you're on the wrong bus and may miss your flight will probably see you pulling your hair out.
---
Travelling alone? Keep safe at the hotels:
---
Best time to visit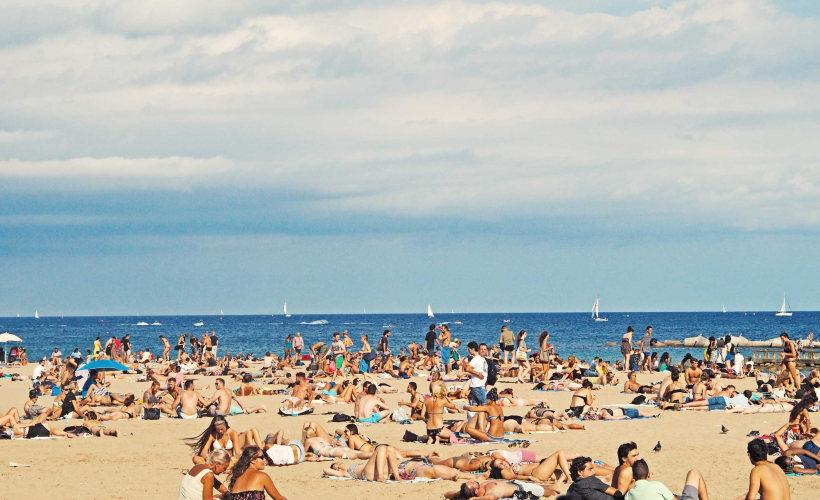 To be quite honest, it doesn't matter which time of year you visit. I arrived in Barcelona in the middle of winter, and there was no shortage of things to see, do, and experience.
The summer months take place between June to September, where temperatures can reach highs of 24o Celsius. In this heat, everyone feels the need to rip their clothes off and get that sun kissed glow no Instagram filter can replicate. Think booty shorts, girls! However, along with the desire for a sun-kissed body comes throngs of people and higher accommodation rates.
If you want to avoid the crowds and keep your costs down, visit outside the summer months. Temperatures don't drop any lower than 5o Celsius, it's still sunny all the time, and you can strut around in big fancy winter scarves/coats that you can take off and sunbathe on when it gets too hot.
Getting around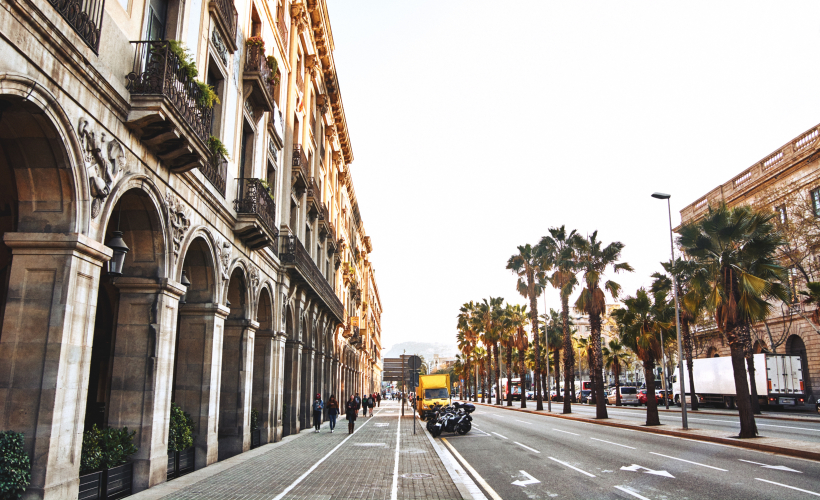 Metro
The best way to get around the city is by Metro. This railway system is an extensive network that runs underground in and around the city, and out to the suburbs. My recommendation is to get the T10 ticket that costs about USD11.50. This allows you 10 trips to anywhere within the Metro network.
However, if you have a jam-packed itinerary, I suggest the T50/30 ticket that costs approximately USD51 instead. This allows you 50 trips to be used in 30 days.
Finally, if you're travelling with family or friends, consider purchasing the T70/30 ticket that's roughly USD70. It may be pricey up front, but you'll save in the long run, as it allows multiple persons to use the one ticket.
Scooters
Those who are a little more adventurous can try renting a scooter; especially in the summer months! Nothing makes you feel more like a local than zipping around the city hooting your horn for no apparent reason. Via Vespa and Yego provide excellent scooter options that shouldn't cost more than USD33 per day.
Bicycles
If you fancy seeing Barcelona at a slower pace, you can cycle around the city and take as many pictures as you like! Barcelona is extremely cyclist-friendly, and there's no shortage of bicycle rental shops providing daily and weekly rental options.
Bicycle theft is a big issue in Barcelona. Make sure you have a conversation with your bicycle rental provider on what the insurance covers and the best way to avoid theft, such as where to park and how to lock your bike.
Staying safe
Speaking of theft, similar to any big city, pickpocketing is rampant in Barcelona. Just have your wits about you if you don't want to be an easy target.
On my second night in Barcelona I was eating in a touristy location when I noticed two men sitting next to me. They didn't appear to order any food and within five minutes they left abruptly. It turns out that an old lady's handbag had gone missing. She hung the bag on the back of her chair, and this made it extremely easy for the thieves to unhook her bag in their hasty exit.
Some theft prevention tips:
Never place your wallet or valuable belongings in your back pocket. It won't be there long.
On the Metro, have your bags in front of your chest where you can see it, with your arms crossed.
Never leave any belongings out on the table at a restaurant, and always place packages or parcels on your lap when you're waiting, instead of on the floor next to your feet.
Unfortunately, you need to be very cautious of anyone asking for directions or offering help. For instance, if something spills on you and they're brushing the spillage off. Often, they use your goodwill as an opportunity to rifle through your pockets for your belongings.
---
As cautious as you are, sometimes the worst happens anyway:
---
What to eat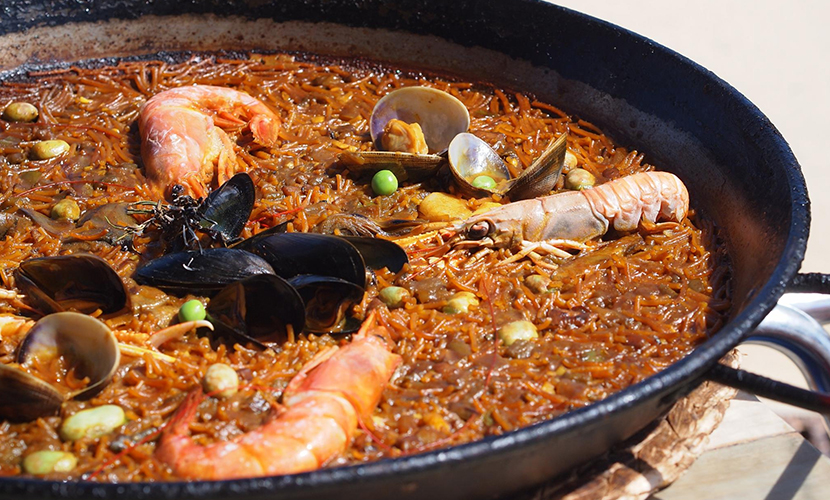 If you are into seafood, Barcelona's perfect for you! Needless to say, everyone needs to try the iconic paella – a mixture of rice and fresh seafood cooked in a giant pan. If rice doesn't float your boat, you can try an alternative version made with noodles, called fideuà.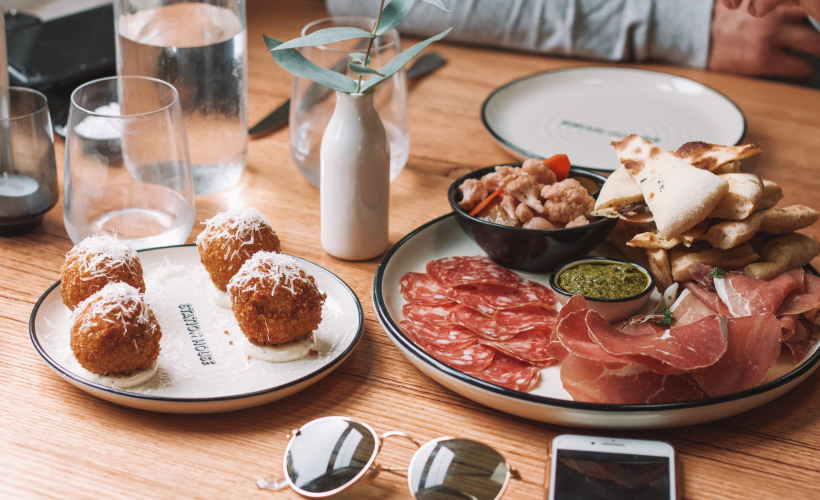 Tapas are small, savoury dishes that can be found in many bars and restaurants throughout Spain. They come as either hot or cold variants, and can be combined to make a full meal.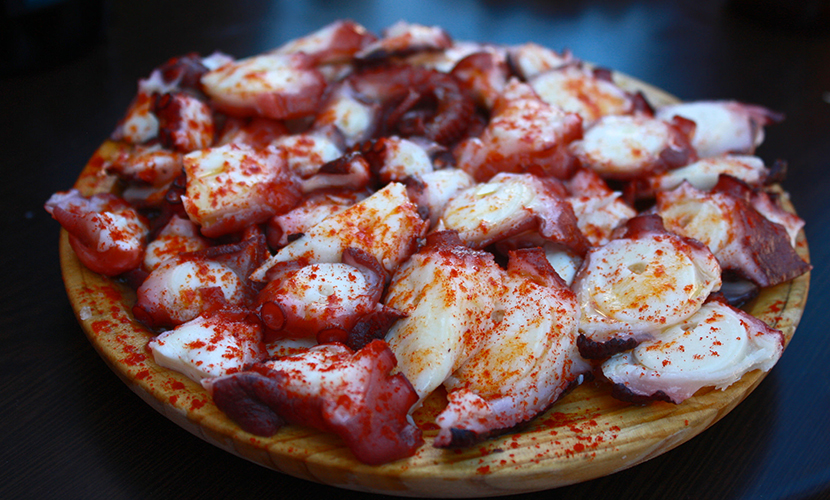 The only issue with eating tapas is that there are too many dishes to choose from! I often order the patatas bravas – cut potatoes fried till crispy and served with a spicy tomato sauce. If seafood is your thing, be sure to order the calamari, garlic prawns, and pulpo (octopus).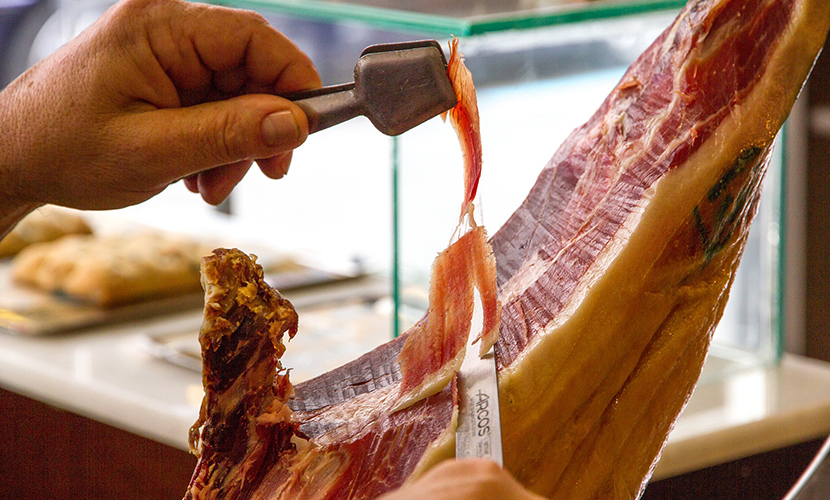 If you like meat, Spain is famous for its cured ham – jamón ibérico – or Iberian ham. Another great dish is la bomba, which are essentially fried croquettes stuffed with ground pork, and covered in bread crumbs.
If you crave something simple, order the pa amb tomàquet. This is crispy bread rubbed with tomato juice and garlic, seasoned with salt, pepper, and olive oil. Never has something so simple tasted so good!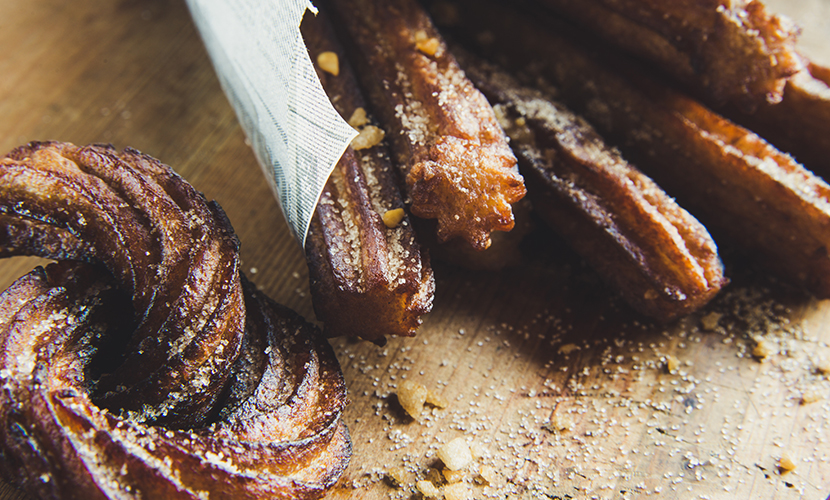 If you have a sweet tooth, try crema catalana, the Spanish rendition of crème brûlée imbued with a delicate orange flavour. While you are at it, order the churros con chocolate. This is a tea time staple type of thin and long doughnut sprinkled with sugar that you dip in creamy thick hot chocolate.
What to see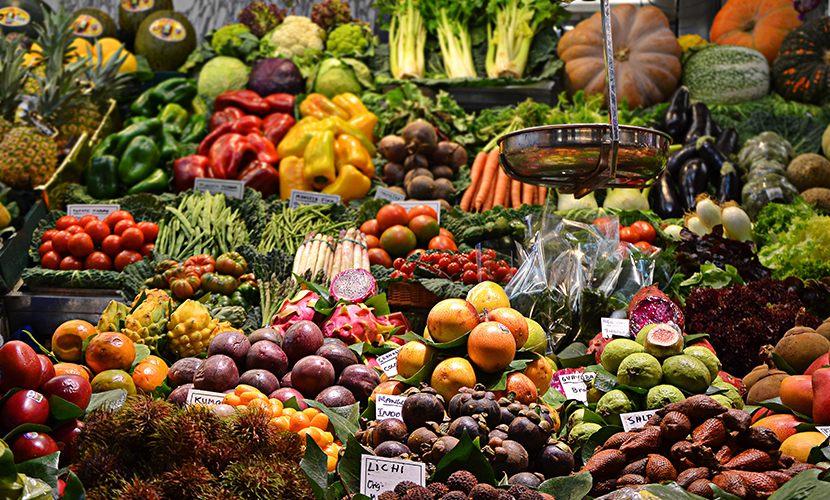 Swing by Europe's most famous and largest food market – Mercado de La Boqueria. Ditch that diet with wild abandon as you get lost in the many stalls selling fruit, meats, cheese, seafood, and so much more. You're on holiday, after all.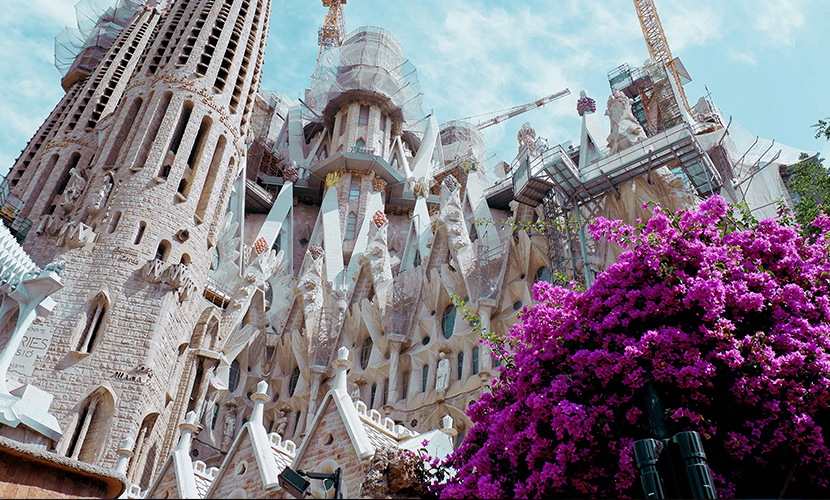 One of the things that makes Barcelona unique is that much of its signature architecture and must-visit sites have been dreamt up by one man. That's architect Antoni Gaudí. His most famous of dreamy buildings is the La Sagrada Familia, a basilica over 100 years in the making. Many tourists make the mistake of thinking you can only get your Gaudi fix here, but his work is also showcased at Casa Battló, Casa Milà and Park Güell.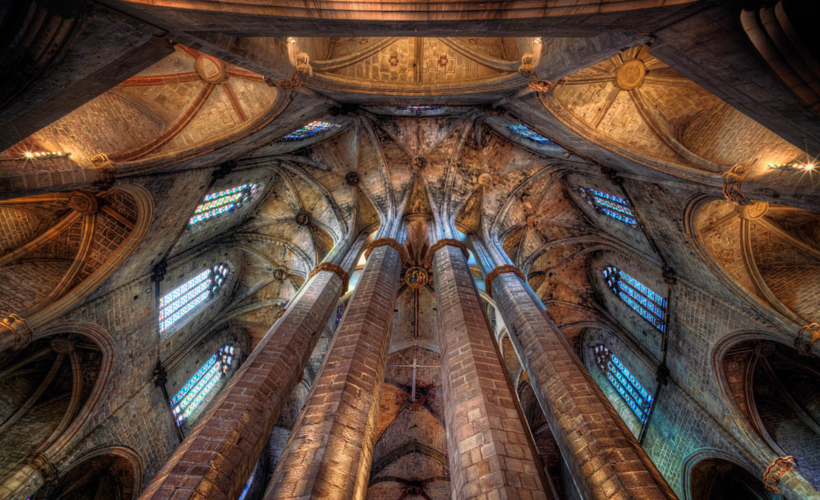 If you want to diversify your ancient architecture experience, you can visit Basilica de Santa Maria del Mar, an intriguing Catalan Gothic church with dazzling attention to detail. The many traditional Spanish eateries directly opposite this church only add to its appeal.
Another cultural and historical highlight worth visiting is the Picasso Museum that showcases the artist's work from his days as a realist till the end when he became a surrealist with his work. You can visit for free on Thursdays between 6pm to 9:30pm and on the first Sunday of each month between 9am to 7pm.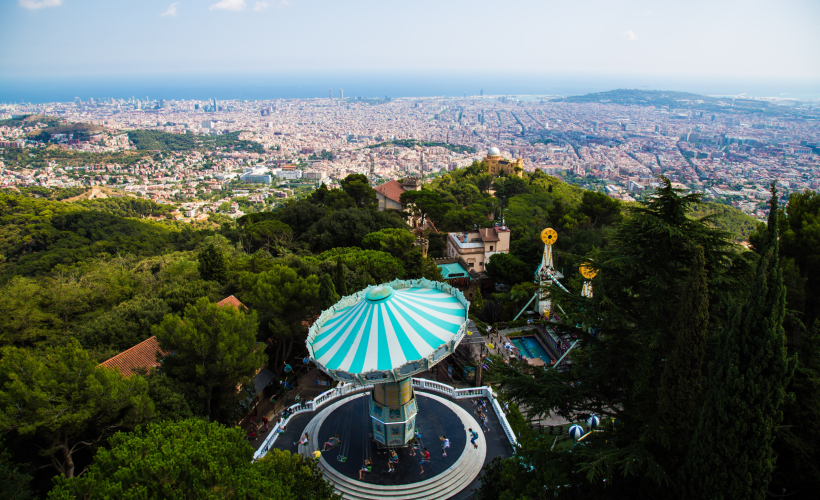 If you fancy a change of scenery and have buns of steel, you can climb up to Tibidabo, Monjtuïc, Serra de Collserola. If your buns aren't ready to tackle these mountains and hills on foot, just hop on the funicular. While you're at it, catch the sunset at the Carmel bunkers, an anti-aircraft bunker built during the Spanish Civil War.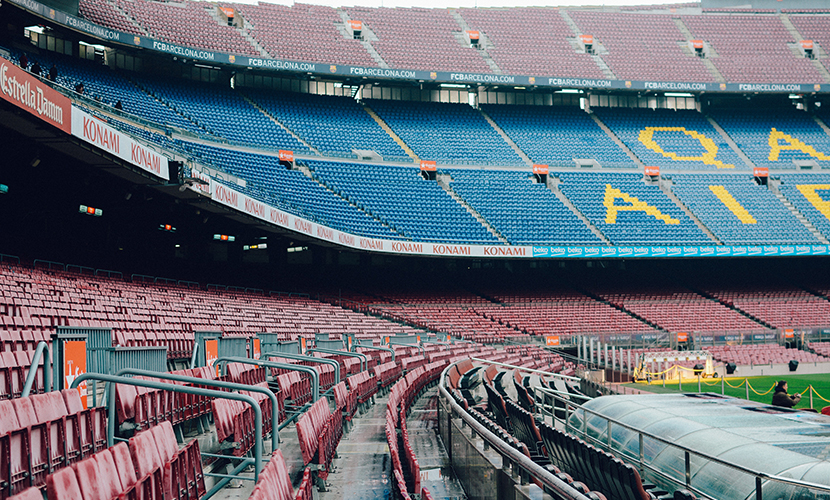 Prepare to be wowed at Camp Nou, one of Europe's most majestic football pitches. The Spanish are serious about football, and Barcelona's club is none other than FC Barcelona. If the timing's right, you can watch a game with the legendary Messi playing.
Other fun things to consider is catching the Monjtuïc Magic Fountain show, admiring the colourful dresses and speedy footwork of flamenco dancers, or treating your ears to a sensory delight at Barcelona's opulent concert hall – Palau de la Música Catalana.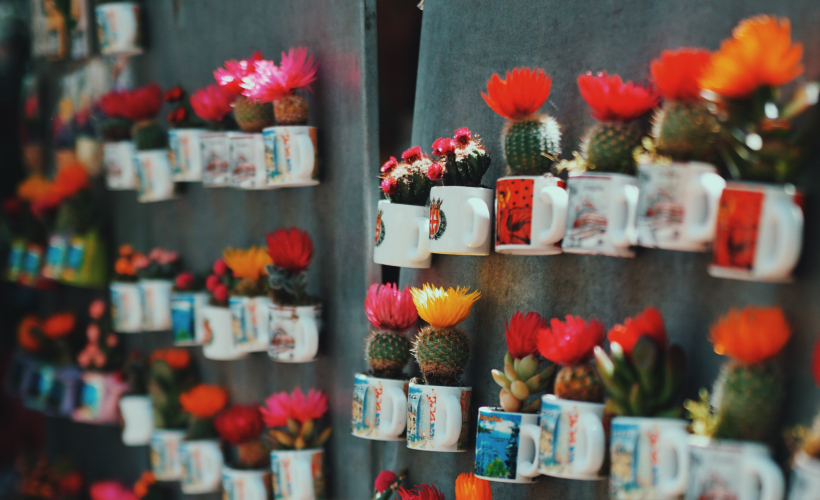 After all that excitement, you can go for a spot of retail therapy along La Rambla – one of Europe's most famous streets – that comes to life with performers, buskers, and quaint cafés. Or stroll on over to the beach (just 15 minutes away) and relax with an ice cream in hand at Barceloneta Beach.
Also, here's a little travel tip. Check out the many free walking tours in Barcelona. It's a great way to explore and learn about the city on a budget.
Final thoughts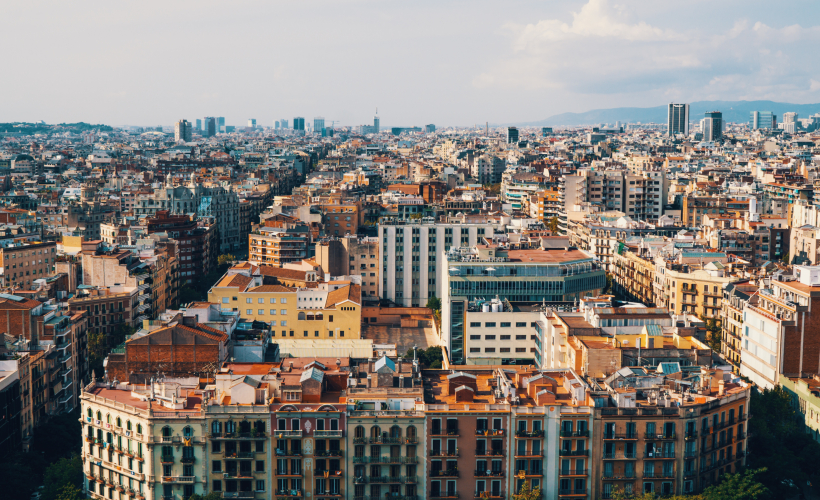 Barcelona is a magical mix of intoxicating sights, food, and activities. Have your wits about you and be vigilant of pickpockets and scammers, but be open to new experiences.
One of my most memorable moments in Barca was when I was at a zebra crossing when a car blasting reggaeton music abruptly screeched to a stop and three young teenagers promptly proceeded to salsa dance with me in the middle of the road. They were happy, free, and high on life. Barcelona has a tendency to remind you that this wonderful thing called life is meant to be lived to the fullest. Oh… and pack sunscreen.
Get all the latest travel stories from Zafigo. Follow us on Facebook, Twitter, and Instagram.