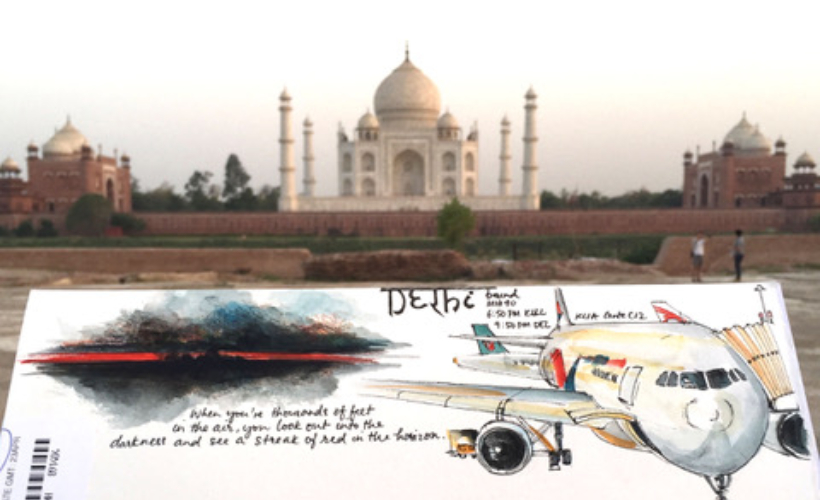 Most of us capture memories of our travels by taking photos or filming videos, while some like to send themselves postcards. Meanwhile, former advertising agency art director Gladys Teo prefers to put pen (and watercolours) to paper, and sketch her favourite moments during her jaunts.
The Malaysian artist started doing this during a trip to Hanoi, sketching the scenery from the 13th floor of a hotel overlooking a temple. From simple pencil sketches, she now uses a mix of pen and watercolours.
A few years ago, she took to sketching pet portraits. The first one she did was of her sister's dog, Milo. As a dog lover herself, Gladys quickly got hooked and has since done countless portraits – mostly dogs, with the occasional cat or bird – on commission basis. She also started a personal project called 100 Days of Dogs to collect stories on beloved canines to complement her drawings of them.
Every piece is mesmerising as she brings their expressions and features to life. Likewise, as you flip through her travel journals, you can't help but marvel at her attention to detail. To capture each building, landscape, person, and food so faithfully surely requires a lot of time and prep.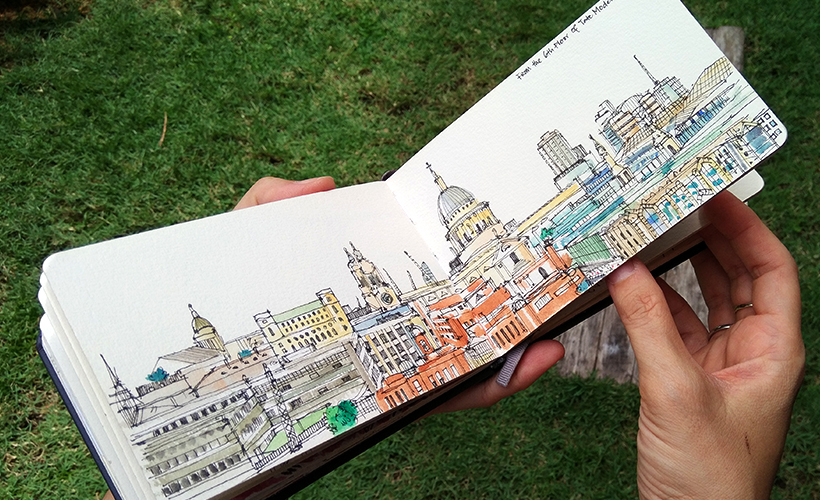 "I sketch whenever I travel. I never plan it upfront. If I see something I like, I'll sketch it," says the Kuala Lumpur-based Gladys. In the last three years, she's dutifully recorded nearly 10 trips, each in a separate journal filled with illustrations of places, people, food, and landmarks, as well as paraphernalia picked up from places of interest. Each sketch is accompanied by her handwritten notes, capturing thoughts and memorable encounters for posterity.
In March, she conducted her first travel journal workshop at CzipLee Bangsar, to great success. She has no definite plans to organise more at the moment, but if you're keen on keeping a travel sketch journal like she does, Gladys offers these 10 tips to get you started.
1. The airport is a good place to start
"You'll have plenty of time while waiting to board or transit, so you might as well put it to good use. It also gives you the chance to observe and plan out what you want to sketch, which is a luxury when you're on the move. Pick a subject, and park yourself at a comfortable spot, where you can get a good view. I often start off my journals with a sketch of someone at the waiting lounge. You can do the same while on board; no one's going anywhere until the plane arrives, so there's a great window of opportunity and time."
2. Take photos for reference
"Unless your entire trip is for the purpose of sketching and journaling, you're not going to have all the time to sit at one spot until you complete a drawing. Sketch the framework or outline of what you want to capture, then take photos for reference when you work on completing it later."
3. Collect small mementos to add to your pages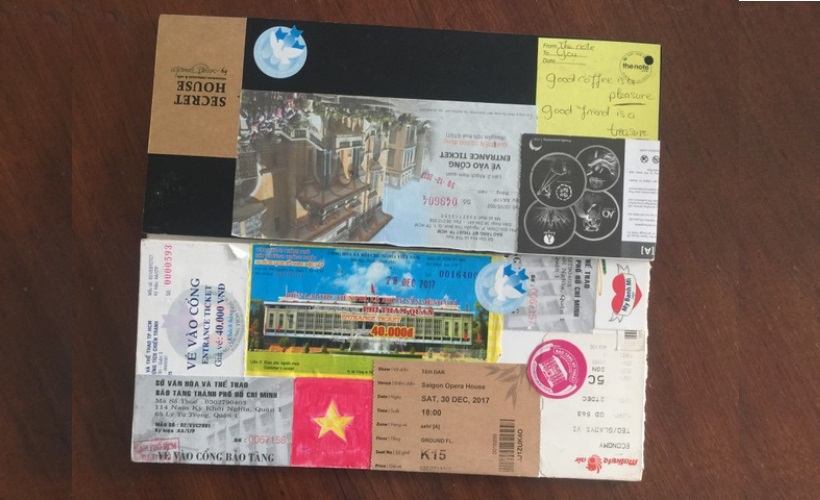 "Make your memories more vivid and vibrant by adding relevant paraphernalia that help tell the story. Ticket stubs, paper napkins from that charming café, chopsticks sleeves to remember a fantastic meal by, baggage tags, receipts… you get the idea."
4. Experiment with a variety of drawing instruments
"I started with pencil before moving to pen, then added colour pencils, and finally, watercolours. There's no right or wrong material to use, it's up to you and the effect you want to achieve. The only way to find out is to try them out until you find the ones that are most comfortable and enjoyable to you."
5. Get the right paper
"Do the same with paper. If you're using watercolours, for example, make sure the paper grammage is thick enough to hold the colours without letting them seep through. Aim for a minimum grammage of 250gsm."
6. Buildings are the most challenging to sketch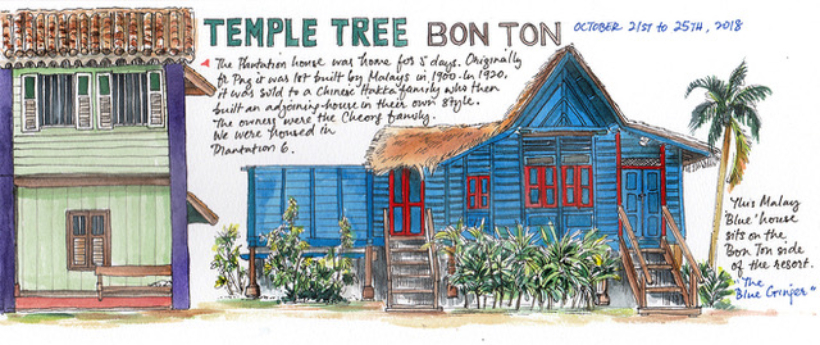 "The good thing is, they're stationary and not moving around like people or animals, but buildings are rich in details. It's important to get not only those right, but also the dimensions, proportions, and perspective. You'll need more time to capture all its fineries. If you're just starting out, find easier subjects, and get the hang of it before attempting to sketch a building."
7. You'll be self-conscious at first
"People will stare out of curiosity. They may stand around watching you, which can be unnerving. It takes time to get used to such attention, but don't worry, before long you'll be able to ignore the distractions and focus on your sketch. I've come to the point where I can continue sketching while talking to someone!"
8. You'll get more out of it than just a drawing
"I was at Melaka's Jonker Street sketching a mansion. An old uncle delivering water saw what I was doing but he didn't say anything. I spoke to him in Hokkien and he opened up, telling me about the history of the place. That's the best thing about sketching, it can lead to interesting and meaningful interactions. Be open to such encounters and you'll come away with much more."
9. Join like-minded groups
"Kuala Lumpur Urban Sketchers is a great platform to start. They organise regular meet-ups at interesting locations that provide lots of good subjects to sketch. You don't have to be a 'pro' to join them, people are friendly and supportive, and you'll have the chance to pick up tips from those who are more experienced than you."
10. Master your people-watching skills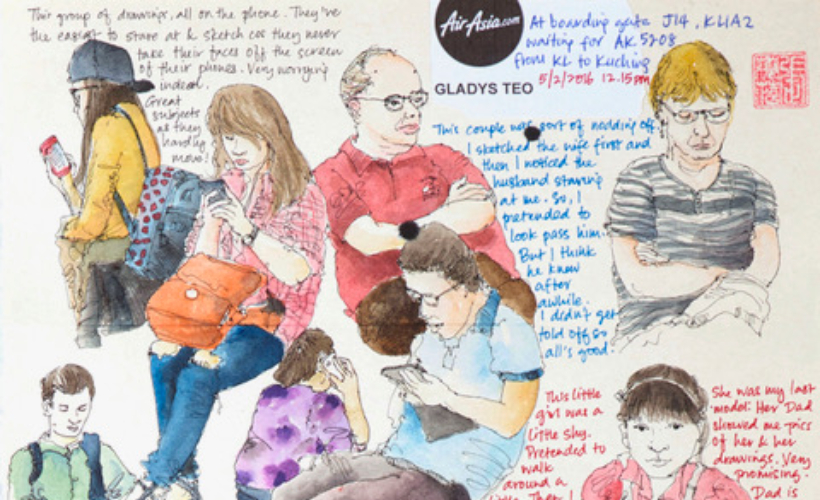 "Sketching people is tricky. You'll be staring at them and if they catch your eye, it can get embarrassing and awkward! The trick is to look between them, not AT them; pretend that you're focusing on something behind them. I find MRT rides great for practising sketching people, as most commuters are glued to their phones, and therefore, oblivious to their surroundings. Other places are airports and libraries. Basically, places where people tend to sit and wait."
Interested to see more of Gladys' sketches? Check them out here.
Get all the latest travel stories from Zafigo. Follow us on Facebook, Twitter, and Instagram.