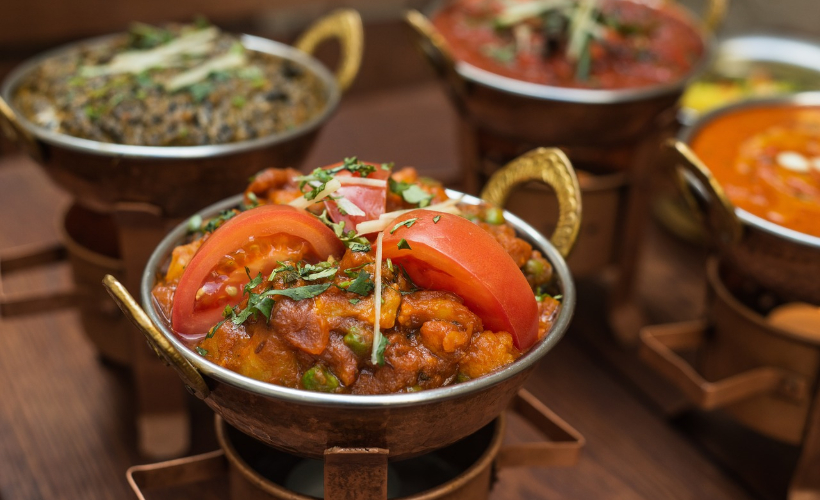 Indian food is usually identified for its spiciness. Be it the known Delhi ke golgappe or Bengali puchka (fried street snacks), there's no limit to food variety in this country. Hence, it's time to take your taste buds on a mighty ride. From the chole bhature (fried bread) of North India to the famous Hyderabadi biryani of the south, India welcomes a significant amount of tourists from across the globe just to satisfy their taste buds. If you're a food lover and haven't enjoyed these delicious dishes, then it's the right time to pack your bags and set off on this food journey.
1. Lucknow
Lucknow is best known for famous tunday kebabs (buffalo meat kebab) served with rumali rotis (flatbread). It's definitely heaven for kebab lovers. Moreover, Lucknawi biryani (rice flavoured with saffron and spices) has its own distinct aroma that tempts you to dig right into it. If you have a sweet tooth, you won't be able to resist a soft malai ki gilori (cheese in milk cream wraps). You also can't afford to miss out on Lucknawi paan (betel leaf with areca nut), as any meal in Lucknow is considered incomplete without this sweet crony stuffed with gulkand (preserved rose petals), supari (areca nut), and plenty of additional things.
2. Jaipur
The simplest all time snack, pyaaz ki kachori (fried pastry with spicy onion stuffing) with pudina ki (mint) chutney is something you can't miss if you are visiting Jaipur. This city has the simplest of architecture as well as the simplest food. Local cuisine is filled with oil and ghee (clarified butter made from cow's milk) that could be a delight for old-school foodies. The city is also known for its dal baati churma (lentils eaten with wheat rolls), pakoras (deep fried vegetables), and mawa (thickened milk). Apart from these, creamy lassi (a sweet or savoury drink made from yoghurt or buttermilk) and kulfi (traditional ice-cream) will help you beat the heat.
3. Goa
Don't hesitate to go high with special Goan liquor – Feni which is made from cashew – if you plan to visit Goa. The state is a big attraction amongst foreign tourists and the tourism service providers in India stop at nothing in promoting Goa as a place offering delicious food options. You'll be spoilt for choice with tasty seafood and multiple meat options like sorpotel (Portuguese-style pork curry), ambotik (spicy, tangy curry), vindaloo (a curry variation), and Goan curry.
4. Kolkata
Rasgulla (curd cheese cooked in syrup), sondesh (Bengali sweet) and mishti doi (yoghurt) are the first words that strike anyone's mind while talking about Kolkata. These local Kolkatan delicacies are the heart of local fare. Other than these sweets, Kolkata is famous for hilsa (freshwater fish) cooked in mustard gravy. Also, don't forget to munch on those super spicy phuchkas (a street snack) and jhalmuri (puffed rice) that may set your tongue on fire!
5. Ahmedabad
Gujaratis are famous for their wonderful food and Ahmedabad is considered a paradise for vegetarians. So, if you are vegetarian, Ahmedabad must top your food travel list. Featuring dishes like khakhras (thin cracker), fafadas (a snack made from chickpea flour), dhoklas (fermented batter made from rice and split chickpeas), and theplas (soft flatbread), Ahmedabad has everything. However, don't be disappointed if you prefer non-vegetarian food, as this town has a place called Bhatiyar Gali where you can indulge in mutton samosas and chicken kebabs.
6. Mumbai
Mumbai takes the title of offering the best street food in India. This densely populated city has its trademark street food, vada pav (deep-fried potato dumpling in bread), that's cheap and cheerful. Apart from vada pav, you can enjoy exquisite pav bhaji (thick vegetable curry served with bread rolls), panipuris (fried puff pastry balls filled with spiced mashed potato), batata vada (potato fritters), ragda pattice (pan-fried potato patties topped with dried peas curry), kanda poha (flattened rice snack), and the famous Bombay sandwiches.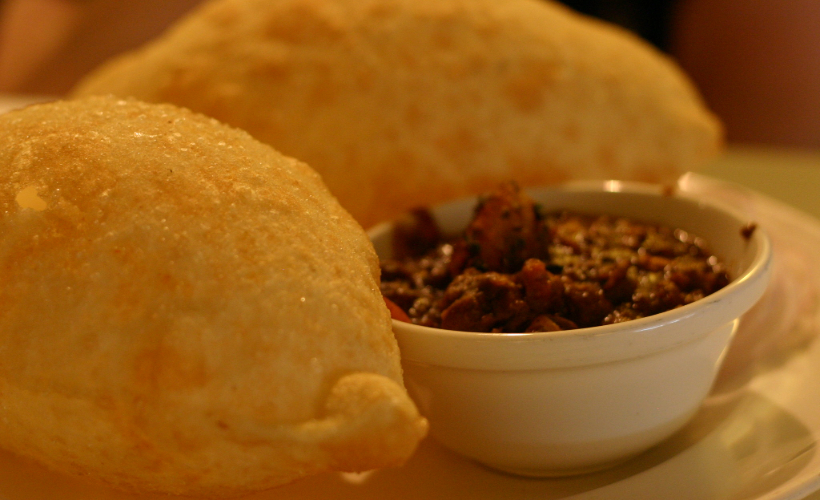 7. Delhi
If you're visiting Delhi, you will be amazed by the range of food options available here. Chole bhature (white chickpea masala served with fried bread) holds a special place within the hearts of Delhiites. However, there are hundreds of food institutions where you can satisfy your taste buds including Karim's, Paranthe Wali Gali, Chandni Chowk, Saravana Bhawan, Connaught Place, Keventers, and many more. You will never be able to forget the flavours of Delhi.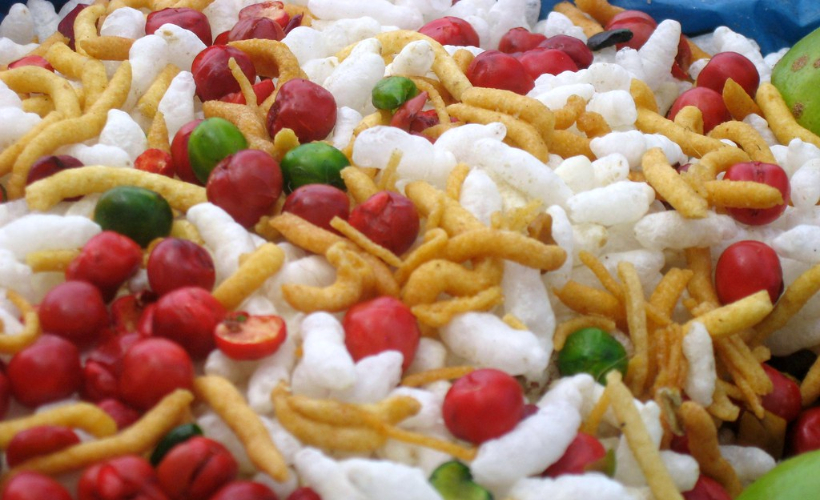 8. Indore
Indore is located in the heart of India and also boasts some really tasty food to satisfy your tummy. Poha jalebi (flattened rice cooked with Indian sweet, jalebi) is the best street food of Indore although this town is known for its namkeens (savoury snacks) and chaats (boiled vegetables or raw fruit with spices). The very famous spicy lehsun sev (snack cooked with garlic) and tamarind minced tamatar sev (snack cooked with tomatoes) are some of the huge variety of sevs available here. A mouth-watering Indori dish, bhutte ka kees (grated corn) is another speciality that's a must-try.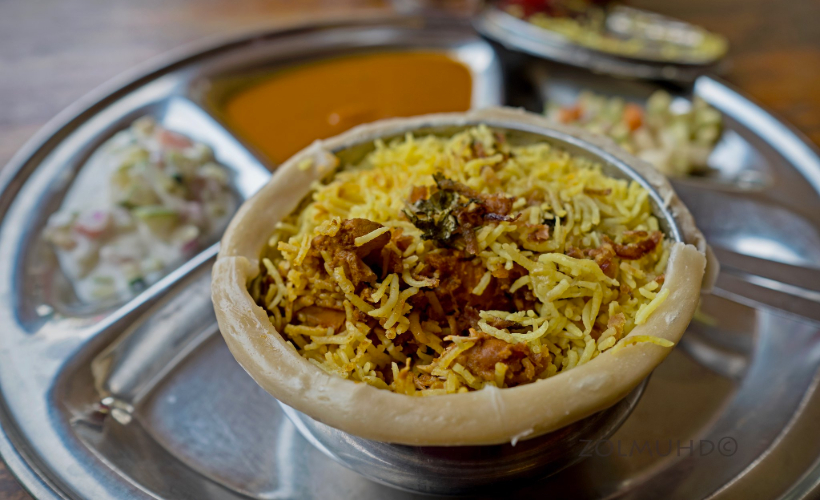 9. Hyderabad
If there's one food item that'll never disappoint you, it's the world-famous Hyderabadi Dum Biryani. This exquisite dish has been stealing the hearts of people from around the world for decades and continues to do so. Other local delicacies include haleem (stew), paaya (goat trotters cooked with various spices and herbs), and Hyderabadi marag (spicy mutton soup), that are sure to pile some extra kilos on you.
10. Amritsar
Food here is incomplete without Desi ghee, butter, and lassi. Don't leave this town before dining at the langar (mess hall) at the Golden Temple. The Amritsari chole kulche (chickpeas and flatbread) is the most popular dish in the city. Additionally, the dhabas (roadside restaurants) here provide a great variety of Punjabi food such as chana masala (chickpea curry), shahi paneer (cottage cheese is spicy gravy), and butter chicken. Not to forget, Amritsari kulcha (flatbread) is also a popular dish to try.
Get all the latest travel stories from Zafigo. Follow us on Facebook, Twitter, and Instagram.