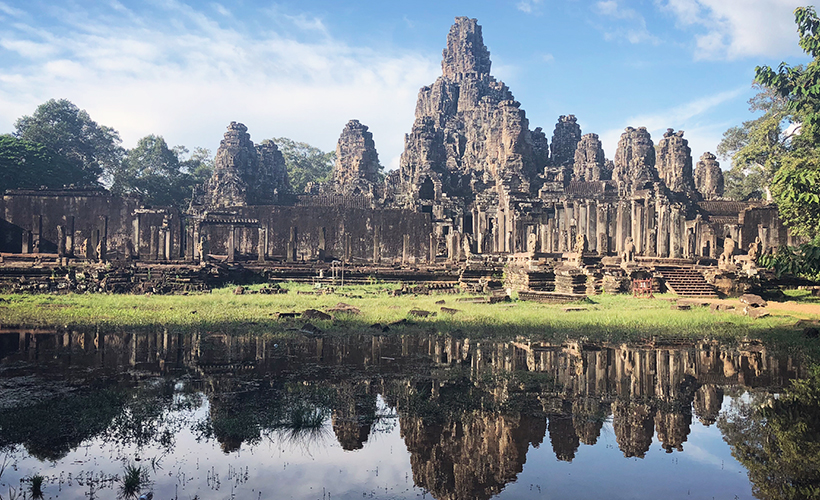 Cambodia is an increasingly popular travel destination for everyone from backpackers to luxury-loving tourists. Perhaps the biggest attraction in this Southeast Asian nation is Angkor Wat, a temple dedicated to the Hindu deity Vishnu, built under the Khmer Empire in the 12th century. Near the city of Siem Reap and covering an area of 163 hectares, it's the world's largest religious monument. Its presence on the Cambodian flag signifies its importance to national pride.
A point of clarification is that Angkor Wat is one temple, inside the much larger Angkor Archaeological Complex. While Angkor Wat is beautiful, the complex houses over 50 other temple ruins of the Khmer Empire, each with its own charm. Angkor Wat is a must-see, but the real fun lies in going on a temple run in the complex and finding that one temple that really speaks to you.
One thing to note when visiting Cambodia is that most transactions are made in American Dollars. The tickets for the complex are priced at USD37 for a one-day pass, USD62 for a three-day pass, and USD72 for a seven-day pass. I recommend getting a three-day pass and using it over a period of five to six days to avoid temple fatigue. A one-day pass may not give you the time to really absorb the magnificence around you, while the seven-day pass is reserved for hardcore history buffs.
Getting around this complex that's spread out over more than 400 square kilometres can seem daunting. A helpful distinction can be made between the small circuit (17 kilometres) and the big circuit (26 kilometres). The small circuit covers the 'must-see' temples in a day, so it's ideal if you're short on time, while the big circuit has some intriguing, less-visited temples. It's also highly recommended to go off the beaten path and explore more offbeat temples. So let's break down the various options:
Option 1: Go on a guided tour
Most hotels and hostels in Siem Reap allow you to book a guided tour through them. I booked a day tour of the small circuit through my hostel, Cozy Cloud, for USD17. This included an air-conditioned bus, an English-speaking guide, hostel pickup and drop-off, as well as drinking water. While expensive, I was grateful for the air-conditioned bus and the cold water as the temples were oppressively hot in mid-October.
As with most tour groups, there was the annoyance of waiting around for people as well as being rushed from place to place. Unfortunately, the guide I had wasn't very good, and being Hindu and a history student myself, I could tell when he was unclear in his explanations. But I overheard some brilliant guides who made history come alive and gave a very rich and nuanced understanding of the temples. So, all-in-all I would say this option is a hit or miss, depending on the quality of your tour guide.
---
Snapshots Siam Reap: This contributor slowed down his pace in Siem Reap to experience scenes that would have otherwise been just a blur from the back of a tuk-tuk:
---
Option 2: Rent a tuk-tuk
You can either rent a tuk-tuk (auto-rickshaw) from your hostel or directly talk to a driver. There's no shortage of drivers who would themselves come up to you and offer their services as you take a walk down Pub Street. However, having heard horror stories from other travellers at the hostel about tuk-tuk drivers scamming them, I decided to rent a tuk-tuk through my hostel even though it was slightly pricier.
However, an added advantage was that as a solo traveller, I could share the tuk-tuk with other people from the hostel. Not only were the fees reduced from USD20 to USD7, I enjoyed being in a much more intimate group than a guided tour. The three of us were far more respectful of each other's time. The cool breeze as we sat in the tuk-tuk saved us from the heat. Not only that, our driver was wonderful and he suggested we go on a reverse tour of the big circuit to avoid the crowd. We landed up at temples where we were all alone and free to enjoy the architecture and take pictures!
Option 3: Rent a motorbike or bicycle
Renting motorbikes to tourists without a Cambodian driving license is illegal in Siem Reap. While there are shops that'll rent one out to you anyway, it leaves one vulnerable to being stopped by the police and may lead to bribing. It's far more common to see people on bicycles exploring the temples in Angkor. A bicycle rental costs anything between USD6 to USD10 per day, depending on the bicycle's quality.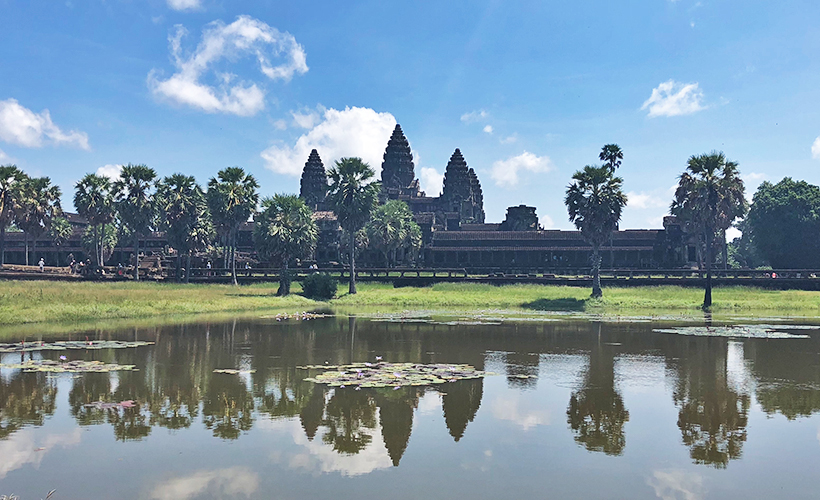 I remember marvelling at these riders' stamina and resilience. Not only was the heat unbearable, but the temples also require a lot of walking inside with steep and uneven stairs. I recommend that you save up on energy for when you're inside the temples and not expend it all on just trying to get there. This option is a time-consuming one and one that doesn't allow you to cover a lot of space. Although, there's more freedom and independence to choose which temples to go to and when to relax – like if you wish to catch a temple sunrise.
It's clear to see that there's no dearth of options for exploring the temples at Angkor. I personally recommend getting a tuk-tuk, as it's relatively cheap and flexible. However, this option requires you to study up on the temples on your own in order to appreciate their significance as there will be no guide to explain anything to you. That said, when needing to research on the temples at Angkor, it's certainly not a dull read.
All photos courtesy of the writer.
AirAsia flies from Kuala Lumpur to Siem Reap 10 times a week. Visit www.airasia.com to plan your trip!
Get all the latest travel stories from Zafigo. Follow us on Facebook, Twitter, and Instagram.