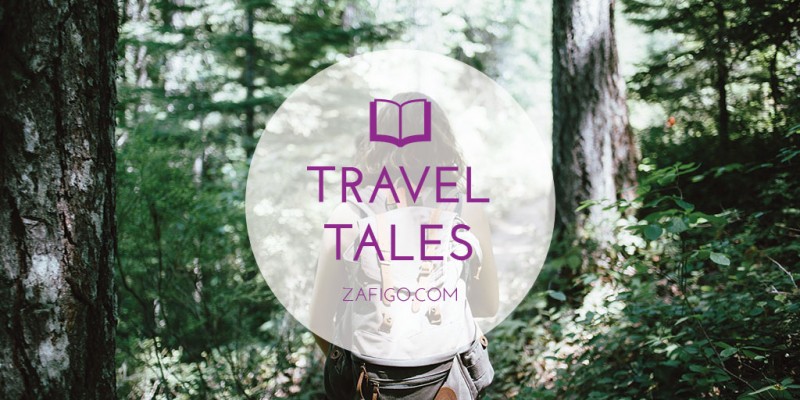 Here's your chance to get published on Zafigo! We want your most interesting Travel Tales, from memorable adventures to heartwarming encounters, scrumptious local food to surreal experiences, and everything in between. They can be in any form and length –short stories, top tips, diary entries, even poems and videos. Zafigo is read by women travellers the world over, so your stories will be shared to all corners of the globe.
Email your stories to [email protected] with the subject line 'Travel Tales'. Include your profile photo and contact details. Published stories will receive a token sum.
---
Angkor Wat has always been on my bucket list. The opportunity to visit surfaced when a friend of a friend wanted to take a short trip there and so I tagged along. What a trip! These are my three most memorable encounters.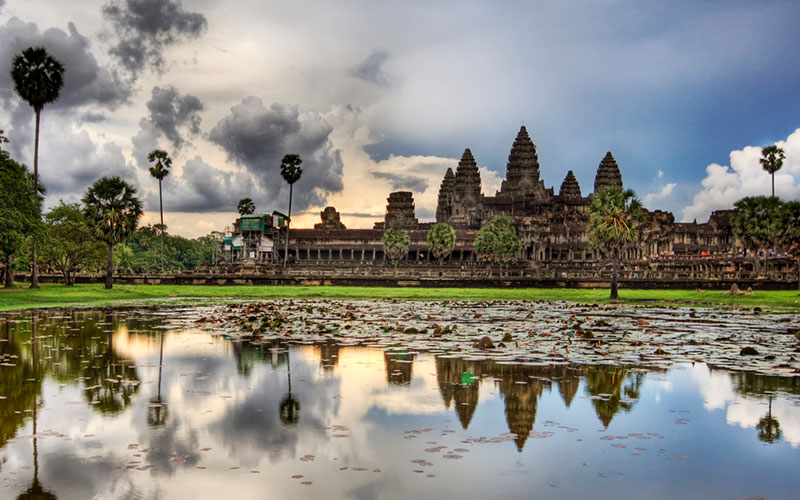 On holy grounds
Entry to Angkor Wat is charged at USD20 per person per day, and it's worth every dollar as once you enter the massive temple grounds, you can visit all the other sacred spots and structures. You can walk around freely on your own, or hire a knowledgeable guide to take you around who will regale you with history and significant stories and fill you in on details that you may otherwise miss. We made a mistake of asking our driver to help us find a guide. It cost us USD20 per group. The guide was deadpan and monotonous, which caused us to almost fall asleep a couple of times. He didn't show us much compared to the other guides we observed around us.
Angkor Wat itself is huge and has myriad carvings depicting different stories. Because we went on Thaipusam, a holy day, the highest peak was closed to visitors. If you want to see all of Angkor Wat, make sure to check your travel calendar against local holidays before you go.
After Angkor Wat, we proceeded to Ta Prohm. It was where Tomb Raider was filmed. Our tour guide told us that before the movie was shot, Ta Phrom was in ruins and tourists would normally just drive by instead of going in to visit. Today, it is one of the most visited temples in Siem Reap. The humongous trees that appear to almost swallow the entire temple were an extraordinary sight that also demonstrated the effects of time.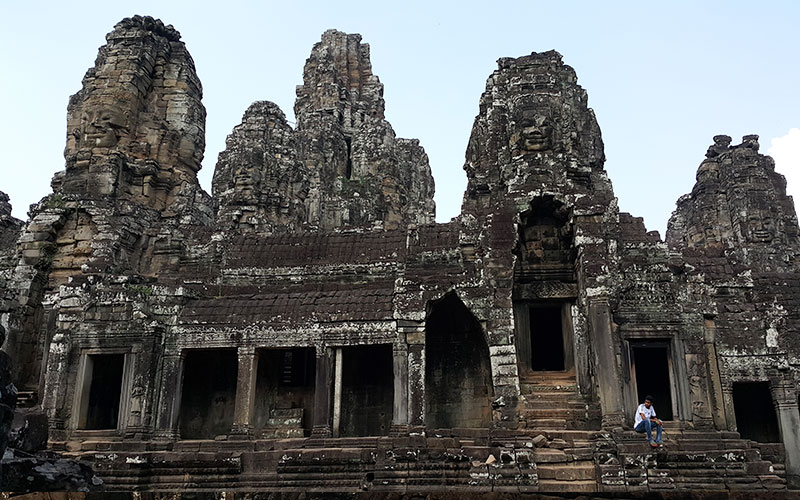 Our third and final stop was to the Bayon Temple. Here, you can see the famous enormous four-faced Buddha. Be prepared to climb a lot of stairs and when you reach the section of the temple that was conquered by bats, hold your breath.
All in all, Angkor Wat is a must-visit. Just be sure to ask around for recommendations before hiring a guide.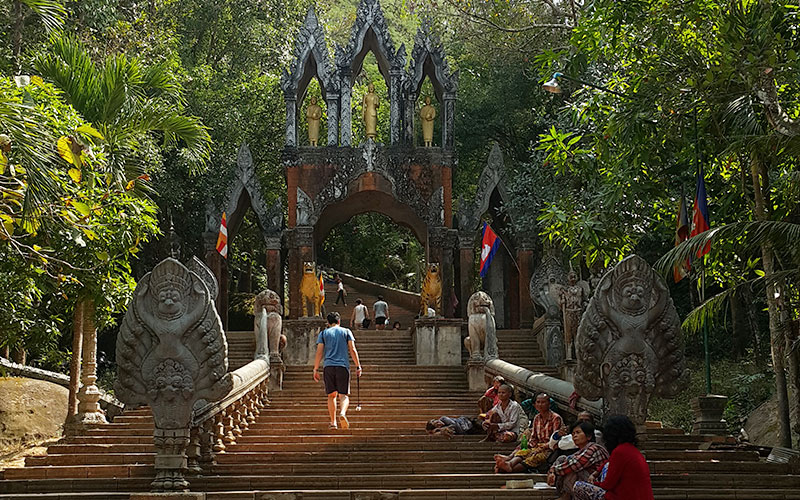 A cheap stay, and live 'entertainment'
We stayed at a hostel called Funky Flashpacker that charged just USD8 per night for a bed. Now staying in hostels is not uncommon for me when I travel on a budget. This, however, proved to be quite an experience as this was no normal bunk-and-bed but a party hostel.
Most of the staff are Westerners, as are 95% of the guests – very good looking with nice bodies, I might add! If you'd like to go and 'cuci mata' (feast on eye candy) while in Siem Reap, I can tell you where to go…
On our first night there, the guy staying on the top bunk decided to bring a guest – one of the girls from another dorm. They actually went at it while most of us were sleeping and obviously couldn't care less if other people were walking in and out of the dorm. The following night, the same guy brought a different girl and was clearly planning to do the same. He started by playing some music while they made out. This time, all of us were awake. A few seconds in, I heard Friend A asking, "Are you guys going to be loud?" The guy replied, "I'll turn off the music". Friend A asked again, "Are you guys going to be LOUD?" He didn't really reply after that. Obviously he knew what Friend A meant. Soon after, they left the dorm and headed to the common bathroom, presumably to resume their session…
"Please don't write on the Buddha!"
Food and entrance fees to places of interest can be a little pricey, especially given our weak Ringgit. We had to pay USD20 to visit Kulen National Park and also Tonle Sap Lake, and in my opinion, both places are not worth going. The 1000 Lingas is just a small stream with carvings. At Kulen Park, there is a reclining Buddha that many will stop to take photos with. Walk around to the back and you will see how much vandalism has been going on. So much so, they had to put up a sign that reads "Please don't write on the Buddha"!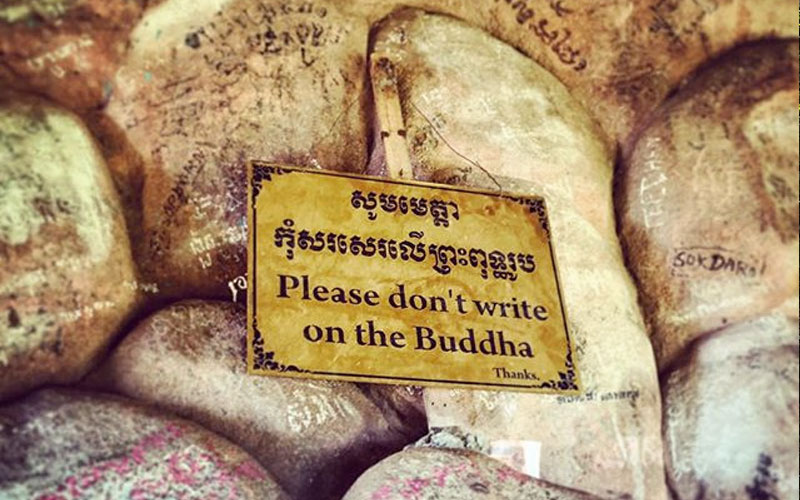 All in all, it was a memorable trip and I would recommend anyone who hasn't been to Siem Reap to make a trip there. You must visit Angkor Wat at least once in your lifetime, and experience the grandeur and beauty of the majestic temples.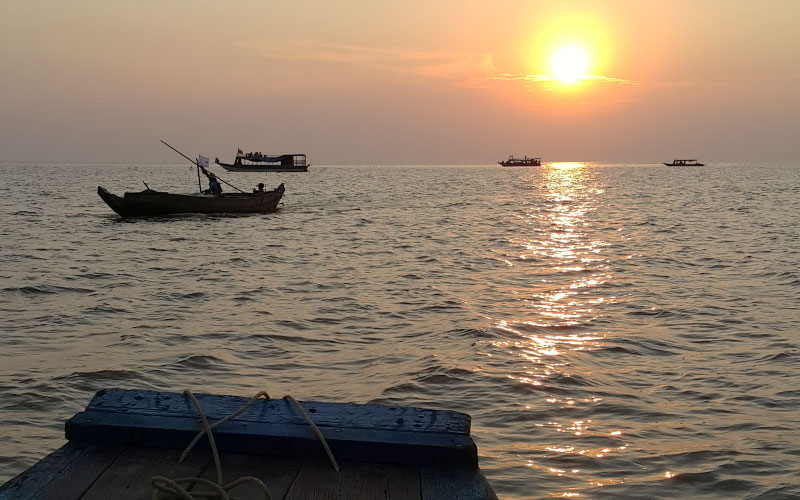 Get all the latest travel updates from Zafigo. Follow us:
[button url="https://www.facebook.com/zafigo" size="small" value="Facebook" color="#94288e"]  [button url="https://twitter.com/ZafigoAsia" size="small" value=" Twitter " color="#89c44c"]  [button url="https://instagram.com/zafigoasia" size="small" value="Instagram" color="#14afa9″]