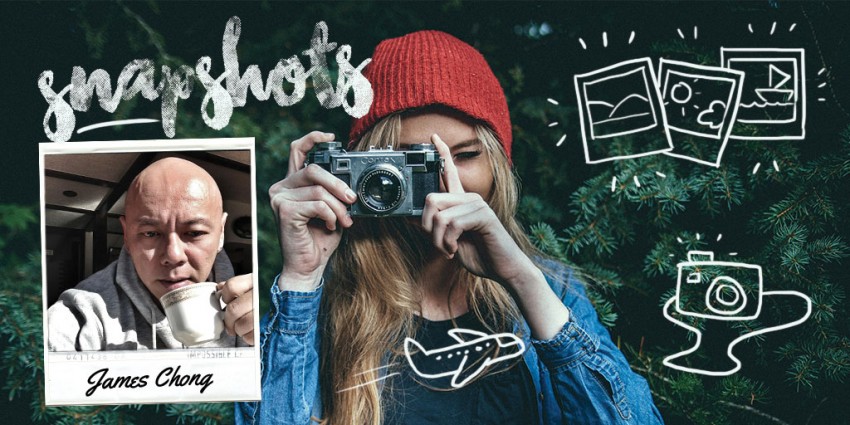 I haven't been back to Siem Reap, Cambodia for a while. The last time I visited this gateway to the awe-inspiring temples of Angkor, I didn't have time to linger as much as I would have liked. 
Siem Reap translates to "the defeat of Siam", and it is widely believed (and shared) that the name came from the city being the battleground where the Cambodian King defeated an invading Thai army nearly 500 years ago. The people of the Kingdom of Cambodia are known as Khmer (pronounced as Kh-MAI-er); they speak the Khmer language and their food is delicious.
This time I took a little bit more time to experience the town and see things that would otherwise have been just a blur from the back of a tuk-tuk, and I'm so glad I did.
The temple and the heat
Siem Reap can be hot, dry and dusty, but when the rain comes – especially during the rainy season – the streets inevitably get flooded. It was a scorching afternoon when I came across a temple, and heard laughter amidst the sound of water splashing. As I went closer, I saw a group of monks and young boys cooling themselves down in a large pool behind the temple. I was really tempted to jump right in and join them!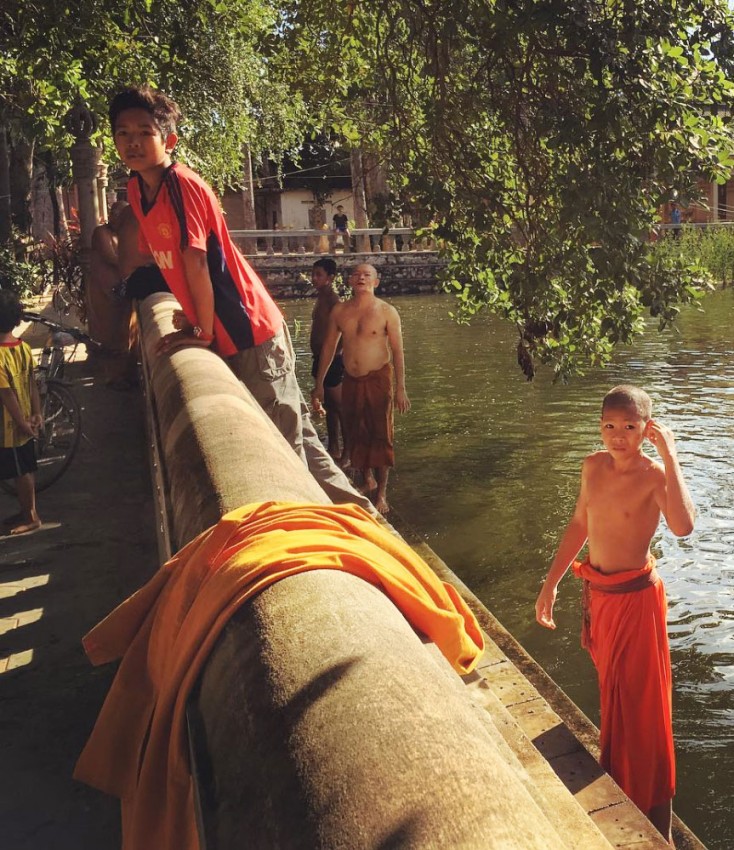 Tip Siem Reap can be hot, very hot and the sun merciless. A good hat, a good pair of sunglasses, copius amounts of sunblock (spray-ons with a higher SPF are ideal) and drinking water are absolute essentials to have with you.
A river runs through
Siem Reap town is a cluster of villages built along the Siem Reap River. As you venture further away from the centre – where the Psar Chas (Old Market) that's populated by colonial buildings housing retail outlets, bars and restaurants is – you will glimpse the daily lives of the Khmer. Wooden houses, shacks, and temples are built along the river, where children swim and play while mothers get their laundry done.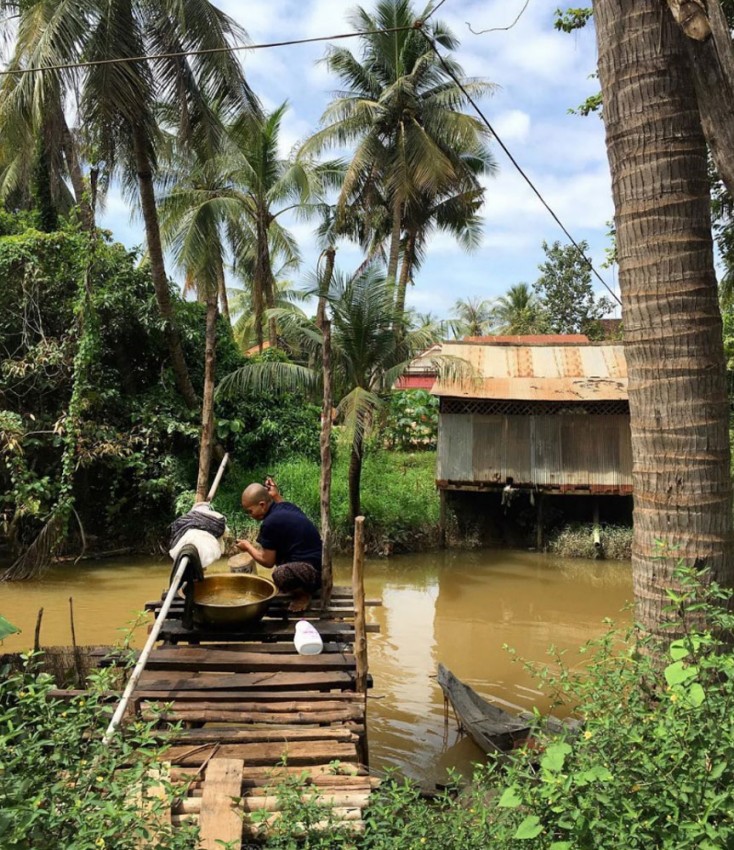 Tip The best way to explore the riverside is on bicycle but do yourself a favour and rent a sturdy one with good seats, gears and suspension if you can (USD3-5 for a day). Take the inner rather than the outer roads to really see how people live by and with the river, and test the suspension on your rented ride.
The Road to Angkor
About 8 kilometres north of Siem Reap, along the Charles De Gaulle road that's also known as "the Road to Angkor", is the famous Angkor Wat. Wat means temple in Khmer, and Angkor Wat translates into 'Temple City', the most visited, best known and most photographed temple of all in Angkor, the capital of the ancient Khmer Empire. It was constructed in the 12th century to represent Mount Meru, the home of the Devas in Hindu mythology. The temple is surrounded by a moat; crossing a body a water to enter a temple symbolises crossing from the earthly into the heavenly realm. 
As I was about to steer my bicycle into the main entrance of the temple, I saw a group of children playing and screaming in delight, taking turns swinging from a rope and falling into the water. All they needed was a tree, a rope and water.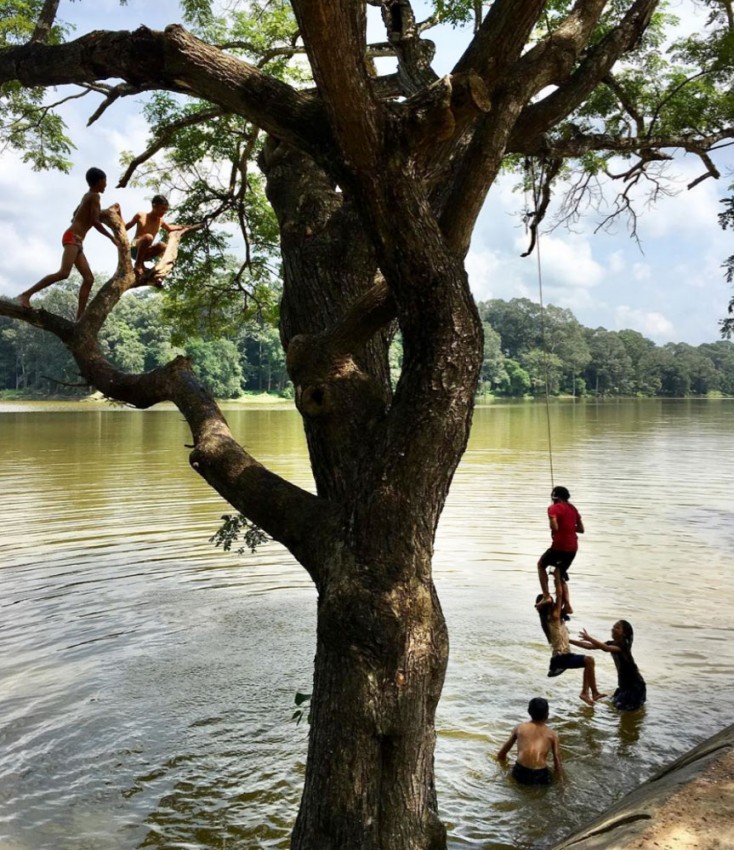 Tip You can rent bicycles from USD 1 per day in Siem Reap, and some accommodations offer bicycles for free. Siem Reap is flat and is easy to cycle; the roads and traffic can be a bit tricky at times, but it's worth it as you can see and experience much more of the town on two wheels. If you prefer to take it easier, some places offer electric bikes and of course, there are tuk-tuks. Make sure you get back by nightfall, as the streets can be dark and are only better lit near the centre of town.
What we leave behind, nature claims back
There are temples at Angkor where the jungle has reclaimed from man what he had built. Conservation efforts can only be summarised as "rigorous extreme maintenance" of the temples since they were first discovered, no more than to keep them standing.  
The most famous is Ta Prohm, where Angelina Jolie jumped and walked (on walls no one else is allowed to) in the movie, Tomb Raider. Giant silk cotton and strangler fig trees stand like guardians over the temple, yet slowly crushing it in their embrace with each passing day. When the crowds thin and the chatter of tourists subside, especially when it's near closing time and the sky fades to dusk, the entire temple complex takes on an ethereal quality.
Tip If you like Ta Prohm, take time to visit Preah Khan (Khmer for 'Royal Sword') too. Shaped like a sword, hence its name, the temple also merges with the jungle and you can walk between its East and West entrances in a straight line. Or think of it as walking from the tip of the sword to the top of the hilt, while exploring chambers and ruins to your left and right as you do. It's a flat design, so no climbing is necessary.
The Temple of Faces
The Bayon stands at the centre of Angkor Thom, and was the capital of the Ancient Khmer Empire ruled by King Jayavarman VII in the late 12th century. It is a glorious sight to behold. Moving from the lower terraces to the top (where the 200 faces of Lokeśvara, the Bodhisattva of Compassion, find you wherever you may stand), you walk through cool chambers and ancient hallways where much remain untouched by direct sunlight.
Hire a local guide who speaks English. Not only will you be helping the local economy, your guide will show you places with the best views, and nooks and crannies that guide books mention but you may never be able to find on your own. And even if you do, reading a guidebook while you walk on stones and pavements where Kings once walked can only distract you from the absolute wonder of being there.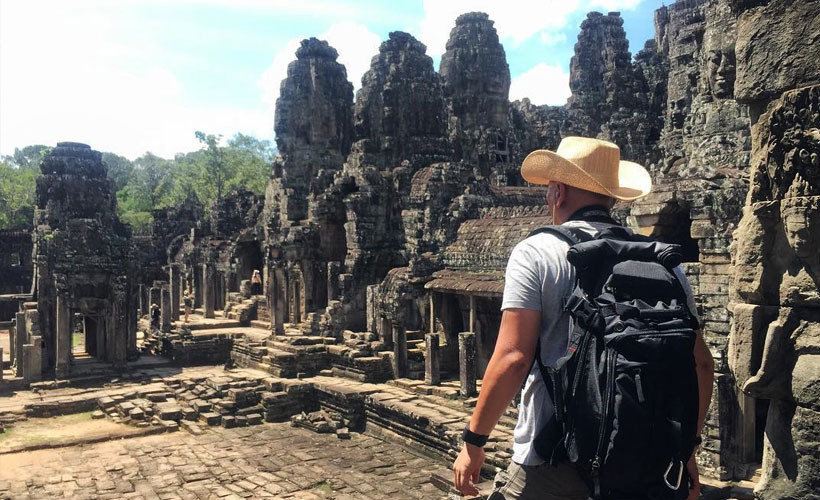 Tip The temple itself is not as large as Angkor Wat, and you can get away from the sun once you enter the temple. It's a good idea to visit Bayon at noon while leaving Angkor Wat for the cooler morning or evening, as the latter requires you to walk out in the sun more. 
The Floating Village
Besides the temples, Siem Reap is known for its floating villages which to me is not to be missed. Kampong Phluk is the most authentic and when you visit, time it so that you can watch the sunset over Tonle Sap, when the sun paints the waters of the lake in fiery orange and red. 
During the wet season the forest surrounding the lake is flooded, and the Tonle Sap (Khmer for 'Great Lake') expands more than 6 times in surface area. Everything happens in or around the lake: People live, rear animals, cook, and children go to school, swim, bathe and grow up in homes built over water. It's eye opening to see how little some live by compared to the millions who visit as tourists. 
At the village, take paddle boat rides through the trees. It's a source of income for the villagers and for visitors, a magical experience to silently cut through the waters of a silent, flooded forest.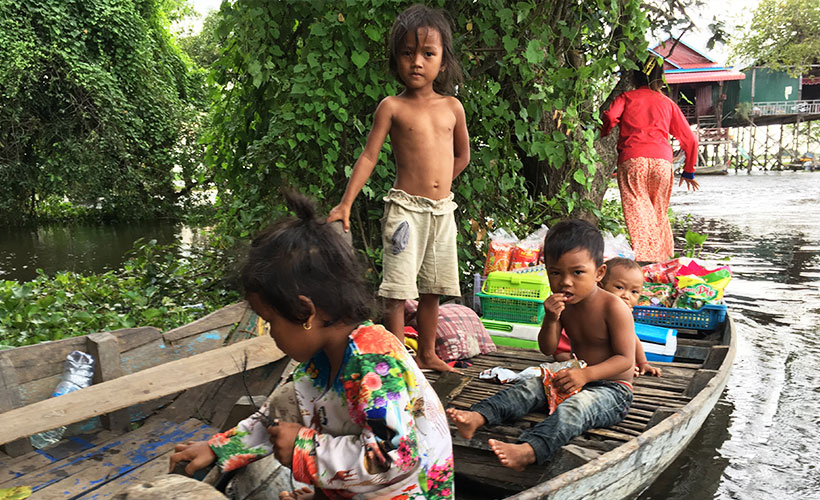 Tip There are three charges you need to pay when visiting the Floating Village: The cost of the tuk-tuk to the location where the boats set off (USD15-20, shared with up to 4 people per tuk-tuk), the fee to take a boat out to the floating village and back (USD20 per person), and the fee for the villagers to take you into the flooded forest on their paddle boats (USD10 per boat, optional but should not be missed in my opinion).
There are horror stories of tourists who complained that it was a scam because they thought the fee for the tuk-tuk ride was all-inclusive, and then accused the tuk-tuk drivers of cheating them when they were driven to the set-off point and realised only then they had to pay for the boats. Make sure to ask before you set off, be an informed traveller.
The Lotus Farm 
The Lotus Farm by Samatoa produces a delicate fabric from lotus flower stems that can only be woven by hand, and it can take up to a month just to produce a metre of the exquisite silk-like fabric. 
At one corner of the 20-acre lotus farm, located along the way to Tonle Sap, I found huts built over water, equipped with hammocks and fans. Inside, families have their meals overlooking a sea of lotuses, while away the afternoon, and escape either the heat or the rain. A young boy was surprised to see me (a non-local) push my bicycle towards the huts. I chose an empty one and went in, and he brought me drinks and ice cubes in a jar. As I paid for my drink before leaving, he gave me lotus flowers which sadly I couldn't take with me as they would be crushed in my backpack. I still wonder whether I should have.
If you do visit and the boy in the photo gives you lotus flowers, please thank him, tip him USD1, and take the flowers with you if you can. I'll pay you back.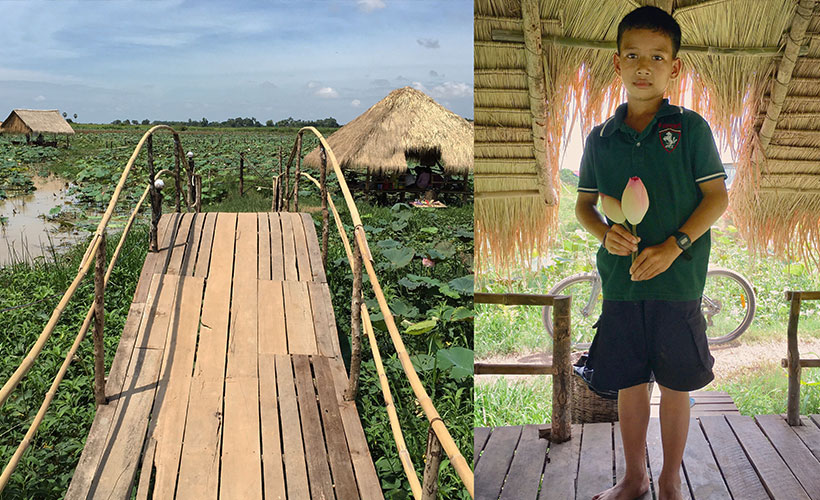 Tip Most of your payments in Siem Reap will be in US dollars, rather than Riel, the Cambodian currency. The standard accepted exchange is USD1 = 4,000 riel (i.e. 1,000 Riel is equivalent to a quarter, or USD0.25). However, you may receive change in Riel. For example, if you hand over USD2 for something that costs USD1.50, you will be given 2,000 Riel in change. The Cambodian currency are all in notes, there are no coins.
One more thing: Make sure your USD bills are not defaced, too worn or torn (even slight tears at the fold or sides) as most smaller vendors will refuse to accept them, especially USD50 and USD100 bills. This is because they cannot use it too, and it can only be exchanged at certain banks at a commission. There is no such issue with Riels, USD1 and USD5 bills.
Snapshots (formerly known as Views) is our photo essay section, where we ask women to share a curation of their favourite images to tell the story of their city or a destination they have travelled to. We welcome contributions from readers; if you have a photo story to share, email 
[email protected]
 and indicate 'Snapshots' in the subject line. Published submissions will receive a token sum from us.

Read Next: