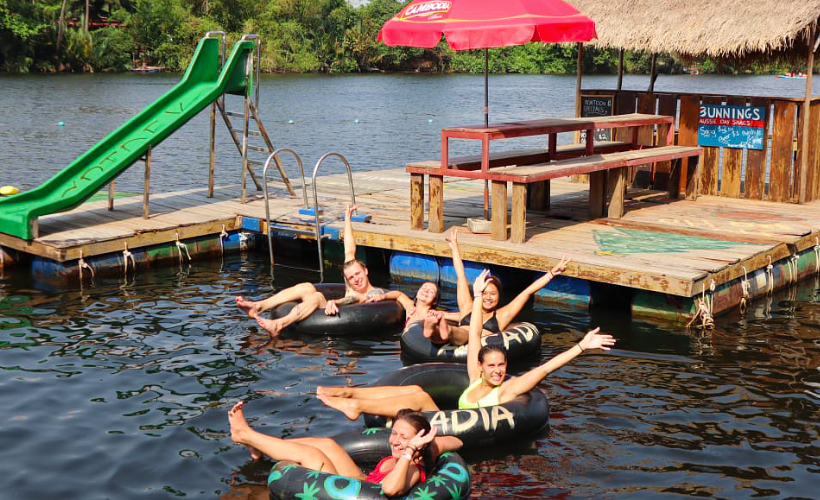 The title of this article alone will tell you that this hostel is unlike any other. Dare I say it's a backpacker's paradise! Arcadia Backpackers is a wild and adventurous riverside waterpark hostel in the village of Snam Brampi, Kampot Province. Situated along the Preaek Tuek Chhu River and surrounded by natural beauty, Arcadia Backpackers is perfect for a relaxing getaway with a twist.
What to expect
Expect to have a lot of fun! You will drive off the main road and be taken down one kilometre of winding dirt roads before you spot a huge slide and motorbike suspended in front of the waterpark. The most impressive (and fun) features of this hostel are a 50-mere waterslide, a jumping blob, a zip-line, a diving platform, and a Russian swing. Besides the fun waterpark, the hostel offers numerous other activities such as hiking (do this to catch the sunset), kayaking, ping pong, billiards, and hammocks to chill and relax on.
Apart from sports and games, you can also keep up with your workouts at their home gym… and then indulge after at their bar and restaurant area. In keeping with hostel tradition, it's a very social environment too, wherein the hostel organises game nights to help to get everyone together and have a good time.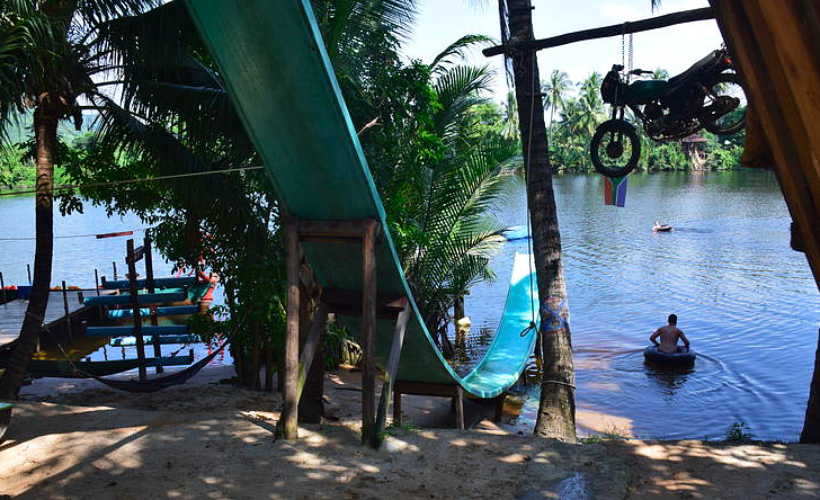 Party vibe
Don't come here if you prefer having your own space and quietude. It's an extremely social hostel set up to facilitate fun and friendliness. It's entirely possible to travel here solo and make a new group of friends within a few hours. The average age ranged seems to be under 35 and the parties often go on till the early morning, so it may disturb your sleep.
---
Have a thirst for adrenaline? Then you've just got to check out this amazing beach swing:
---
Need to know
Staying here is extremely reasonable. Prices here are affordable with mixed dorm at USD7 and private room at USD18. Do, however, keep in mind that there are no ATMs nearby and they only accept cash here. So, make sure you have enough money before your stay if you don't want to starve.
Getting here is easy too. You can reach Kampot by bus, minivan (VIP van), or taxi. A bus ride from Phenom Penh to Kampot costs anywhere from USD 8-9 and takes roughly five hours. If you'd like to save on time, the minivan option costs between USD6-10 and takes a shorter three hours. Finally, taxis can cost around USD55 and can take under three hours.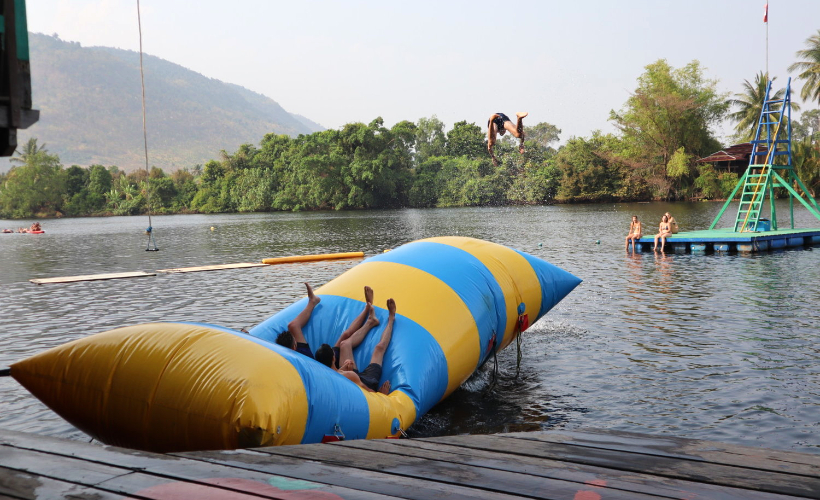 Bugs
Due to the hostel's location in the jungle and along a riverbank, there are a variety of insects that also call it their home. The beds themselves are covered with an insect netting, but you may find a few interesting insects in the restaurants and rooms. Most of the time, these insects are harmless, but you may want to consider some repellent if you're particularly susceptible to bug bites or mosquito bites.
Taking precautions
Flash floods
During the rainy season, there are sometimes flash floods that can prove fatal. In 2016, a young Australian woman decided to go for a night swim and never returned. The police found her body floating in the river the next day.
Waterpark Injuries
The slide is actually steeper than they look and can launch you in the air at dizzying heights. I landed on my ear and burst my eardrum. I wish I'd googled the correct way to angle my body down a waterslide beforehand. Also, the jumping blob is hazardous – I witnessed a man fracture his wrist when he landed on another person on the same jumping blob.
*All images courtesy of the author. 
33017, 32826, 32218
Get all the latest travel stories from Zafigo. Follow us on Facebook, Twitter, and Instagram.