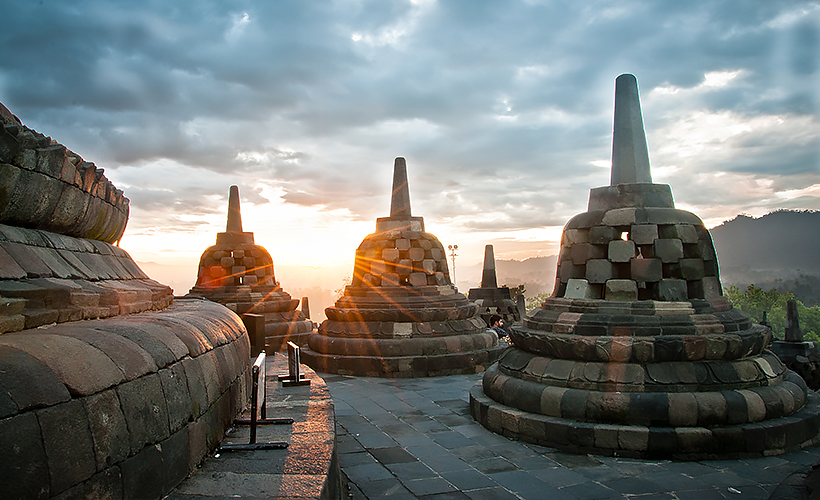 Southeast Asia offers some of the most beautiful sunrises and temples in the world. When experienced together, it creates an unforgettable visual encounter. If you're chasing after a magnificent sunrise on your holidays, these sites should serve as your next destination inspiration. After all, two of the three hold UNESCO World Heritage status while the third is bidding for it, so you know you're in for a cultural treat. Here are some information and tips to help you plan for the best sunrise experience.
Angkor Wat, Siem Reap, Cambodia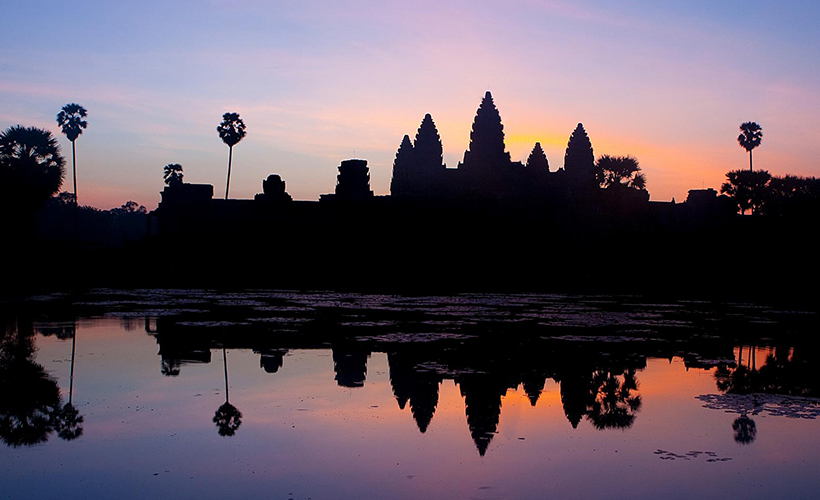 The sight of Angkor Wat silhouetted against the gorgeous sky during sunrise will be the highlight of your trip to Siem Reap. Just imagine watching the sky turn from midnight blue to pink, purple and orange. Passes are sold in one day, three-day and seven-day blocks that cost USD37, USD62 and USD72 respectively. Passes allow access to the many temples of Angkor including Angkor Wat. No matter which pass you choose, an Angkor Wat sunrise must not be missed. When I was there, I was so in love with the sunrise that I went for a second time by myself.
Angkor Wat is easily accessible from downtown Siem Reap by tuk tuk (auto rickshaw). A round trip for the sunrise costs around USD7, but I recommend hiring the tuk tuk driver for a day for between USD15 to USD20, making it easier to explore the other temples. Depending on where your accommodation is, people usually depart between 4am and 4.30am. For female solo travellers, don't worry about heading out in the dark in a tuk tuk. The road will be packed with other tourists heading the same direction, and most accommodations have their own tuk tuk drivers for hire, so I suggest getting one of those.
Peak travel months are from November to March during the dry season, but there were still plenty of tourists when I visited in September during the wet season. While I did encounter some rain during my trip, it was usually in the late afternoon, so my sunrise experience was not interrupted.
Things to note for a stress-free sunrise experience:
Go early to find and secure the best spots to watch the sunrise especially if you're a photography enthusiast. My initial excitement upon arrival made me walk right up to the structure, but the best sunrise pictures are taken from a slight distance away.
Have a torchlight handy or be prepared to use your phone to light up the path if you're not one who is comfortable trudging in the dark. The path can sometimes be uneven and muddy.
Try to remember what your tuk tuk and your driver looks like. You will come out of Angkor Wat and face a throng of tuk tuks at the entrance. The drivers are pretty good at recognising you, and they'll pull up front once they see you, but sometimes you'll have to look for them.
Sunset bonus: Catch the sunset from Phnom Bakheng, a small temple perched atop a hill or head out to catch the sunset from the Tonle Sap lake
Borobudur, Yogyakarta, Indonesia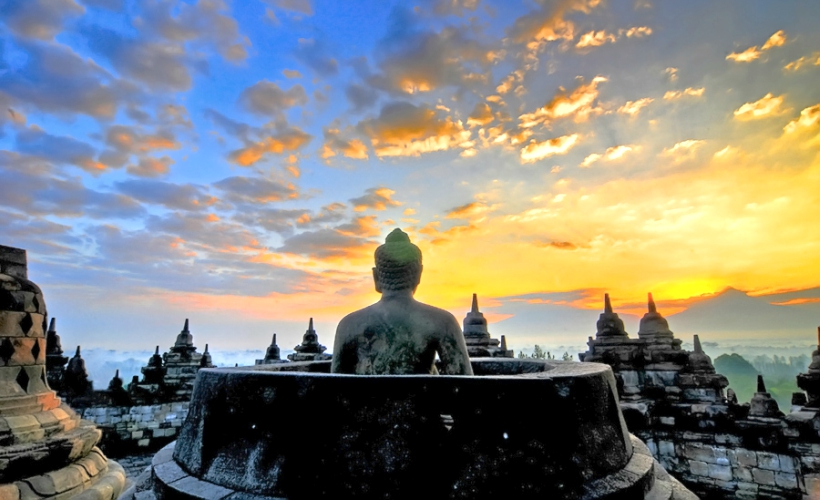 The ancient Buddhist temple of Borobudur provides a great vantage point to observe the sun rising behind one of Indonesia's most active volcanoes, Mount Merapi. The official Borobudur sunrise ticket can only be purchased via Manohara Hotel, which also serves as the entry point. Any admission before 6am costs approximately USD33 and includes a light breakfast. Torch lights are given at the entrance, but remember to hold on to it so that you can exchange it for a souvenir scarf upon exit.
Borobudur is located around one hour away by car from the city of Yogyakarta. It's normal to hire a car and driver for the day for around USD40, which I'd recommend especially if you're planning to visit other sites. My friend and I (both girls) felt safe and comfortable with the driver we found online. If you're travelling alone on a budget, you can join a Borobudur sunrise tour which costs around USD8 per person for a hotel pick-up and drop off.
It's common to depart from the city at 4am. However, as I was climbing up the temple, I felt as if the sky was already getting lighter, so I rushed up the steps for fear of missing the sunrise. While the sun was only starting to rise when I arrived at the top, I would've liked the time to catch my breath and select a good spot to calmly sit and wait for the sunrise.
Things to note for a stress-free sunrise experience:
The hazy mist that surrounds the region makes catching the perfect sunrise at Borobudur slightly tricky. However, the sight of Mount Merapi shrouded by mists in the orange-tinged morning light is beautiful all the same.
During the wet season from November to March, there are significantly less tourists, which means more room to move about. However, heavy downpours do occur frequently, making it hard to predict a good sunrise.
Check the sunrise time and depart earlier if you want to take your time climbing the steps and find a good spot to catch the sunrise before they get snapped up.
After getting your sunrise fix, move to the other side of the temple where there are less people so you can admire the temple relatively uninterrupted. I prioritised catching the sunrise too much that I regretted not taking the time to take a closer look at the stupas and the magnificent monument itself.
Sunset bonus: End your day by catching the sunset from the Prambanan temple, another UNESCO world heritage site.
Bagan, Myanmar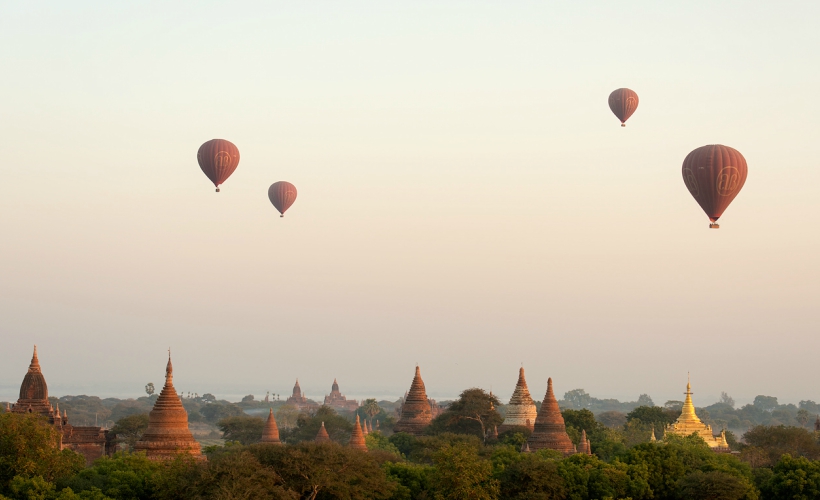 One can consider the Bagan temples in Myanmar Southeast Asia's hidden gem as it exists off the beaten path. The Bagan Archaeological Zone consists of thousands of Buddhist temples, stupas and monasteries. With Myanmar bidding for the Bagan temples to be added as a UNESCO world heritage site in 2019, you know this is also a site (and sight) not to be missed.
The easiest way to reach Bagan is by a short domestic flight from Yangon or Mandalay to Nyaung U Airport. Bagan is also connected by bus, train and boat, but these modes of transportation take much longer and have differing levels of comfort and reliability. All foreigners entering Bagan will need to purchase the Bagan Archaeological Pass that costs roughly USD20. The temple area starts around 3 kilometres from Nyaung-U town, where the hotels are located.
Tourists normally get around the Bagan temples by hiring e-bikes for the day for about USD4 to USD6. Check with your hotel for the best routes to the temples where you can view the sunrise, and always keep a physical map handy so you don't get lost among the temples and stupas. If you prefer travelling in comfort, you can hire a private taxi for about USD40 to USD50 a day. The plus point for this is that your driver will sometimes act as your unofficial guide.
What's unique to Bagan is the opportunity to experience the sunrise aboard a hot air balloon and have a stunning aerial view of the sprawling lands speckled with countless temples and stupas. While the ride comes at a hefty price of USD350 to USD450 per person, many say this once-in-a-lifetime experience is worth it, and that you just have to bite the bullet. The price usually includes hotel pick-ups and drop offs, refreshments, some sort of souvenir and breakfast. Also note that hot air balloons operate from October to April ,when the weather is the most permitting. If you're concerned about safety, rest assured that the companies employ foreign pilots and technicians with the necessary experience for a smooth journey.
If the price of the hot air balloon is too much, don't despair, because even with both your feet firmly planted on the ground, you'll still be rewarded by a beautiful panorama of hot air balloons rising into the sky above the temples in the incandescent glow of the sunrise. The most famous temple to catch the sunrise from is the Shwesandaw Pagoda as it provides an uninterrupted view of the temple-dotted plains and the hot air balloons.
Things to note for a stress-free sunrise experience
Test your e-bike prior to rental to ensure that everything is functioning properly. You don't want to miss the sunrise due to a breakdown midway.
If you've decided to hop on a hot air balloon to catch the sunrise, book early to avoid disappointment, as there's only a limited amount of people they can carry in one go. You can book online through Balloons Over Bagan or Oriental Balloons.
But if you've decided to not take a hot air balloon, keep in mind that arriving outside of the season means you won't have the balloons as part of your background.
Take note of the temple climbing ban that was implemented by authorities due to the damage inflicted on the temples by climbing tourists. If you see a sign saying it's off limits, do respect it even if there's no one there to enforce it.
It's definitely worth sacrificing some sleep to catch a sunrise from the shadows of these great ancient monuments. The experience of walking towards the temples in the quiet early dawn creates a zen-like and mythical quality despite the many tourists around you, all united with the goal of starting the day with a picturesque sunrise.

Get all the latest travel stories from Zafigo. Follow us on Facebook, Twitter, and Instagram.