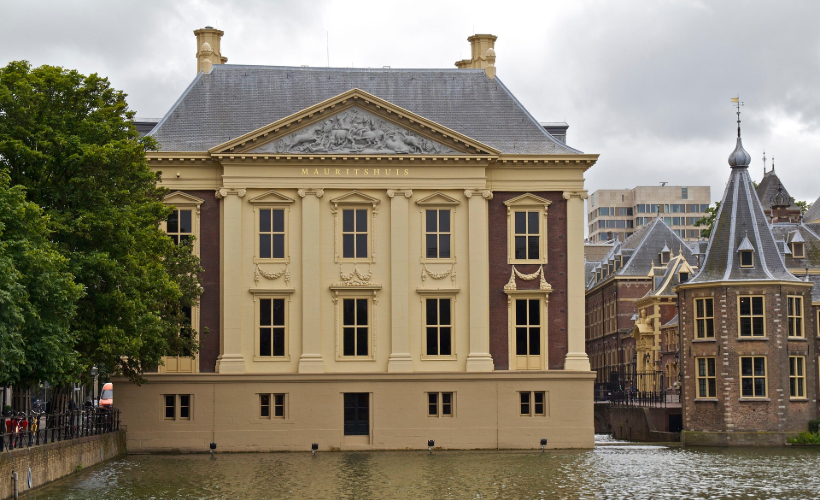 Hordes of tourists flock to Amsterdam and remain in the city, unaware that more authentic experiences within the Netherlands are conveniently situated nearby. While there are many locations to choose from for a day trip, The Hague (or Den Haag in Dutch) and Rotterdam are the most frequented due to distance.
If you want, you can drive to either town, but opting for the train is probably the more affordable and easier option. I visited both locations with a rough idea of which sights I wanted to see, but mainly told myself to just experience the feel of each city by aimlessly wandering around. If you prefer a more fixed schedule then here are the sights worth visiting when in The Hague and Rotterdam:
The Hague: Under an hour by train
The Hague is home to the United Nations International Court of Justice and the International Criminal Court. That's probably why the city felt so peaceful. Or maybe it's because The Hague wasn't filled to the brim with tourists, so it was a nice change for me after Amsterdam. Besides the many parks to laze around in with a good book, here's where to go: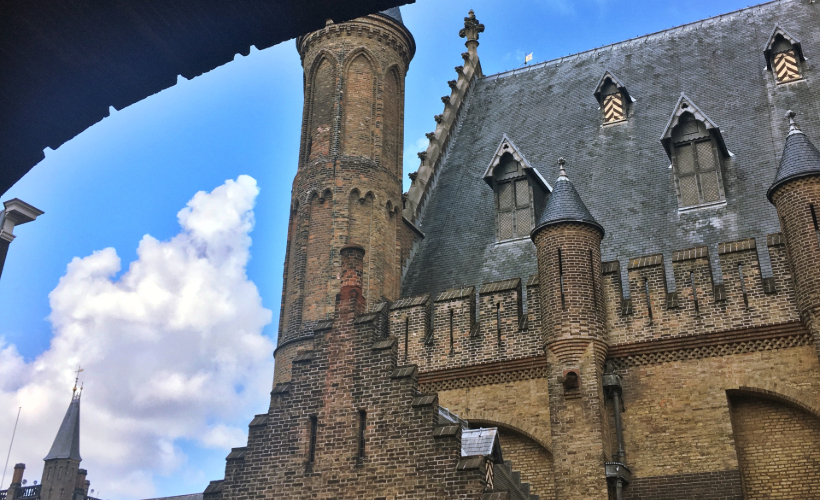 1. Binnenhof
If you're a fan of Gothic architecture (think Game of Thrones), you'll appreciate the Binnenhof (or Inner Court). It's a complex of buildings right smack in the centre of the Netherlands' third-largest city with the most famous being the office of the Prime Minister. If you're lucky, you just might spot him!
2. Mauritshuis
This is one for the culture vultures. Mauritshuis is located right by the Binnenhof, making it a convenient next stop. It's known for housing the infamous painting by Johannes Vermeer – Girl with a Pearl Earring. If museums aren't your thing, then simply stroll around the picturesque surrounding area until you find a point of interest.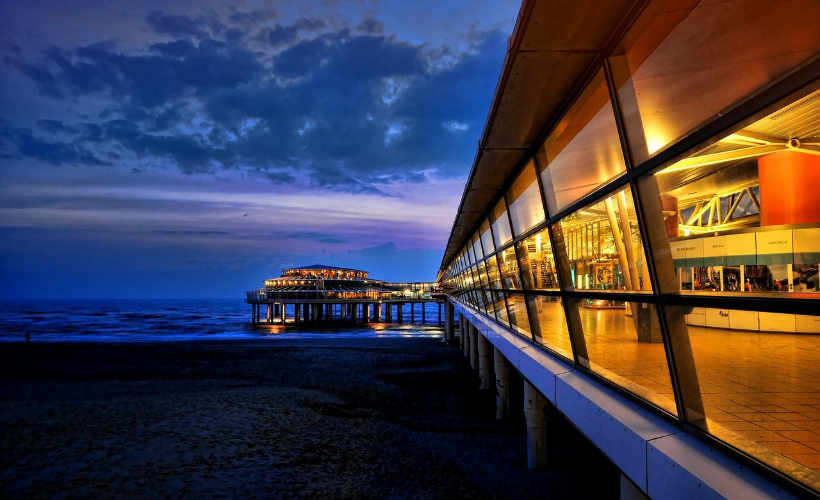 3. Scheveningen
If you were deciding between a city and a beach before visiting Amsterdam, know that you can actually enjoy both when at The Hague. Scheveningen, one of eight districts within The Hague, is known for its beach. Running along the sandy stretch is a pier, so if the weather allows, definitely visit for some fun under the sun. Tip: regardless of the weather forecast, pack swimwear before departing on your day trip as Dutch weather can be unpredictable and you may get some sun.
---
More than just for naughty nights out, Amsterdam is a melting pot of culture, known for its artistic heritage, signature architecture, and sophisticated canal system:
---
Rotterdam: A little over an hour by train
When I exited the train station, I honestly felt as if I'd stepped into the future. And this feeling was nothing but heightened throughout my time exploring Rotterdam. In general, the Dutch architecture is romantic; but if you're a real lover of architecture, then you need to experience Rotterdam as it's a hub for strange-yet-intriguing buildings. The must-sees are as follows: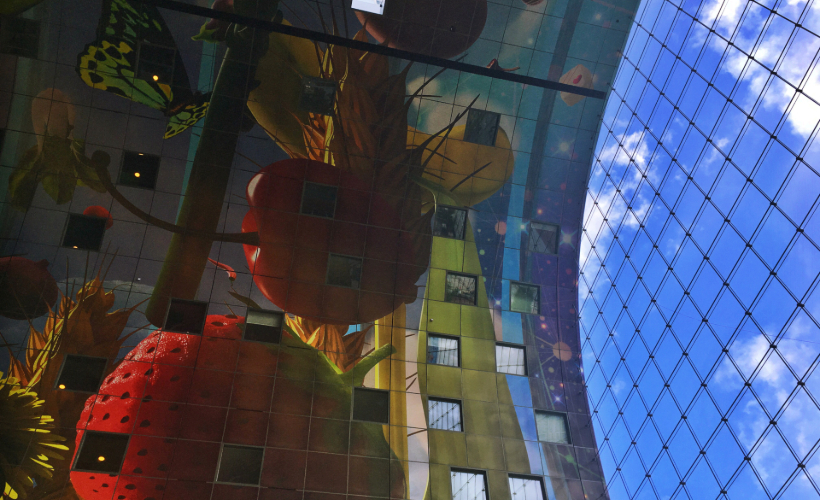 1. De Markthal
With a ceiling decorated with hyper-realistic photos of nature, the architecture is noteworthy, although most people don't actually visit for that reason. De Markthal (or Market Hall) is heaven for foodies. It's basically a massive market with a variety of international cuisine on offer inside a futuristic hall. So you can indulge in just about anything from desserts to bitterballen (deep-fried meat snack).
2. Cube houses
This curious and magnificent set of innovative houses is probably the most famous architectural feature in Rotterdam. Yes, they're private homes, and because residents would so often be disturbed by curious onlookers, one owner decided to open a 'show cube'. Entrance into this museum costs EUR3 (approximately USD3.30), but if you don't feel like spending money, you can walk around the complex for free, admiring the sharp angles and unique yellow hue.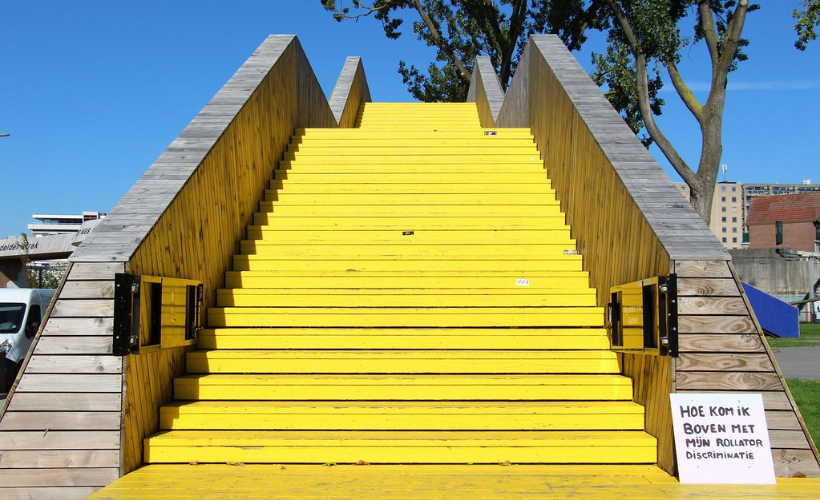 3. Luchtsingel
Speaking of yellow, the Luchtsingel Bridge is entirely that. If you have extra time, then you should definitely stroll through this pedestrian bridge for fun. It connects three districts in the heart of the city to each other. As expected, it's more than your usual bridge, as the style in which it was built consists of sharp angles typical to Rotterdam. There's also a playground, so if you're travelling with kids, you can have a moment of quiet while they have a moment of the opposite.
Cover photo of the Cubic Houses by ddzphoto via Pixabay
Get all the latest travel stories from Zafigo. Follow us on Facebook, Twitter, and Instagram.