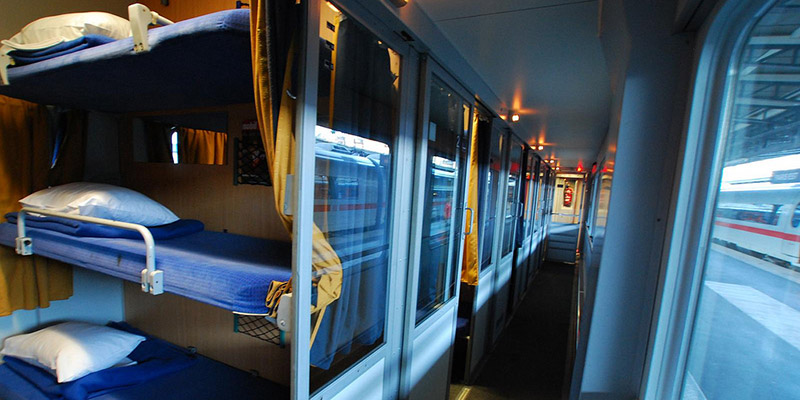 Nothing gets my pulse racing faster than the sound of a train whistle. I may not know where the train is headed, but knowing that it's nearby and about to leave soon for wherever gets me excited.
Train travel presents a different set of issues: whether you're indulging in a luxurious single cabin or rocking back and forth in a shaky third class seater, your train will be your home for more than just a few hours. You could be cut off from the rest of the world and you have no idea what your fellow passengers will be like.
Being confined in a cylindrical object for days with a motley crew of passengers may be off-putting for many women, but a long-distance journey doesn't have to be dangerous. The longest non-stop train ride I've ever been on is 87 hours. I've never had a bad experience on the journeys I've been on and –knock on wood- let's hope neither will you.
Here's a list of safety tips for women about to embark on a long train journey:
Choose your countries
Some countries aren't as safe as others, let's be honest to ourselves. We've all got reasons for not wanting to go to certain places, and that's absolutely fine.
If you're alone, not an experienced traveller and absolutely must take a train ride in a dangerous country, go on a train tour. It's logical to assume that you'll be safe on a tour in a country with a less-than favourable safety record concerning travellers or women. If you're an experienced globetrotter you don't need to limit yourself but keep updated on the latest travel news in the region and country you'll be visiting.
If you're unsure about safety, be picky with your carriages
Train carriages, whether they're sleepers or regular ones with seats, are usually divided into first, second and third class.
Sleeper carriages, depending on class, are in turn divided into compartments with six, four or two bunks. I've taken trains around Western Europe and in countries like Russia, Mongolia, China, Myanmar, Vietnam and Malaysia, and I can safely say that if you prefer a compartment with a lockable door, you would need to choose the more expensive class of sleepers on the more expensive trains.
Don't show off your gadgets
I've slept in second and third class sleeper carriages, both with and without doors and have found third class completely fine. You might want to remember, however, that in certain parts of the world you are likely to attract more attention in open-plan lower class carriages if you keep fiddling with your expensive gadgets during the journey.
Even if you're in an enclosed compartment, if you're not sure about the passengers around you, don't take out your gadgets. Having said that, I recall travelling through China once and switching on my netbook (yes, I actually had one of those) to finish some work. Two Chinese men sitting nearby looked on with great interest and within minutes, fished out their own laptops. Obviously, they only felt comfortable doing so after I did.
Luggage storage
You'll see a variety of storage options – overhead racks, under the lower sleeper bunk or next to the upper sleeper bunk. As long as you keep your valuables close to you, you shouldn't have to worry about anyone going through your main piece of luggage, even in open-plan carriages. Once again, if you're really concerned, the more expensive sleepers will have lockable doors.
Keeping yourself safe
If you're a seasoned solo traveller, you'll know that there are more good people than bad in this world. You will also realise that solo female travellers stand out. To take advantage of this I suggest the following: if you're in second or first class, make friends with your carriage attendant. Make sure the attendant knows where your bunk is and that you're travelling alone. When they remember you, they will look out for you. Except for a few grumpy ones, all the train attendants I've met have been wonderful.
If you're in a lower class sleeper and don't have the benefit of personalised attention, make friends with the people around you. Listen to your instincts. You'll feel safer when you know someone else – most of the time, safety is psychological. Keep an eye on their belongings when they're away from their bunks and hopefully they'll do the same.
General tips on staying comfortable
Being safe also means being ready for anything. Unless you're travelling on the Eastern & Oriental Express, dressing up for dinner isn't necessary. You're sleeping on a train, so wear something comfortable (lounge or track pants and flip flops). Keep your important documents and belongings close to you so that if you need to get out of the train quickly, they're within easy reach.
If you love travelling slowly and over long distances, trains are the best way to travel. Long-distance train travel poses a few challenges, but with planning and common sense, there's nothing that you can't overcome.
###
Articles you may also like:
KL to Singapore: An overnight train adventure
Couchsurfing: 5 essential tips
Read more tips on travelling better and safer here