It's 8:30pm as we pull up to this huge, ancient mansion, and like a scene from a horror movie, the road leading up is steep, dark, and perilous. But it was actually not all that scary.
The kids are getting increasingly hungry in the backseat, and I'm the more anxious one. But we're finally where we want to get to, and as I open the door, I'm greeted with a blast of cool, stiff air in my face — it's at this point I thank myself for bringing jackets along.
The beginning of our Gunung Jerai adventure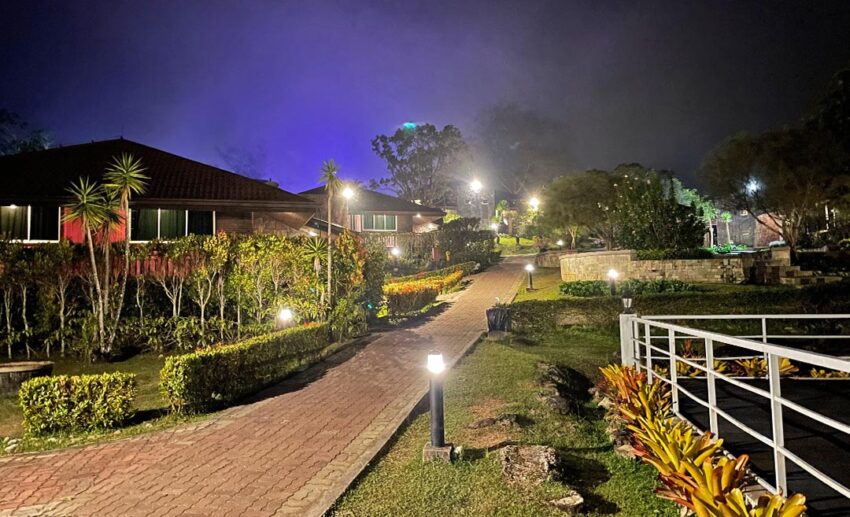 As I walk to the reception area of The Jerai Hill Resort, one of the friendly staff welcomes me with a warm smile. They very swiftly get us through the check-in process before escorting us to the parking lot. There, a nice chap greets us in what— I think — is a Perodua Kenari, and before we know it, he's loading our gazillion bags and my husband into his nippy steed. The kids and I take this opportunity to go on a pleasant, slow stroll to our rooms. It's at this precise moment I fall in love with Jerai Hill.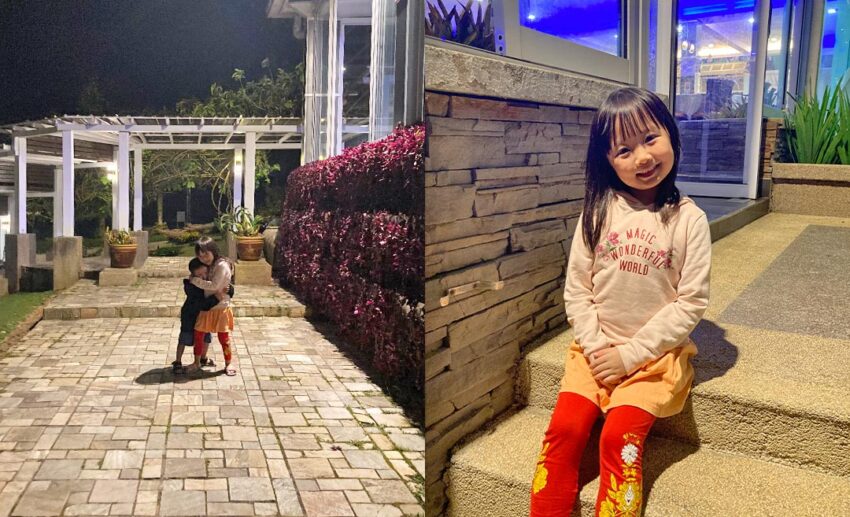 After unpacking and semi-settling into our cosy room, we head to the dining area for a late dinner. The restaurant is still open at 9:10pm, but it was close to the last call at the bar, so we place our pizza order and find a table by the window to enjoy the cool night breeze. The kids get restless and want to go outside (and possibly freeze to death), so I make sure to layer them up as much as possible to run around in the fresh air.
Food, food, delicious food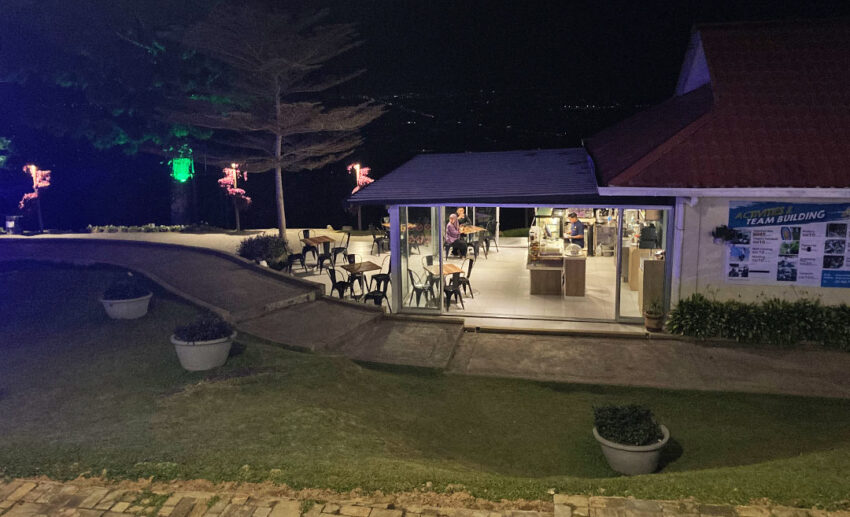 The night view temporarily makes us forget about our growling tummies and tiredness from the long trip we'd just made across the border. I've never seen the sea before from atop such a high hill!
Well, it isn't so much of the ocean we see at night, but more of organised green lights lining the seashore. We're told these are the fishing boats that were docked there. Next to the diner is a lovely, cosy cafe serving pastries, coffee, and cakes. Definitely something to explore during our time here!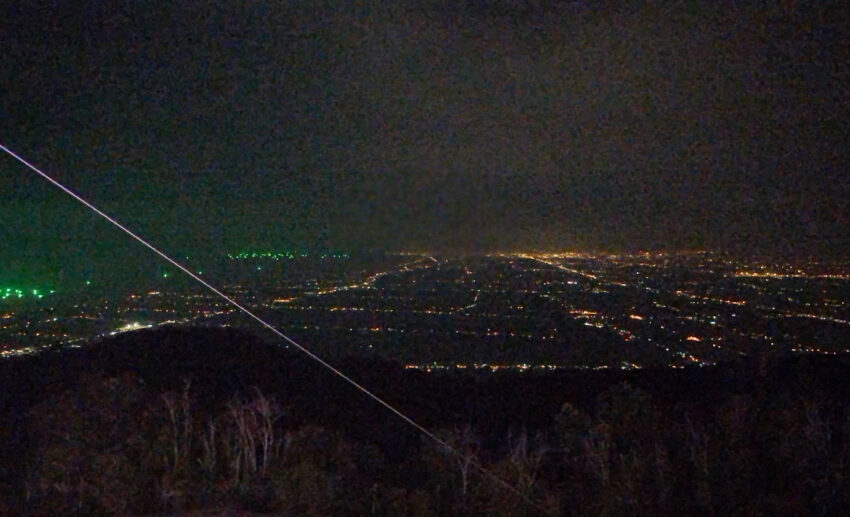 Finally, our dinner arrives, and we're served one of the cheesiest pizzas ever! The cheese pull is as decadent as the pizza itself and it's a classic Hawaiian pizza done right. The four of us wolf down the pizza without a sound, and everyone has quickly has a happy, content look plastered on their face.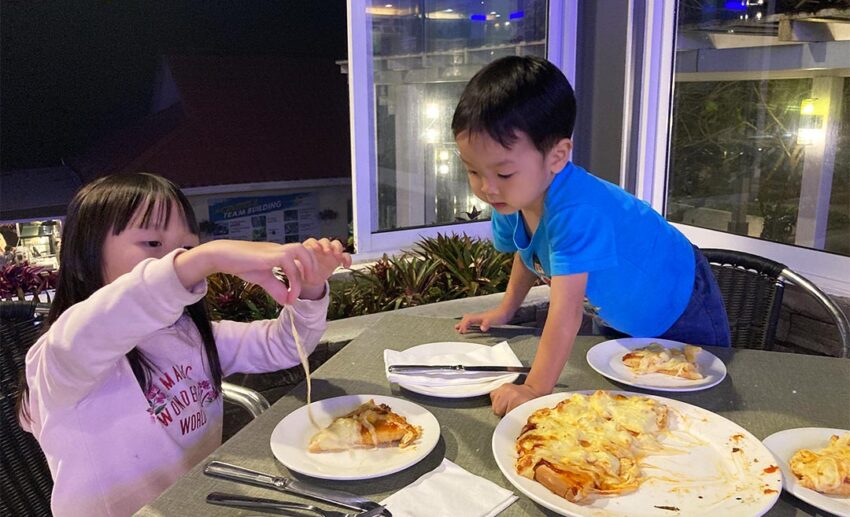 We spend the rest of the restaurant's opening minutes soaking in the view while letting the pizza settle before returning to our room for the night. During our walk back, we stumble across a playground and the property's pools, which has us assuring the kids we'll check them out the next day.
Our humble abode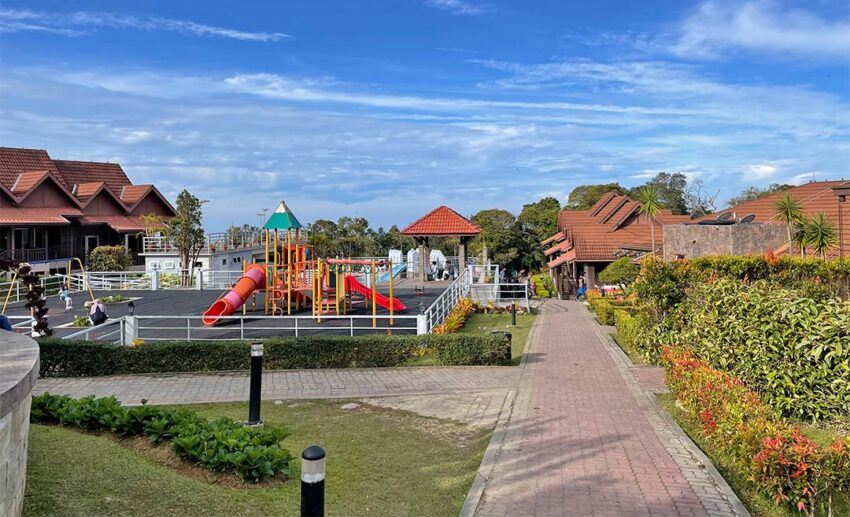 The room doesn't have a fan, and honestly, it doesn't need one! The weather is cold enough, and we even need to snuggle under the blankets to get all warm and cosy. Our rooms have large enough beds for our family of four to sleep comfortably; perfect for the rest that our bodies desperately need after a long journey from Thailand.
The morning brings with it plenty of sunshine, and I can't stress enough on the cool air that we experienced throughout our stay. There isn't a single moment where we feel sticky or sweaty, which certainly does put everyone in a better mood, especially the kiddos.
Breakfast for two adults is part of the package, and we only need to make a top-up for our daughter who's above five years old as if they're under five, then kids eat for free. The place is bustling with day visitors and cyclists. Crowds come in to walk around, while cyclists come up for a refill or to rest before making their way back down the hill.
With the sun high in the sky and the day clear as crystal, the view is beyond breathtaking! There's a clear dividing line between the sea and land. On the land side, paddy fields stretch as far as the eye can see, all while the sea mirrors its endlessness. One can only be amazed by nature's gift.
Getting to know Gunung Jerai a bit more
But besides the beautiful view and crisp air, there's more to note about this mountain less travelled. Gunung Jerai is a mountain located in the state of Kedah, and stands at a height of 1,217 metres. It's a popular tourist destination for its scenic views and outdoor activities, as proven by the number of people who show up during our visit.
At the summit are a telecommunications tower and a restaurant, where visitors can enjoy a meal while taking in the panoramic views of the surrounding hills, valleys, and coastline. There are also several small stalls selling souvenirs and snacks.
The mountain is covered in dense tropical rainforest and is home to a diverse range of flora and fauna, including rare species of birds and insects. Several hiking trails lead to the summit.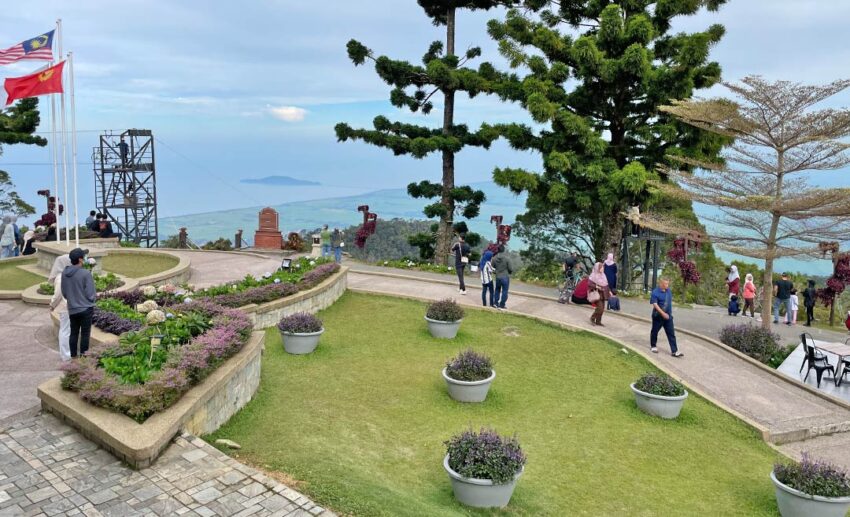 Dated as far back as the 5th century, Gunung Jerai's height relative to the surrounding area, as well as its geographically strategic location at the northern entrance to the Straits of Malacca, made it the ideal navigation beacon for Indian traders and seafarers travelling east from the Indian continent to trade with Southeast Asia and China.
The area was also significant to those pursuing overland access from the West to the East Coast of the Malay Peninsula, which opens onto the South China Sea. As a strategic port of call, Gunung Jerai was frequently visited by Chinese and South Indian traders who brought their culture and religion with them.
Overall, Gunung Jerai offers a unique combination of natural beauty, outdoor adventure, and cultural attractions, making it a must-visit destination for anyone travelling to Malaysia's Kedah region.
Around the resort, many activities are set up for people to experience, like the flying fox and tightrope cycling. Other attractions, like the strawberry farm, bring in crowds from neighbouring towns too.
You scream, I scream, we all scream for ice-cream
The mood is festive and fun despite the growing crowds mooching around. We take a stroll through the place, and of course, end up at the playground — as promised. The kids beg for pool time, but the weather doesn't favour the activity, so it's playground time all the way till it's time to pack and go.
Ah, but only after a stop by the strawberry farm to get some authentic strawberry ice cream and popsicles! Here's us enjoying it on our verandah, hoping that time will slow down before we have to say goodbye to this gem of a place.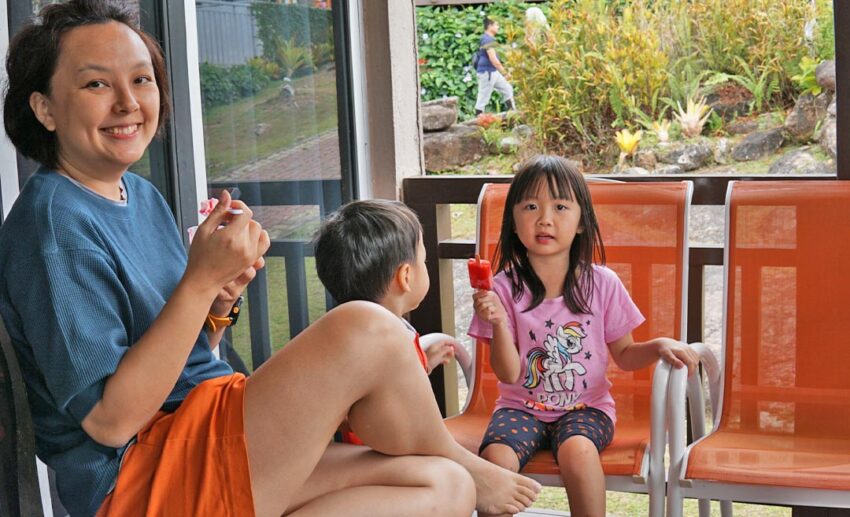 The same helpful chap in his Perodua Kenari pulls up outside our room to cart our bags and my husband to our car while the kids and I soak in every last bit of our stay while dragging our feet to the car park. Remember that nice little cafe near the diner we saw the night before? After checking out and returning the key, we have to get one more coffee and doughnut for the road.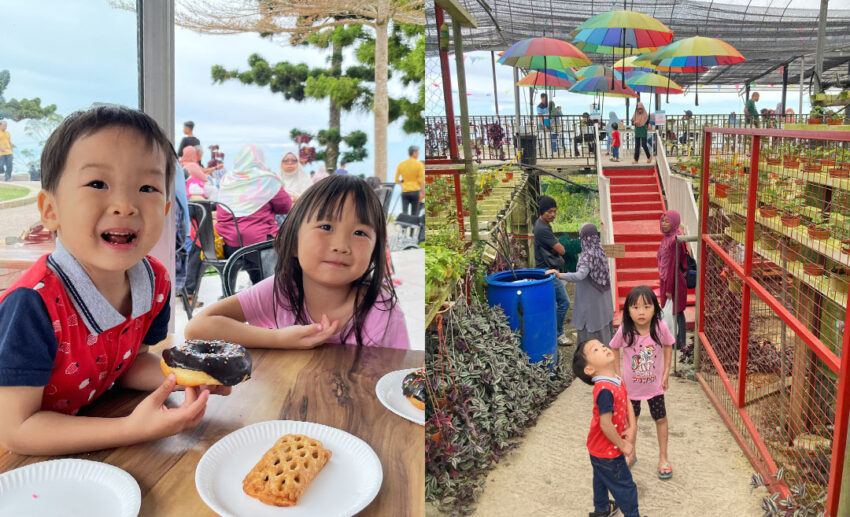 Truth be told, prior to this trip, I'd never heard of Jerai Hill, which is another name for Gunung Jerai — let alone this charming resort. Folks from Kuala Lumpur, or even Penangites and Kedahans seem to keep it under wraps quite well too, which is a shame and a blessing at the same time. Should we ever we travel this far north again, Jerai Hill Resort is most definitely becoming a pitstop.
*All images courtesy of author.