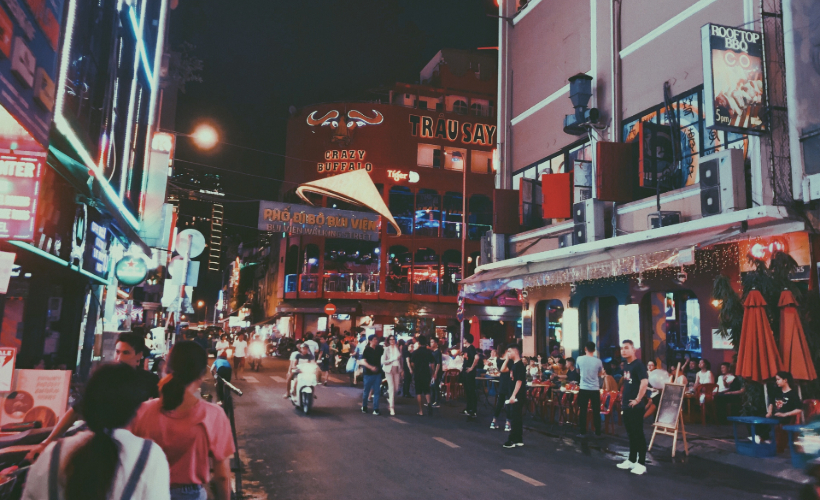 Ho Chi Minh City (HCMC) is one of Vietnam's largest and most famous cities with tourists flocking in from all around the world. Some of its most famous locations include the Notre Dame Cathedral, Central Post Office, The Independence Palace, and its nearby beaches. In recent years, the gentrified Book Street and Walking Street have captivated the attention of not only tourists but also many young Vietnamese.
The growth of tourism in the city encourages the increase of food and retail businesses. Unfortunately, many of them haven't been noticed due to their discreet locations. During my recent trip to Vietnam, I was able to discover some unique restaurants with great food, exciting features, that I believe are true hidden gems in the heart of HCMC.
Gummy
Despite the restaurant's classic appearance, Gummy has served more modern fare that combines Western and Vietnamese cuisines. The restaurant's speciality – chicken steak – comes in many renditions with different sauces and sides. My favourite was the cheesy chicken steak. Other dishes such as spaghetti, potato dishes, salad, and desserts are also delicious. With regards to serving sizes, the food arrives in Vietnamese portions and can be enjoyed individually or shared among two people.
My sister and her friends discovered this lovely restaurant when they were in high school. Located on the second and third floors of an old apartment building, Gummy is hidden from the noisy and hectic lifestyle of HCMC. The restaurant is a perfect hideaway for those who enjoy the quietness and beautiful views of the city from afar.
Gummy's furniture and decoration are as unique as its location; they are antique objects and recycled items. The tables, for example, used to be sewing machine stands with the pedal foot and other mechanisms still attached while the menus are labels of antique wine bottles. Even the flooring is Marrakesh ceramic tiles that were commonly used in Vietnamese houses from the late 1900s to early 2000s.
Gummy: 99/103B Võ Văn Tần Street, Ward 6, District 3, Hồ Chí Minh City, Vietnam
Mitau Restaurant
Located in a tiny alley intersecting with Hai Bà Trưng Street, Mitau attracts food explorers and long-term customers. My family learned of Mitau Restaurant because the owner is my mother's former schoolteacher and it really is special. Near the entrance of the restaurant are several Western instruments including a piano, guitars, a record player, and a saxophone. The restaurant itself is inside a two-storey Vietnamese-style house with white granite floors and wooden furniture.
The restaurant's menu features regional cuisine from Huế, the old capital of the dynasty era. Huế cuisine mainly consists of pastries called Bánh Huế that are made from steamed sticky rice flour. Huế dishes are bite-size, savoury, filling, and perfect for sharing.
However, what sets Mitau apart is its homemade speciality – mứt. Mứt is a type of sweet made from dried fruits. Mitau is famous for soursop mứt and sugared ginger. It'd be a waste to visit Mitau and not get a few packs of mứt and ginger; they're great treats because they're healthier than regular candies. They're also perfect gifts for family and friends.
Mitau Restaurant: 30/2 Hai Bà Trưng Street, Bến Nghé, Hồ Chí Minh City, Vietnam
Pizza 4P's
Although located inside one of the most famous buildings in HCMC, Pizza 4P'S is still very underrated for what it offers. The first time I visited Pizza 4P's was at random as my friends and I couldn't decide on what to eat. Although the restaurant was bustling, we still managed to get a corner table with a beautiful view of the city's landscape.
The philosophy behind Pizza 4P's name and business is special. Its name represents the four passions that make the company unique: the homemade cheese, the farm-to-table experience, the design of the restaurant and food, and the spirit of Japanese hospitality. 4P's is also short for 'Four Peace', representing the restaurant's goals, which is creating a luxurious and elegant dining experience for their customers while contributing to a clean, minimum-waste environment. More information about Pizza 4P's, their farm, and events are available on their website.
The restaurant's speciality is Japanese-style pizza, but they also have other delectable items such as pasta, salad, and a cocktail menu. At Pizza 4P's, a three-course, sharable dinner with drinks cost roughly 800,000 VND (approximately USD35). Compared to how much a similar restaurant in the US costs, an experience at Pizza 4P's is a steal!
Pizza 4P's Saigon Centre: 01-02, 6th Floor, Saigon Centre Shopping Mall, 65 Lê Lợi Street, Bến Nghé, District 1, Hồ Chí Minh City, Vietnam
With the rapid growth of tourism in Vietnam, there will be more new exciting locations for visitors to explore and enjoy. My dad always says, "You don't need anything when you visit Vietnam; you only need money." His statement may be an exaggeration, but Vietnam is indeed an affordable place to visit and spend your vacation. Most things in Vietnam cost less than in other countries, which makes it rank high among the most popular destinations for tourism. The next time you travel to HCMC, stop by these restaurants to enjoy unique dining experiences.
Get all the latest travel stories from Zafigo. Follow us on Facebook, Twitter, and Instagram.