I[/dopcap]n Vietnam, one of the most popular modes of transportation is the scooter, as it allows riders to dodge standstill traffic and get from Point A to Point B quickly.
But if you have the time, and truly enjoy getting to know a place by exploring its nooks and crannies, then cycling is the way to go. You'll get a more up-close and personal experience, whether it's through a city's buzzing, maze-like streets or along stretches of verdant countryside.
For a fun jaunt through the back roads of Vietnam, Hanoi and Ho Chi Minh City are excellent starting points, as both cities offer cycling routes with historical sites and charming scenery that are suitable for beginners.
While routes within the cities are safe to cycle on your own, it's better to join a tour group if you wish to explore beyond city boundaries. There are many full-day or half-day tours available, featuring a variety of itineraries for you to choose from. Here are our picks for top cycling routes in and around these cities:
Hanoi
Vietnam's capital is filled with a heady mix of Chinese and French influences alongside ancient temples and towering pagodas. The best way to navigate the narrow streets of the lively Old Quarter is on a bicycle, while the tree-lined paths of West Lake (Ho Tay Lake) and Sword Lake (Hoan Kiem Lake) offer a lovely escape from the busy, traffic-jammed roads.
The cost of renting a bicycle is around USD3 per day from a hotel or tourist cafe. Your bike will probably not come with a helmet, but do ask around for a place that offers one.
West Lake and Three Bridges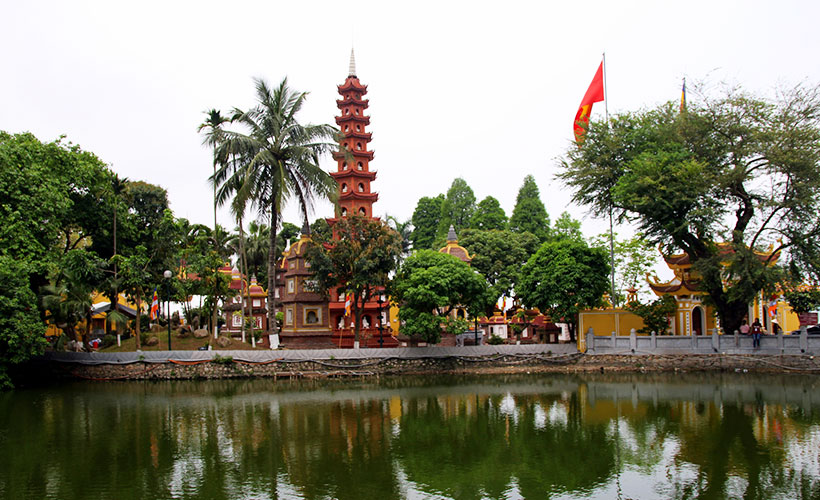 This is a popular route to cycle, as it's pretty easy and goes past corn fields and the Red River flood plains. This is one that you can do with the help of Google Maps, as it follows the main road and takes you over three bridges. You may have to contend with some motorcycles, but trucks aren't allowed on the elevated river road, and the bridges have separate lanes for motorcycles and bicycles.
Distance: 40 kilometres
Difficulty Level: Easy
Bat Trang Ceramic Village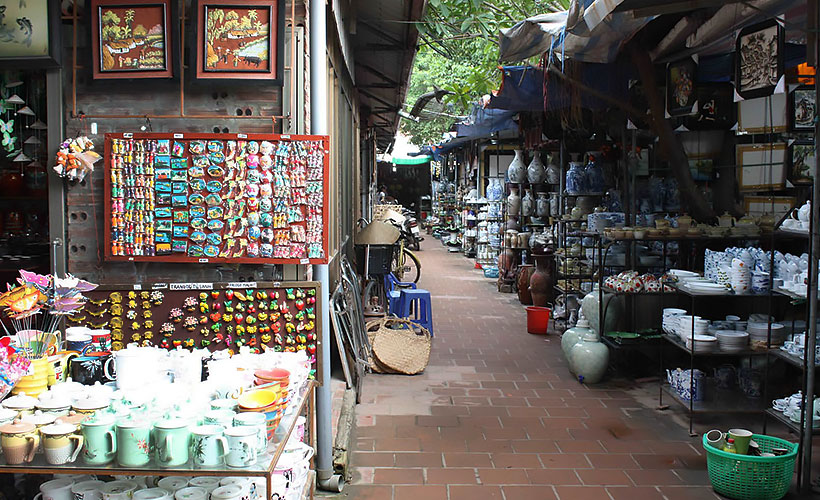 Just south of Hanoi on the east bank of the Red River is the centuries-old Bat Trang Ceramic Village. The route gives you the chance to savour the peaceful countryside and zip past paddy fields and corn fields.
From the city centre, cross Long Bien Bridge, the city's first steel bridge spanning the Red River, which was built by the French. You'll ride along the Red River dyke and through quaint rural villages. At the Bat Trang, you can watch residents ply their trade, expertly moulding pottery and creating beautiful ceramic handicrafts, which you can buy.
Distance: 30 kilometres
Difficulty Level: Easy
Duong Lam Ancient Village
Join a cycling tour and visit Duong Lam, a village that's been left relatively untouched by the march of time. The usual tour itinerary will have you taking a vehicle to the village, which is still mainly agricultural. Spend some time cycling around and viewing the ancient red-bricked houses, which are made from laterite and mud. From there, you can cycle to Mong Phu Temple, dedicated to national heroes King Ngo Quyen and King Phung Hung, and the 15th century Mia Pagoda nearby.
Distance: 3 kilometres
Difficulty Level: Easy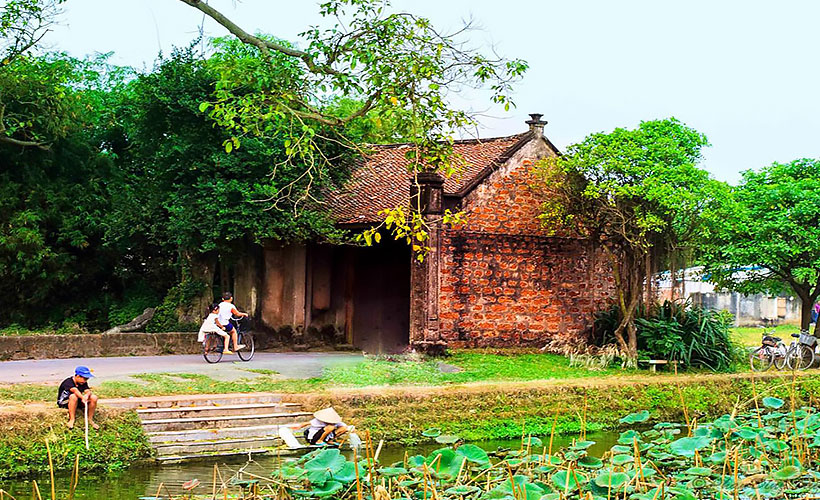 Ho Chi Minh City
Also known as Saigon, Ho Chi Minh City is Vietnam's largest city. Seated in the south, the city is known for its French colonial architecture, which should be appreciated from the seat of a bike, so you can take your time admiring the buildings. The cost of renting a bicycle is usually between VND1.5 million to 3 million (approximately USD65-130), depending on the brand and type of bicycle.
You can easily pick one among the bicycle rental shops on Pham Ngu Lao Street in District 1, and will usually have to pay a minimum deposit. You may also need to present a photocopy of a valid government-issued ID.
Around the city
Get a guided tour around Ho Chi Minh City and explore its streets on a bike as you learn its history from your tour guide. You'll get to see the famous sights, such as the Reunification Palace, the Saigon Notre-Dame Basilica and the General Post Office.
Depending on the tour you choose, you may also get to ride around Chinatown, with a stop at Binh Tay Market for a bit of shopping. Don't forget to try some favourite local foods, such as bahn mi or pho, followed by a cup of the famed Vietnamese coffee.
Distance: 10-15 kilometres
Difficulty Level: Easy
Cu Chi Tunnels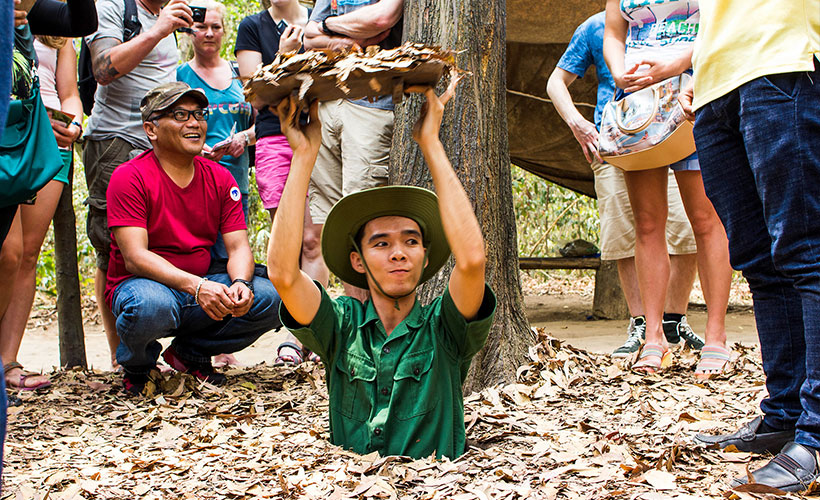 Located some 65 kilometers northwest of Ho Chi Minh City is a network of underground tunnels known as the Cu Chi Tunnels. The labyrinthine network was dug by the Viet Cong during the Vietnam War and used by guerrilla fighters to hide and escape from their adversaries.
It's recommended that you join a tour for this one, as most tour operators will take you to the nearby Tan Phu Trung Village as your starting point. After riding on a mixture of dirt tracks and paved roads through rubber plantations and rural villages, you'll get to venture into the underground tunnels that lie some three metres beneath the surface.
Distance: 40 kilometres
Difficulty Level: Moderate
Vung Tau Beach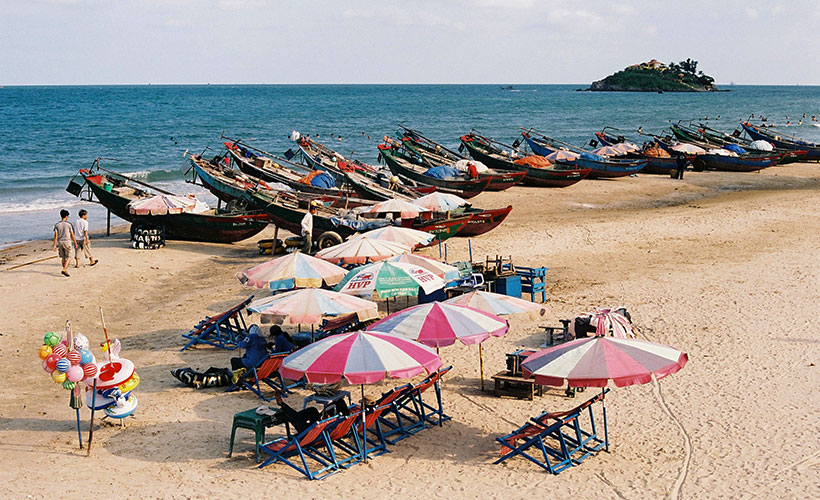 Vung Tau is a popular weekend getaway for residents of Ho Chi Minh City for a relaxing beach retreat, so it's recommended that you take this full-day trip over a weekday.
Cycle along country roads lined with rubber plantations and tapioca farms before you reach the coastal city of Vung Tau, where you can take in the panoramic view of the South China Sea from the beach. While you're there, consider taking a short hike up Nho Mountain, where you'll get an even better view.
Distance: 50 kilometres
Difficulty Level: Moderate

This story was originally published on Traveloka.
Zafigo republished this story in full with permission from the author to hopefully bring the story and the author to a larger audience, simply because good authors and stories should be read by as many people as possible! If you are keen on Zafigo republishing your stories that will be of interest and useful to women travellers especially in Asia and the Middle East, please get in touch with us at info@zafigo.com.
Get all the latest travel stories from Zafigo. Follow us on Facebook, Twitter, and Instagram.