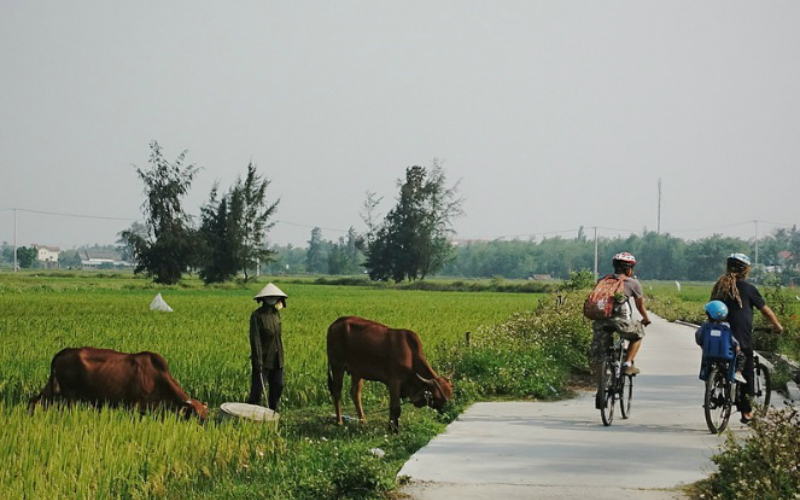 "Your kids are very young! Are you sure they can survive it, especially being outdoors and with the heat?" my bike tour guide, Quan, asked with a concerned look on his face. He was probably worried about having to deal with crying and fussing kids – aged 2.5 years and 11 months – for the next four hours.
I assured him, "Don't worry, they are happy being outdoors and don't mind heat and the sun at all." Actually the kids haven't had their afternoon nap but I thought that was best kept a secret.
"And you are going cycling wearing a skirt?" he asked as I hopped on to test my bicycle. "Yes of course, it's better ventilation and less hot. I knew a woman who cycled long distance in a sarong!" I replied. He tried to sound enthusiastic, but his sigh was barely concealed.
It was our first family trip abroad and I had signed us up for a 4-hour private cycling tour that promised to take us through fishing villages by the riverside, miles of rice fields, and a brief traffic-dodging (both human and motorbikes) excursion through the narrow roads of old Hoi An town in central Vietnam. Two bicycles to fit a family of four? Yes; our elder daughter had her own child seat and helmet provided by the tour company, and rode with my husband. My son, on the other hand, was safely strapped on my back with a baby carrier, like a backpack.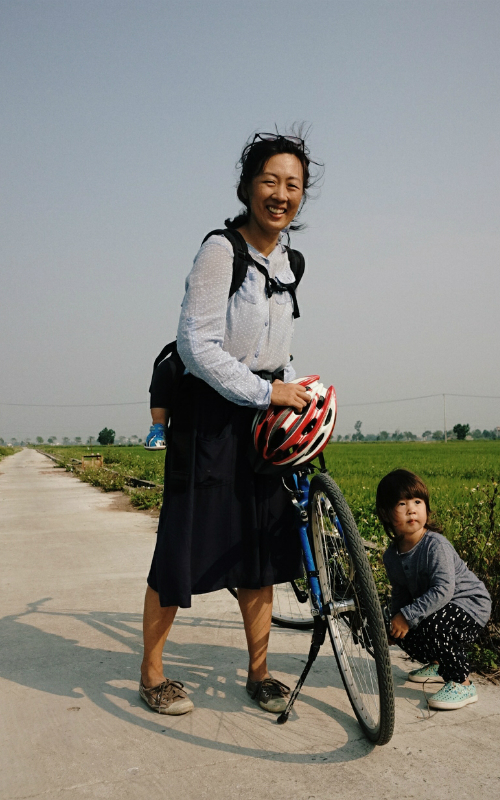 When we arrived at a traditional farming village, I was slightly disappointed to see nobody out tending their farm. There were neat parcels of local herbs growing, while algae from a nearby lake was buried into the soil as fertiliser. Since we also grow our own food at home, we were really looking forward to learn more from the villagers. My husband spotted an elderly man squatting at his vegetable patch. He asked Quan to be our translator so we could have a chat with him, and maybe even get some planting seeds. "Errr, are you sure you want to do that? We don't do that here…" Once again, he was pushed out of his usual guide expectations.
We started chatting with the gentleman about the variety of herbs he grew when his wife emerged, grinning from ear to ear. She flashed her toothless smile and giggled loudly as she observed my daughter, happily seated on her father's shoulders, while he pranced around the herbs. Her laughter become louder when, upon turning around to look at my son, she was amused to see him sleeping soundly on my back – lulled into slumber after being windswept and rocked as we pedalled our way there.
I realise that we actually didn't need a translator, we were already having a conversation. Still amused by our little family, they giggled more while guiding us through their patch, hand in hand. I asked about their age; he's 94 while she's 102 years old, and they've been married for 70 years! They tend to their farm on their own. Their children, grandchildren and great-grandchildren are now living in bigger towns.
We said goodbye to the cheerful couple and continued on our way, relishing the soothing scenery relaxed, rural pace of Vietnam. We saw cattle farmers watching their herd of cows while resting on their parked motorbikes. At the small farms, iconic triangle straw hats peeked through tall rice stalks as farmers tended to their plots, while ducks waddled happily at the edge of the fields.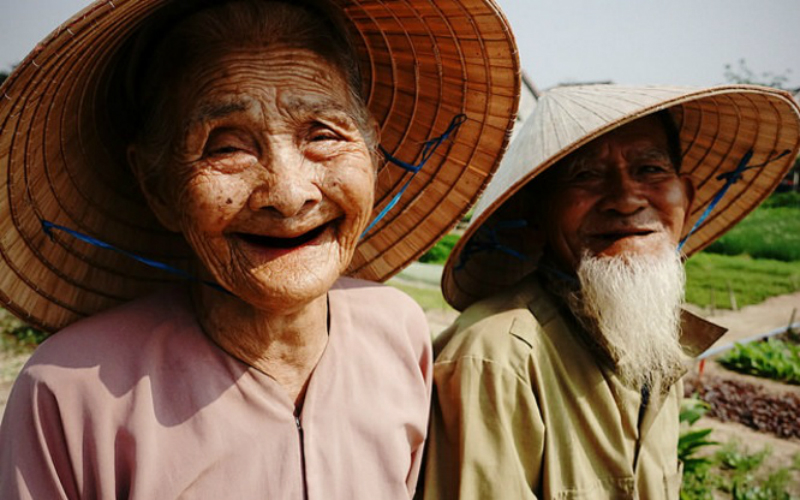 We cycled in a relaxed pace, stopping every now and then to sip water and have little snack times for our children. As most of the cycling path was relatively flat, it was a leisurely ride which didn't bring me close to panting or cause any muscle pumps. Wearing a skirt turned out to be a really good idea, as it provided good ventilation, especially during the hotter parts of the trip. However, if the path did include some off road and rougher terrain, the skirt wouldn't have been the best wardrobe!
Before the trip, my biggest concern was that my two toddlers who would get increasingly fussy. Fortunately, my son managed to nap sweetly on my back in the first half of the ride. He would tilt his face over to catch the gentle breeze on his face as we cycled.
In our last hour of cycling, we reached the bustling town of Hoi An. The atmosphere couldn't be more contrasted from our earlier paths through the rice fields in the outskirts, where large plains of green were dotted with farmer's homes. By then, my daughter had started to get more uncomfortable with with the heavy traffic of motorbikes, bicycles and pedestrians whizzing past us, and asked to be carried on her father's back. Luckily, a pitstop was just around the corner, where ca phe sua da (Vietnamese iced coffee) and fresh coconut water greeted us.
As we rejuvenated with the cold drinks, I was glad that we had opted for a private tour. Hoi An offers many types of cycling tours, including group excursions, which are of course cheaper. But being on a private tour meant that we could stop whenever we wished or needed to.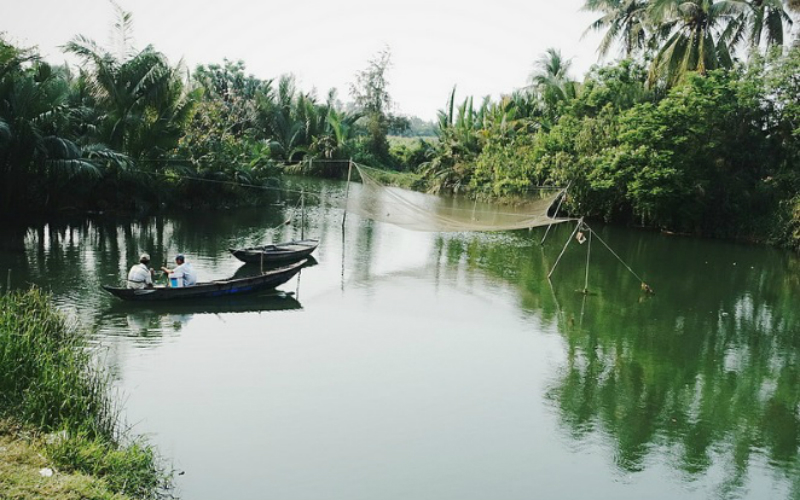 When my daughter spotted a grazing buffalo, we stopped, got off our bicycles, and went closer to say hello. She had a million questions about her newfound friend. "Why does he have the rope in his nose? Why is he tied up to the rope? Why does he have big horns? Why is the bird sitting on his back?" Each question was thoroughly answered to her satisfaction. This, for me, is the gem of travelling slow on two wheels which we would certainly miss if we had zipped around in a car.
Children learn so well from full sensory experiences compared to books and visuals, and travelling is a great learning experience for them – and for adults too. My daughter recalls her cycling adventure in Vietnam fondly and would tell stories of that day, complete with details on the buffaloes, cows and rice fields.
What have I learned as a parent? It taught me that no adventure is too much for my young ones. That trip was the first step on the right path towards more adventures together as a family. As long as I make sure the conditions are suitable and safe for all of us, we will be off again.
To answer Quan's question again, no, the kids were not too young for a 25km cycling tour. In fact, my children were the ones who had the most memorable time.
Tips for parents
If you're inspired by Amy's cycling adventure and would like to do the same with your kids, these are her top tips: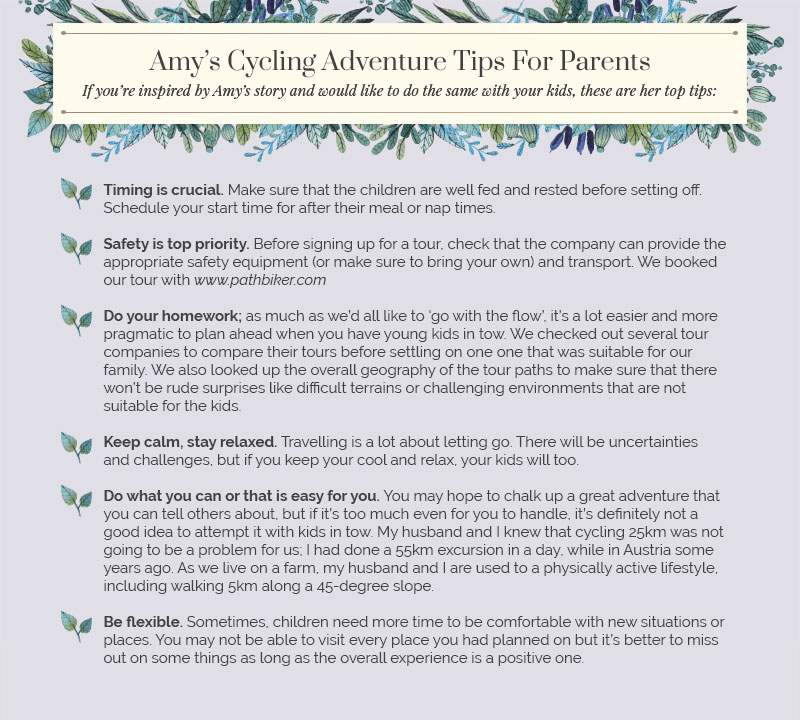 Read Next: