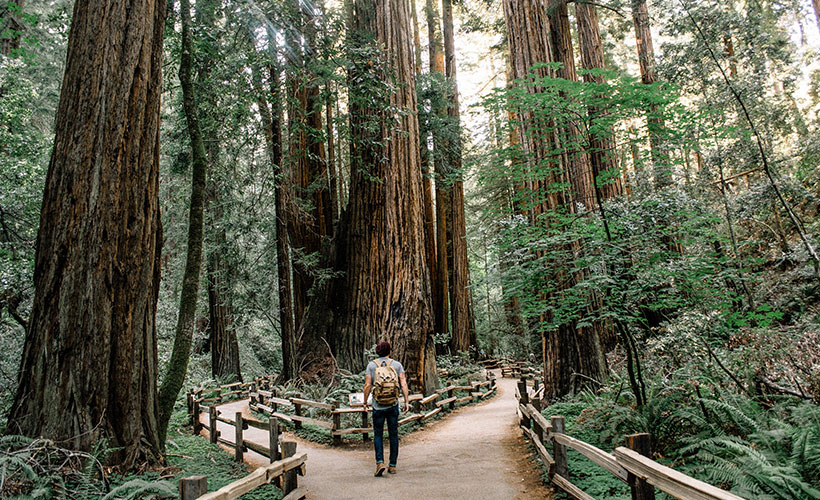 Sometimes, lying on the beach to soak up the goodness that is vitamin sea is all we need during a holiday, but some places have views that are too beautiful to ignore. And the best way to see them is on foot and possibly while being drenched in plenty of sweat. Hiking might not be for everyone, but if you're willing to try it or are an experienced hiker, these are some of our absolute favourite trails around Southeast Asia to consider.
Kelingking Beach Nusa Penida, Indonesia
View this post on Instagram
There are many mountains in Indonesia that test your limits. Want the intensity of a hike and to dip into crystal blue waters right after? Kelingking Beach is the perfect destination for it. To get to the secluded beach, you'd have to make your way down a 400-metre cliffside hike that takes approximately 60 minutes or so. Double that duration on your way up, but the payoff is absolutely worth it. Many reviews have stated that the trail itself is unnerving at first look (the stairs and railings are held up with sticks and bamboo shoots) so be sure to do plenty of research to have a safe and pleasant hike before heading down.
Khao Sok National Park, Thailand
View this post on Instagram
There's plenty to explore and experience at Khao Sok National Park. From bathing elephants, exploring the park on a canoe, to trekking through jungles. You can even relax at a hot spring. Plus, every package includes time for a Thai massage.
It's the perfect R&R stop to satisfy both your adventurous and TLC needs. The tours are between two to four days, but it's not strenuous or challenging. It's family-friendly and accommodating to children, and parents have the option to plan a special itinerary for themselves and the kids to enjoy too! Browse through available packages here.
Mount Kinabalu, Sabah, Malaysia
View this post on Instagram
Climbing the highest peak in Borneo requires perseverance, plenty of stamina, and the ability to be a functioning human being in the wee hours of the morning. It's certainly not for everyone but if catching a stunning sunrise is on your bucket list, you'll get to cross it off here. The hike up Mount Kinabalu is extremely popular and one that can take between two or three days to complete, depending on the package you choose. Prices start from RM1080 to RM1990 (approximately USD260 to USD475), all of which you can browse through here. Then, if you love the water, head over to Semporna.
Batad Rice Terraces, Philippines
View this post on Instagram
Layers of luscious greenery and a beautiful waterfall at the end of the hike? A must-go. Hiking rice fields might not have been something on your list but Batad will convince you to do otherwise. Its landscape is described as heavenly, so it's not difficult to understand why many consider it to be the eighth wonder of the world. Suffice to say, the Philippines has some very unique natural formations, like Taal Lake.
These rice terraces, however, are believed to be over 2,000 years old and is best explored on a multi-day hike. There are plenty of tours available for you to join, and the prices start from approximately USD50 for a three-day hike. This includes transportation, accommodation, and a private guide.
Son Doong Cave, Vietnam
View this post on Instagram

Fancy trekking through a cave that's three million years old? Well, you're going to have to wait a couple of years to have your permit approved because the waiting list is a rather long one. But good things come to those who wait, right? The Son Doong Cave is protected by UNESCO and understandably so, considering it has fossils dating back millions of years. It's about a five-kilometre trail, and only 10 people are allowed to visit every week between February to August. While that may seem like a breeze, the journey to the cave itself takes up to two days but there are guides to help you along the way.
Let us know in the comments where your favourite places to hike are!
Get all the latest travel stories from Zafigo. Follow us on Facebook, Twitter, and Instagram.