Malaysia offers various highland getaways that provide a calm and soothing respite from the city's warmth and congestion; each highland has a distinctive personality to uncover and magnificent views to admire. Genting Highlands, Fraser's Hill, and Cameron Highlands are three of the country's most popular hillside locations, all of which are situated in the state of Pahang.
And while these well-known sites have pleasant weather and gorgeous natural vistas, each comes with its own set of advantages and disadvantages. If you can only organise one weekend trip this year, worry not – we'll help you narrow your best highland journey by weighing everything from convenient distances to exciting tourist spots. Then you can decide if it's worth going!
Kuala Lumpur to Genting Highlands
Distance: Approximately 54.9km, 1 hour and 15 minutes
How to get around: It's recommended to park at Genting Premium Outlet or Awana Sky Central; both locations have ample parking space. From there, you can take a cable car ride up to the summit and begin your fun-filled day. Each attraction at the top is within walking distance, so driving all the way up is unnecessary.
This fascinating little city is located 1,800 feet above sea level and is a famous spot for cool weather. There is also a lot to do here: shopping, fun activities, and plenty of restaurants and cafes to dig into, all surrounded by mountains and romantic mist.
The newly opened Genting Skyworlds Outdoor Theme Park and the Genting Skytropolis Indoor Theme Park is probably the current attraction worth checking out if you're not much of a shopaholic. Fun rides await both adults and children!
Must-visit places
Genting Premium Outlet
A large outdoor shopping mall, Genting Highlands Premium Outlets is somewhere to shop for branded luxury goods at a discounted price. Shop until you drop, and if you need to refuel for energy, there are plenty of food spots.
Genting Skyworlds Theme Park
See the all-new Genting SkyWorlds Theme Park, which features nine distinctively-themed worlds to experience. With over 26 rides available, we're unsure if half a day is enough time spent here. Thrill-seekers, we highly recommend giving Independence Day: Defiance a go.
Skytropolis Indoor Theme Park
Skytropolis Indoor Theme Park, which spans over 400,000 square feet, offers limitless entertainment for the entire family. Choose from over 20 rides, all located in one convenient location.
Genting Highlands to Fraser's Hill
Distance: Approximately 83km, 2 hours and 4 minutes
How to get around: The most convenient way to get around Fraser's Hill is through motorised vehicles. While this highland area is small, getting around on foot is not the easiest, though it's a feat worth trekking at least once in your life.
From Genting, make your way up to another mountain like Fraser's Hill. It is Pahang's hidden jewel set within lush greenery. It preserves much of its ancient day of colonial beauty, imitating an ancient English hamlet frozen in time, thanks to several Tudor-style structures.
Fraser's Hill is a beautiful spot for nature enthusiasts and city folks seeking a calm getaway. There is something for everyone: bird viewing, jungle trekking, white-water rafting, archery, abseiling, golfing, hiking, fishing, and horseback riding. It is also known to be a more quiet spot out of the three highlands in this article.
Must-visit places
The Paddock
Located along Valley Road, The Paddock is where you can enjoy horse-riding activities. Visitors can take turns riding retired racehorses around a small track at affordable rates. If you're not up for a ride, why not admire the scenery by planting yourself on any one of the benches?
Edible garden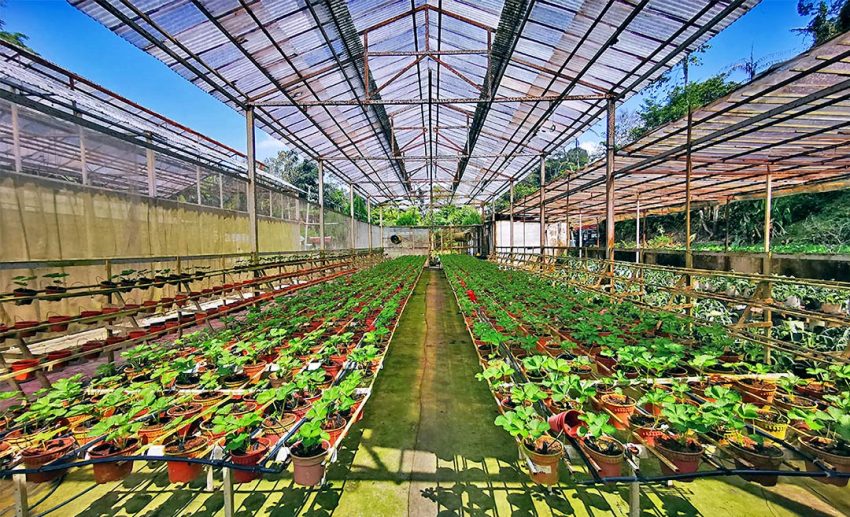 This little agricultural farm features edible wildflowers, spices, seeds, fruits, and vegetation; you can also purchase ornamental plants or flowers, seeds, and even fresh vegetables. Free gardening workshops are available if you're interested in nurturing that green thumb. The entrance is free, so why not make a pit stop during your time at Fraser's Hill?
Allan's Water
Allan's Water is a tiny lake located on Jalan Ampang Road, near the edible garden. From being a lagoon that had fallen into a state of neglect over the decades, it was transformed into a playground for leisure activities, including canoeing and paddling.
Glasshouse Fraser's Hills
Glasshouse Fraser's Hill is the highland's newest attraction, with a collection of different cacti and succulents on display for visitors to fawn over. Another popular draw for tourists to the Hill is the ultra-chic coffee shop, which serves as the township's sole barista-made Western-style coffees.
Strawberry Garden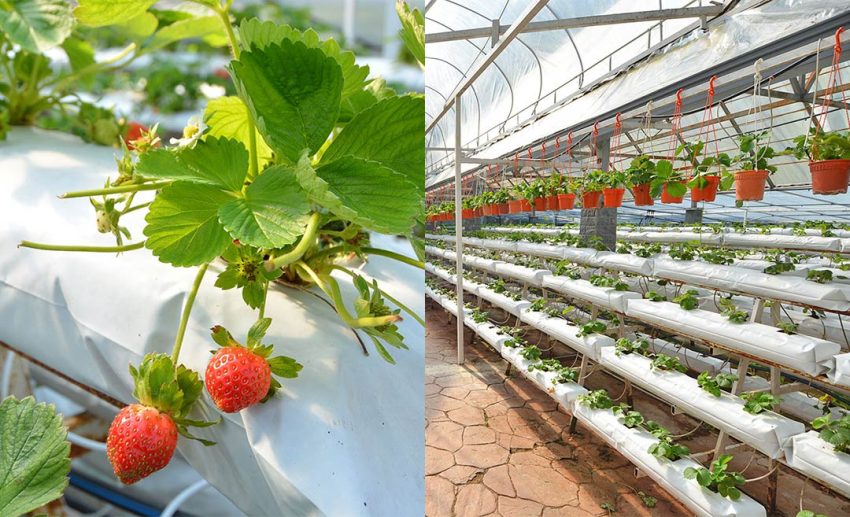 A popular tourist attraction not to be missed when in Fraser's Hill is the Strawberry Garden, which features a cool hydroponic strawberry farm for visitors to pick and collect from for purchase. There's also a small nursery to purchase flowers and plants from, and a cafe that serves local cuisines and snacks like ice cream and scones!
Fraser's Hills to Cameron Highland
Distance: 186.1 kilometres, 3 hours and 33 minutes
How to get around: Driving over the curving roads requires additional caution, and finding a parking place at the outdoor markets and landmarks in Cameron Highlands may be challenging. Most sites are far apart, necessitating the use of Grab or cabs to get about, which is unpleasant if you're touring with children or the elderly.
Explore even further to Cameron Highlands. This location needs no more description – for generations, it has been a favourite weekend getaway spot with plenty of fresh air, rolling tea estates, lovely flower gardens, and strawberry fields. Some of our favourite pastimes here include enjoying a big steamboat supper and harvesting luscious fruit using our bare hands.
In case you didn't realise, Cameron Highlands is also home to a weird but wonderfully gorgeous Mossy Forest that looks like something out of a fairytale! Stashed in the Gunung Brinchang highlands, this alluring secret treasure is ranked fifth on Lonely Planet's list of the World's Most Instagrammable Woodlands.
Must-visit places
BOH Tea Garden
BOH Tea Garden is the biggest and oldest of BOH's tea plantations, encompassing 465 hectares. The visit to the tea centre for a drink of subtle, rich, and freshly brewed tea is a satisfying excursion for every tea enthusiast.
Mossy Forest
The charming Mossy woodland is buried in the mountains of Mount Brinchang and is Cameron Highlands' second tallest peak — indeed a sight for sore eyes. The Mossy Forest, cloaked in a mystical vibe and shrouded in a strange mist, is situated at 2,032 feet above sea level.
Cameron Flora Park
If you've got social media, Flora Park's likely appeared on your feed, and its stunning floral garden is reminiscent of those European destinations. There's also a Flora Hobbit House where you can enjoy a luxurious afternoon tea in. Don't expect Frodo or Sam waiting inside to join you, though.
Kea Farm Market
Kea Farm is a Cameron Highlands farming district situated three kilometres north of Brinchang city. Its primary attraction is a farmer's bazaar along the major highway at its peak, next to the Copthorne Hotel. Merchants set up their stalls from sunrise to dusk every day.
The Sheep Sanctuary
The Sheep Sanctuary is in the heart of the bustling Kea Farm market, and with a large sheep caricature signage, it's unlikely you'll miss it. With about 20 sheep flown all the way from Australia, you can (gently) pet them, feed them, and even take selfies with these cute furballs! A friendly reminder to not smother the sheep as they're timid animals.
Time Tunnel Museum
A place that houses a comprehensive collection of antiques, treasures, and collectables from bygone eras, Time Tunnel, is a unique exhibition not to be missed out. Mr See Kok Shan, a Cameron Highlander with a love for collecting historical items related to the Cameron Highlands' early days and Malaysia's heritage, is responsible for this exhibition. You can consider this one of Malaysia's most weird and wonderful museums.
Jim Thompson Tea Room
The beautiful decor of this tea room at Cameron Highlands Resort emphasises on Old World beauty and the graciousness of the colonial agricultural culture from a golden period. It's also nicknamed after a legendary American who helped restore the Thai silk industry (and even disappeared up in these hills). The a la carte lunch menu includes a range of appetisers, classic courses, and delectable desserts.