It's fair to say that the COVID-19 pandemic brought out a lot of bad things, but it would be untrue to say nothing good came out of it, because so many things did. For example, people showed just how resilient they could be, and businesses had to think outside the box to survive the pandemic.
The pandemic also taught us to slow down and appreciate what we had, and instead of leaving the country to travel, we got into the motion of discovering what was in our own backyard. This time, we chose one of iO Home's many luxurious stays in Kuala Kubu Bharu, Sky Villa.
The drive
A drive from Kuala Lumpur (KL) to Kuala Kubu Bharu should take the average driver around an hour and a bit, though this also depends on the traffic on the highway. Most of our journey was spent on the freeway, and it took us through a scenic drive down some villages before heading up the hills to Sky Villa. Honestly, it was a relaxing drive if we had to compare it to the drive up to Sembayu Villa.
The villa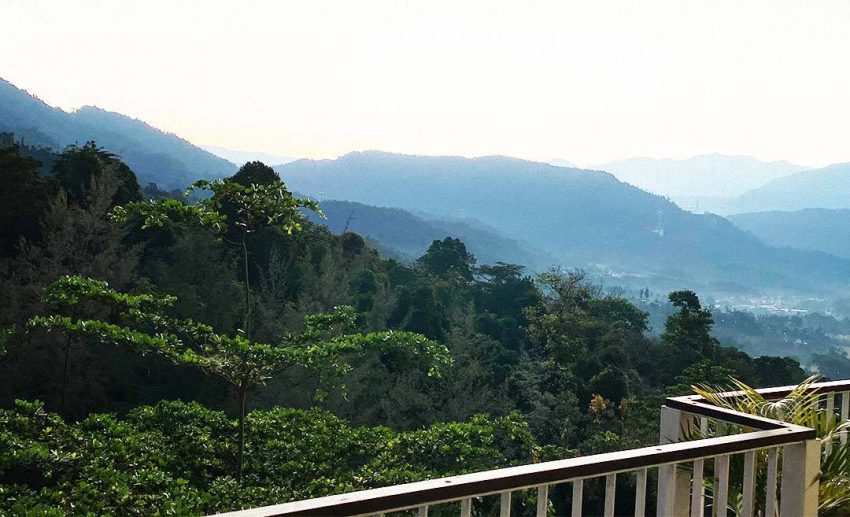 If you're looking to escape the city's noise, Sky Villa is one of the best places to do so without journeying too far from KL. Located on a cliff side of a private hilltop in Kuala Kubu Bharu heights, this R&R spot can accommodate up to 10 guests. Of course, its location guarantees unparalleled views that will have you snapping stories for your Instagram. Basically, get ready to enjoy modern comforts while being surrounded by nature.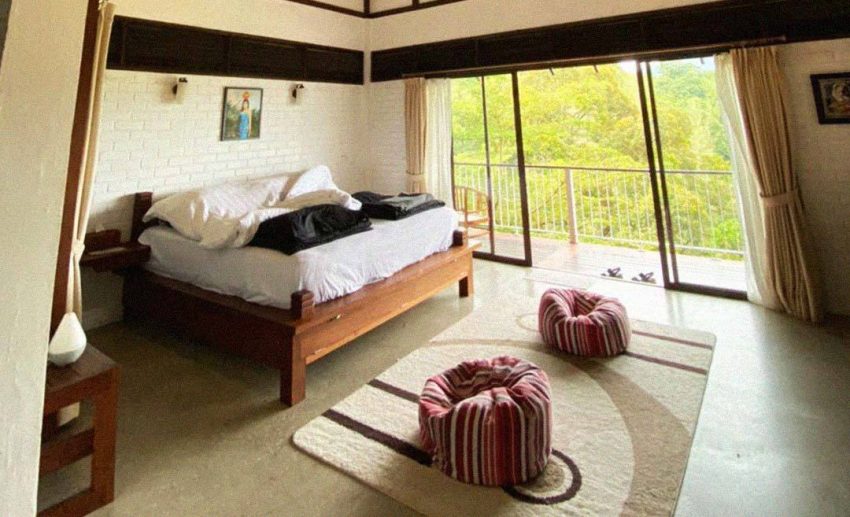 There are two large bedrooms in the villa that ensures comfort and enough space for large groups, and when we said you'd be surrounded by nature, we weren't kidding. Each bedroom has a unique semi-outdoor shower, so you can enjoy nature's beauty without compromising privacy. The bedrooms are also equipped with a fridge, cable TV (though who needs it when there's plenty to do), microwave oven, kettle, air conditioning, and travel adapters.
The amenities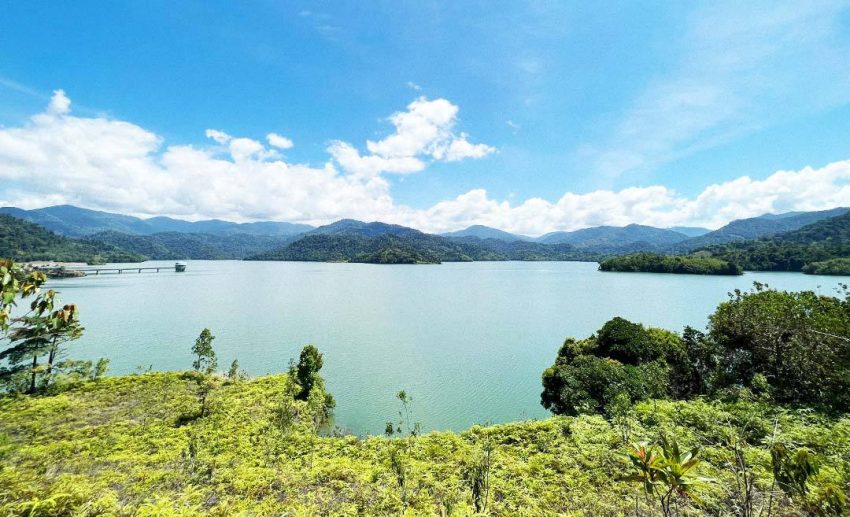 To top off the killer view, Sky Villa also offers an exclusive private pool, perfect for those who love taking a dip. For guests who want to whip up delicious meals, you'll be pleased to know that the kitchen is fully decked with cookware, utensils, a fridge to store all your fresh ingredients, and even a charcoal barbecue pit!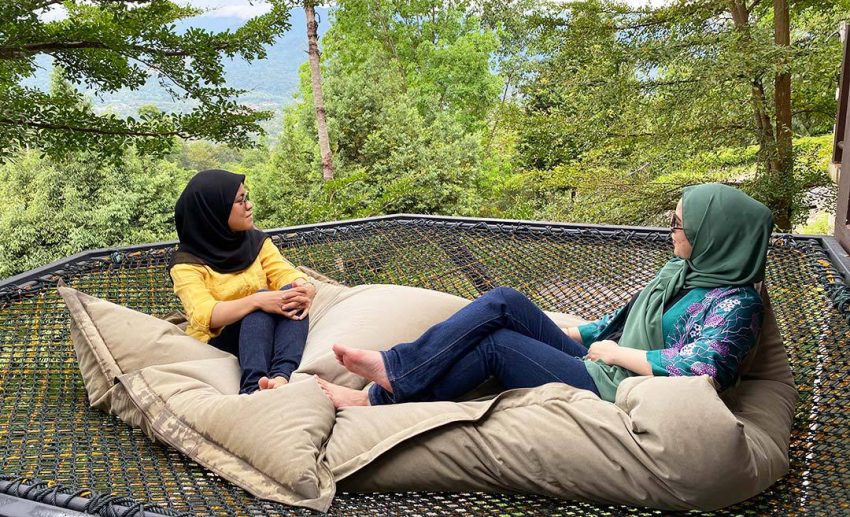 We also can't get enough of their cosy living area, which truly focuses on fun and games – to stay off your phone and connect with family and friends, you can play board games, cards, and arcade games. If everyone's feeling a movie night, there's a TV too.
Sky Villa, of course, provides some essential and much-needed items: light refreshments, bottled water, fresh towel, shower essentials, travel adapters, and a few others. Some attentive caretakers are ready to give you a hand, may it be room service, firing up the barbecue pit, or even putting together a floating brekkie!
The food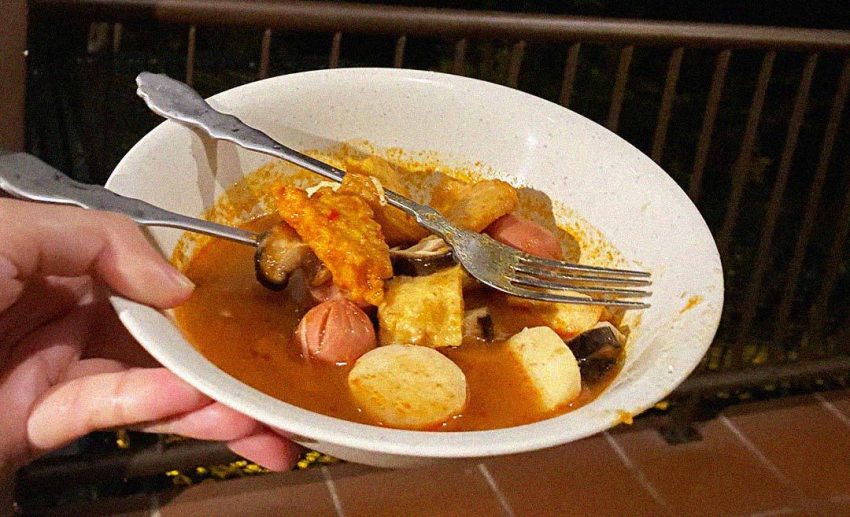 Like most hotels, Sky Villa too has in-room breakfast menus you can order from, but to enjoy this service, you'll need to do it the night before. For a taste of local delights, head down to Kuala Kubu Bharu town — there's Yut Loy Kopitiam if you want to try their local style of coffee, and head to Wun Bakery for the most delightful kaya puff.
Other noteworthy cafes worth checking out are AE Cafe, Yogi Cafe, and Kedai Makan Basikal Stopover — all perfect places to get your coffee fix along with some yummy bites.
The activities
Nature lovers are known to love Kuala Kubu Bharu due to its lush surrounding and all that the outdoors has to offer, and we're here for it, too, to be honest. This place has got everything from relaxing activities (like hiking and bicycle riding) to more adrenaline-inducing ones like white water rafting.
If you're a hiker, the Bukit Kutu hiking trail is a famous one to do – clock in 10km within five hours if you can. We did it in four hours, just sayin'! So, don't worry about being bored because your getaway from the city will be filled with plenty of adventures.
While in the area, why not trek to see one of Selangor's most spectacular waterfalls. You'll need a sense of adventure to get to the waterfall, but we promise it's worth the effort! The admission fee is only RM1, and along the way to the waterfall, if you're lucky, you may spot the Raja Brooke Birdwing butterflies and some pitcher plants.
Fancy going against the river? Why not give white water rafting a try. At Kuala Kubu Bharu, it is THE thing to do, and there are plenty of tour providers to choose from, so be sure to do your research. We chose PieRose Swiftwater and paid RM180 per person. Be ready to clear half a day for this activity, and don't forget to bring necessities like water and some energy bars. Be sure to wear proper gear too, which includes rubber-soled shoes. Please stay away from wearing flip-flops; we kid you not! To avoid disappointment, we also recommend booking in advance.
If white water rafting is too much for you, the Hulu Tamu Hotsprings may be more up your alley. With a small entrance fee of RM3, you can rest and relax within the gazebos and in the natural hot spring. Located about 30 minutes away from Sky Villa, it's worth adding to your itinerary. Those with little ones will be glad to know there's a paddling pool too!
For those looking to spend more than two nights at Sky Villa, why not visit Fraser's Hill for a treat of cool weather. If you're the type who loves camping, there's also Charming KKB, a spot worthy of pitching a tent at!