Daphne Iking made a name for herself in the world of broadcasting, hosting for Malaysian television stations like TV3, TV7 and 8TV. With her charisma and ambition, she has made a portfolio for herself in emceeing, acting, journalism, and content creation.
More than her work, Daphne is also a dedicated mum to four. Knowing full well the challenges of being a mum herself, and being the altruistic person she is, she set up her own NGI, Humarap, that helps stateless mothers and babies in Sabah, her home state (you can learn more or support them through a partnership with Plie Malaysia). She's even done a TEDx talk about The State of Statelessness.
Introductions aside, we're curious to see what Daphne's travel tips are (especially with four kids) and the interesting places she's been to. Let's find out!
1. Which three cities around the world are your favourite?
To choose my top three? That's a tough one. I'd have to go with Tokyo because I'm a big fan of Japanese cuisine and clean toilets. The city's super-efficient public transportation makes getting around such a breeze. And each time I visit Tokyo, there's always something new—someplace unique to experience.
Next would be San Francisco. Just their parks alone are a plus point for budget-friendly family vacations. The weather, food, outdoors, history and culture of the place; so colourful!
Finally, it's close competition between Barcelona and Prague. Both cities are culturally rich in attractions and just so picturesque.
2. What are your styling tips as a travelling hijabista?
LAYERING! For clothes that only show a little skin, I love my Uniqlo Airism long-sleeved and turtleneck inners that keep me cool underneath the clothes. Plie leggings are perfect (I have one in base and black) — especially the Emana High Waist Leggings. Not only do they keep me modestly covered for clothes that are above the ankles or has a slit, but they keep me warm in cooler weather and holds jiggly bits in! I use the black Plie leggings for diving and swimming too; they're very versatile.
I'm a light packer, so I find layering and choosing a colour scheme helps a lot. With the headscarf, you don't want to be taking too many scarves with you — so I will always have a black, nude, bright solid, and one floral scarf that is usually made of cotton. This way, I can use different styling methods for different outfits. The floral or printed scarf acts as an accessory when I need to jazz up my outfit. Or it can be used to cover my hair.
3. Do you have any tips for flying long-haul?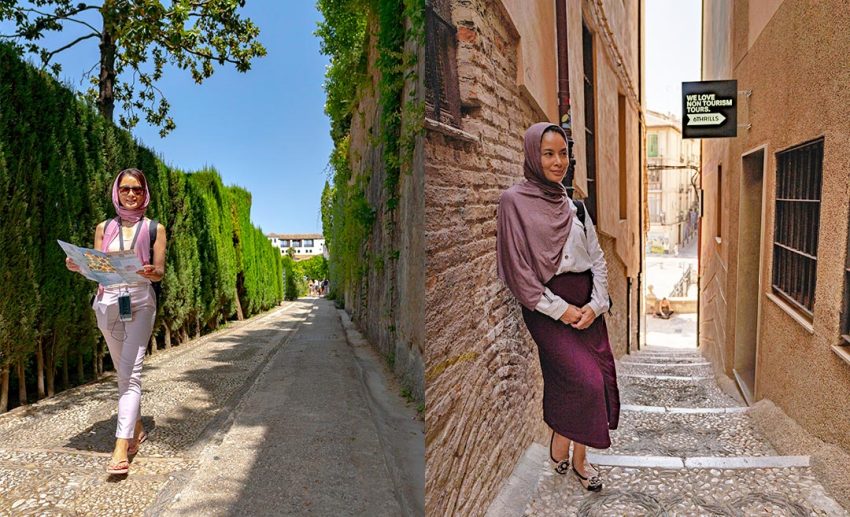 While flying, I wear an inner tudung (headscarf) and cap. But I bring along a heavier shawl that I can use multiple ways as a headscarf (to ease my solat in between) and to keep me warm during transit.
4. What's your advice on keeping sane when travelling with kids?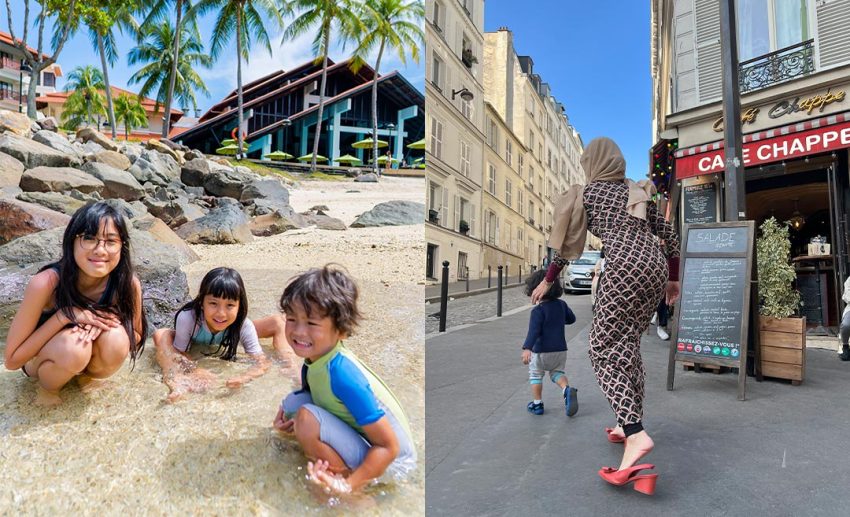 Prep them. I draw an itinerary and get them involved so they have something to look forward to and they won't grumble as much reaching the destination. Bring snacks and sandwiches and drinks if it's a road trip, and make sure they carry a fully-charged device or book with them.
I pack familiar food because kids get hungry all the time. The last thing you want when you have just completed a 17-hour flight is to reach a hotel or motel with no room service and the kids are wailing for food.
For the younger kids, bring their favourite toy and make sure the outfit that they're in is hassle-free. Meaning no zips and no buttons. Toilet breaks aren't fun, and we usually have digestion problems when adjusting to new places. So, if there's a sudden urge to go, you won't be wasting time trying to strip them down.
I also put a name tag on each kid's passport so it's easier to identify. The older kids carry a pen with them so they can help me fill up forms (if need be). Always have wet wipes and hand sanitisers on you. Always.
5. Where is the most kid-friendly travel destination?
Any location with a Club Med! They have everything and you can truly just relax as the kids are busy at the baby/kids/teen clubs while Mama and Bapak have some quiet time to explore other activities in the resort. We recently stayed at the Shangri-La Rasa Sayang Resort in Penang. That was a nice kid friendly destination too.
6. Where's your favourite place to #CutiCutiMalaysia?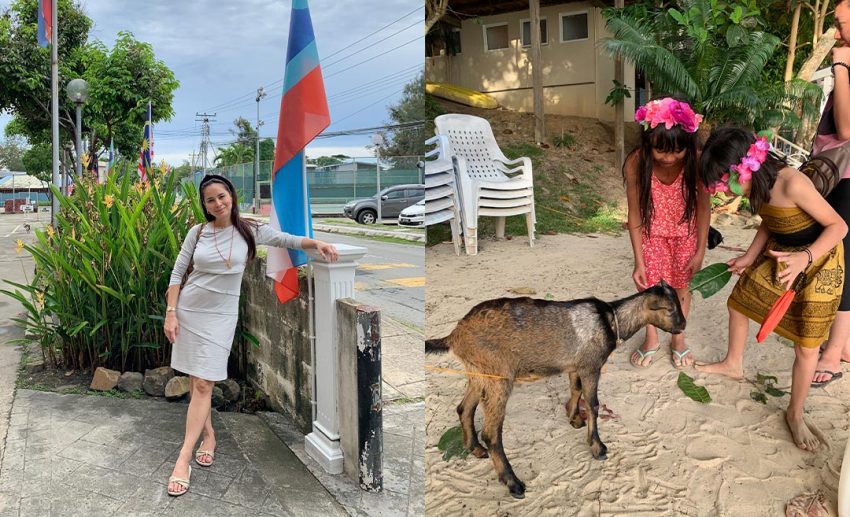 Sabah. Not just because it's my home state, but you have a unique blend of EVERYTHING there — from beach and sea, to rainforest and chilly weather up Mount Kinabalu or Kundasang. The city is expanding, but I can still enjoy the simpler side of my kampung (hometown). Plus, we have the best Niu Chap (Beef Noodles), Tuaran Mee, and seafood!
7. City, mountain, or beach?
Tough. I'm torn between the beach (because I love diving) and mountain (because I love the chilly weather and enjoy hiking).
8. Where is the most underrated travel destination?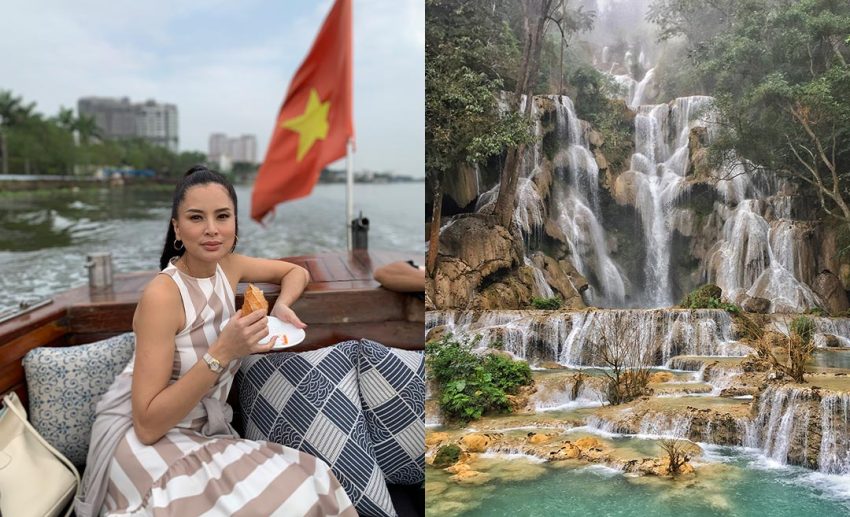 Laos. I had to do a shoot there and I wasn't particularly excited at first. But once I got there, that changed. There is something so serene about the place. You have a nice blend of spiritual, natural, and modern experiences.
Plus, thanks to its shared borders of Thailand and Vietnam, the food draws similarities so, I like that about Laotian cuisine. You must try their coffee and enjoy the pastries in their French-inspired bakeries.
9. What's the most unusual travel experience you've ever had?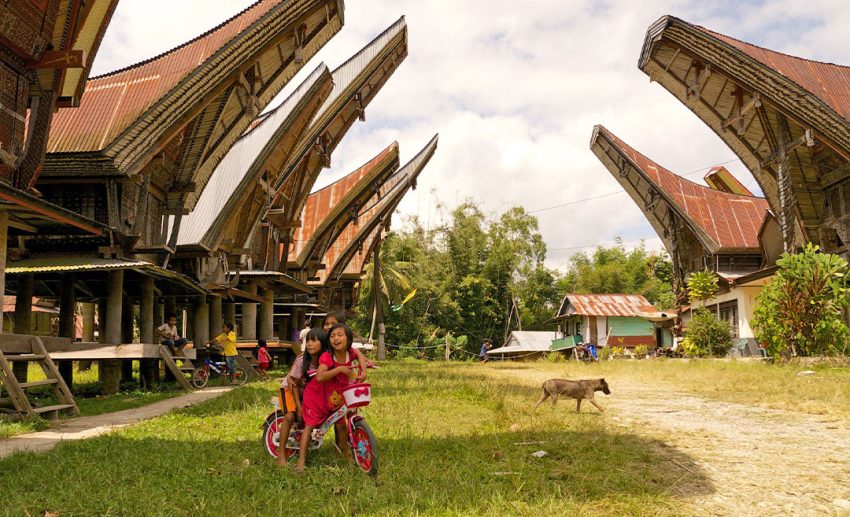 It happened when was in Southern Sulawesi, Indonesia. I've always been fascinated with death and graveyards, so I wanted to see the death rituals of the Toraja community. My husband (boyfriend then) was creeped out, but I was so mesmerised. I was 'lucky' to witness a funeral when I was there, as well as see a preserved body up close.
10. With borders opening up worldwide, which international destination do you plan on visiting first?
We just got back from Paris, France. I was supposed to head there solo to meet my girlfriends for a work meeting, but at the 11th hour, my husband decided to go and take all our kids with us!
We were meant to go to Phuket, but after many flight cancellations and reading about some worrying comments from other tourists, we thought the constant cancellation on AirAsia's side was a blessing in disguise.
I also wanted to go to Melbourne, Perth or Japan, but tickets were too pricey. We were surprised Paris was reasonable, plus they don't have too many travel restrictions and documents to fill in.
*All images courtesy of Daphne Iking unless mentioned otherwise.