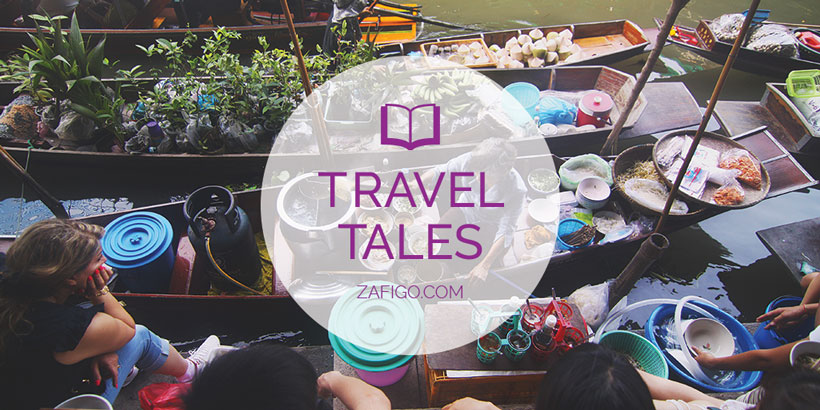 In place of our annual family holiday, this year, my husband, Terence and I decided to try something different. We decided to go on a 'holi-date', a holiday consisting of one parent and one child, visiting a new destination. We thought it would be a fun challenge for us and a meaningful way to get to know our children better.
Currently, we're parents to two young children, a five- and two-year-old, both at an age where they're very active and dependent on us. So this wasn't a holiday to kick back and relax. We knew it would be hands-on and require some compromise on our ambitious idea to see everything at the holiday destination. Still, we chose to holi-date for the sole reason that it would have a long-term trajectory of building bonds through travel as our little ones continue to mature and grow as individuals.
I had S, our 5-year old boy, as my travel buddy, while Terence had little E as his co-explorer. Our destinations were a no-brainer. I've always wanted to see and taste Taiwan, while Terence decided on Hong Kong as photos of dim sum lured him from afar.
We booked our tickets way in advance, taking advantage of cheap flight fares, but the planning only started about a month before our holi-date. When we finally got into the planning, we researched on public transport, places of interest, child-friendly attractions, and the weather.
Our itineraries were kept fairly loose to make room for any suddenlies – such as prolonged toilet time, uncalled-for melt downs, slower pace of travel, and other factors that come with travelling with young children.
Traipsing through Taiwan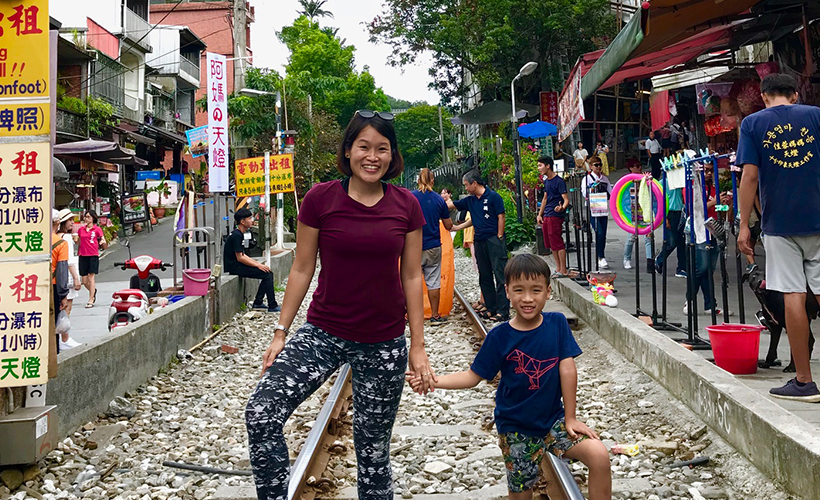 Since I had S with me, I also wanted to try staying in hostels to give him the opportunity to mingle with people from different countries. So we chose two different types of accommodation during our week in Taiwan – a few nights in a hostel-type space and a few nights in a hotel. Much to my delight, he had a lot of questions while at the hostel, asking about different countries and why people travelled, listening in to different languages, and sharing common spaces with strangers.
I was particularly excited to explore Taiwan with S. He's at the age where he can read maps with a little assistance, enjoys different foods, gets excited about trying new things, follows instructions well, and is able to articulate his experiences in words. I knew he'd be an excellent travel buddy and he proved right!
We explored the city from morning till night, always ending up in one of Taiwan's bustling night markets. For a little culture, we went on a free walking tour where we got a low-down of Taiwan's history and traditions, took a dip in Beimen's public hot springs, and decorated paper lanterns with heartfelt words and set them off into the air in Shifen.
Taiwan is constantly buzzing, so we wandered through its cities. We meandered through the hillside town of Jiufen whilst trying not to get lost in the narrow alleys, rode the glass-bottom gondola to Maokong, stood in awe of Taipei's jaw dropping skyline at the top of Taipei 101, and of course, gobbled down the best of Taiwan's street food.
As cosmopolitan as Taiwan is, it's also got its fair share of green. S and I visited the massive Taipei Zoo (the largest in the Asia) and witnessed the majestic Shifen Falls.
Hitting up Hong Kong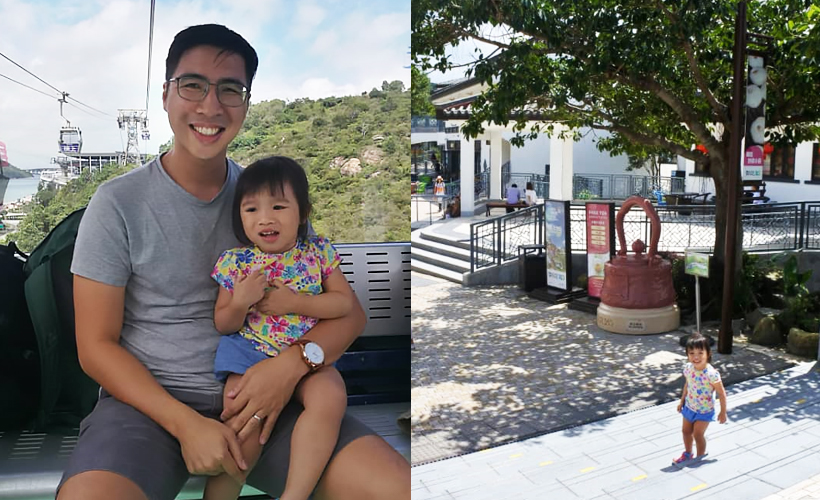 Meanwhile, Terence and little E explored bustling Hong Kong. This tiny island is also packed with adventure, and every girl's favourite past time – shopping! They visited the Apliu Street Flea Market, Sham Shui Po, and Tsim Sha Tsui.
As per Terence's heart's desire, they also savoured many dim sum meals, and got to wander through Kowloon Park to feed the fish and chase the birds, took the cable car to Ngong Ping, watched fishermen hauling in their catch at Sai Kung, and enjoyed a full day at Ocean Park.
His days in Hong Kong were a lot different from mine. Terence's bag was packed with E in mind – diapers, milk, thermos, extra clothes, and wet wipes. He also carried E in an Ergo carrier when it was time for her morning and afternoon naps. When she snoozed, Terence took the advantage to explore busier sights at a faster pace.
The homecoming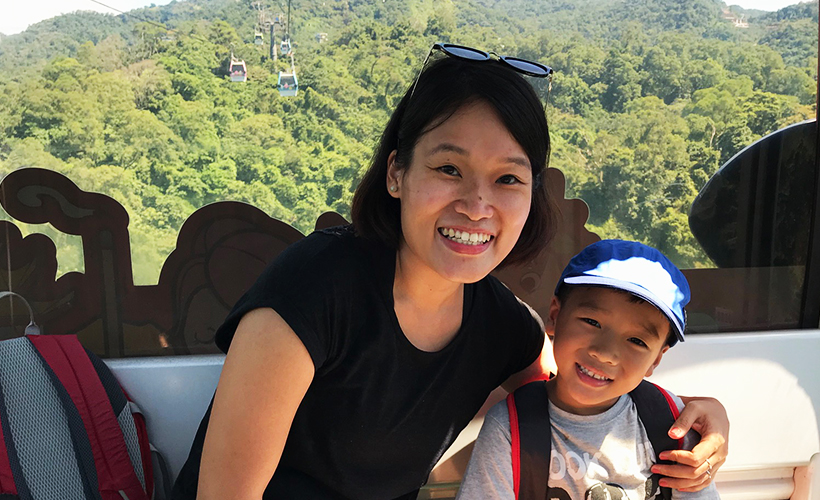 We returned home on the same day after a week of being apart. The whole family was thrilled to see each other, shared many lingering hugs, exchanged gifts, scrolled through photos, and spilled stories!
While the children went off to play, running around the house, and making it come alive, Terence and I took to our journals to pen some lessons we learned on our holi-date. It's without a doubt one of the best travel decisions we've made, and hopefully, we can repeat this in a couple of years with the other child. What a privilege!
Here, our five main takeaways from the whole experience:
1. Special memories and stronger bonds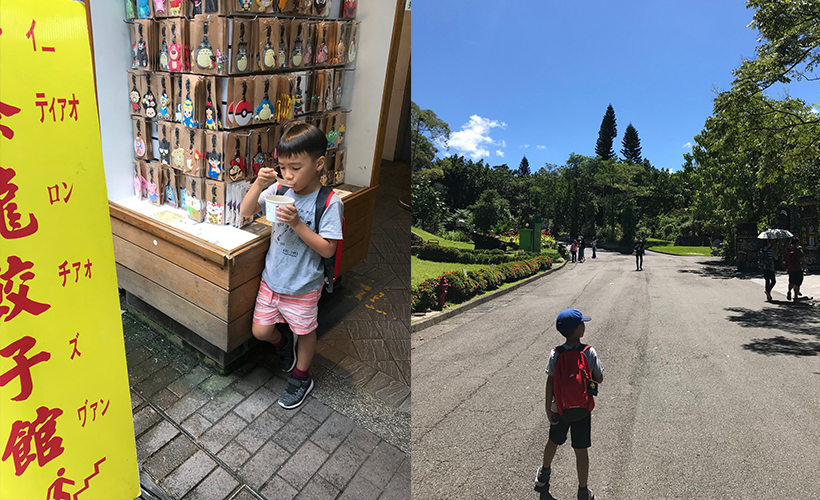 Extended time together in a new place is the best set up for growing relationships. Shared experiences such as savouring all kinds of street food or hiking to the waterfalls are powerful mental milestones that form special memories exclusive to parent and child. Imagine you're your child's best friend and closest buddy for a whole week!
2. Stage for education
Most of school learning is done in the classrooms, through books or audio visual material. Travelling allows our children to learn with all their senses and it gives them real-world practical lessons that can only be taught through experience. For example: street savvy, appreciation for diversity, and respect for different communities.
3. Ownership results in responsibility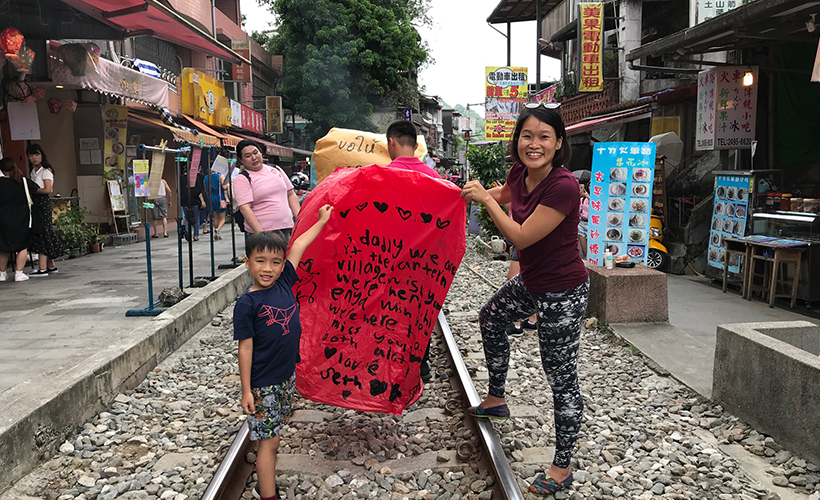 From the get-go, S packed his own day bag filled with a couple of books, a travel journal, wireless headphones, a bottle of water, jacket, and a cap. He carried his day pack everywhere and knew that it was his responsibility.
There was one incident where left the bag in a shop while waiting for me to buy some souvenirs. Upon realising that he was missing his bag, he dragged me off the streets and back to the shop to ask the shopkeeper for his bag. It was a lesson as a parent that in order for our children to learn responsibility, they have to first feel a sense of ownership.
4. Adaptability
Life will not always be a set routine. If we teach our children to be adaptable and accepting of change, they'll be better navigators in life. Adaptability involves living in different conditions, eating different kinds of food, taking different kinds of transport. In general, appreciating the differences and similarities that each country, community, and place has to offer. Exposing our children to new cultures and places also fuels their sense of curiosity and wonder.
5. Seeing the world through their eyes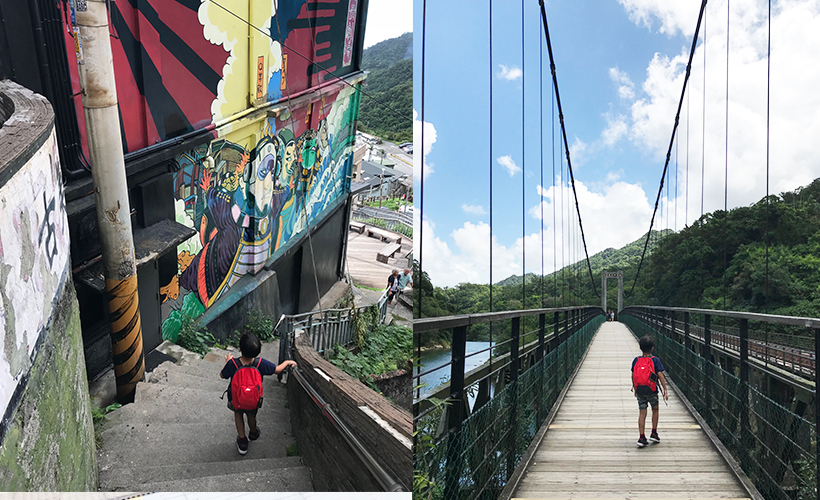 It's interesting to see our child's personality emerge in different situations, such as getting lost, sticking within a budget, studying maps, choosing the places of interest to go to, and deciding on what to eat. By allowing our children to make these decisions, it empowers them to step into new (and sometimes) uncharted territory.
For example, S was given the option to choose between going to the public hot springs bath or visiting the national science museum (which I thought was a better choice for children). He chose the public hot springs bath filled with old people and wasn't allowed to jump and splash around. I thought he'd hate the experience, but he loved it. He sat in the hot pool listening to old uncles chatting away, people watched, and sipped green tea for two hours. What an old soul!
---
 Read our last Travel Tale:
What You Should Know Before Visiting Kathmandu
---
Here's your chance to get published on Zafigo! We want your most interesting Travel Tales, from memorable adventures to heartwarming encounters, scrumptious local food to surreal experiences, and everything in between.
They can be in any form and length –short stories, top tips, diary entries, even poems and videos. Zafigo is read by women travellers the world over, so your stories will be shared to all corners of the globe.
Email your stories to editor@zafigo.com with the subject line 'Travel Tales'. Include your profile photo and contact details. Published stories will receive a token sum. 
Get all the latest travel stories from Zafigo. Follow us on Facebook, Twitter, and Instagram.