Calling my fellow globe-trotting foodies and armchair adventurers! If you're like me, someone who's always itching to explore new places and indulge in mouthwatering culinary delights, then Netflix has got your back. These fun and informative TV shows are guaranteed to take your taste buds on a whirlwind tour around the world, all from the comfort of your cosy couch.
So, sit back, relax, and get ready to embark on a culinary journey like no other! Caution: You will want to book the first flight to some of the destinations mentioned in the shows.
1. Street Food: Asia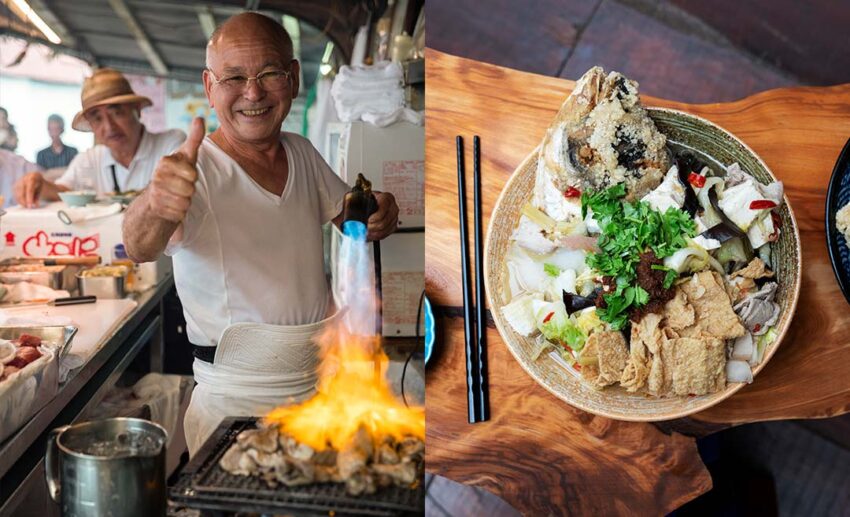 Let's kick things off with a burst of flavour from the bustling streets of Asia. Street Food: Asia showcases the vibrant and diverse street food culture of several Asian countries. While I'm still upset over the fact that Malaysia was completely left out, there is no denying that this show does a darn good job of celebrating the incredible gastronomy experience Asia's street food holds.
From the savoury skewers of Bangkok to the soulful pho of Hanoi, this docu-series celebrates the tireless street food vendors who've honed their craft over generations. Each episode delves into the captivating stories of these culinary geniuses, revealing the traditions, struggles, and triumphs behind each mouthwatering dish. As they say on the show, "If someone has to taste real food, authentic food. It has to be street food."

2. Chef's Table
Prepare to be blown away by the extraordinary talents of world-renowned chefs in Chef's Table. This Emmy-nominated series grants you backstage access to the culinary genius of top chefs across the globe. Not solely a travel show, Chef's Table delves into the creative processes of culinary masterminds, giving us an intimate look at their unique gastronomic philosophies, inspirations, and artistic visions.
As you watch, you'll feel as if you're journeying through the intricate flavours of each region featured in the show. And not just that. Through each episode, you'll realise how deeply food is ingrained in everyone's culture. Sure, the food displayed in the scenes is mouthwatering, but what's even more awe-inspiring is the unique stories behind these dishes. It's worth mentioning that Chef's Table probably has the most beautiful cinematography for a food show –– it did after all gain eight Emmy nominations!

3. Somebody Feed Phil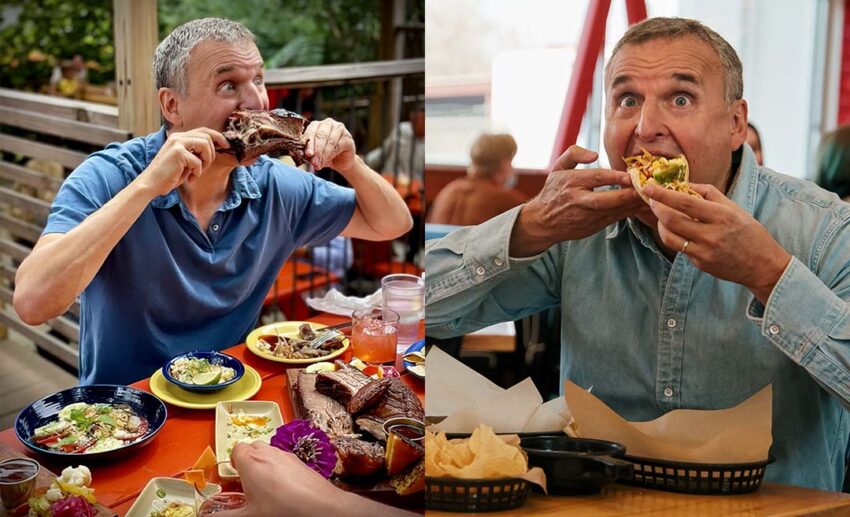 If someone asked me to pick a favourite food show, it would, hands-down, be Somebody Feed Phil. I love humour, food, and travel –– put all that together with Phil Rosenthal, the creator of Everybody Loves Raymond, and you get a series that showcases food and countries unlike any other. His infectious enthusiasm and genuine curiosity make for a delightful watch as he tries everything from mouthwatering pastries in Paris to fiery curries in Bangkok.
He takes you through to some lesser known foodie locations too, like Oaxaca, Helsinki, and Maine, which were some of my personal favourite episodes. Phil's adventures will leave you chuckling and hungry for more; you'll also find yourself adding so many destinations to your holiday list.

4. Ugly Delicious
Buckle up for a gastronomic road trip with renowned chef David Chang in Ugly Delicious. This thought-provoking show explores the concept of 'ugly' food, challenging preconceived notions of what is deemed delicious.
David takes you on a culinary journey, exploring not only the flavours, but also the cultural, social, and historical contexts of various dishes. It's a show that will challenge your taste buds and broaden your culinary horizons.

5. Salt, Fat, Acid, Heat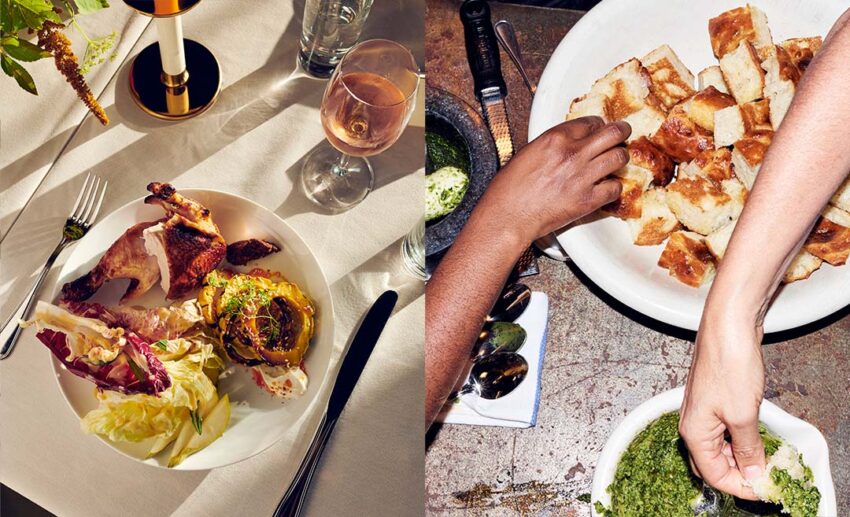 If you're passionate about understanding the foundations of good cooking, Salt, Fat, Acid, Heat is the perfect show for you. Hosted by the talented chef and food writer Samin Nosrat, this visually captivating series focuses on the four essential elements that make any dish truly remarkable. Samin takes you on an adventure around the world, exploring how each element is masterfully utilised in various cuisines worldwide.
You'll come away with a newfound appreciation for the power of these fundamental flavours and can't help but fall in love with Nosrat's thirst for knowledge in all things culture and, essentially, food.

6. Rotten
While not exclusively focused on food travel, Rotten is a riveting docu-series that uncovers the dark side of the food industry. It dives deep into the intricacies of the global food supply chain, revealing shocking truths about the production, distribution, and consumption of various foods.
From honey and garlic to fish and chocolate, each episode sheds light on the challenges farmers, suppliers, and consumers face worldwide. While it's a little glum, it makes for an eye-opening watch that will make you think twice about what you put on your plate.

7. Ultimate Braai Master
If you've ever travelled to South Africa, or like me, lived there, then you'll know of the country's favourite pastime –– braaing. It's basically the South African version of barbecuing. But braaing is much more than slapping meat on the grill. It's part of their culture and heritage, and it's an activity that celebrates food, family, and friends.
From smokey South African braais to exotic beachside grills, Ultimate Braai Master takes you on a culinary road trip that's a passport to flavour town. Whether you're a grill master in the making or just someone who can't resist drooling over a perfectly charred steak, this show serves up a sizzling blend of travel, food, and friendly competition that's as addictive as that secret sauce you've been trying to replicate.
Besides showcasing grilled goods, the show does a great job at feature the beautiful African backyard too.

8. The Chef Show
Okay, I lied –– Somebody Feed Phil is a close second and The Chef Show is my all-time favourite! Being a huge fan of Jon Favreau, and the movie Chef, I was thrilled to find out about this travelogue series, which explored food in and out of the kitchen. The show sees Favreau pair up with famed chef Roy Choi, and together they recreate some of the dishes you've found yourself salivating over in Chef, and then some.
What I love most is about this series is how much Favreau's love for food and sharing it shines! The Chef Show is truly a heartwarming journey that serves up a delicious blend of mouthwatering recipes, celebrity guests, and behind-the-scenes kitchen magic.

So, there you have it — a delectable list of some of the best TV shows on Netflix for all you travel-hungry foodies out there. Do you have any favourites? Share them with us!
*All images courtesy of Netflix unless mentioned otherwise.