Cam Ranh isn't yet on the global tourism map, but after my recent visit, it may not be long before this coastal destination in southern-central Vietnam will be as well-known as Bali and Phuket.
This place is truly a hidden gem with its pristine beaches, clear blue waters, and laid-back vibes that'll melt your worries faster than ice cream on a hot day. If you're a beach bum or just someone who appreciates breathtaking coastal views, Cam Ranh is worth knowing about.
It's less crowded than other touristy spots, so you can unwind and soak up the sun without jostling for elbow space. The local seafood scene is a seafood lover's dream come true – think succulent crabs, fresh-from-the-ocean prawns, and all sorts of marine goodies waiting to tantalise your taste buds.
The back story
It's safe to assume that few non-Vietnamese have heard of Cam Ranh, but it has a colourful history. In reading up on the destination before travelling there, I read that the waters here are deep and excellent for shipping. The French established a port, and the Japanese used Cam Ranh as a staging base for their invasion of Malaysia and Singapore in 1942.
When American forces occupied Vietnam in the 1960s and 1970s during the Vietnam War (known to the Vietnamese as the American War), they established a major air and naval base there. Numerous American conscript soldiers arrived here for their tour of duty in Vietnam.
After the war, the land reverted to the Vietnamese military, but tourism has become the battle cry for Vietnamese authorities in recent years.
Restive resorts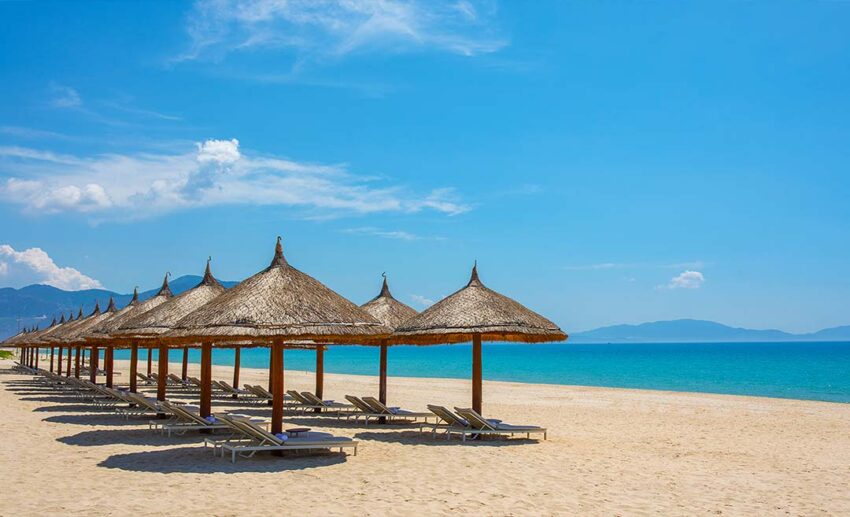 Luxury resorts now line Cam Ranh's 15-kilometre-long Bai Dai, or Long Beach. While driving from the airport to my accommodation, I noticed familiar global hotel chains such as Radisson Blu, Wyndham, Mövenpick, and Meliá. Like Alma Resort, where I stayed, all these large resorts are equipped with several hundred rooms. As I mentioned, we need to keep an eye on the tourism developments here.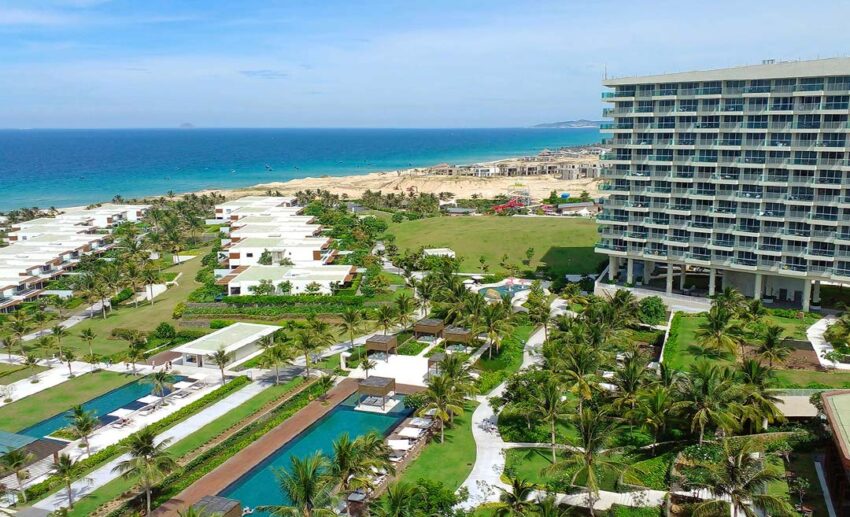 The Alma Resort lobby was busy when I arrived, indicating that things were moving in Vietnam. It wasn't long before I discovered that this beachside resort provides a complete holiday destination with numerous onsite recreational pursuits. Staff told me that since opening in 2019, the resort has become very popular with local families and regional travellers who fly in for some rest and recreation.
Apart from two large accommodation towers, the resort's garden and beachfront pavilions, restaurants, bars, and spa are mostly low-rise buildings slowly becoming hidden amongst the lush tropical landscaping a big team of gardeners meticulously maintains.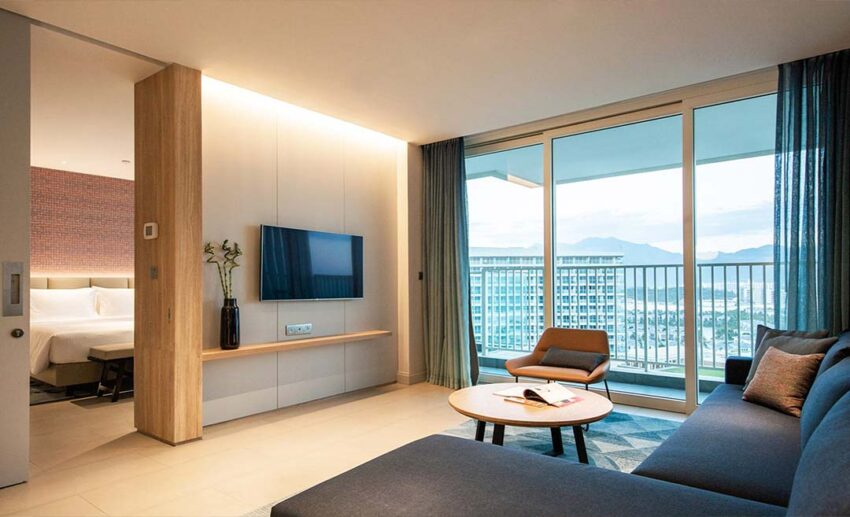 Guestrooms are spacious so that there is sufficient space for families, with the pavilions being the way to go for those who appreciate luxury and space. They are fitted out with the latest facilities like a television, iron/board, coffee/tea-making facilities, a table and chair, a shower, and a bathtub.
Dining delights
Being on holiday, it only seemed appropriate to celebrate the sun going down with sundowners at The American Bar in Alma Resort. While I enjoyed researching the draught craft beers on tap produced in Da Nang by 7 Bridges, the cocktails also looked tempting. The bar and lounge extend into the landscaped gardens, and they proved a most enjoyable venue for meeting up with fellow holidaymakers. Happy hour prices made the experience even more enjoyable.
During my stay, I dined in the resort's La Casa, where the resident Italian chef keeps a close eye on authenticity in preparing dishes like mozzarella and tomato, mushroom risotto, ribeye steak with balsamic dressing, and the ever-popular tiramisu.
However, it was the delicious local dishes served at Atlantic beside the beach that made me appreciate the freshness of Vietnamese food. Guests can also join a cooking class here during the day to prepare dishes such as fresh Vietnamese spring rolls and pho ga, or chicken noodle soup.
Recreational pursuits
Alma Resort has been designed as a recreational refuge to ensure family fun in the sun. An important consideration is the sun, which was streaming down when I was there in July. Many guests choose to rise as early as 5:30am and then seek indoor activities during the day's heat. While there is a mini-mart in the resort, come prepared with sunscreen, hats, and protective swimwear, and consume lots of fluids.
Management has thought of most things, and there are many indoor retreats or activities in semi-protected precincts. These include the lavish spa, an indoor games centre, Splash Water Park, a cinema, and a hands-on and interactive mini-science centre.
In the middle of the day, the resort looked empty, but with the onset of dusk, guests reappeared as the public pools, bars, and restaurants swung back into life.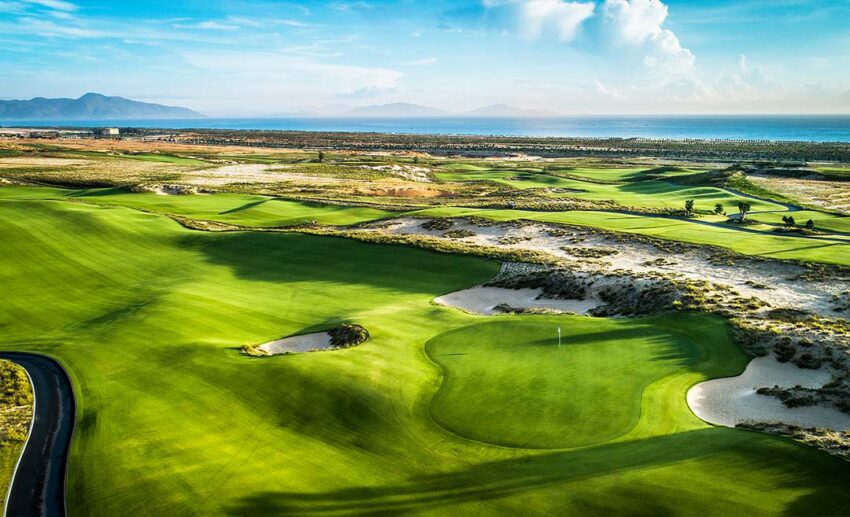 Alma Resort is well equipped to cater to holidaying families. While there is a recreational distraction for all age groups, golfers may want to consider visiting the nearby KN Golf Links Cam Ranh. The 27-hole championship course designed by golf legend Greg Norman is located just south of the airport. Golfers will especially enjoy playing the 18-hole links course that extends over the gently rolling sand dunes.
Regional sightseeing
It was a long way to travel to Cam Ranh and not see some sights in and around the resort strip. Arrangements were made with the resort to join a Zazen Travel tour to the centre of Cam Ranh town and then Nha Trang in the late afternoon and early evening.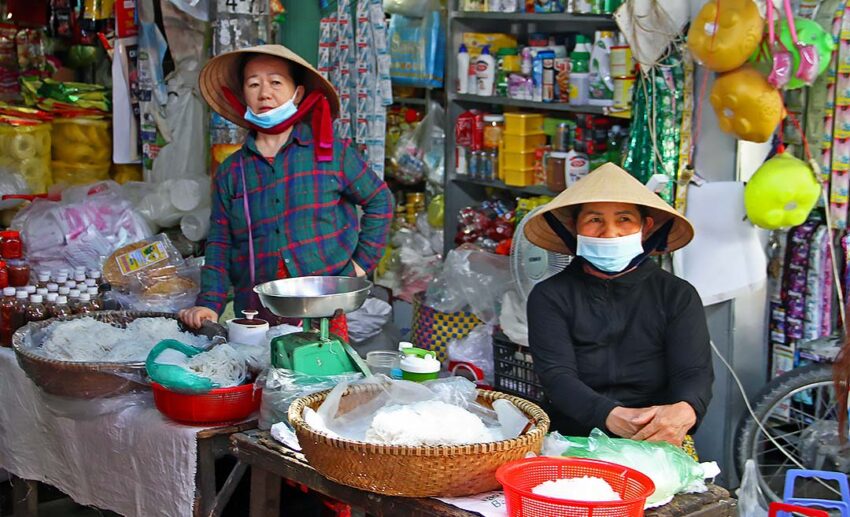 Everyone loves a market, and Cam Duc, just a short distance from Alma Resort, is well worth exploring. Laneways through the market are narrow, with many locals shopping on motorcycles, so curious visitors must be diligent while shopping here for fresh fruit, especially mangoes, for which the region is famous.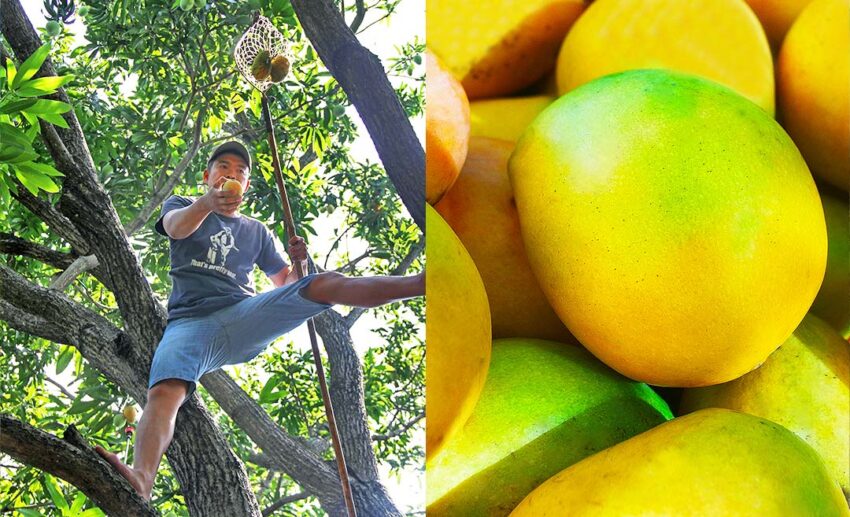 First up, we visited a mango farm to watch the owner shimmy up trees to dislodge the ripe fruit. His wife stood below with a specially designed cloth sack to catch the fruit so it would not bruise by falling on the ground.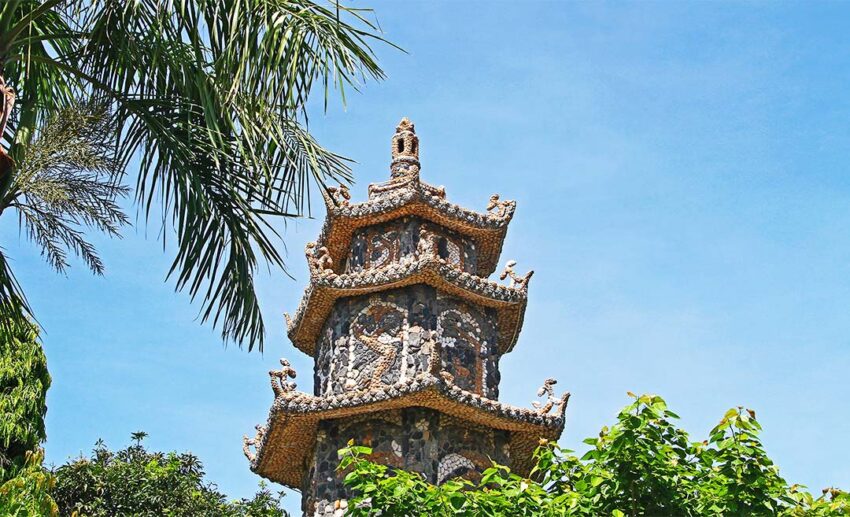 Nearby, Chau Da Quan Am Temple is unique in that it was built entirely from locally sourced beach pebbles. The afternoon tour finally culminated in us taking in the sights of the much more developed tourist city of Nha Trang.
Làng Nghè Truòng Son in Nha Trang is a compact village attraction that showcases Vietnamese culture, including its musical instruments, weaving, embroidery, and the making of rattan furniture.
Upon my flight from Cam Ranh International Airport, I could see the extensive port facilities that made this part of Vietnam famous. I admired all the recent infrastructure development and reflected upon the notoriety that I am sure Cam Ranh will enjoy in the not-too-distant future. Keep your eye on it, or better yet, book a holiday and beat the rush.
Travel file
Getting there: AirAsia flies to Cam Ranh, although the destination is referred to as Nha Trang. Flights depart Kuala Lumpur mid-morning and arrive in Cam Ranh just over two hours later (it takes longer to fly from Kuala Lumpur to Kota Kinabalu). Vietnam is an hour behind Malaysian time.
Accommodation: The 5-star Alma Resort offers superb accommodation and facilities along Long Beach. It is an integrated resort with an adventure waterpark, restaurants and bars, an indulgent spa, and numerous recreational facilities.
Regional travels: Zazen Travel offers a range of excellent tours into the region, including Cam Ranh town and Nha Trang.
Visa formalities: Malaysians don't need a visa to visit Vietnam, while most other nationalities can obtain one by applying online at least three working days before setting off. There is a USD25 (roughly RM114) charge for visa applications.