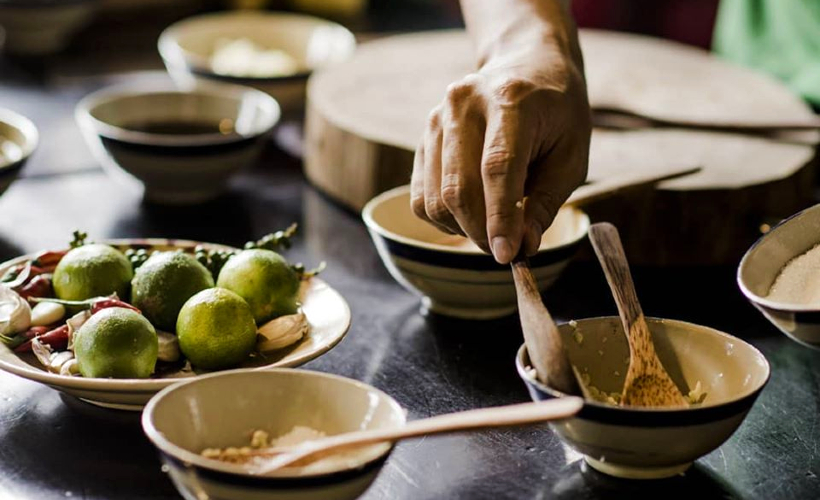 Just like the rest of the world, we are not travelling during this COVID-19 pandemic, but we hope you turn to Zafigo as a source of inspiration for your future travels. Please stay safe and adhere to any quarantine and movement control orders that have been imposed in your country.
On a recent trip to Phu Quoc, my friend and I decided to break away from a typical beach holiday and ditched the seashores, instead opting to explore all the other wonderful offerings this Vietnamese island has to offer. Phu Quoc, after all, is so much more than white sand beaches and turquoise waters.
One of the things we decided to put on our four-day itinerary was a cooking class, which we did on our last evening on the island. After spending the first three days feasting on almost everything the local restaurants and markets had to offer, it was a pleasant feeling of accomplishment being able to replicate some of the dishes we enjoyed the days prior.
A nation steeped in history, Vietnam is rich in culture and tradition and this comes through in the food as well. Vietnamese cuisine relies on blending and balancing sweet, sour, salty, and hot flavours, with generous portions of vegetables and proteins. It is no surprise why Vietnamese food is considered one of the healthiest cuisines in the world.
View this post on Instagram
The cooking class we settled on was lead by Chef Pham Dinh Chuong, also known as Troc, and located in Duong Dong – the island's central and most populated town. It was also just a 20-minute walk from where we stayed. Troc teaches classes in the mornings and evenings every day of the week, and each session runs for about four hours (depending on how many students there are).
The menu
After some chatter about how we've been spending our time in Phu Quoc and his background in the food industry, Troc started off the session showing us how to brew a cup of traditional Vietnamese coffee. Coffee (mainly Robusta and Arabica) is a major produce here, and Vietnam is the second-largest global coffee exporter after Brazil. This has contributed to Phu Quoc's coffee culture – coffee shops and cafes line most of the major streets and tourists will not be short of options when they need a java fix.
Troc also offered us a bottle each of Kính Beer, whose founder is a close friend of his. Kính Beer is one of Phu Quoc's locally made (and probably best) brews. This helped keep us fuelled throughout the class.
Once we got the beers out of the way, it was time to get started on the food. The first dish we tackled was fresh spring rolls (gỏi cuốn) made with rice paper, prawns, and fresh greens and herbs, with a spicy, savoury dipping sauce made with fish sauce – the soul of Vietnamese cooking and a major ingredient used in pretty much all of the local dishes.
Next, we tried our hand at Vietnamese pancakes (bánh xèo) made from rice flour, coconut milk, and turmeric (which gives it its bright yellow colour), cooked in a dash of oil and filled with loads of leafy greens and meat of your choice.
When it came time to cook the mains, my friend and I tackled one dish each. She took on the Mekong Delta-style sweet and sour soup (canh chua). It's a simple, clear soup cooked with lots of vegetables and tamarind. I made a caramelised fish dish (cá kho tộ) whose main ingredient is pepper, another huge produce here. Finally, it was time to enjoy the fruits of our labour.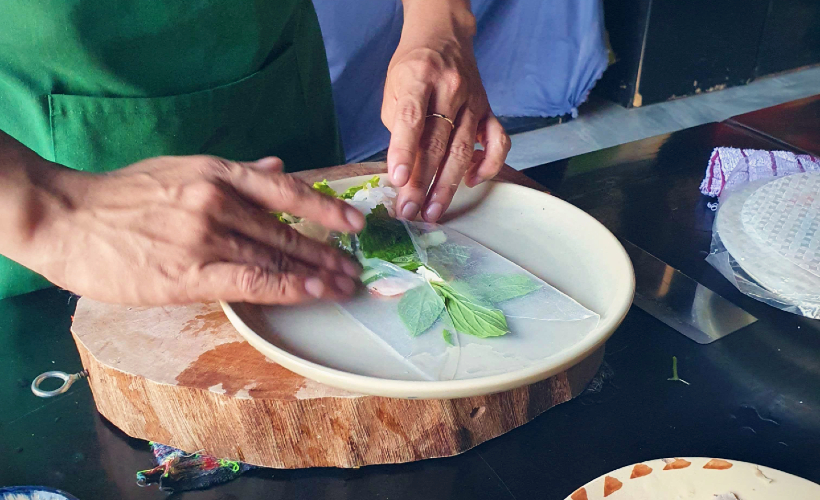 The experience
A cooking class is a fun way to learn about the food, culture, and history of a place. Friendly Troc intertwined his cooking lesson with snippets of history about Vietnam which made the experience feel all the more rewarding. The menu he put together for his classes gave us a good introduction to Vietnamese cuisine and was easy enough to clone at home. You can take the class with your partner, friends, or even your kids; it's a great bonding activity!
Troc also rewards his students with a completion certificate and a souvenir.
Booking a class
We found Troc's Kitchen and Cooking Class on Cookly, where we booked a weekday evening class at VND722,305 (approximately RM135 or USD31) per person. These classes are also child-friendly and the rate for ages 6-12 is VND582,504 (approximately USD25) per child.
You can also book a class by getting in touch directly with Troc via WhatsApp.
Note: Due the global COVID-19 pandemic, the cooking class is not open for business but is expected to resume business once the local government lifts the implemented health and safety lockdown orders.
Getting there
While Troc's Kitchen and Cooking Class will show on Google Maps, they do not have a standalone shop and are actually located in the lobby of Phu House Hostel. There is a floor standing bunting outside the hostel, but if you can't find that, lookout for one of Troc's assistants in a green apron standing around, waiting to greet guests.
Troc's Kitchen and Cooking Class
122 ,Tran Hung Dao, Duong Dong, Phu Quoc island, Kien Giang Province, 922204, Vietnam
Business hours
10:00AM – 08:00PM (Monday-Friday)
10:00AM – 08:30PM (Saturday & Sunday)
Website: trocskitchen.com
Facebook: fb.me/Trocskitchenandcookingclass
Instagram: instagram.com/phuquoccookingclass
TripAdvisor: Troc's Kitchen & Cooking Class
[zf_post_boxes widget_hide_desc="true" num_post="3″ post_id="30603, 26108, 25835″]
Get all the latest travel stories from Zafigo. Follow us on Facebook, Twitter, and Instagram.